Double Chocolate + Peanut Butter Chips
Double Chocolate + Peanut Butter Chips
Smooth Sanctuary®
A rich, chocolatey bar sprinkled with melt-in-your-mouth peanut butter chips and an extra handful of organic chocolate chips for a wholesome snack you're sure to savor.

Get Same Day Delivery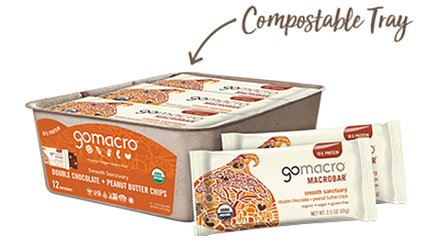 What's Inside
Our take on a classic peanut butter cup blends protein-rich peanuts, vegan chocolate, creamy organic peanut butter, and our very own house-made peanut butter chips to create a satisfyingly delicious treat. With a portion of net proceeds from August sales benefiting the Sheldrick Wildlife Trust, our Smooth Sanctuary MacroBar is an oasis of flavor your taste buds will want to visit again and again. Learn more here.
See Nutrition & Ingredients List
Benefits
11 grams of protein
Organic
Vegan
Gluten-Free
Kosher
Non-GMO
Clean & Raw
Soy-Free
Dairy-Free
Low FODMAP
​
Organic Chocolate Chips

Organic Peanut Butter Chips

Organic Chocolate

Organic Peanut Butter
5
Annie
March 6, 2023
Double Chocolate + Peanut Butter are SO GOOD!!! My husband and I fight over them (if there aren't any Mocha Chocolate Chip left, LOL)! Seriously the best bars on the market with clean ingredients and great flavors! 10+ stars!!!
5
Sherri
February 23, 2023
These are one of my favorite bars. Not overpowering the the peanut butter area, perfect blend.
5
Michelle
February 6, 2023
Easily 5 stars so grateful for a product that is dairy free and still tastes wonderful!
5
Megan
February 6, 2023
Love these bars -- constant reorder!
5
Taylor W.
February 6, 2023
These are my hands down favorite protein bars! Clean ingredients, not an extreme amount of sugar, no fake sweeteners. Plus they taste amazing. I look forward to these daily! One point of feedback -- I would love to see a rewards program or points program for GoMacro. I have eaten these every day for years and I think loyal customers like me would really enjoy being able to accumulate some sort of points for regular orders that we could redeem for the occasional discount!
5
Aubrey
February 3, 2023
I look forward to my GoMacro Double Chocolate + PB Chip bars between teaching fitness classes. They keep me full and are so good. I love that it tastes like a treat but provides a solid macro dose between meals. I have to hide these from my kids because I don't want to share
5
Ashley
December 19, 2022
This bar is so yummy it can double as dessert. I typically use GoMacro as breakfast-on-the-go, but have been known to eat one when I want a snack that's also a bit rich and sweet.
5
Megan
December 19, 2022
These bars are the best! I haven't been able to find a protein bar that I actually enjoy eating, while also satisfying my hunger. These bars are it! They are so delicious, and don't have that gross taste, like most do. The double chocolate peanut butter are my absolute favorite.
5
Melissa
December 18, 2022
These are my favorite flavor! Yum.
5
Cindy
December 16, 2022
I really wish everyone else would stop buying these so I can have them all! They are THAT GOOD! Seriously, this is my go-to for meal replacement when I'm on the go because they don't contain refined cane sugar and the ingredients are organic. They are also delicious, so I get to feel like I'm cheating when I'm not :) My favs are the double chocolate and the dark chocolate with almonds. I also love the mini's for a quick afternoon snack!