Double Chocolate + Peanut Butter Chips
Double Chocolate + Peanut Butter Chips
Smooth Sanctuary
A rich, chocolatey bar sprinkled with melt-in-your-mouth peanut butter chips and an extra handful of organic chocolate chips for a wholesome snack you're sure to savor.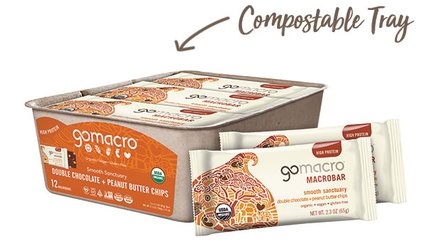 FREE SHIPPING ON ORDERS OVER $50
?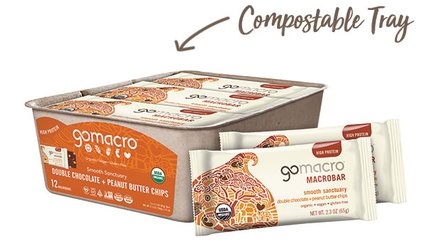 What's Inside
Our take on a classic peanut butter cup blends protein-rich peanuts, vegan chocolate, creamy organic peanut butter, and our very own house-made peanut butter chips to create a satisfyingly delicious treat. With a portion of net proceeds from August sales benefiting the Sheldrick Wildlife Trust, our Smooth Sanctuary MacroBar is an oasis of flavor your taste buds will want to visit again and again. Learn more here.
See Nutrition & Ingredients List
Benefits
11 grams of protein
Organic
Vegan
Gluten-Free
Kosher
Non-GMO
Clean & Raw
Soy-Free
Dairy-Free
Organic Chocolate Chips

Organic Peanut Butter Chips

Organic Chocolate

Organic Peanut Butter
4
Maureen Grimason
May 10, 2021
So good and ships fast. I really wish they were more macro friendly however
5
Deborah Davis
May 10, 2021
I love these. Possibly too much. I'd rather than a GoMacro then a snickers bar.
5
Sara Barbera
May 8, 2021
These things are delicious!! Just the right size for me to split with my son and both enjoy a little treat when we are out and about. It's hard to eat out with all of our allergies, so these make it easy for him to be treated without having to go hunting around for a possible place he might be able to get something from that he might not react to.
5
Trina B
May 7, 2021
I love love love these bars !!! I have never been a protein bar person but these are like a treat and a meal !!! I love my Macro bars!!!
5
Jennifer
April 29, 2021
These are amazing - delicious and indulgent! Definitely one of my favorites. If you like peanut butter and chocolate (and, really, who doesn't??) you must try these bars.
5
Jenda Hardy
April 19, 2021
I absolutely love these bars! Thank you for making such a delicious treat.
5
Robi
April 15, 2021
Theses bars are great! I sometimes just don't feel like or can't figure out what to eat so I eat these as a meal replacement and they keep me going. Breakfast is hard for me so they work great for me.
5
Kim D
April 13, 2021
My favorite Gomacro bar!!! Great chocolate and PB flavor. Very satisfying.
5
Laryssa
April 13, 2021
MacroBars are my favorite protein/snack bar, hands down. I've tried a lot of bars in my day, and I love MacroBars nutrient and ingredients profiles. Even better: the taste is great too! When I tried this flavor, however, I knew that I had fallen "head over heels" in love. This is definitely the best flavor of the bunch. I highly recommend! Do yourself a favor and treat yourself to something wholesome and delicious.
5
Anne
April 9, 2021
Yep, the reviews are correct. This one is the best. It's hard not to eat one every day even when I don't need one. My entire family loves these bars.