Mocha Chocolate Chip
Sweet Awakening™
A heavenly blend of roasted whole bean coffee and rich, organic chocolate that will surely awaken your senses.

Get Same Day Delivery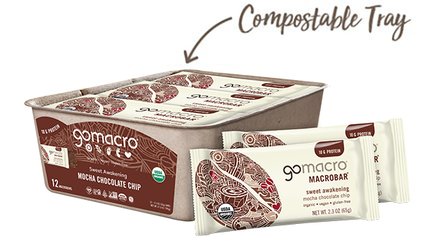 What's Inside
Elevate your day with our blend of roasted whole bean coffee and just-sweet-enough organic chocolate. You can skip the second cup with our Mocha Chocolate Chip MacroBar; we promise it will deliver a truly Sweet Awakening. Please note each bar contains 36 mg of caffeine, slightly less than half of a standard cup of coffee.
See Nutrition & Ingredients List
Benefits
10 grams of protein
Organic
Vegan
Gluten-Free
Kosher
Non-GMO
Clean
Soy-Free
Dairy-Free
Low FODMAP
​
Organic Coffee

Organic Chocolate Chips

Organic Almonds
5
Tom Pihl
November 9, 2022
Love the ingredients for both nutrition and low sodium to assist with Ménière's (the Mocha protein bar and a couple others). A perfect 1/2 meal replacement for my diet needs.
5
Joanna
September 25, 2022
I LOVE this flavor. It's my favorite of all the flavors offered. It is smooth, chocolatey with a tiny hint of coffee. I found these bars after developing IBS. This was one of the things I could eat and not get sick. I have one for breakfast every morning and sometimes another flavor in the afternoon as a snack. I wish the sugar content was slightly lower. Also this particular flavor is so hard to find lately. I love it so much I don't want to be without it.
5
Peggy
September 2, 2022
These bars are fantastic! Mocha is my favorite. Because they are gluten free and vegan I don't feel guilty eating them. Our local market has them available but often they are low in stock so ordering from the source is great.
4
Elizabeth
July 8, 2022
This is my favorite flavor, and I actually wish I didn't like it quite so much! I do have to be careful not to eat one too late in the day, but I think it is my favorite because the bitterness of the coffee cuts the sweetness a bit. That is what I would change about this delicious bar -- and all the flavors I've tried -- make them a little less sweet, please! (That's the reason for the 4, but actually I would give a darker, less sweet bar a 6!) It would also be terrific if you could provide a way to recycle the wrappers -- I am generating a lot of them!
5
Lauren Charbonnier
May 27, 2022
I love these bars! I have not found a flavor I don't like but I especially love Sweet awakenings. Chewy, chocolatey and just enough sweetness.
5
Adrienne trzcinski
May 24, 2022
So so good. great for a pick up when on the run, for a tasty snack anytime, or even as dessert! Definitely my favourite flavor you have created so far!
5
Linda
May 23, 2022
This is my favorite flavor. I never tire of the taste. So glad they are back in stock and available.
5
Deb
April 15, 2022
Love this bar, great pick me up in the afternoon.
5
Janna
April 5, 2022
I love these bars, they travel well, the taste is lightly sweet and savory. It is a quick simple way to start my day. They are hard to find in stores and the company does not seem to care that they are missing most of my shipments twice a month for the past 8 months, which is disappointing. I hope they fix whatever is broken soon, I am looking for a different bar from a different company though.
Response:

Hi Janna - We do apologize that we have been out of stock on this flavor for your subscription. We are working hard every day to produce more bars for you to enjoy and we hope to have this resolved very soon. We appreciate your patience!
5
Trish
April 5, 2022
love these - they meet my dietary restrictions, taste great, and give me a nice amount of protein