Mocha Chocolate Chip
Sweet Awakening
Made with freshly roasted whole bean coffee and fair-trade chocolate, this breakfast bar is delicious and also a good source of protein.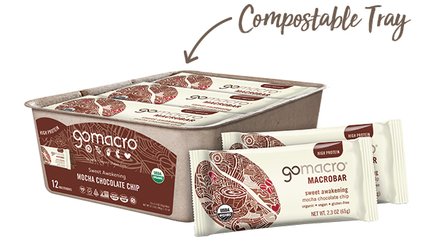 FREE SHIPPING ON ORDERS OVER $50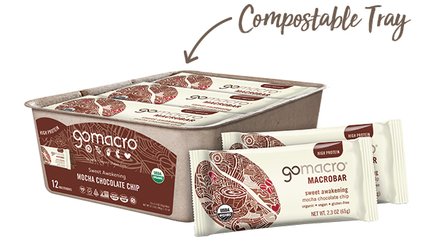 What's Inside
With notes of freshly roasted whole bean coffee paired with fair-trade chocolate, our Mocha Chocolate Chip MacroBar will surely become a staple in your morning routine. Go ahead and skip the second cup. Grab a bite that will bring the buzz for a truly sweet awakening! Please note each bar contains 36mg of caffeine, slightly less than the amount in a half cup of coffee.
See Nutrition & Ingredients List
Benefits
10 grams of protein
Organic
Vegan
Gluten-Free
Kosher
Non-GMO
Clean & Raw
Soy-Free
Dairy-Free
Low FODMAP
​
Organic Coffee

Organic Fair-Trade Chocolate Chips

Organic Almonds
5
AnnieC
April 8, 2020
I LOVE your Sweet Awakening GoMacro Bars!!!! I have many favorites of your flavors, but this is definitely in the top tier. That hint of coffee flavor with the chocolate chips seals the deal! (And my artist eye absolutely loves the wrapper design, too!) Great bar, great product -- I order them by the box cuz we eat 'em up at my house!! Thank you!
5
lily
March 2, 2020
I'm not one to right reviews but I am one to read them, and I really felt these bars needed some more love because they are my FAVORITE!! I love that they aren't too sweet because mocha flavored things have a tendency to be over the top sugary but these have the perfect amount of bitterness and it goes so great with the chocolate pieces!! I love that they have a caffeine kick, they are my absolute go to for breakfast when I have an earlier shift. It's also a great option to throw in my jacket pocket for when my shift runs right through lunch or dinner because I can eat it quickly and mess free on my 10 minute break, while also getting that extra boost of energy! I was concerned originally when I saw the word "syrup" in the ingredients list, but after a little research I found that there's no need to fear because brown rice syrup has no fructose! That means that this bar won't cause your blood sugar to spike and you'll totally avoid that sugar crash! (this is true of all gomacro bars of course!) This bar is filling enough to stand on its own as a meal in a pinch but I'm also never opposed to wrapping up half for later if I'm craving a mid morning or afternoon snack! would highly recommend!!!
Response:

Hi Lily! Thanks for the great review of Mocha Chocolate Chip! There is additional information available on our Infant Safe Brown Rice Syrup in our FAQ's section at www.gomacro.com
5
Cyndi
January 27, 2020
This bar has a caffeine kick to it that's great for people who need that little extra something in the morning. I made the mistake of eating it at bedtime and it kept me up all night. The flavor is excellent. I'm a fan of mocha, and this one is delicious! Just keep in mind that it contains coffe which means caffeine!
5
Marian
December 29, 2019
This flavor is my absolute favorite!!
5
Mark Wolfe
December 29, 2019
Love these bars. Great taste, fiber and protein. I recommend them to everyone.
5
Maricarmen
December 26, 2019
Amazing!!! Love the taste. It is my favorite one. I love taking eat as my afternoon treat. It is amazingly delicious. Love the packaging as well. Thank you!
4
Jacklyn
December 24, 2019
This new flavor was pretty good - the coffee flavor was pretty muted, though I would love more of the coffee taste. I also wish that there were more chocolate chips in it. One bar had maybe 3 in it. And a smidge of salt would bring out some of the flavors! :) But a general concept is a good one. :)
5
Teresa Rutherford
September 19, 2019
I always have at least 2 mocha bars in my purse. I love the taste and I love to share them. I would love a similar bar with decaf coffee that I can eat when I need a sweet snack at night.
5
Christine
July 21, 2019
Update: Thank you GoMacro for sending me more Mocha Chocolate Chip bars! These definitely had more chocolate chips in them! Customer service is amazing! Bars taste amazing! Very, very satisfied customer who will always continue to buy these healthy bars!! Thank you!
5
Mady
July 9, 2019
The mocha choc chip is by far the best bar I have had so far. So delicious I am addicted to it!! (Plus all other macro bars I try!)