Lemon + Lemon
Simple Splendor
A refreshingly sweet and tangy fusion of organic lemon, smooth cashew butter, and crispy puffed brown rice come together for a delicious, citrus-filled snack.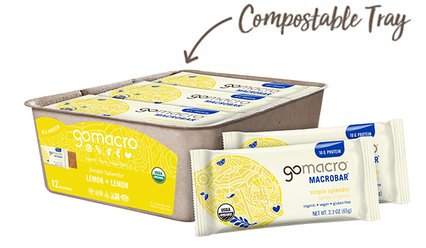 FREE SHIPPING ON ORDERS OVER $50
?

Get Same Day Delivery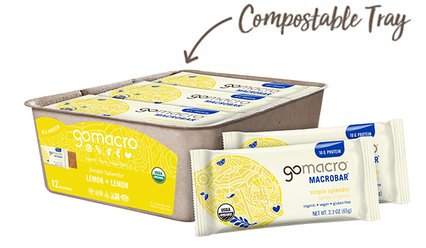 What's Inside
Like a glass of freshly squeezed lemonade on a sunny day, Simple Splendor is bursting with the brightness of organic lemon, crispy puffed brown rice, and rich organic cashew butter. Made with 10g of plant-based protein and a whole lot of sunshine, get ready for a snack that elevates your day... every day!
See Nutrition & Ingredients List
Benefits
10 grams of protein
Organic
Vegan
Gluten-Free
Kosher
Non-GMO
Clean & Raw
Soy-Free
Dairy-Free
​
Organic Cashews

Organic Puffed Brown Rice

Organic Lemon Juice Powder
3
Kandace
June 10, 2022
I love lemon things, so I was excited for these, but they were not my favorite. Something's missing in the flavor for me. I wouldn't reorder the lemon bars again.
5
LENORE NEIDORF
May 19, 2022
Lemon bars have outstanding flavor inside and out!! My favorite has always been peanut butter but now I have 2 incredibly delicious bars!!
5
Lloyd
April 7, 2022
Happy to find this new (to me) treat. They will remain on my list of necessary purchases.
5
Louise
April 6, 2022
I am a bit fanatical about chocolate and nuts but this is a good bright, a little tart, twist to my GoMacro mix and I look forward to it when it comes up as my next flavor.
5
Bri
April 5, 2022
These are my JAM!!! Perfect breakfast with a cup of coffee in the morning. And that lemon flavor and chewy, crispy texture is so delicious! I was so bummed when they were out of stock for so long, so once there was inventory I ordered 3 12-pack boxes!!! I will do that again as long as that 30% discount is available :)
5
Leanne McAfee
April 5, 2022
Lovely Lemon! I am absolutely delighted with the new lemon bars and cannot wait to purchase even more!
5
Michaela White
April 5, 2022
I love lemon, so the introduction of this flavor was super exciting for me! It is sweet without being too sweet and it has easily become one of my favorite flavors! I highly recommend!!
5
Victoria Hrudka
December 14, 2021
I LOVE them so much !!! I was going to give with some Christmas gifts !!! I ate them ALL !!!! They are so Amazing in taste. Now I am waiting for a restocking. But I did order other bars but did not touch them !! For now !! ORDER will be coming soon.
1
Debbie n Dave
November 9, 2021
I have been watching for these for many months now and you are always out of stock. And every site that I have checked does not have the 12 pack except Thrive Market. It is frustrating. We love the Go Macro Bars for all our distance hiking. Debbie n Dave Campbell
Response:

Hi Debbie n Dave - We are sorry to hear that it's been frustrating for you to get ahold of your favorite bars. We encourage you to sign up to receive a in stock notification when this flavor becomes available. To do this simply select on the bar image and enter your email address after you select the "notify when available' option link. We appreciate your patience!
5
Julie
November 3, 2021
My daughter and I both love these bars. They are the perfect balance of lemon... not too sweet and not too tart. She also likes the Chocolate Oatmeal and I like the Maple Promise and we both like Cashew Caramel, but the lemon has surpassed all these flavors. It's a more refreshing flavor than the typical protein bar. Thank you for creating this yummy bar..