Lemon + Lemon
Simple Splendor®
A refreshingly sweet and tangy fusion of organic lemon, smooth cashew butter, and crispy puffed brown rice come together for a delicious, citrus-filled snack.

Get Same Day Delivery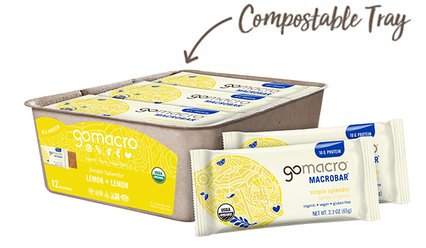 What's Inside
Like a glass of freshly squeezed lemonade on a sunny day, Simple Splendor® is bursting with the brightness of organic lemon, crispy puffed brown rice, and rich organic cashew butter. Made with 10 grams of plant-based protein and a whole lot of sunshine, get ready for a snack that elevates your day... every day!
See Nutrition & Ingredients List
Benefits
10 grams of protein
Organic
Vegan
Gluten-Free
Kosher
Non-GMO
Clean
Soy-Free
Dairy-Free
Organic Cashews

Organic Puffed Brown Rice

Organic Lemon Juice Powder
5
Laura
July 8, 2023
Love the lemon bars! I always keep these and the mocha chocolate in my closet as snack/breakfast. Love the chewiness! Perfect with a cup of coffee. Always stock up when they're on sale, but unfortunately they sell out frequently!!
5
Gretchen
April 14, 2023
LOVE! I love everything about these yummy bars! They're organic and gluten, dairy and soy free and clean!! They are delicious and filling and low sugar… perfection in a wrapper! Oh and you can recycle the wrappers with Terracycle! What's better than that?
5
Liz
March 27, 2023
LOVE these- addicting. Lemon is bright and light and the texture is so good
5
Sherri
February 23, 2023
I LOVE LOVE LOVE these lemon bars. Not super lemony, SO good!
5
Allison Braswell
February 19, 2023
I am not one of those sole whole-foods-kind-of-diet people by any means. I eat little debbie cakes, gummies, and frozen meals on the regular. With that being said, my unhealthy self was unsure how I'd like these, and that's with any new brand of protein bars. By the end of the first bar I can confidently say I wanted another one. The texture was new to me, but I am super fond of it. The lemon was so good. I read up on the website and I am so impressed by the company! The values, mission, sustainability, thoughtfulness... and the list goes on is what we need in all of our foods! I'm one happy customer. Now my unhealthy-self feels healthy for the moment being.
5
Patricia L Calderwood
February 8, 2023
Love the lemon bar.
5
Joel Fichman
February 8, 2023
Ok, this is the best bar we have found so far. We generally look for high protein with low added sugar and a great taste. Maybe you could have a little bit less added sugar, at 12 g that's not so bad but it could be better. Basically, we buy a box of this and maybe a box of something else every time. This is her go to, constant.
5
John Davie
January 23, 2023
Love this lemon bar!
5
Robin Boscia
January 18, 2023
Love the new lemon flavor. Bought one at my favorite retailer & liked so much, had to get an entire box!! Love all the flavors, but this now is one of my favorite
5
Alice
January 11, 2023
Love the taste! It's hard to find bars that are accommodating to my gluten and chocolate allergy. Love the lemon flavor.