Lemon + Lemon
Simple Splendor®
A refreshingly sweet and tangy fusion of organic lemon, smooth cashew butter, and crispy puffed brown rice come together for a delicious, citrus-filled snack.

Get Same Day Delivery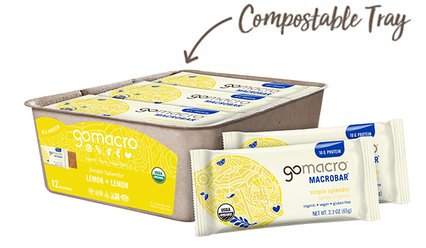 What's Inside
Like a glass of freshly squeezed lemonade on a sunny day, Simple Splendor is bursting with the brightness of organic lemon, crispy puffed brown rice, and rich organic cashew butter. Made with 10g of plant-based protein and a whole lot of sunshine, get ready for a snack that elevates your day... every day!
See Nutrition & Ingredients List
Benefits
10 grams of protein
Organic
Vegan
Gluten-Free
Kosher
Non-GMO
Clean
Soy-Free
Dairy-Free
​
Organic Cashews

Organic Puffed Brown Rice

Organic Lemon Juice Powder
4
Barbara J Arnzen
October 24, 2022
Delicious but there appears to be weight differences in the same batch. Quality control issues?
5
Britt
October 19, 2022
One of my fave flavors of Go Macro bars! Love that they can be a tasty treat when you're craving something sweet. The lemon is subtle and smooth and as always the texture chewy goodness. By far the best protein bars out there!
5
Barbara J Arnzen
October 7, 2022
Delicious and nutritious!
5
Daniel J Willms
August 25, 2022
Great 10g protein macrobars! I like the lemon + lemon as the occasional alternative to all the other delicious and healthy bars from Gomacro. Thank you especially for soy-free bars! I use them for meal replacement at lunch time. Thanks again.
5
Jody Hart
July 11, 2022
I love these Lemon+Lemon bars. I couldn't wait to try them when they first came out and have since reordered a few times. Perfect flavor for the summer or anytime. Light but chewy.
5
Robert Medina
July 8, 2022
The lemon bars have become my all time favorite. I'm addicted and ordered six cases!
5
Shanda
July 7, 2022
These lemon bars have a very light and refreshing flavor. I definitely will order again.
3
Kandace
June 10, 2022
I love lemon things, so I was excited for these, but they were not my favorite. Something's missing in the flavor for me. I wouldn't reorder the lemon bars again.
5
LENORE NEIDORF
May 19, 2022
Lemon bars have outstanding flavor inside and out!! My favorite has always been peanut butter but now I have 2 incredibly delicious bars!!
5
Lloyd
April 7, 2022
Happy to find this new (to me) treat. They will remain on my list of necessary purchases.