Sunflower Butter + Chocolate
Sunflower Butter + Chocolate
Protein Purity™
A delicious blend of creamy sunflower butter and organic cacao powder combine in our original nut-free MacroBar.

Get Same Day Delivery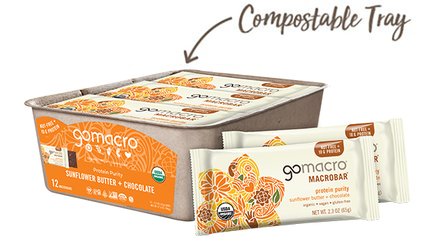 What's Inside
No nuts, no dairy, no gluten... but plenty of delicious flavor! Our Sunflower Butter + Chocolate MacroBar® is made with creamy sunflower seed butter, rich cocoa powder, and crispy puffed brown rice for a subtly sweet treat. With 10 grams of plant-based protein per bar, our Protein Purity™ MacroBar is a satisfying snack to take on the go.
See Nutrition & Ingredients List
Benefits
10 grams of protein
Nut-Free
Organic
Vegan
Gluten-Free
Kosher
Non-GMO
Clean
Soy-Free
Dairy-Free
Low FODMAP
Organic Sunflower Seed Butter

Organic Natural Vanilla

Organic Puffed Brown Rice

Organic Cacao Powder
5
Catherine
July 12, 2023
Great tasting bar as are all of them!
5
Karen
May 7, 2023
It's delicious and filling!
5
Michelle
April 18, 2023
These are the best! I love them. My favorite flavor by far. I keep these with me when on the go, and sometimes have one when I'm running late and need a quick breakfast or lunch. Great flavor, not too sweet. I wish there was a chocolate free bar with the same fat/sugar/protein/nut free/oat free profile.
5
Barbara
April 14, 2023
Every morning and often mid day I enjoy a Go Macro bar. Sunflower butter and chocolate is by far my favorite. But I also enjoy chocolate and almond. I first tried these bars because they are vegan and I fell in love with them. So yummy. Helps get protein.
5
Rosalyn
April 14, 2023
I have been eating these bars for a steady five years and this is my very favorite flavor. Not overly sweet but great chocolate flavor. Keeps me going strong. Love them!
5
Isabelle Cook
February 24, 2023
gomacro is the only energy bars I eat now. I don't digest most energy bars on the market. There is always some weird ingredient most energy bars. gomacro ingredients are all natural and taste great. The Sunflower Butter is one my favorite flavors.
5
Karen
February 12, 2023
Nice flavor, chewy texture, and filling protein bar! Thank you Go Macro for this bar!
5
Kimlee Garib
February 11, 2023
These bars have been my favorite ever since I started the gym seriously and boy I always have at least two in my gym bag for sure! Super healthy, clean ingredients and such good flavors. No regrets at all in my purchase.
5
Master splinter
December 16, 2022
My girlfriend showed me these bars. Ive always trained hard and eaten clean. These are all awesome! Turning my family onto these. I think ive ordered 8 cases of different bars.
5
Mark
October 17, 2022
I really like this bar. I love peanut butter but a different kind of nut butter to change things up a bit is always good. I focus on 4 things: protein, fiber, sugar and sodium. I don't want a lot of added sugars because I think the bars are sweet enough as they are and the salt is just no darn good for ya at all. I would like the bars to be higher in both protein and fiber, more in line with the daily allowances for both.