Sunflower Butter + Chocolate
Sunflower Butter + Chocolate
Protein Purity
A delicious combination of creamy, allergen-friendly sunflower butter and organic cacao powder.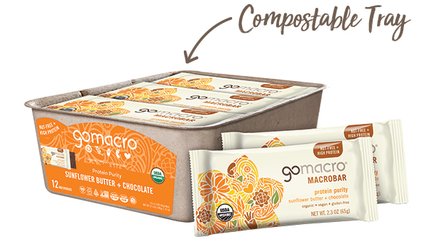 FREE SHIPPING ON ORDERS OVER $50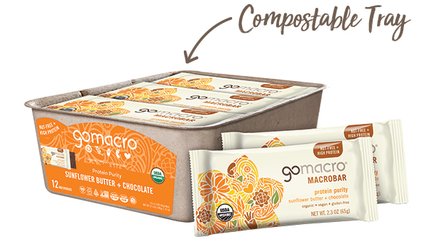 What's Inside
No nuts, no dairy, no gluten....no problem! With 10 grams of plant-based protein, our Sunflower Butter + Chocolate MacroBar is a safe snack that is sure to leave you satisfied!
See Nutrition & Ingredients List
Benefits
10 grams of protein
Nut-Free
Organic
Vegan
Gluten-Free
Kosher
Non-GMO
Clean & Raw
Soy-Free
Dairy-Free
Low FODMAP
​
Organic Sunflower Seed Butter

Organic Natural Vanilla

Organic Puffed Brown Rice

Organic Cacao Powder
5
Sherry Wexler
September 15, 2020
These are satisfying and delicious! Love the sunflower option for those allergic to peanut butter. FYI I love them cold from the fridge because it makes the texture Even more chewy!
5
Lisa Smith
September 8, 2020
I absolutely love these bars!!! I like the crunch in every bite. I work as a landscaper, and this one seems to give me the energy I need to get thru the day. Glad they are back in stock
5
Mick
August 6, 2020
The Sunflower Butter + Chocolate ranks within Top 2 for me. I buy a 12-pack of these often. So yums!
4
Rachel M
July 21, 2020
This bar is yummy, but doesn't have as good of a texture as some others (like the oatmeal chocolate chip). So I like other flavors better, but this one is still good and I wouldn't turn my nose up at it if someone gave me one :)
3
Tannyce
July 4, 2020
I follow a low fodmap diet and really appreciate that Go Macro makes bars that are suitable for the low fodmap diet and that they have a special section on the website. I found this flavour to be good but it isn't my favourite one. Definitely yummy though!
5
Mila
June 23, 2020
Love these bars! I was skeptical because of the sunflower butter but it's a perfect ratio and doesn't overpower the other flavours. I have allergies and this is the only protien bar I can eat and it's saved me so many times. I usually refrigerate and eat chilled for extra texture ( this bar does get melty in hot weather)
4
Sharon Rice
June 3, 2020
This one is ok. I wish it had more sunflower butter flavor. It tastes very similar to other bars. I like the bar, just wishing more sunflower came through in the flavor.
5
Lara Walklet
April 8, 2020
These are fantastic and I'm not a sun butter person, usually. No allergies here but tried it anyway and my 3 year old is obsessed. Eats one daily. Calls it the "black chocolate sticky bar" and even has a song about it. We have started buying three boxes at a time since we go through them so quickly. I'm glad he's getting good protein and feels like he's getting a treat but really it contains great nutritional content.
Response:

Thanks for sharing your cute story, we'd love to hear that song!
5
Paige
April 3, 2020
I am allergic to peanut butter so I was thrilled to find that GoMacro offers a sun butter flavor. The protein in this bar is incredible and the texture is so smooth. If you like sunflower butter you are guaranteed to love this flavor!
5
Gracie H
December 28, 2019
I decided to take a chance on these because of the chocolate factor. I'm so glad I did! They're yummy! This now ranks among my favorites. I had never tried sunflower butter before and was delighted with the flavor with the cacao powder and puffed rice. Gomacro has an excellent line of protein bars with high quality ingredients and high protein. They keep me full and going each day. They are the only ones I eat. Thanks, Gomacro, for such a great product!