Sunflower Butter + Chocolate
Sunflower Butter + Chocolate
Protein Purity™
A delicious blend of creamy sunflower butter and organic cacao powder combine in our original nut-free MacroBar.

Get Same Day Delivery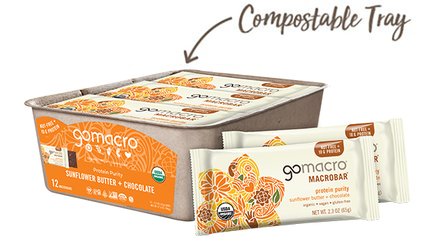 What's Inside
No nuts, no dairy, no gluten... but plenty of delicious flavor! Our Sunflower Butter + Chocolate MacroBar is made with creamy sunflower seed butter, rich cacao powder, and crispy puffed brown rice for a subtly sweet treat. With 10g of plant-based protein per-bar, our Protein Purity MacroBar is a satisfying snack to take on-the-go.
See Nutrition & Ingredients List
Benefits
10 grams of protein
Nut-Free
Organic
Vegan
Gluten-Free
Kosher
Non-GMO
Clean
Soy-Free
Dairy-Free
Low FODMAP
​
Organic Sunflower Seed Butter

Organic Natural Vanilla

Organic Puffed Brown Rice

Organic Cacao Powder
5
Mark
October 17, 2022
I really like this bar. I love peanut butter but a different kind of nut butter to change things up a bit is always good. I focus on 4 things: protein, fiber, sugar and sodium. I don't want a lot of added sugars because I think the bars are sweet enough as they are and the salt is just no darn good for ya at all. I would like the bars to be higher in both protein and fiber, more in line with the daily allowances for both.
5
LTK
October 17, 2022
My favorite gomacro flavor. Use these for pre or post workout. Always try to keep them on hand!
5
Daniel J Willms
August 25, 2022
Excellent protein bars which I use as meal replacement. Gomacro bars are very healthy and gluten-free. I was looking for a bar that was organic and soy-free, and found it in Gomacro. Sunflower Butter + Chocolate is among my favorite bars they offer but all their bars I have tried are very good!
5
Tanya Wilson
August 10, 2022
My absolute favorite! I have been eating these for many years. It is one of the few protein bars that I can eat because of my food allergies.
2
Michael Faith
August 5, 2022
I like the protein bars but I was disappointed in Go Macro's discount policy. There was a discount offer that I could not apply up to the day of it's expiration because the 3 different bars I wanted to purchase were out of stock. When I requested the discount after the bars were again available, I was denied. BTW during the validity period of the special discount nearly ALL of the protein bars were out of stock. This was not a good customer experience and even different from past experiences with Go Macro. As a result, the next time I purchase I will consider other sources for this type of product.
4
Ruby
July 22, 2022
It's really good
5
Joy
June 28, 2022
I enjoyed my first gomacro bar (Sunflower Butter Chocolate) yesterday and it was WoNdErFuL!!! It was very tasty, filling without leaving me feeling bloaty, and it didn't leave a nasty taste in my mouth! So many bars on the market contain allergens… almonds, oats, gluten, soy and are high in sugar (or "sugar" substitutes which give me a migraine). These will be a great alternative to keep on hand and in my bag for Summer adventures and in my classroom! Thanks!!!
5
Mary W
May 27, 2022
Since I am gluten and lactose intolerant, it is wonderful to have the sunflower butter + chocolate gomacro bars handy. They are filling and delicious. Thank you for creating this bar for people like me!
5
Patricia Lister
April 9, 2022
I loved it.
5
P Tyler
March 18, 2022
These are my go to bars, as I have several food allergies. It's very handy to have a healthy bar without allergens. Please make some more flavors without the top allergens; nuts, legumes/pea protein.