Sunflower Butter + Chocolate
Sunflower Butter + Chocolate
Protein Purity
A delicious blend of creamy sunflower butter and organic cacao powder combine in our original nut-free MacroBar.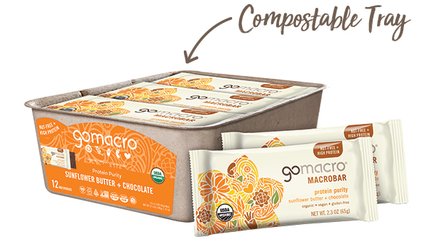 FREE SHIPPING ON ORDERS OVER $50
?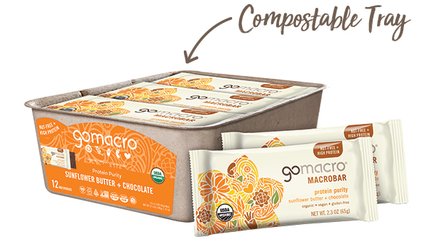 What's Inside
No nuts, no dairy, no gluten...but plenty of delicious flavor! Our Sunflower Butter + Chocolate MacroBar is made with creamy sunflower seed butter, rich cacao powder, and crispy puffed brown rice for a subtly sweet treat. With 10g of plant-based protein per-bar, our Protein Purity MacroBar is a satisfying snack to take on-the-go.
See Nutrition & Ingredients List
Benefits
10 grams of protein
Nut-Free
Organic
Vegan
Gluten-Free
Kosher
Non-GMO
Clean & Raw
Soy-Free
Dairy-Free
Low FODMAP
​
Organic Sunflower Seed Butter

Organic Natural Vanilla

Organic Puffed Brown Rice

Organic Cacao Powder
5
DeeDee Rusch
November 2, 2020
This is my favorite flavor!! Perfect mix of chewy and crunch. Chocolatly yum!!
5
Emily
September 26, 2020
I love this flavor just as much as the next person! I'm a fan of go macro bars and plan to try every flavor! I really enjoyed this flavor, its not to sweet and its soft. Always enjoys these bars whether its a snack or as a pick me up. Very nutritious and delicious! :)
5
jennifer
September 18, 2020
Thanks for caring. I never write reviews; however, this was necessary. I love this bar and multiple others. After being diagnosed with an autoimmune disease and having serious reactions to foods like soy, wheat, eggs ...it was difficult to trust labels. Thanks for bringing joy back to eating. Thanks for making a snack that is truly free of the allergens you state on the label.
5
Sherry Wexler
September 15, 2020
These are satisfying and delicious! Love the sunflower option for those allergic to peanut butter. FYI I love them cold from the fridge because it makes the texture Even more chewy!
5
Lisa Smith
September 8, 2020
I absolutely love these bars!!! I like the crunch in every bite. I work as a landscaper, and this one seems to give me the energy I need to get thru the day. Glad they are back in stock
5
Mick
August 6, 2020
The Sunflower Butter + Chocolate ranks within Top 2 for me. I buy a 12-pack of these often. So yums!
4
Rachel M
July 21, 2020
This bar is yummy, but doesn't have as good of a texture as some others (like the oatmeal chocolate chip). So I like other flavors better, but this one is still good and I wouldn't turn my nose up at it if someone gave me one :)
3
Tannyce
July 4, 2020
I follow a low fodmap diet and really appreciate that Go Macro makes bars that are suitable for the low fodmap diet and that they have a special section on the website. I found this flavour to be good but it isn't my favourite one. Definitely yummy though!
5
Mila
June 23, 2020
Love these bars! I was skeptical because of the sunflower butter but it's a perfect ratio and doesn't overpower the other flavours. I have allergies and this is the only protien bar I can eat and it's saved me so many times. I usually refrigerate and eat chilled for extra texture ( this bar does get melty in hot weather)
4
Sharon Rice
June 3, 2020
This one is ok. I wish it had more sunflower butter flavor. It tastes very similar to other bars. I like the bar, just wishing more sunflower came through in the flavor.