Sunflower Butter + Chocolate
Sunflower Butter + Chocolate
Protein Purity
A delicious blend of creamy sunflower butter and organic cacao powder combine in our original nut-free MacroBar.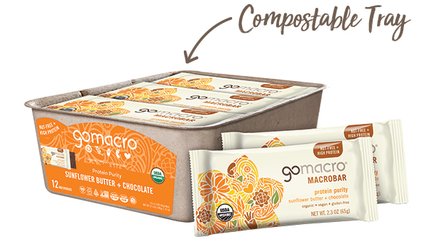 FREE SHIPPING ON ORDERS OVER $50
?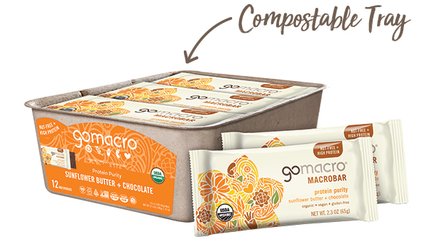 What's Inside
No nuts, no dairy, no gluten... but plenty of delicious flavor! Our Sunflower Butter + Chocolate MacroBar is made with creamy sunflower seed butter, rich cacao powder, and crispy puffed brown rice for a subtly sweet treat. With 10g of plant-based protein per-bar, our Protein Purity MacroBar is a satisfying snack to take on-the-go.
See Nutrition & Ingredients List
Benefits
10 grams of protein
Nut-Free
Organic
Vegan
Gluten-Free
Kosher
Non-GMO
Clean & Raw
Soy-Free
Dairy-Free
Low FODMAP
​
Organic Sunflower Seed Butter

Organic Natural Vanilla

Organic Puffed Brown Rice

Organic Cacao Powder
5
Cheryl Knapp
May 9, 2021
Not quite as good as the oatmeal chocolate chip, but still incredibly tasty. I agree with another review that said it took a little while to get used to the crunch (which is minimal). I'm used to sunflower butter and like it. It's a fantastic bar; my favorite, however, will always be the oatmeal chocolate chip.
5
Codi
April 28, 2021
As someone with IBS it is REALLY hard to find premade foods that I can digest. I came across these bars (thanks Reddit!) and tried them out. The Sunflower Butter one is my favorite flavor wise, but I am able to easily digest all of their bars. Even the ones with coconut, banana and almonds! Highly recommend for anybody who is FODMAP sensitive!
2
Alison Arbo
April 13, 2021
I was not really happy about the crunch in the Sunflower/chocolate macro bars. I guess it takes getting used to. Sincerely, Alison Arbo
4
Peter
April 8, 2021
I like the protein (10 grams) and low saturated fat. Tastes great; however, I would prefer lower sugar content. I'll bet it would taste delicious with less than 11 grams of sugar.
5
Mo Her
April 8, 2021
These bars are the best. This is my third favorite after Heartwarming Retreat and Everlasting Joy. These taste almost homemade and not like chalky chemicals.
5
Beverly
February 25, 2021
I'm allergic to tree nuts, peanuts, and oats. That makes finding a bar difficult. I was so excited when I found these a couple of years ago. The sunflower butter took a bit of getting used to, but I love them now.
5
DeeDee Rusch
November 2, 2020
This is my favorite flavor!! Perfect mix of chewy and crunch. Chocolatly yum!!
5
Emily
September 26, 2020
I love this flavor just as much as the next person! I'm a fan of go macro bars and plan to try every flavor! I really enjoyed this flavor, its not to sweet and its soft. Always enjoys these bars whether its a snack or as a pick me up. Very nutritious and delicious! :)
5
jennifer
September 18, 2020
Thanks for caring. I never write reviews; however, this was necessary. I love this bar and multiple others. After being diagnosed with an autoimmune disease and having serious reactions to foods like soy, wheat, eggs ...it was difficult to trust labels. Thanks for bringing joy back to eating. Thanks for making a snack that is truly free of the allergens you state on the label.
5
Sherry Wexler
September 15, 2020
These are satisfying and delicious! Love the sunflower option for those allergic to peanut butter. FYI I love them cold from the fridge because it makes the texture Even more chewy!