Mint Chocolate Chip
Cool Endeavor™
A fresh take on a classic flavor combo with cool peppermint, rich cocoa, a sprinkle of vegan chocolate chips, and crispy puffed brown rice to elevate every adventure.

Get Same Day Delivery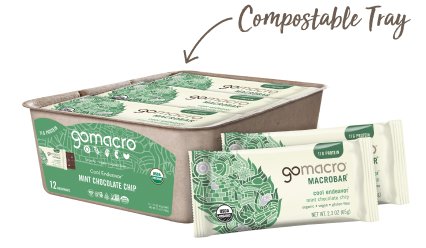 What's Inside
Crisp mint meets creamy chocolate for a Cool Endeavor™ that refreshes and soothes the soul. Our Mint Chocolate Chip MacroBar® combines 11 grams of plant-based protein with organic cashew butter and a touch of peppermint for the chillest companion...wherever you go!
See Nutrition & Ingredients List
Benefits
11 grams of protein
Organic
Vegan
Gluten-Free
Kosher
Non-GMO
Clean
Soy-Free
Dairy-Free
Organic Mint

Organic Chocolate Chips

Organic Puffed Brown Rice

Organic Cashew Butter
5
MAUREEN A Kennedy
July 13, 2023
Mint chocolate chip anything is my go to. I do like this new Go Macro bar. I love the convenience of the bars and I try to have one with me knowing it will satisfy my sweet tooth without being over powering. I am always glad for the high protein bars. The mint chocolate is my second favorite. Oatmeal chocolate chip is my favorite. Maybe I'll try to put them together.
5
Betsy
July 8, 2023
I love a variety of the Go Macro bars, but this minty bar is my new favorite. These.bars are great to pack for a day of hiking or biking. They are a great way to reenergize in a healthy way. I also pack them in my gym bag for a treat on the way home from a tough gym workout. The rich chewy texture and taste makes you feel you are indulging in a delicious dessert, contrary to the actual healthy ingredients.
5
Alysha Edelman
July 8, 2023
Chocolate and mint!!! Finally!! Thank you Go Macro! This bar is so refreshing and comforting - like when I ate Junior mints when I was a kid at the movie theater. So thrilled with this new flavor!! Total fave!!!
5
Suzanne
July 3, 2023
I absolutely love the chocolate mint flavor! I am a chocolate lover and picky about my chocolate. Chocolate mint has been my new favorite macro bar since it came out! I make sure I buy plenty so I don't run out! What I especially love is that it's healthy too!
5
Lori
June 7, 2023
These are so delicious! Great to solve the chocolate desire with a food that is really good for your body!
5
Mere
May 10, 2023
A cool, fresh taste wrapped in a protein bar of great quality. Love this new flavor!
5
Louise Kasl
April 24, 2023
Go Macro nailed this flavor!!! I had suggested this and am very pleased. It smells great and reminds me of a great french mint.
5
Kim Estrada
April 24, 2023
The chocolate mint bar has just the right amount of sweetness and a very pleasant, yet subtle mint aftertaste. It's an excellent bar for q quick and energizing bike riding break.
4
Erin
April 23, 2023
This is my first time trying this flavor. I do love the mint flavor! The texture is not my favorite.... Wish they had chocolate chips in them and they have that slightly crispy texture that I don't really like. But they are pretty good.
5
Paul Gardner
April 22, 2023
Love this new bar and it has moved to my number one choice. Not that all the bars are good, but Mint Chocolate Chip leads the pack.