Blueberry + Cashew Butter
Blueberry + Cashew Butter
Blissful Daybreak
The perfect ratio of real, tangy blueberries, organic cashews, and creamy cashew butter come together to create a fan-favorite flavor that is sure to brighten your day!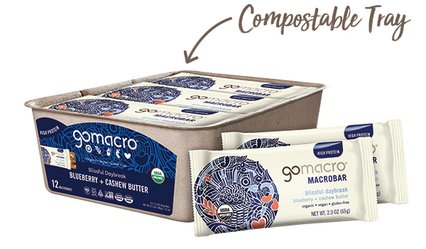 FREE SHIPPING ON ORDERS OVER $50
?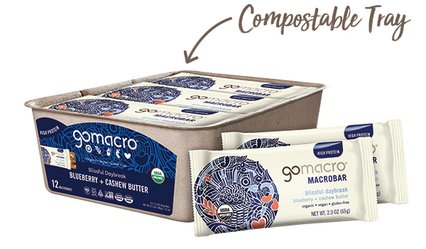 What's Inside
Like beams of golden light pouring over our Wisconsin farm each morning, our Blissful Daybreak MacroBar will leave you feeling refreshed, rejuvenated, and ready to take on the day. Our blend of organic blueberries, plant-based protein, and creamy cashew butter provides a boost of positive, real food energy that will revitalize your spirit all day long.
See Nutrition & Ingredients List
Benefits
10 grams of protein
Organic
Vegan
Gluten-Free
Kosher
Non-GMO
Clean & Raw
Soy-Free
Dairy-Free
Organic Cashew Butter

Organic Puffed Brown Rice

Organic Blueberries

Organic Cashews
4
Kylie
December 14, 2021
Good protein bar for days when I don't have my usual flavors (obsessed with all things chocolate and nutty). While this is probably my least favorite flavor out of all the GoMacro bars I've tried (I've had most of the protein ones), it's not bad. Some people love it. I didn't have to choke it down, it was sufficient. I just prefer the more decadent ones. With most foods, though, the more you eat it the better it gets; even the flavors I prefer less are better with time.
5
Brenna
September 14, 2021
Literally obsessed with this flavor!! I eat one almost every day and I'm super bummed they're out of stock. Love the actual blueberries and cashew bits. This tastes like a blueberry muffin or fresh blueberry oatmeal in a bar form. It's sweet but not overly, flavorful and filling. My favorite and I've tried most of these bars. :) A close second when I want a change is the PB and chocolate chip...can't go wrong with that combo, but I couldn't eat that one every day.
2
Iris Barnhart
June 20, 2021
I love Macro Bars and have been eating them for a while. I tried the new Blueberry + Cashew Butter flavor and it's not one of my favorites. It's pretty bland. I favor the Maple Sea Salt and the Peanut Butter with Chocolate Chips.
5
Angela
April 6, 2021
The blueberry and cashew butter is delicious, such a wonderful combination! Pleasantly chewy and full of protein. It's the perfect breakfast snack and great to take on travels as well. I've been eating Go Macro bars for years!
5
Lisa M Northrup
March 24, 2021
Love this flavour! Good, clean snack, almost impossible to find which is also not dry and appetizing. Great taste and no eater's remorse!
5
Carlie
March 13, 2021
First, I've never been a fan of protein bars. They always just were meh to me. Then I discovered macro bars a couple years ago and it changed everything!! I used to love the banana and almond butter flavor. THEN I found this flavor.... lemme tell you. This is my bar!!! I eat it every single day for a pick me up at work or on my way to dance. Sometimes I even eat it for breakfast because I'm already craving it right when I wake up. This bar is the best flavor and second best has gotta be the oatmeal chocolate chip. If you're wondering which flavor to get, blueberry cashew is no doubt the best. My boyfriend is now hooked. 10/10
5
Jess D.
March 8, 2021
Highly recommended. Soft and decedent texture. The savory sweetness of the cashew butter has a great contrast to the tartness of the blueberries. The blueberries are abundant and evenly distributed throughout the bar. Very hearty and filling. One of my favorites.
5
Betty C
March 7, 2021
This is a newer addition to our GoMacro family collection. I am so happy to have this option on board because blueberry is one of my absolute favorite fruits on the planet. I tend to not like protein bars too sweet, so this is the perfect balance between just sweet enough with a really distinct and delicious blueberry flavor. LOVE THIS.
5
Gary Wilson
February 21, 2021
I love these bars with the blueberry flavor! Blueberry is one of my favorite flavors and I love nuts so this combination works great for me. We also raise blueberries and use them in a lot of different ways.
5
Janet & Mike
September 13, 2020
We absolutely LOVE GoMacro Bars. Blueberry Cashew is our favorite and Oatmeal Chocolate Chip comes in a close 2nd. They are nutritious and you can really feel that when you eat them. Taste Fantastic.! Great for a quick healthy snack on the go. I keep a fresh supply in my glove box and my kitchen pantry. We order regularly so as to never run out!