Blueberry + Cashew Butter
Blueberry + Cashew Butter
Blissful Daybreak®
The perfect ratio of real, tangy blueberries, organic cashews, and creamy cashew butter come together to create a fan-favorite flavor that is sure to brighten your day!

Get Same Day Delivery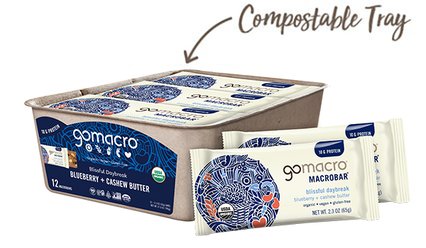 What's Inside
Like beams of golden light pouring over our Wisconsin farm each morning, our Blissful Daybreak MacroBar will leave you feeling refreshed, rejuvenated, and ready to take on the day. Our blend of organic blueberries, plant-based protein, and creamy cashew butter provides a boost of positive, real food energy that will revitalize your spirit all day long.
See Nutrition & Ingredients List
Benefits
10 grams of protein
Organic
Vegan
Gluten-Free
Kosher
Non-GMO
Clean
Soy-Free
Dairy-Free
Organic Cashew Butter

Organic Puffed Brown Rice

Organic Blueberries

Organic Cashews
5
Becca Droz
March 3, 2023
The blueberry cashew is definitely at the top of my list of favorite gomacro flavors. Because of the soft squishy blueberries, the bar is softer than other bars which is nice for the jaw. Great flavor, great consistency, definitely recommend.
5
Chris
February 6, 2023
Great tasting bars for a snack or meal replacement. This is my favorite flavor, not dry or gritty like other brands I've tried. It's perfect for pre/post surf snack and I usually put a few in my waders to eat during long days on the river fishing.
4
Cat
January 7, 2023
Wow! I just tried this flavor for the first time and I must say, I will def be repurchasing! Ive been a huge fan of the peanut butter flavor but wanted to try something a little different, a little sweet. This was delish! I was planning to only have 1/2 a bar but ended up polishing it off #sorrynotsorry. This was delish ! I highly recommend! My only beef with these bars is I wish they had less added sugars.
5
Donna Moody
December 22, 2022
Love these, blueberry is one of my favorite fruits and this is my go to carry along food when I'm on the road and need a great snack to hold me until I get home, I also love to take these along when I go hiking
5
Kendelle
December 19, 2022
My favorite is the blueberry. It's not too sweet, i top it off with unsweetened peanut butter and it's the perfect breakfast or meal on the go!
5
Daphne Stevens
December 19, 2022
Not being able to eat chocolate right now, this is a perfect bar, taste, texture and a delight for the senses. I buy by the cases as never want to be without. Also we are organic vegan so it's the perfect bar for us.
5
Alfonso Gastelum
December 16, 2022
These Blueberry Bars are the BEST!!!! What can I say other than I'm addicted!!!!!
5
Priscilla
October 19, 2022
This bar is part of my Top #3 favorite. The 1st being the cherry bar. 2nd this one. 3rd the kids peanut butter bar. This bar is excellent with a cup of warm coffee. There is no better flavor combination.
5
Sheila
October 16, 2022
This is my favorite bar by far! I have it on a subscription. I can't find it at stores close to me; and Whole Foods (which is a further drive) runs out regularly. The blueberry and cashew flavors are perfect together - it's great taste and quality!
5
Barbara Doonan
October 15, 2022
Love this combination. It is one of our favorites! Always filling and a great texture.