Blueberry + Cashew Butter
Blueberry + Cashew Butter
Blissful Daybreak®
The perfect ratio of real, tangy blueberries, organic cashews, and creamy cashew butter come together to create a fan-favorite flavor that is sure to brighten your day!

Get Same Day Delivery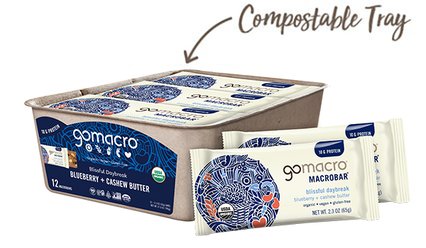 What's Inside
Like beams of golden light pouring over our Wisconsin farm each morning, our Blissful Daybreak MacroBar will leave you feeling refreshed, rejuvenated, and ready to take on the day. Our blend of organic blueberries, plant-based protein, and creamy cashew butter provides a boost of positive, real food energy that will revitalize your spirit all day long.
See Nutrition & Ingredients List
Benefits
10 grams of protein
Organic
Vegan
Gluten-Free
Kosher
Non-GMO
Clean
Soy-Free
Dairy-Free
Organic Cashew Butter

Organic Puffed Brown Rice

Organic Blueberries

Organic Cashews
5
Priscilla
October 19, 2022
This bar is part of my Top #3 favorite. The 1st being the cherry bar. 2nd this one. 3rd the kids peanut butter bar. This bar is excellent with a cup of warm coffee. There is no better flavor combination.
5
Sheila
October 16, 2022
This is my favorite bar by far! I have it on a subscription. I can't find it at stores close to me; and Whole Foods (which is a further drive) runs out regularly. The blueberry and cashew flavors are perfect together - it's great taste and quality!
5
Barbara Doonan
October 15, 2022
Love this combination. It is one of our favorites! Always filling and a great texture.
5
Jamie
August 20, 2022
Love the Gomacro bars, the blueberry and cashew butter is my favorite so far. Great flavor, filling and love the soft consistency!
5
Judith
July 18, 2022
So far, Blueberry + Cashew Butter is my favorite. I love the surprise of sweetness each time I bite into a blueberry.
5
Tenille
April 21, 2022
I love this blueberry cashew flavor. Real blueberries and cashew pieces. It's sweet but not crazy sweet. Have a bar and a glass of water or hot tea and u will be able to hold over until a proper meal. Plus it's delicious as a treat. Sometimes I'll have half of one just as a snack. There are a few flavors I like a lot. I wish the variety packs were in stock or they let you create your own variety box. I'd love to have all the ones I like so I could choose different ones depending on mood every day. The maple, lemon and double chocolate pb chip would absolutely be in my sampler.
5
Mary
April 20, 2022
My favorite flavor of GoMacro bar. I let it get all melted in my backpack while I'm hiking in the sun before eating, and it's extra delicious that way. Keeps me full during a hike.
5
Louise
April 6, 2022
Not a favorite at first but this has been growing on me. The blueberry is fresh and there is good blueberry flavor. I like raw cashews and make cashew sauces etc and have found it a good mix with the blueberries. I eat almost all of the flavors and work to keep a mix of them so that each time I can grab a different one. A great bar that digests well.
5
Lauren
April 5, 2022
My husband and I fight over these. We can't stop eating them and it is hard to have JUST ONE. The blueberries are delicious and the cashews make it SO CREAMY and yummy. Thank you for making this delicious and healthy bar for us to fight over!
4
Kylie
December 14, 2021
Good protein bar for days when I don't have my usual flavors (obsessed with all things chocolate and nutty). While this is probably my least favorite flavor out of all the GoMacro bars I've tried (I've had most of the protein ones), it's not bad. Some people love it. I didn't have to choke it down, it was sufficient. I just prefer the more decadent ones. With most foods, though, the more you eat it the better it gets; even the flavors I prefer less are better with time.