Blueberry + Cashew Butter
Blueberry + Cashew Butter
Blissful Daybreak
The perfect ratio of real, tangy blueberries, organic cashews, and creamy cashew butter come together to create a fan-favorite flavor that is sure to brighten your day!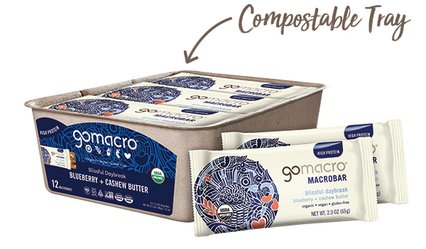 FREE SHIPPING ON ORDERS OVER $50
?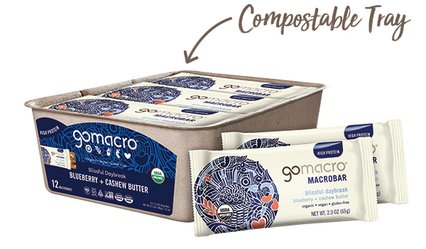 What's Inside
Like beams of golden light pouring over our Wisconsin farm each morning, our Blissful Daybreak MacroBar will leave you feeling refreshed, rejuvenated, and ready to take on the day. Our blend of organic blueberries, plant-based protein, and creamy cashew butter provides a boost of positive, real food energy that will revitalize your spirit all day long.
See Nutrition & Ingredients List
Benefits
10 grams of protein
Organic
Vegan
Gluten-Free
Kosher
Non-GMO
Clean & Raw
Soy-Free
Dairy-Free
Organic Cashew Butter

Organic Puffed Brown Rice

Organic Blueberries

Organic Cashews
5
Janet & Mike
September 13, 2020
We absolutely LOVE GoMacro Bars. Blueberry Cashew is our favorite and Oatmeal Chocolate Chip comes in a close 2nd. They are nutritious and you can really feel that when you eat them. Taste Fantastic.! Great for a quick healthy snack on the go. I keep a fresh supply in my glove box and my kitchen pantry. We order regularly so as to never run out!
5
Alyson Stickel
August 31, 2020
LOVE these bars! This is probably my favorite flavor for breakfast with the blueberry flavor! The flavor is great and love that the protein isn't grainy tasting!
5
Kayla
August 7, 2020
We keep these stocked in our home. We are always on the go and this is the best option we can think of! Tasty and satiating!
5
James
July 11, 2020
Taste and texture are fantastic!
5
Angela D
July 8, 2020
This is my favorite of the GoMacro bars and the GoMacro bars are my favorite bars on the market, for years now. They are chewy but not tough, flavorful without an excess of sugar or sweeteners, and the high protein bars are daily breakfast food. When traveling, I always bring GoMacro bars with me for daily consumption. I love them. Thanks to the GoMacro people who created these wonderful products!
4
sharon rice
June 3, 2020
I like this one. It is probably my second choice for gomacro bars.. good flavor and texture.
5
Carisa
January 2, 2020
Great texture and flavor! It isn't too sweet, but hits the spot when that craving arrives. I'm very happy with this!
5
Kayla
December 22, 2019
Each of the GoMacro bars is a wonderful treat. Really! And they travel well - I always have one or two in my purse. When I'm on the run, I choose a GoMacro bar over unhealthy fast food every time and I never get tired of them. But I just had my first blueberry/cashew butter bar, and I'm pretty sure I now have a new favorite! It's soooo good! With just the right blend of flavors, this particular combination of taste-bud-pleasers will make everyone happy!
5
megahn
September 22, 2019
Delicious! I love the blueberries in this bar. It's one of my favorites!
5
Kimmy Leslie
August 1, 2019
Excellent. I can not buy another Bar. I love goMacros. This product is the perfect balance to keep me going and feeling strong. Clean ingredients that make me feel deliciously satisfied and feeling well. GoMacro has given me "bar anxiety" lol, if I don't have a bar stashed in my daily bag, then I get anxious. Additionally, blueberry bliss is outstanding- my opinion, best flavor! I was excited to try the new flavors- how fun... Loved salted maple, yum yum yum. Thanks goMacro! 5 Stars! We love you.