Coconut + Almond Butter + Chocolate Chips
Coconut + Almond Butter + Chocolate Chips
Everlasting Joy®
A delicious combination of organic shredded coconut, creamy almond butter, and vegan dark chocolate chips!

Get Same Day Delivery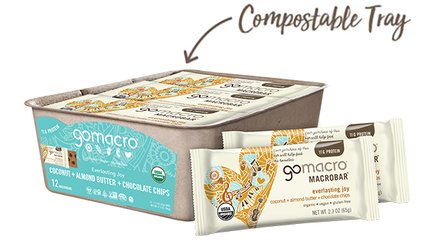 What's Inside
Reminiscent of your favorite candy bar as a kid, this perfect balance of organic coconut, vegan dark chocolate chips, creamy almond butter, and 11 grams of plant-based protein, our Everlasting Joy MacroBar provides delicious, sustained energy to fuel your day. To top it off, a portion of the proceeds from this bar is shared with organizations fighting family hunger and homelessness. Learn more here.
See Nutrition & Ingredients List
Benefits
11 grams of protein
Organic
Vegan
Gluten-Free
Kosher
Non-GMO
Clean
Soy-Free
Dairy-Free
Low FODMAP
​
Organic Almonds

Organic Chocolate Chips

Organic Puffed Brown Rice

Organic Unsweetened Coconut
5
Maggie
May 23, 2023
These are by far the best breakfast bar I've had in a long time! The flavor is great and they keep me full till lunch time! This is my favorite flavor out of them all.
3
Mindy
May 9, 2023
Since I enjoy these I bought 4 boxes on sale. Before this, best by dates were well in the future at least 6 months. These only gave a couple of months. I'd have to eat them every day. So I can't give them 5 stars as hoped. It's a waste of money if I have to throw them out.
Response:

We appreciate your feedback, Mindy - We are sorry to hear that the expiration dates weren't as expected with your more recent order. GoMacro bars will range between 4-6 months of shelf-life remaining by the time you receive them in your home. We will have a member of our Customer Care Team connect with you to assist with any other questions you may have.
5
Rich Kraby
May 7, 2023
Awesome product! Love the texture and flavor.
5
Shannon
May 7, 2023
I love these, and I prefer to warm them up for 15 seconds in the microwave. I have food allergies and sensitives and it's incredibly hard to find a protein bar. This flavor is the only one I can have, since too many of them contain peanuts (allergic) and/or seed butters/oils. Seed oils are terrible for your body. If you do Macros it fits nicely into that, they're great for travel, and I'm not always able to fit a meal between surgeries so these are fantastic!
5
Mare
April 14, 2023
Love these! The flavor combination is spot on! So enjoyable!
5
nicole mason
April 14, 2023
Completely obsessed with gomacro bars!! These are the only protein bars I eat. I'm so thankful to have a variety of bars that are completely delicious, vegan, GF, soy free, etc.. there's nothing better out there!
5
David Eisenberg
March 6, 2023
Yes I love the Coconut Almond Bars. I would love to see the same bar or similar with less sugar but until that happens I'm sticking with them. Best tasting bar I've eaten. BTW I created a bar during my past 2o year career in the Dietary Supplement Industry so I know what it takes to make a good bar and the time it takes to source and plan ingredient purchases. Excellent product and thanks for your creation.
5
I could eat a whole box!
March 4, 2023
I loveeee these! They are my favorite, they taste soooo good! If you have tried them yet you are missing out. I personally eat 2 a day. I've gotten so many ppl i work with, friends, and families hooked on them!
5
Marie Freeman
February 24, 2023
These are the ONLY protein bar that doesn't give me digestive pain. They are so good. Not too sweet with a really nice texture
5
ashley
January 14, 2023
I finally found a vegan snack bar staple! This is my first flavor choice so far and I can't wait to try more! The bars are so chewy and flavorful, and extremely filling, perfect for a post-workout snack!