Coconut + Almond Butter + Chocolate Chips
Coconut + Almond Butter + Chocolate Chips
Everlasting Joy®
A delicious combination of organic shredded coconut, creamy almond butter, and vegan dark chocolate chips!

Get Same Day Delivery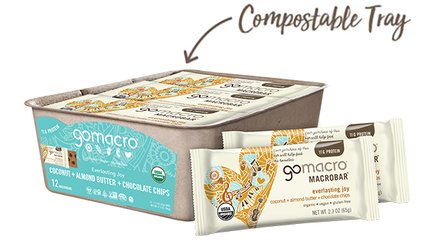 What's Inside
Reminiscent of your favorite candy bar as a kid, with the perfect balance of organic coconut, vegan dark chocolate chips, creamy almond butter, and 11 grams of plant-based protein, our Everlasting Joy MacroBar® provides delicious, sustained energy to fuel your day. To top it off, a portion of the proceeds from the sales of this bar is shared with organizations fighting family hunger and homelessness. Learn more here.
See Nutrition & Ingredients List
Benefits
11 grams of protein
Organic
Vegan
Gluten-Free
Kosher
Non-GMO
Clean
Soy-Free
Dairy-Free
Low FODMAP
Organic Almonds

Organic Chocolate Chips

Organic Puffed Brown Rice

Organic Unsweetened Coconut
5
Caitlin M Quinn
October 2, 2023
These are the only protein bars that actually taste great! I am absolutely addicted to these! The chewiness and these ingredients without all the sweetness is fantastic. These bars are incredible beside the oatmeal chocolate chip flavor.
3
Alondra Meyers
September 24, 2023
Bars are awesome customer service is terrible at returning emails or calls is my only complain. Like my current order am still waiting for someone to return a call and update me
Response:

We are sorry that you had experienced longer than normal call back times. During promotions, our call center and email volumes tend to be higher than normal, and we do our best to contact our customers as quickly as possible. We appreciate your patience!
5
Brittany
September 14, 2023
my favorite flavor! lve these! they are healthy enough for me as an on the go snack, I have a few boxes at my office. I like there are no bad ingredients
5
Allison
July 10, 2023
My new favorite bar! I first tried these at whole foods & have since purchased more multipacks of it. I love the balance between the coconut and chocolate and how overall the bar is quite subtle and not sweet. It is very satisfying, chewy, and keeps me full for hours.
5
Maggie
May 23, 2023
These are by far the best breakfast bar I've had in a long time! The flavor is great and they keep me full till lunch time! This is my favorite flavor out of them all.
3
Mindy
May 9, 2023
Since I enjoy these I bought 4 boxes on sale. Before this, best by dates were well in the future at least 6 months. These only gave a couple of months. I'd have to eat them every day. So I can't give them 5 stars as hoped. It's a waste of money if I have to throw them out.
Response:

We appreciate your feedback, Mindy - We are sorry to hear that the expiration dates weren't as expected with your more recent order. GoMacro bars will range between 4-6 months of shelf-life remaining by the time you receive them in your home. We will have a member of our Customer Care Team connect with you to assist with any other questions you may have.
5
Rich Kraby
May 7, 2023
Awesome product! Love the texture and flavor.
5
Shannon
May 7, 2023
I love these, and I prefer to warm them up for 15 seconds in the microwave. I have food allergies and sensitives and it's incredibly hard to find a protein bar. This flavor is the only one I can have, since too many of them contain peanuts (allergic) and/or seed butters/oils. Seed oils are terrible for your body. If you do Macros it fits nicely into that, they're great for travel, and I'm not always able to fit a meal between surgeries so these are fantastic!
5
Mare
April 14, 2023
Love these! The flavor combination is spot on! So enjoyable!
5
nicole mason
April 14, 2023
Completely obsessed with gomacro bars!! These are the only protein bars I eat. I'm so thankful to have a variety of bars that are completely delicious, vegan, GF, soy free, etc.. there's nothing better out there!