Coconut + Almond Butter + Chocolate Chips
Coconut + Almond Butter + Chocolate Chips
Everlasting Joy
A delicious combination of organic shredded coconut, creamy almond butter, and vegan dark chocolate chips!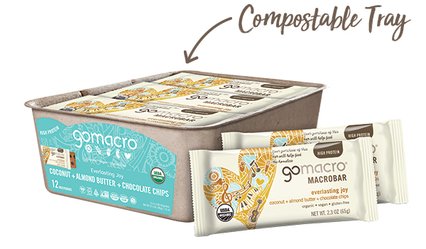 What's Inside
Reminiscent of your favorite candy bar as a kid, this perfect balance of organic coconut, vegan dark chocolate chips, creamy almond butter, and 11 grams of plant-based protein, our Everlasting Joy MacroBar provides delicious, sustained energy to fuel your day. To top it off, a portion of the proceeds from this bar is shared with organizations fighting family hunger and homelessness. Learn more here.
See Nutrition & Ingredients List
Benefits
11 grams of protein
Organic
Vegan
Gluten-Free
Kosher
Non-GMO
Clean & Raw
Soy-Free
Dairy-Free
Low FODMAP
​
Organic Almonds

Organic Chocolate Chips

Organic Puffed Brown Rice

Organic Unsweetened Coconut
5
kylie
December 14, 2021
HEARTY BAR THAT SUPPORTS CHARITY! This bar supports a good cause, and who doesn't want that! But I'm sure you're wondering about the actual product, too, and to that my answer is below. This bar has a good, interesting flavor. It's decadent and rich from the almond butter and coconut. Those are mostly what give it its texture, so if you're not a fan of the grittiness of coconut or are not a fan of coconut altogether, I would instead recommend the Peanut Butter or Peanut Butter Chocolate Chip GoMacro bars. This flavor is still yummy, though. The chocolate makes it even better. The combination of flavors and the way they make it somehow creates something different than the run-of-the-mill protein bars you'd get elsewhere. It's not one of my top favorites but it's still a great bar and I'd buy again regardless.
5
Alex Richards
October 23, 2021
Just wow. As someone who tracks macros, this easily fits into my meal plans regardless of what my protien/carb/fat splits are. Super delicious, solid ingredients and really good satiety for hours. Fantastic work on this product....a true rarity in this market.
5
Isabella T
September 25, 2021
I have been eating everlasting joy for over two years now. It's taken me quite literally my entire life to actually like a bar and I have found my forever. Please never discontinue this flavor. I would truly be devastated!! I think this is hands down the best flavor; however, I haven't been able to stray from it so I truly would not know.
5
Mia
April 15, 2021
This is by far my favorite GoMacro flavor. The taste is subtle and it's the perfect combination of flavors! I always come back to it :)
5
Peggy
April 9, 2021
These bars have a taste and texture that are just perfect. The chocolate bits make it a truly luscious treat. Healthy and tasty.. what more could you want?
5
Mo Her
April 8, 2021
The oatmeal chocolate chip is my favorite but this a close second. The best protein bars I've had. They taste like food, not chemicals.
5
Maddie
March 28, 2021
My favorite bar ever! I eat these every day! MUST try if you haven't already
5
Carol
March 25, 2021
I love the Everlasting Joy bars as well as the Protein Pleasure. It is hard to pick a favorite because they are so delicious. I have been telling all of my coworkers about them and sometimes I even share!! (Safely of course). Thanks for making these yummy and healthy bars. I love sweets too much and these are definitely a more healthy alternative.
5
Felicia Nicholson
February 17, 2021
I love these bars!
5
Donna
February 3, 2021
Delicious and something I can safely eat