Coconut + Almond Butter + Chocolate Chips
Coconut + Almond Butter + Chocolate Chips
Everlasting Joy®
A delicious combination of organic shredded coconut, creamy almond butter, and vegan dark chocolate chips!

Get Same Day Delivery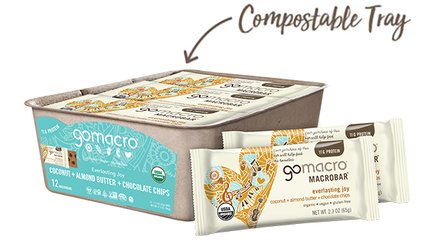 What's Inside
Reminiscent of your favorite candy bar as a kid, this perfect balance of organic coconut, vegan dark chocolate chips, creamy almond butter, and 11 grams of plant-based protein, our Everlasting Joy MacroBar provides delicious, sustained energy to fuel your day. To top it off, a portion of the proceeds from this bar is shared with organizations fighting family hunger and homelessness. Learn more here.
See Nutrition & Ingredients List
Benefits
11 grams of protein
Organic
Vegan
Gluten-Free
Kosher
Non-GMO
Clean
Soy-Free
Dairy-Free
Low FODMAP
​
Organic Almonds

Organic Chocolate Chips

Organic Puffed Brown Rice

Organic Unsweetened Coconut
5
ashley
January 14, 2023
I finally found a vegan snack bar staple! This is my first flavor choice so far and I can't wait to try more! The bars are so chewy and flavorful, and extremely filling, perfect for a post-workout snack!
5
Mimi
December 21, 2022
This is my favorite bar and favorite flavor!! Highly recommend this one!!
5
Karla
December 20, 2022
I love the texture of these, being more thick/chewy than other GoMacro bars I've tried. I bought these mainly to support the charity & have quality snacks on hand, and was presently surprised that it's not an overpowering coconut flavor.
5
Courtney Ellis
December 20, 2022
So dang good. I think I could live off these things. I love the coconut almond choc chip flavor. I ate them throughout my 4-month hike on the Pacific Crest Trail and they kept me fueled, never got sick of them, always loved the taste. They were my favorite breakfast, snack, and dessert!
5
Dogdaddy
December 19, 2022
Love these bars just chewy enough not overwhelming flavor or sweetness and they are GOOD for me instead of junk food...
5
Vicki Mize
December 19, 2022
I'm so grateful to have found these bars 4 years ago. I look forward to my daily bar for afternoon snack. They are truly the best tasting protein bar on the market. They are expensive, but knowing you are eating clean ingredients is worth every penny. My grandkids love them too. Thank You!
5
Luciana
December 16, 2022
Such a good flavour, I recommend trying.
5
David Eisenberg
December 16, 2022
I love the almond coconut bars for several reasons. No refined sugar, great consistency, taste and mouth feel. Organic ingredients are an absolute requirement so I'm happy you have this choice. The only option I would love to see is a version of this bar with less sugar! I am a believer in less sugar equals better taste and it would be even more healthy. There is a sugar substitute made from Allulose and Monk Fruit extract called "Nature's Besti sugar replacement" made by Wholesome yum brands. It has no after taste and is an awesome sugar substitute. Has no effect on the bowels and tastes great!
5
Emmaline
December 16, 2022
I LOVE LOVE LOVE macrobars. In fact, my whole family does! We could eat these everyday, oh wait, we do! Sometimes I have it for breakfast AND lunch. This flavor is our favorite it never gets old. Perfect blend of sweet and chewy. It is also very filling.
5
Barbara J Arnzen
October 7, 2022
Quality product!