Coconut + Almond Butter + Chocolate Chips
Coconut + Almond Butter + Chocolate Chips
Everlasting Joy
A delicious combination of organic shredded coconut, creamy almond butter, and vegan dark chocolate chips!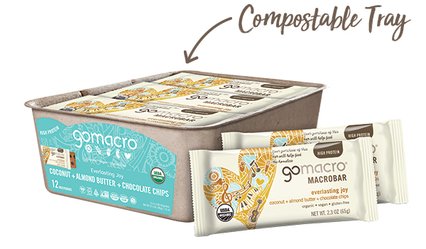 What's Inside
Reminiscent of your favorite candy bar as a kid, this perfect balance of organic coconut, vegan dark chocolate chips, creamy almond butter, and 11 grams of plant-based protein, our Everlasting Joy MacroBar provides delicious, sustained energy to fuel your day. To top it off, a portion of the proceeds from this bar is shared with organizations fighting family hunger and homelessness. Learn more here.
See Nutrition & Ingredients List
Benefits
11 grams of protein
Organic
Vegan
Gluten-Free
Kosher
Non-GMO
Clean & Raw
Soy-Free
Dairy-Free
Low FODMAP
​
Organic Almonds

Organic Chocolate Chips

Organic Puffed Brown Rice

Organic Unsweetened Coconut
5
Mia
April 15, 2021
This is by far my favorite GoMacro flavor. The taste is subtle and it's the perfect combination of flavors! I always come back to it :)
5
Peggy
April 9, 2021
These bars have a taste and texture that are just perfect. The chocolate bits make it a truly luscious treat. Healthy and tasty.. what more could you want?
5
Mo Her
April 8, 2021
The oatmeal chocolate chip is my favorite but this a close second. The best protein bars I've had. They taste like food, not chemicals.
5
Maddie
March 28, 2021
My favorite bar ever! I eat these every day! MUST try if you haven't already
5
Carol
March 25, 2021
I love the Everlasting Joy bars as well as the Protein Pleasure. It is hard to pick a favorite because they are so delicious. I have been telling all of my coworkers about them and sometimes I even share!! (Safely of course). Thanks for making these yummy and healthy bars. I love sweets too much and these are definitely a more healthy alternative.
5
Felicia Nicholson
February 17, 2021
I love these bars!
5
Donna
February 3, 2021
Delicious and something I can safely eat
5
Deanna Bernal
January 7, 2021
So tasty and a great snack. My only concern is 11/12gm of the sugars are 'added sugars'. It's pretty sweet so seems a little unnecessary BUT still really tasty! So, no real complaints!
5
Isabella
December 1, 2020
Of the flavours available on the Australian market, this (by the slimmest of margins) is my favourite flavour. My three favourite flavours in one!
5
Emily
September 26, 2020
I love this flavor! The combination of almond butter, coconut, and the chocolate chips, WOW, YUM! I really enjoyed this flavor. Always enjoys these bars whether its a snack or as a pick me up. Very nutritious and delicious! :)