Coconut + Almond Butter + Chocolate Chips
Coconut + Almond Butter + Chocolate Chips
Everlasting Joy
A joyful medley of unsweetened coconut, creamy almond butter and vegan dark chocolate.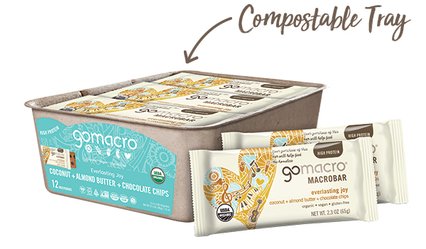 What's Inside
Reminiscent of your favorite candy bar as a kid, this combo of coconut, chocolate chips, and almond butter is sure to bring you Everlasting Joy. To top it off, a portion of the proceeds of this bar will help feed the homeless.
See Nutrition & Ingredients List
Benefits
11 grams of protein
Organic
Vegan
Gluten-Free
Kosher
Non-GMO
Clean & Raw
Soy-Free
Dairy-Free
Low FODMAP
​
Organic Almonds

Organic Fair-Trade Chocolate Chips

Organic Puffed Brown Rice

Organic Unsweetened Coconut
5
Nicole
May 18, 2020
My absolute favorite flavor! The texture, taste, and the fact that they are vegan just make my stomach so happy. I have been eating these for two years and dropped any other protein bar since I started.
5
Chelsea Collins
April 13, 2020
My absolute favorite bar EVER. I live off of this flavor. I will buy it until the day I die. It was so hard to find a protein bar that I could actually eat that didn't have the protein, grainy taste to it. I don't like coconut at all but you can't even taste it in these. These are the best of the best and I will support and tell everyone about them. Highly HIGHLY recommend this flavor.
5
Savannah
April 8, 2020
My FAVORITE flavor!! So good, great for an afternoon snack or dessert. Sometimes I crave multiple a day. Such a good staple that leaves you feeling energized and satisfied.
5
Paige
April 3, 2020
This is probably my favorite GoMacro bar! Although every time I try a new flavor I discover a new favorite. They are all good. I struggle from low blood sugar and these sustain me, almost like a meal replacement on my really busy days. Even my one year old son loves GoMacro bars and hasn't tried a flavor he doesn't like. This flavor especially is DELICIOUS and a must-try. Once you have one, you will be hooked
5
Gladiator.Torres
March 24, 2020
Delicious, mouthwatering and nutritious. I love the slight crunch of the chocolate chips. I use them mainly as a dessert, but also as an on the go meal. Thank you Go Macro, I hope others will try the variety of amazing products offered. Stay healthy.
5
kim
March 23, 2020
I first tried Go Macro bars about 6-7 months ago from the local Trader Joe's... I'm hooked! They're super tasty and satisfying and I love that the ingredients are natural and simple. I started ordering online because I love the mini-bar options. Additionally, the story of Go Macro's founders and owners is incredibly beautiful and inspiring. I'm proud of their product and their focus as a company.
5
Mindi Broughton
March 23, 2020
I think I am addicted to these bars. I love the "everlasing joy" bar so much. It has become my mid-morning guilty pleasure on a daily basis. Getting ready to unwrap one right now!!
5
Isabel
March 23, 2020
This is by far my favorite flavor! There is the perfect balance between the almond, coconut and chocolate flavors. The chocolate chips are so good and are like little nuggets of everlasting joy themselves!
5
Sarah Mazanec
March 18, 2020
I have eaten a lot of bars in my day and this by far is my favorite. From the ingredients to the consistency of the bar, the GoMacro bar is the perfect snack!
4
Julia
March 10, 2020
This is my favorite flavor of GoMacro! The coconut and chocolate chips give it the perfect sweetness and I love how soft/chewy it is. The only downside for me is the amount of sugar and fat these bars have. But since they are clean ingredients, I'm willing to justify it! Also, with it being almost 300 calories, I feel it should fill me up more, but they are smaller in size and don't fill me up enough to be a complete meal, just more of a snack. Aside from this, these are my favorite protein bars and I love what this company stands for!