Coconut + Almond Butter + Chocolate Chips
Coconut + Almond Butter + Chocolate Chips
Everlasting Joy
A delicious combination of shredded coconut, creamy almond butter, and vegan dark chocolate chips!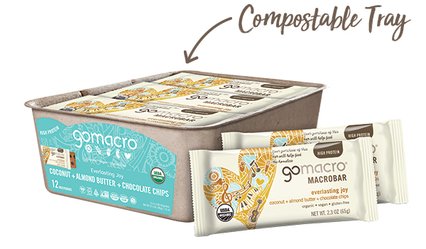 What's Inside
Reminiscent of your favorite candy bar as a kid, this perfect balance of organic coconut, vegan dark chocolate chips, creamy almond butter, and 11 grams of plant- based protein, our Everlasting Joy MacroBar provides delicious, sustained energy to fuel your day. To top it off, a portion of the proceeds from this bar is shared with organizations fighting family hunger and homelessness. Learn more here.
See Nutrition & Ingredients List
Benefits
11 grams of protein
Organic
Vegan
Gluten-Free
Kosher
Non-GMO
Clean & Raw
Soy-Free
Dairy-Free
Low FODMAP
​
Organic Almonds

Organic Fair-Trade Chocolate Chips

Organic Puffed Brown Rice

Organic Unsweetened Coconut
5
Emily
September 26, 2020
I love this flavor! The combination of almond butter, coconut, and the chocolate chips, WOW, YUM! I really enjoyed this flavor. Always enjoys these bars whether its a snack or as a pick me up. Very nutritious and delicious! :)
5
Xenia
September 17, 2020
This is my favorite flavor and go-to breakfast. I love them. Perfect texture and tastes REAL (like all GoMacro bars, but definitely not the case for a lot of breakfast or protein bars).
5
Jen
September 14, 2020
They are my go to bar to fill me up! And they taste so yummy!
5
Emily
September 10, 2020
This is my flavor so far! I have a sweet tooth and this hits that itch, but isn't overly sweet. It reminds me of cookie dough that is less sweet in a way. It's hard to described. This is my go to snack when I don't have time to cook or need something to eat on the go.
5
Luciana
September 8, 2020
I really enjoy this product, tastes great!
5
Sara
September 8, 2020
Love this flavor! What is better then coconut and chocolate.
5
Nicholas
August 14, 2020
Easily my favorite GoMacro bar. My gut told me to try this flavor first when I tried my first GoMacro bar, and it has been my top pick and most frequently purchased flavor ever since! Seriously, the combination of flavors is a no-brainer: coconut, almond butter, and chocolate. Easy decision. Love these!
5
Alysha
August 13, 2020
AMAZING! Never disappointed!!!
5
Betty
August 5, 2020
Whenever I snack on this, it reminds me of being in the tropics. What I love about this bar, and about pretty much every GoMacro bar, is that even though there are sweet elements, like coconut shavings and chocolate chips, it's never too sweet or overpowering. They really have perfected their recipe!
5
Gal Andres
July 22, 2020
I am a huge fan of macro bars. They taste amazing and I love supporting a small, family run company. Coconut+Almond Butter+Chocolate chips is my favorite flavor. These bars are so delicious! I use them in a pinch for a meal replacement or as part of my lunch when I am hiking/backpacking. They are a wonderful snack as well. I am known to buy these in bulk, so that I am never without them :)