Oatmeal Chocolate Chip
Heartwarming Retreat
A twist on our family's fresh baked oatmeal cookie recipe.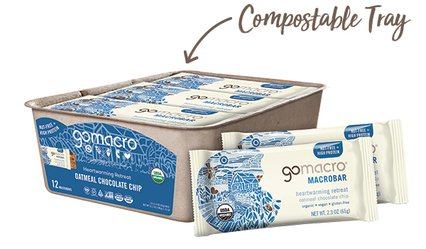 FREE SHIPPING ON ORDERS OVER $50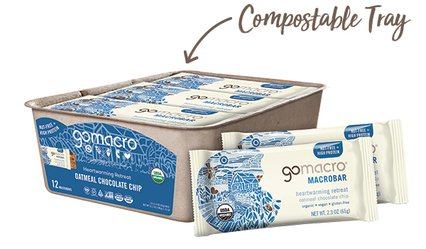 What's Inside
Take your taste buds on a stroll down memory lane with our nut-free, Oatmeal Chocolate Chip MacroBar. Nostalgic of our family's fresh-baked oatmeal chocolate chip cookie recipe, we've combined gluten-free oats, a dash of vanilla, and a handful of fair-trade, vegan chocolate chips for a taste that will leave you longing for more!
See Nutrition & Ingredients List
Benefits
12 grams of protein
Nut-Free
Organic
Vegan
Gluten-Free
Kosher
Non-GMO
Clean & Raw
Soy-Free
Dairy-Free
Organic Gluten-Free Rolled Oats

Organic Fair-Trade Chocolate Chips
5
Samantha B
April 21, 2020
I absolutely love this flavor! It's perfect for breakfast with coffee or as a snack any time of day. The texture is perfect, and it's just the right amount of sweetness! I love taking these on backpacking trips also because they are higher in protein. By far my favorite GoMacro Bar!
4
Chelsea C.
April 13, 2020
I am a GoMacro fanatic. I was so excited to try this bad because oatmeal is a staple in my life and chocolate chips just make it better. These are a little more sweet than I expected but taste just like an oatmeal cookie. I LOVE!
5
Analicia
April 12, 2020
Do you like Oatmeal Chocolate Chip everything? Well this bar will be no exception. SO good and a tie of being my favorite along with the Maple Sea Salt. I love the brand being that it's privately owned, only uses clean ingredients, is so well certified, has fantastic texture of chewy with amazing crunch of puffed brown rice.
5
Patricia Krotche
April 11, 2020
When I first tried your bars, I bought a variety pack thinking I would learn which flavors I liked the best. I really enjoyed all of the flavors in the variety pack. Then you sent a free oatmeal bar because at the time that was the new flavor. I'm so glad you did because now that is my favorite flavor. It tastes just like a cookie. THANKS!!!
5
Lane
April 8, 2020
Absolutely my favorite. Great flavor and texture. I have one for lunch if I don't want to leave the computer to cook. Perfect nutrition for WFH (Working From Home).
5
Michelle Heath
April 7, 2020
WOW the new Oatmeal Chocolate Chip bar is my favorite and that is saying A LOT! I am partial to blueberry/cashew and PB Chocolate chip but this one is one I order by the case. We first learned about Macro Bars at The Kushi Institute of macrobiotic cooking a few years ago and ever since these are the only bars I buy for skiing, hiking, and sometimes just a snack at home. Thank you for the high quality an delicious taste!!!
5
Stephanie Noumeh
April 7, 2020
I've been a fan of GoMarco bars for years now! I always wanted to be a partner. Their bars are my absolute favorite and in my opinion this newer flavor texture just melts in your mouth! I always go for this or the chocolate peanut butter, but truthfully my favorite is doing the variety boxes because they are all so delicious! Thank you guys. Excited to try the newest double chocolate & pb! Love you guys!
5
Paige
April 3, 2020
I think this bar tastes just like a delicious chocolate oatmeal cookie but without any of the guilt! The oatmeal is chewy and the bar itself is not too sweet. The perfect way to satisfy a sweet tooth without making cookies and the best part is, it is good for you!
5
Mallory
March 30, 2020
I'm a tried and true peanut butter chocolate chip protein bar gal. I've tried a few other of the protein bars, but definitely not all of them. PBCP has always been our favorite compared to others, but this is the only one to give it a run for its money! The consistency is definitely much more oat-like, which is to be expected, and maybe slightly more dense than the PBCP, BUT seems less susceptible to the chewing-on-leather texture when cold like PBCP. If you like oatmeal, you'll like OCC. Now instead of stocking up only PBCP, we're going OCC too!
5
Lori W
March 30, 2020
This bar is my favorite and works well with LOW FODMAP diets! It is so hard to find a bar these days that does not contain honey or dates. Thank you Go Macro for making bars that I can actually eat and are delicious!!