Oatmeal Chocolate Chip
Heartwarming Retreat
A twist on our family's fresh baked oatmeal cookie recipe.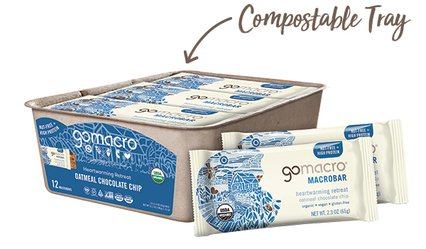 FREE SHIPPING ON ORDERS OVER $50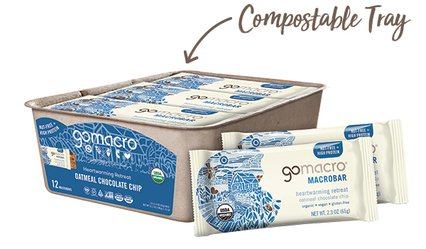 What's Inside
Take your taste buds on a stroll down memory lane with our nut-free, Oatmeal Chocolate Chip MacroBar. Nostalgic of our family's fresh-baked oatmeal chocolate chip cookie recipe, we've combined gluten-free oats, a dash of vanilla, and a handful of fair-trade, vegan chocolate chips for a taste that will leave you longing for more!
See Nutrition & Ingredients List
Benefits
12 grams of protein
Nut-Free
Organic
Vegan
Gluten-Free
Kosher
Non-GMO
Clean & Raw
Soy-Free
Dairy-Free
Organic Gluten-Free Rolled Oats

Organic Fair-Trade Chocolate Chips
5
Ashley
August 5, 2020
These are all my all-time favorite GoMacro flavor! They are perfectly soft and chewy and the flavor is amazing - it tastes just like you're eating a chocolate chip cookie, but they're healthy!
5
Jennifer
August 2, 2020
Veggiemomcooks got me started on these Delicious bars. I've tried oatmeal chocolate chips, peanut butter and chocolate, granola and coconut. All were good, but oatmeal chocolate is my #1 go to~ bought 2 extra boxes
5
Rachel M
July 21, 2020
This is my favorite flavor so far. So tasty and I love that it is dairy, gluten, and soy free, but still tastes great and has lots of protein!
5
Amy Frantz
July 19, 2020
This bar is definitely one of my favorites such a yummy taste oatmeal and chocolate chip together. I've never been a fan of oatmeal raisin cookies but these (no raisins) are fantastic.
5
Cyley
July 13, 2020
These are amazing! There is finally a protein bar that doesn't have almond butter in it- love the flavor and texture.
5
Patricia Pokorski
July 9, 2020
It does taste like an oatmeal cookie but without the guilty. Love this flavor, too!
5
Kaitlyn
July 9, 2020
I love this flavor! It works for meals, snacks or treats and is absolutely delicious! I recommend it to everyone. The best bar I have had.
5
Samantha B
April 21, 2020
I absolutely love this flavor! It's perfect for breakfast with coffee or as a snack any time of day. The texture is perfect, and it's just the right amount of sweetness! I love taking these on backpacking trips also because they are higher in protein. By far my favorite GoMacro Bar!
4
Chelsea C.
April 13, 2020
I am a GoMacro fanatic. I was so excited to try this bad because oatmeal is a staple in my life and chocolate chips just make it better. These are a little more sweet than I expected but taste just like an oatmeal cookie. I LOVE!
5
Analicia
April 12, 2020
Do you like Oatmeal Chocolate Chip everything? Well this bar will be no exception. SO good and a tie of being my favorite along with the Maple Sea Salt. I love the brand being that it's privately owned, only uses clean ingredients, is so well certified, has fantastic texture of chewy with amazing crunch of puffed brown rice.