Oatmeal Chocolate Chip
Heartwarming Retreat
A cozy combination of chewy oats and organic chocolate chips make this protein-filled version of our family's oatmeal chocolate chip cookie recipe a fan favorite.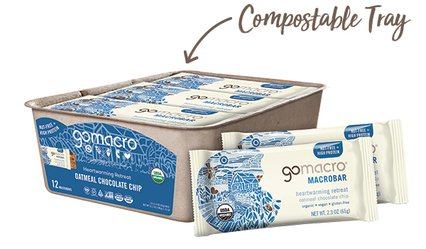 FREE SHIPPING ON ORDERS OVER $50
?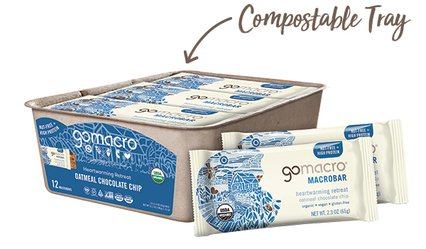 What's Inside
Take your taste buds on a stroll down memory lane with our nut-free, Oatmeal Chocolate Chip MacroBar. We've combined gluten-free oats, a dash of vanilla, and a handful of organic chocolate chips for a just-sweet-enough flavor that will leave you satisfied and energized!
See Nutrition & Ingredients List
Benefits
12 grams of protein
Nut-Free
Organic
Vegan
Gluten-Free
Kosher
Non-GMO
Clean & Raw
Soy-Free
Dairy-Free
Organic Gluten-Free Rolled Oats

Organic Chocolate Chips
5
kylie
December 14, 2021
CULT FAVORITE DECADENT PROTEIN BAR! This is by far one of the most popular GoMacro bar flavors. I get it, it's delicious. I crave these, too. After eating many of the other GoMacro protein bar flavors, I was surprised that the texture was a little different (like the title says, it's OATMEAL chocolate chip. Rolled oat pieces pressed into the bar). If you like a finer blend you might want to try a different GoMacro bar. BUT this one is still delicious, satisfying, and energy-providing. Don't knock it until you try it— it's still really yummy. This is probably my third or fourth favorite flavor out of all of the GoMacro Protein Bars. This is not to say that it's not good, but some have more delicious chocolate and nuttiness than this one and I'm a huge fan of those two things. Those with nut allergies should give this a go!
5
Lara K
November 12, 2021
These bars are really tasty! They remind me of licking the spoon when making cookies. And yet, not too much sugar! We eat GoMacro bars almost every day, they are our go-to favorite for and afternoon tea snack or to toss in my purse in case we get stuck hungry out and about.
4
Ashley LaDuke
October 19, 2021
I am so in love with these protein bars. They have clean ingredients and are gluten free which helps me out a lot. The only thing I would say is that they are way too expensive for only 12.. I wish they were a little less expensive then I would buy them more often.
5
Heather
August 25, 2021
These are the absolute BEST Protein bars on the market. Love GoMacro! The oatmeal chocolate chip is by far the best and I have tried most varieties. Sure wish the minis stayed in stock longer, because what a great idea for a quick snack when a full bar is just too many macros!!!
5
Jennifer Sweete
May 26, 2021
FINALLY! A Heartwarming Retreat! A healthy protein bar that doesn't have nuts or soy or a ton of sugar! AND it tastes DELICIOUS! Great when camping, on the go, or with a warm cup of tea in the early morning watching the sunrise from the back deck ... I'M IN LOVE!!! And SO GRATEFUL!
5
Suzyn
May 13, 2021
These are the best bars EVER!! Trying to find a bar with oat flour, no eggs, and all organic is VERY difficult, particularly if you want great taste! THANK YOU for these bars..I have them with coffee in the morning, a pick up in the afternoon!THANK YOU!!!!
3
Alissa
May 10, 2021
I typically love Macro bars, but the two cases I ordered in this batch were not as fresh as what I usually receive when I order directly from the website. They tasted dry and had a hard texture. Disappointing, since the bars can be so good when fresh!
Response:

Hi Alissa - We are sorry to hear that you had a disappointing experience with these bars. A member of our Customer Care team will be connecting with you soon to resolve this.
5
Robyn
May 9, 2021
These quickly became a favorite in our household of two very active adults who also have a sweet tooth. My husband is an avid runner and has a lot of food allergies, so it has been an ongoing struggle to find good (and tasty) bars for him. One of his go-tos stopped making protein bars, and we found GoMacro nut-free, soy-free options in our search. He looks forward to his cookie every day!
5
Cheryl Knapp
May 9, 2021
Only one negative. I CAN'T STOP EATING THEM!!! I have looked everywhere for a chewy bar that has no egg, no gluten, no dairy, no nuts. When I first found them in a local health food store, I bought two boxes (4 in each box). A couple days later, I went back to the health food store and bought all the rest (several more boxes). These are filled with natural ingredients and taste like chocolate chip cookie dough. Thank you for giving me a taste experience I've long to have for a really long time. Congratulations!!! Hope you sell millions (but keep a few available for me, please!)!
5
Brooke
May 7, 2021
Amazing bar all together. I honestly stumbled across these protein bars a year ago when I realized my daughter, who I was breastfeeding at the time, had a dairy and soy allergy. They are vegan and soy free with a decent amount of protein. I tried one and got hooked. I've literally had one every morning for months. They are pricey which stinks, but they do hold me over for 4 hours and are delicious!