Oatmeal Chocolate Chip
Heartwarming Retreat®
A cozy combination of chewy oats and organic chocolate chips make this protein-filled version of our family's oatmeal chocolate chip cookie recipe a fan favorite.

Get Same Day Delivery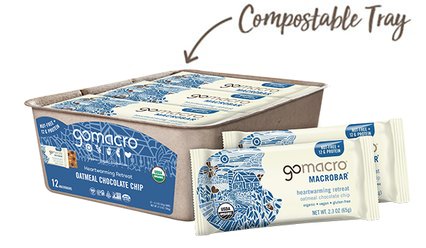 What's Inside
Take your taste buds on a stroll down memory lane with our nut-free, Oatmeal Chocolate Chip MacroBar. We've combined gluten-free oats, a dash of vanilla, and a handful of organic chocolate chips for a just-sweet-enough flavor that will leave you satisfied and energized!
See Nutrition & Ingredients List
Benefits
12 grams of protein
Nut-Free
Organic
Vegan
Gluten-Free
Kosher
Non-GMO
Clean
Soy-Free
Dairy-Free
Organic Gluten-Free Rolled Oats

Organic Chocolate Chips
5
Jerry
November 1, 2022
These are great go to bars when you don't have time to eat a proper meal! They taste great and are not overly sweet! I also like the fact that I can pronounce all the ingredients, and it does not contain soy! As a man, I try to avoid soy as much as possible! Overall, GoMarco are great bars!
5
Lisa
October 19, 2022
This is our favorite flavor! My husband and I buy these all the time to have on hand for a quick snack when we are traveling or out and about.
5
BCK Santa Fe
October 17, 2022
Terrific taste bolstered with excellent nutrition
5
Diana
October 16, 2022
Great bar for us nut free folks!
5
Margaret Vermillion
October 14, 2022
Bare none the best protein/granola bar I have ever had! Absolutely delicious!
5
Yale Cohen
October 14, 2022
We love these things ... we must not be the only ones cuz THEY'RE OUT OF STOCK!
5
Rob Stenner
September 19, 2022
Really enjoy the oatmeal bars. I eat them as part of my breakfast every day!
5
Christine
July 15, 2022
Great option for the nut free folks. Love the flavor!
5
Alyssa R.
July 8, 2022
Oatmeal Chocolate Chip is my FAVORITE flavor. It's so good it doesn't even taste like I'm eating a protein bar. Tastes like dessert! Feel free to judge me but I'd be lost without my GoMacro Oatmeal Choc Chip bars.
5
Kelly Keelan Moreland
July 8, 2022
my favorite protein bars. only complaint is they are always sold out on your site and at my stores when i try to buy them