Oatmeal Chocolate Chip
Heartwarming Retreat®
A cozy combination of chewy oats and organic chocolate chips make this protein-filled version of our family's oatmeal chocolate chip cookie recipe a fan favorite.

Get Same Day Delivery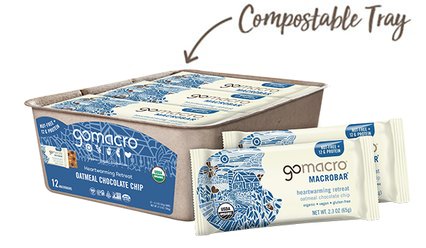 What's Inside
Take your taste buds on a stroll down memory lane with our nut-free Oatmeal Chocolate Chip MacroBar®. We've combined gluten-free oats, a dash of vanilla, and a handful of organic chocolate chips for a just-sweet-enough flavor that will leave you satisfied and energized!
See Nutrition & Ingredients List
Benefits
12 grams of protein
Nut-Free
Organic
Vegan
Gluten-Free
Kosher
Non-GMO
Clean
Soy-Free
Dairy-Free
Organic Gluten-Free Rolled Oats

Organic Chocolate Chips
5
MAUREEN A Kennedy
July 13, 2023
The oatmeal chocolate chip is my top top favorite. Good combination of flavors. I try to carry one of the bars with me. This one is just sweet enough and chewy enough. Thank you for the great bar.
5
Catherine
July 12, 2023
I love all the Macro Bars! I find it difficult to find healthy vegan bars that all taste good, so I was happy when I found Macro!
5
Noelle
July 9, 2023
Great tasting, highly recommend
5
Mike
July 7, 2023
A favorite for years!! Any plans to make bars with less sugar/carbs?
5
Tiny Tiger
June 9, 2023
This has been my favorite for years!!!
5
Yasmine
June 8, 2023
I love this bar! Great flavor and the texture is the right amount of chewy with the chocolate chips giving a bit of a crunch. I'm not a big sweets person but I could eat these everyday!!
5
Gloria Mangialardo
May 7, 2023
I love my GoMacro bars! My favorite flavor is Oatmeal Chocolate Chip. It is absolutely delicious!
4
Mike
April 23, 2023
Oatmeal Chocolate Chip and Peanut Butter are favorites. Wish you made a low sugar/carb bar.
5
Lisa
April 18, 2023
My daughter and I love these bars. Kind of tastes like cookie dough. Soft, chewy and delicious. These are fabulous when I'm running around and need something with me so I don't eat junk.
5
Bruce Sheridan
April 8, 2023
I really like this bar. It is softer than other bar but I enjoy the texture and taste. The oatmeal mixes nicely with the chocolate chips combined with the smooth texture makes this one of my favorites!