Oatmeal Chocolate Chip
Heartwarming Retreat
A cozy combination of chewy oats and organic chocolate chips make this protein-filled version of our family's oatmeal chocolate chip cookie recipe a fan favorite.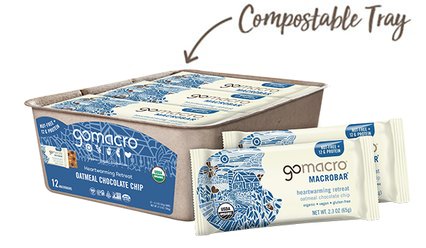 Due to increased demand, this product is currently unavailable.

You can also click the link below to receive a notification when this product is back in stock.

Notify When Available
FREE SHIPPING ON ORDERS OVER $50
?

Get Same Day Delivery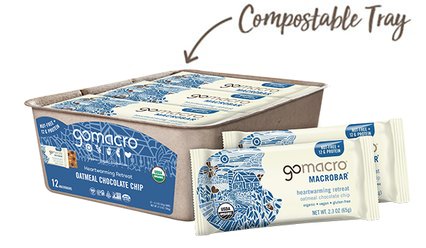 What's Inside
Take your taste buds on a stroll down memory lane with our nut-free, Oatmeal Chocolate Chip MacroBar. We've combined gluten-free oats, a dash of vanilla, and a handful of organic chocolate chips for a just-sweet-enough flavor that will leave you satisfied and energized!
See Nutrition & Ingredients List
Benefits
12 grams of protein
Nut-Free
Organic
Vegan
Gluten-Free
Kosher
Non-GMO
Clean & Raw
Soy-Free
Dairy-Free
Organic Gluten-Free Rolled Oats

Organic Chocolate Chips
4
Jill
June 16, 2022
These are in my top 3... alittle sweet but I like the oatmeal texture
3
lori
May 13, 2022
I just found this to be "okay." I regularly buy Go Macro for after running to get a hit of protein. I tried this one because it has slightly higher protein and it sounded good. I found it to be too sweet with not much flavor, but I think it is just a "me" thing. It was fine, edible and the same benefits as the normal GM. I'm assuming for someone who can't eat nuts this is a great option! I love peanut butter so I'll just stick with my favorite after this!
5
Christine
April 20, 2022
This is my favorite! Love the added texture and chewiness of oatmeal with the sprinkling of chocolate chips. I would love to see more bars with oatmeal. I eat these for breakfast two to three times a week and feel like I am getting more nutrition without the food triggers that I experience. Please never run out! :0)
5
Crystal
April 18, 2022
LOVE the Oatmeal Chocolate Chip bars!!! They taste just like a cookie, without the guilt. These are perfect for a snack, or meal replacement when coupled with a protein shake. My kids love them, too. The only complaint I have is that sometimes they aren't in stock, but that's usually the case with good things!
4
Paolo
April 15, 2022
My fav bar at the end of an extended (pedaled) bicycle ride. Reducing the sugar and increasing the protein contents would be my only suggestion for improvement, which would likely be attractive to other athletes.
5
MarceLynn
April 14, 2022
These are delicious and as a busy vegan, they're perfect to eat on my way to work. And excellent snacks, also!
3
Suzec
April 12, 2022
Wanted to love these as they are gluten and dairy free, but I ordered 2 boxes and the 2nd one contained hard and much drier bars. They are too expensive to not taste great.
Response:

Hi Suzec - We are sorry to hear about your experience. We will have a member of our Customer Care Team reach out to you!
5
Stephen R Iverson
April 8, 2022
Tasty!
5
Kensey
April 8, 2022
My favorite of the GoMacro bars by far! They are very tasty and full of good ingredients. These bars keep me full for a lot longer than any granola bar or other similar products do which I greatly appreciate.
5
Christina Stylianou
April 8, 2022
Love this flavor it's my favorite!!!! So chewy. But Dosent get stuck on my teeth which is a huge plus unlike other protein bars. I've though about turning it into a desert and dipping it in chocolate!