Oatmeal Chocolate Chip
Heartwarming Retreat
A cozy combination of chewy oats and fair-trade chocolate chips make this protein-filled version of our family's oatmeal chocolate chip cookie recipe a fan favorite.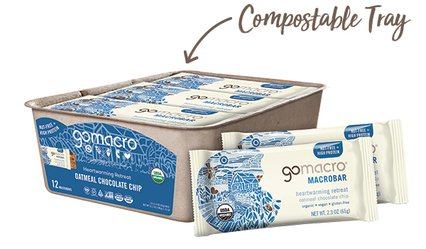 FREE SHIPPING ON ORDERS OVER $50
?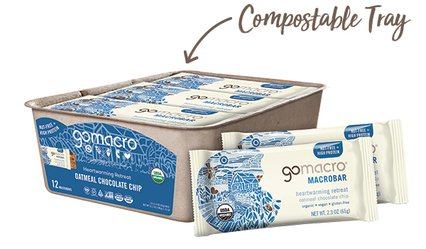 What's Inside
Take your taste buds on a stroll down memory lane with our nut-free, Oatmeal Chocolate Chip MacroBar. We've combined gluten-free oats, a dash of vanilla, and a handful of fair-trade, vegan chocolate chips for a just-sweet-enough flavor that will leave you satisfied and energized!
See Nutrition & Ingredients List
Benefits
12 grams of protein
Nut-Free
Organic
Vegan
Gluten-Free
Kosher
Non-GMO
Clean & Raw
Soy-Free
Dairy-Free
Organic Gluten-Free Rolled Oats

Organic Fair-Trade Chocolate Chips
5
Shirl Parsons
September 23, 2020
These bars are amazing! I have dietary issues so for me these bars are my favorite have to have snacks. They remind me of my grammas oatmeal cookies.
5
Megan Simpson
September 12, 2020
Amazing! Just like cookie dough. Definitely my favorite!!
5
Leanne McAfee
September 9, 2020
Incredible chocolate taste and the oats make it hearty and satisfying, and it's a clean source of raw, vegan ingredients. Highly recommend if you enjoy soft and chewy oatmeal chocolate chip cookies!
5
Heath Wagner
September 8, 2020
ALL of the bar flavors are delicious. The Oatmeal Chocolate Chip is my absolute favorite! These bars are great and not full of junk ingredients. I highly recommend them to everyone!
5
Nicholas
August 14, 2020
Honestly, it's difficult not to add a box of these onto my order whenever I need to "re-up" my GoMacro supply. The oats give this one such a satisfying texture; the flavor is reminiscent of a warm bowl of easy-eating oatmeal with just the right touch of chocolate. Love these!
5
Bethany
August 12, 2020
Love! I was not sure if I would enjoy the sunflower seed butter, but honestly, I can tell no difference between it and a nut butter. If you are a fan of classic oatmeal chocolate chip cookies, you will love these!
5
Pat
August 10, 2020
Love this bar. Have one every day. Satisfies my craving for chicolate.
5
David Katz
August 9, 2020
Delicious flavor. Great soft texture as well.
5
Florence Brown
August 8, 2020
Love the favor.
5
Ashley
August 5, 2020
These are all my all-time favorite GoMacro flavor! They are perfectly soft and chewy and the flavor is amazing - it tastes just like you're eating a chocolate chip cookie, but they're healthy!