Oatmeal Chocolate Chip
Heartwarming Retreat®
A cozy combination of chewy oats and organic chocolate chips make this protein-filled version of our family's oatmeal chocolate chip cookie recipe a fan favorite.

Get Same Day Delivery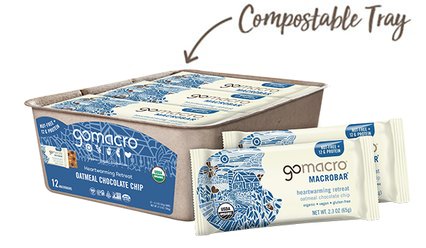 What's Inside
Take your taste buds on a stroll down memory lane with our nut-free, Oatmeal Chocolate Chip MacroBar. We've combined gluten-free oats, a dash of vanilla, and a handful of organic chocolate chips for a just-sweet-enough flavor that will leave you satisfied and energized!
See Nutrition & Ingredients List
Benefits
12 grams of protein
Nut-Free
Organic
Vegan
Gluten-Free
Kosher
Non-GMO
Clean
Soy-Free
Dairy-Free
Organic Gluten-Free Rolled Oats

Organic Chocolate Chips
5
Rachel
February 24, 2023
I am absolutely obsessed with this flavor!! Out of all the GoMacro bars I've tried, the oatmeal chocolate chip has always been my top favorite. These bars are great on the go. They are super filling and tasty and hold me over to my next meal. Highly recommend!
5
Bradley Mittleman
February 6, 2023
The best bars to help me through a workout! These are my favorite tasting bars I have tried!
5
Zoe Farkash
February 4, 2023
so delicious, tastes exactly like a cookie
5
Anastasia
February 1, 2023
The oatmeal-chocolate chip bars are the most delicious, delectable protein bars of which I have had the privilege to experience. As someone who loves eating mindfully, I enjoy protein bars as a snack when on the go, in hopes of boosting my energy. The GoMacro bars have a rich flavor, and a chewy base but crunchy texture on account of the oats; there are 12 grams of protein contained within the bar, alongside 60 milligrams of sodium and 2 milligrams of iron. The bar is vegan, organic, gluten and nut free; with its sweet, yet not overbearing taste, I often forget about just how wholesome the contents of the bar are. I am saddened that my local stores do not have more of the GoMacro bar flavors, but I have stocked up on oatmeal-chocolate chip bars now that I have been granted the chance. Highly recommend these bars to anyone, and everyone, looking for an on-the-go snack that provides excellent nutritional benefits.
5
Robert
January 20, 2023
Addictively delicious. Sometimes, it's all I want as a meal. I rate it as tops but I don't know if one or five is the top score. Not defined in the review.
4
Paul
December 27, 2022
I enjoy the ingredients in these bars but wish GoMacro could reduce the sugar content to something like 3 grams - or use stevia as a substitute. Too many sport bar manufacturers add too much sugar at unhealthy levels.
5
Kaylee
December 20, 2022
One of my absolute favorite flavors. They are the perfect amount of soft and chewy, with plenty of chocolate chips.
5
Dane Margol
December 18, 2022
These bars are the best…as is the customer service. I ordered three boxes on Black Friday. Somewhere along the way, my package was "lost". Called customer service…my three boxes, along with a fourth box of "new flavors" was delivered. Thank you for making delicious and satisfying bars AND your excellent customer relations.
5
Emily
December 16, 2022
This is my favorite flavor - so delicious. I like that there is no artificial sugar. Great for when I'm on the go and don't have time for a meal or for a post work out.
5
Mark
December 16, 2022
Most meal bars I eat hold me over to lunch time better than a bowl of 1 packet of oatmeal and this bar is not exception. Love this bar, high protein, would like more soluble fiber, it would be great if you could get 25% of the daily allowance of both protein and fiber on these bars. Sugars are ok but I am all for eliminating the sodium all together.