Salted Caramel + Chocolate Chips
Salted Caramel + Chocolate Chips
Timeless Treasure®
The decadent flavor of vegan caramel mingles with a touch of sea salt and plenty of organic chocolate chips for a wholesome take on a timeless treat.

Get Same Day Delivery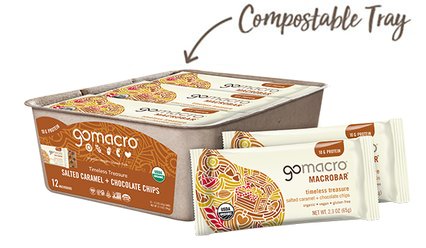 What's Inside
Dive into the rich, chewy goodness of our Salted Caramel + Chocolate Chips MacroBar®. An organic mix of smooth almond butter and coconut milk blended with the warmth of maple sugar creates the classic gooey caramel taste you treasure with 10 grams of plant-based protein. To top it all off, we added a dash of sea salt and a generous sprinkle of vegan chocolate chips for a Timeless Treasure® that will melt your worries away.
See Nutrition & Ingredients List
Benefits
10 grams of protein
Organic
Vegan
Gluten-Free
Kosher
Non-GMO
Clean
Soy-Free
Dairy-Free
Low FODMAP
Organic Chocolate Chips

Organic Maple Syrup

Organic Puffed Brown Rice

Organic Almond Butter
5
Alice
July 14, 2023
This is my favorite bar. I eat one almost every morning and i actually say "yum" out loud! It's delicious with healthful ingredients. I eat it with my oat milk latte and I'm not hungry until lunch.
5
Alysha Edelman
July 8, 2023
This bar almost renders me speechless.... It's OUTRAGEOUS! So beyond satisfying! The caramel flavor is
5
Gnee
May 23, 2023
I love these bars, and this flavor is the best, in my opinion. Most of these type bars have always been a disappointing chore to eat, but that is not the case with macrobars. I've only recently tried these so am looking forward in trying other flavors but it's gonna be hard topping the salted caramel.
5
Alysha Edelman
May 8, 2023
THIS BAR IS INSANE! And yes, it definitely has a coffee like flavor...in addition to the other flavors. The flavors and amount of each flavor is absolutely INCREDIBLE!! Everyone MUST try this bar! It will be your favorite!
5
Alice Lasswell
May 7, 2023
Yummy yum yum!!!! These are so yummy!!!
5
Ryan
May 5, 2023
This one is my wife's favorite flavor and my second favorite flavor! Compared to any other non-Go Marco bar this is heads and shoulders above the rest! I can't imagine going back to any other bar!
5
Jillian Speece
April 3, 2023
Oh my goodnesss, the Salted Caramel + Chocolate Chip bar is incredible!!! I just got my shipment in and in less than two weeks the whole box was gone. If you love the flavor of caramel and chocolate then you will LOVE this new bar. I am already giddy about ordering this bar again. Plus my husband loved it which makes it a win-win!
5
Jean
January 20, 2023
I really love this newer flavor. It has a great texture. It is a bit sweet but I enjoy that. There are little caramel bits that are delicious. I think this brand of plant based protein bars is superior to others in terms of taste and texture.
5
Katie
January 9, 2023
I have IBS and follow a Low FODMAP diet, so these little bars are a godsend! I've also tried quite a few of the MacroBar flavors, and Timeless Treasure is by far my favorite!!
5
Jenna
January 3, 2023
At first, it almost gives a slightly coffee flavor! Absolutely delicious!