Salted Caramel + Chocolate Chips
Salted Caramel + Chocolate Chips
Timeless Treasure
The decadent flavor of vegan caramel mingles with a touch of sea salt and plenty of organic chocolate chips for a wholesome take on a timeless treat.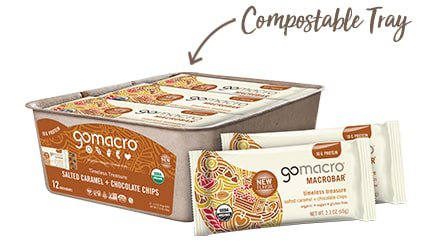 FREE SHIPPING ON ORDERS OVER $50
?

Get Same Day Delivery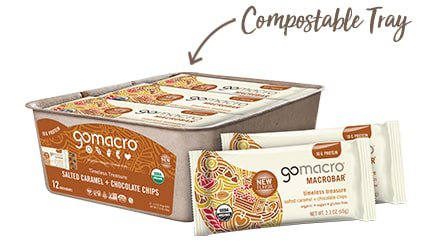 What's Inside
Dive into the rich, chewy goodness of our Salted Caramel + Chocolate Chips MacroBar. An organic mix of smooth almond butter and coconut milk blended with the warmth of maple sugar creates the classic gooey caramel taste you treasure with 10g of plant-based protein. To top it all off, we added a dash of sea salt and a generous sprinkle of vegan chocolate chips for a Timeless Treasure that will melt your worries away.​
See Nutrition & Ingredients List
Benefits
10 grams of protein
Organic
Vegan
Gluten-Free
Kosher
Non-GMO
Clean
Soy-Free
Dairy-Free
Organic Chocolate Chips

Organic Maple Syrup

Organic Puffed Brown Rice

Organic Almond Butter
5
Judy
April 25, 2022
I love these bars, but then I love every flavor of Go Macro and am so grateful to have found them. The chewy, satisfying texture is the best thing about them. Plus, they don't shed pieces that fall all over your clothes as you eat them as so many bars do...a definite plus when eating them on the run and while driving. Salted Caramel, Peanut Butter, Dark Chocolate, Mocha...they're all great flavors.
5
Christy
April 17, 2022
I love these new caramel and chips bars. My second favorite after the peanut butter chocolate chip bars. YUM!
5
Alysha Edelman
April 15, 2022
OMG - This new flavor is AMAZING - AMAZING - AMAZING!!!! I am hooked!! It is decadent and so satisfying! Sometimes I have a bar after dinner as dessert lol... DELICIOUS!!!
5
Allie Bales
April 8, 2022
Love the texture and taste of this bar! Definitely will buy again. Perfect combo of soft while not being gooey. Like eating an almond butter salted cookie!
5
Rick
April 6, 2022
Might be the best food on earth! I LOVE, LOVE, LOVE the bars you produce! I a fan, a HUGE fan! Only improvement you could make is to get more of the yumminess to the stores! They keep running out!
4
Louise
April 6, 2022
I did get in on these when they showed up. Sweet, and I like sweet, so more candy like in flavor. I like it and it will be an ongoing part of my rotation though I think the Cashew caramel may be more of a fave than this for me.
5
Michelle Gifford
April 5, 2022
The Salted Caramel + Chocolate Chips is my new favorite flavor! I love the flavor and texture. It also has the perfect level of sweetness for me, both from the bar and the chocolate chips. I'm SO happy with this product!
5
Helena
April 5, 2022
I sent the bars to my son and he said "the bars are really good"
5
Vanessa
April 3, 2022
I love Macro bars - but this flavor is by far the best. So soft and yummy - it's like a dessert
5
Vanessa
April 3, 2022
I love Macro bars - but this flavor is by far the best. So soft and yummy - it's like a dessert