Salted Caramel + Chocolate Chips
Salted Caramel + Chocolate Chips
Timeless Treasure®
The decadent flavor of vegan caramel mingles with a touch of sea salt and plenty of organic chocolate chips for a wholesome take on a timeless treat.

Get Same Day Delivery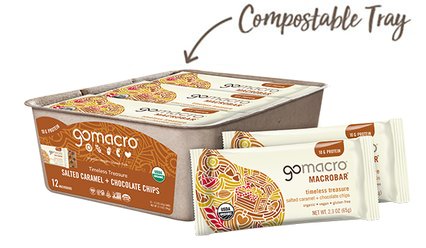 What's Inside
Dive into the rich, chewy goodness of our Salted Caramel + Chocolate Chips MacroBar. An organic mix of smooth almond butter and coconut milk blended with the warmth of maple sugar creates the classic gooey caramel taste you treasure with 10g of plant-based protein. To top it all off, we added a dash of sea salt and a generous sprinkle of vegan chocolate chips for a Timeless Treasure that will melt your worries away.​
See Nutrition & Ingredients List
Benefits
10 grams of protein
Organic
Vegan
Gluten-Free
Kosher
Non-GMO
Clean
Soy-Free
Dairy-Free
Low FODMAP
​
Organic Chocolate Chips

Organic Maple Syrup

Organic Puffed Brown Rice

Organic Almond Butter
5
Jean
January 20, 2023
I really love this newer flavor. It has a great texture. It is a bit sweet but I enjoy that. There are little caramel bits that are delicious. I think this brand of plant based protein bars is superior to others in terms of taste and texture.
5
Katie
January 9, 2023
I have IBS and follow a Low FODMAP diet, so these little bars are a godsend! I've also tried quite a few of the MacroBar flavors, and Timeless Treasure is by far my favorite!!
5
Jenna
January 3, 2023
At first, it almost gives a slightly coffee flavor! Absolutely delicious!
5
Evie
December 23, 2022
I really love this new flavor and texture!
5
Sarah Boardman
December 21, 2022
BEST FLAVOUR YET!! We love gomacro bars and are always excited to try new flavours.
5
Karla
December 20, 2022
This flavor is delicious & decadent. I bought these to fuel running pursuits, but have mainly used as a snack to get through the workday.
5
Heather
December 19, 2022
SO delicious!
5
Laurie
December 16, 2022
All your bars have a soft, chewy texture, very tasty. Taste clean and healthy. Will keep purchasing them !!
5
Carol
December 10, 2022
My go to bar. Actually GoMacro are the only bars I will eat. Salted caramel is my current favorite. So good and filling.
1
Lisa
December 6, 2022
I purchased these hoping for a great caramel flavor. Unfortunately it just tastes like coffee and I don't like coffee.