Peanut Butter
Protein Replenishment
Good things tend to come in threes, so we combined creamy peanut butter, crunchy peanuts, and our very own homemade peanut butter chips to create our Protein Replenishment MacroBar.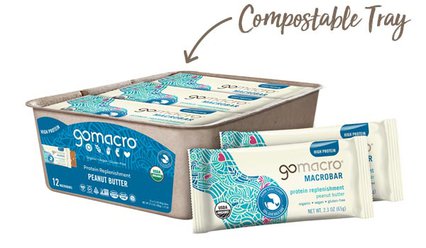 FREE SHIPPING ON ORDERS OVER $50
?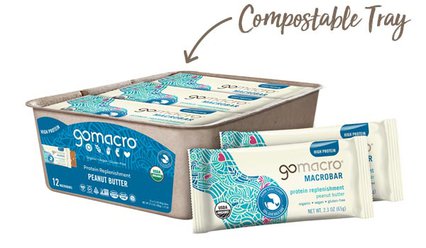 What's Inside
Our Protein Replenishment MacroBar is a peanut butter lover's dream! Crunchy peanuts complement our very own melt-in-your-mouth vegan peanut butter chips for a celebration of the salty and sweet combination we all know and love. As an added bonus, a portion of proceeds from May sales of this bar supports Farm Sanctuary's mission to promote a compassionate, vegan lifestyle. Learn more here.​
See Nutrition & Ingredients List
Benefits
11 grams of protein
Organic
Vegan
Gluten-Free
Kosher
Non-GMO
Clean & Raw
Soy-Free
Dairy-Free
Low FODMAP
​
Organic Peanut Butter

Organic Puffed Brown Rice

Organic Peanuts

Organic Peanut Butter Chips
5
Janice Lueken
December 15, 2021
I fell in love with Go MacroBars the very first time I ate one (the Peanut Butter Chocolate Chip). After that I couldn't go back to any of the many other protein bars I had tried previously. Everything about the MacroBars meets all criteria that I can imagine for the "perfect bar"! I love the flavors and the soft, chewy texture of the bars ~ AND the lovely packaging!! I have tried nearly every flavor among the great selection of different choices, but I guess the Peanut bar will always be my favorite. I also love the story of how this company has grown from a mother/daughter small, grass-roots enterprise. That makes it even more special for me.
5
Kylie
December 14, 2021
RAW VEGAN PROTEIN BAR Good (and tasty) protein bars are hard to find. There are other vegan bars with double the protein and less sugar with comparable prices. However if you are looking for an energy bar that doubles as a dessert, snack, on-the-go energy boost, or something to hold you over temporarily in between a work out or shift, this bar is for you. This is my favorite flavor out of the GoMacro bars I've tried (and I've tried most of their protein bars). If you like it, the Peanut Butter Chocolate Chip flavor is the exact same thing but with chocolate chips. Yum! While everyone has different diet preferences, this bar is pretty moderately healthy as it is vegan AND RAW. No heat or cooking involved, just chopping and pressing. It's also gluten free and they have many nut-free options for those with allergies. Some people are worried about sugar and this bar isn't the lowest, but as I mentioned before it's still a decent macro bar. PLEASE SELL THE PEANUT BUTTER CHIPS BY THEMSELVES TOO! IT'D BE GREAT FOR BAKING AND SNACKING! They're delicious. Taste preferences vary greatly, and in the end that's a defining factor, but give it a try!
4
Vicki Hubach
December 4, 2021
I do a lot of hiking and love to take along your peanut butter bars, they are great tasting and a good source of protein. However......all of your other bars have "natural flavor" on the ingredients list, so I can't eat them; any of the flavor enhancers are kin to MSG and will give me a migraine. Most susceptible people don't know that and will suffer after consuming "natural flavor", "spice" or "hydrolyzed vegetable protein". Why? the better it tastes, the more people will consume the product, the more money the company makes. A rather hideous concept in today's overweight America!
Response:

Hi Vicki - We would encourage you to visit our FAQ page and search for "Natural Flavors" to give you the full understanding on the natural flavor as an ingredient.
5
Theresa
September 7, 2021
I have been looking for products with little or no cane sugar, plus products that don't use inflammatory oils! I kept coming across Gomacro on social media, and thought...Let me purchase a few and see which flavor I like. Well so far all of them, but my fave is the classic peanut butter! I actually get upset when I run out, or my local market is out of stock
5
Sarah
July 9, 2021
I absolutely love these. Perfect texture, just sweet enough and keeps me full until lunch. I'm just sad I can't seem to find them anywhere now! Hope they come back in stock soon.
5
Cristy
May 25, 2021
I love the Peanut Butter bars! The flavor keeps me coming back (not to 'sweet' tasting). Great bar for a meal replacement and love that these are high in protein.
5
MarceLynn
May 24, 2021
I always have Macro bars on hand, but I purchased these especially to benefit the farm sanctuary. They are delicious and I appreciate the donation! GO VEGAN!
5
Peggy
April 9, 2021
The peanut butter Protein Replenishment bar has consistently been my favorite. Peanut butter is a staple in my vegan diet and this bar is not only pleasing to the taste buds but very nutritious as well. And it's just the right size for a between meal pick me up.
4
Pete
April 8, 2021
I like the protein (11 grams) and low saturated fat. Tastes great; however, I would prefer lower sugar content. I'll bet it would taste delicious with less than 12 grams of sugar.
5
MJ A
April 6, 2021
My husband loves the Peanut Butter so much he won't purchase any other brand anymore... And we both love Maple Sea Salt, and Blueberry. We highly recommend all three! We keep a few in the car and take along with us!