Peanut Butter
Protein Replenishment
Good things tend to come in threes, so we combined creamy peanut butter, crunchy peanuts, and our very own homemade peanut butter chips to create our Protein Replenishment MacroBar.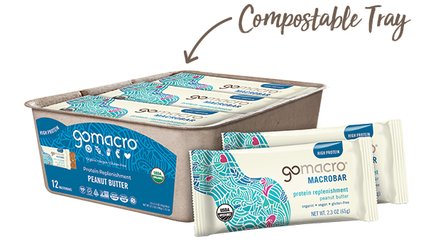 FREE SHIPPING ON ORDERS OVER $50
?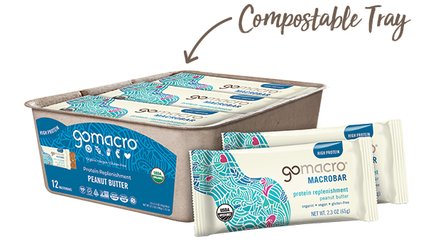 What's Inside
Our Protein Replenishment MacroBar is a peanut butter lover's dream! Crunchy peanuts complement our very own melt-in-your-mouth vegan peanut butter chips for a celebration of the salty and sweet combination we all know and love. As an added bonus, a portion of proceeds from May sales of this bar supports Farm Sanctuary's mission to promote a compassionate, vegan lifestyle. Learn more here.
See Nutrition & Ingredients List
Benefits
11 grams of protein
Organic
Vegan
Gluten-Free
Kosher
Non-GMO
Clean & Raw
Soy-Free
Dairy-Free
Low FODMAP
​
Organic Peanut Butter

Organic Puffed Brown Rice

Organic Peanuts

Organic Peanut Butter Chips
5
Leanne McAfee
September 9, 2020
Incredible peanut buttery taste that's so satisfying, and it's a clean source of raw, vegan ingredients. Highly recommend if you like peanut butter!
5
Jan L.
September 2, 2020
I love SO MANY of the GoMacro bar flavors, I hardly know where to begin! I was introduced to these wonderful protein bars over 5 to 7 years ago and have never found another that could take their place, in my experience. The Peanut Butter is truly my favorite, although I also am loving the Blueberry, the Peanut Butter Chocolate Chip, the Maple Sea Salt, etc. Perhaps because I love any nuts ~ especially peanuts ~ the Peanut Butter in particular really stands out. I love the texture, the flavor, the peanuts and even the peanut butter chips that all come together so deliciously that it makes my mouth water just thinking about! My appreciation to the Mother/Daughter team who came up with these fabulous bars that make eating healthy so delectable!!
5
Alysha
August 13, 2020
If you're a lover of peanut butter....these bars are ESSENTIAL to your life!! FANTASTIC!!!
5
Patricia
August 1, 2020
Gomacro's Peanut Butter Protein Bar is the healthiest and best tasting Protein Bar I have ever eaten.
5
Maria
July 17, 2020
Amazing! My favorite flavor! And it's low Fodmap! Wish we had a mini bar option of this flavor.
5
Tannyce
July 4, 2020
I follow a low fodmap diet and really appreciate that Go Macro makes bars that are suitable for the low fodmap diet and that they have a special section on the website. This is one of my favourite flavours! The peanut flavour is strong and it tastes amazing. One of my go to bars!
5
Debbie Palladino
May 7, 2020
My vegan/gluten free daughter loves these so I order frequently. Thanks to the great mom/daughter team that creates these!❤. Spreading the word....
5
GT Hayes
March 23, 2020
I'm working 12 hour shifts in the hospital, During C-19 this my only reliable and safe food source for quick meals.
5
Jeanie Kimbel-Bly
March 9, 2020
My daughter is a busy teenager and she loves these bars. The peanut butter flavor is a favorite, but she also relies on the quick/convenient energy they provide her as a snack. As as parent, I am very pleased to know that she's eating so clean and healthy. Thank you! Jeanie
Response:

Hi Jeanie, thanks for taking the time to leave your review! We are so glad to hear that your daughter is loving our original Peanut Butter bar. She might enjoy our newest flavor Double Chocolate + Peanut Butter Chips, with our house made Peanut Butter Chips!
5
Cynthia
March 8, 2020
HIGHLY ADDICTIVE! Please make minis of these so I don't end up inhaling 270 calories as once :).