Peanut Butter
Protein Replenishment®
Good things tend to come in threes, so we combined creamy peanut butter, crunchy peanuts, and our very own homemade peanut butter chips to create our Protein Replenishment MacroBar®.

Get Same Day Delivery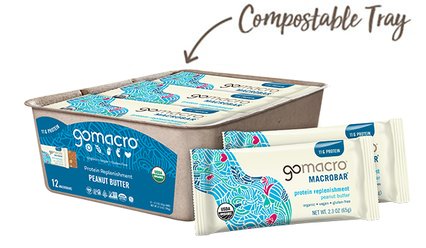 What's Inside
Our Protein Replenishment MacroBar is a peanut butter lover's dream! Crunchy peanuts complement our very own melt-in-your-mouth vegan peanut butter chips for a celebration of the salty and sweet combination we all know and love. As an added bonus, a portion of proceeds from May sales of this bar supports Farm Sanctuary's mission to promote a compassionate, vegan lifestyle. Learn more here.​
See Nutrition & Ingredients List
Benefits
11 grams of protein
Organic
Vegan
Gluten-Free
Kosher
Non-GMO
Clean
Soy-Free
Dairy-Free
Low FODMAP
​
Organic Peanut Butter

Organic Puffed Brown Rice

Organic Peanuts

Organic Peanut Butter Chips
5
Daniel Macomber
May 10, 2023
Yum.
4
Devon
May 9, 2023
Long-time lover of GoMacro here! The peanut butter has my heart, however I have sadly been disappointed with my last two orders. I am a big fan of the smooth texture of this flavor, but recently the bars have been dry and crumbly. I will continue to order as these bars are my favorite snack hands down, hoping for the best my next order!
Response:

Thank you for your feedback, Devon - We will make certain to have our Customer Care Team reach out to you soon to work with you on a resolution!
5
chris
April 23, 2023
Peanut butter is the best.. Love that these are shelf stable and do not have to refrigerate.. They are great for my college student to have in her dorm. SHe loves these.
5
Erin
April 23, 2023
These are my favorite flavor! I like them because they have peanut butter chips in them which give it a nice texture. I also like them because they do not have chocolate in them as I'm very sensitive to caffeine and can't eat chocolate after 1 or so. So these are perfect for a late afternoon snack.
5
Deed
April 19, 2023
My all time favorite! A super delicious, super healthy snack or meal substitute.
5
Lisa Smith
April 16, 2023
I love the peanut butter,it's my favorite macro bar flavor. I work outside, so it's great to grab one when I need a boost, also great these don't melt.
5
Janice Lueken
April 16, 2023
That the peanut chocolate chip is still my favorite flavor of the GoMacro bars since I first discovered them more than 10 years ago says it all. It's not just because of the perfect balance of chocolate chips and peanut butter ~ which I love ~ but also the clean, organic, ingredients and the soft, chewy texture. Perfect and delicious!!
5
Lya Wodraska
April 14, 2023
I love this because it tastes like real peanut butter and not some chemical flavoring. Good consistency too.
5
Karen
April 8, 2023
I tried this for the first time and just loved it! It is so hard to find healthy bars with a decent amount of protein and without chocolate! They worked great for my very sensitive stomach and tasted great too!
5
Kylee Kennedy
January 26, 2023
I absolutely love the PB flavor! It may be my favorite (behind oatmeal). It saves me in between breakfast and lunch when I'm on my feet all morning!