Peanut Butter
Protein Replenishment
Creamy peanut butter, crunchy peanuts and GoMacro's own peanut butter chips make these peanut butter bars a treat for even the most discerning snacker.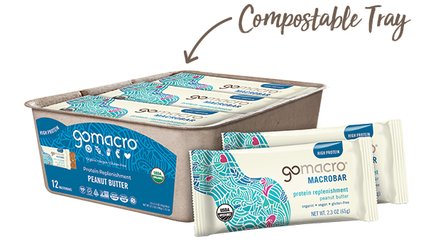 FREE SHIPPING ON ORDERS OVER $50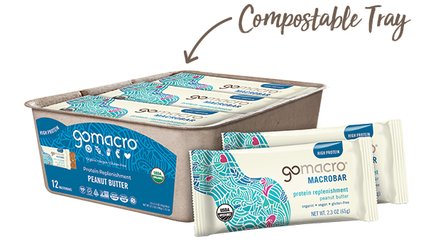 What's Inside
Vegan peanut butter bars at their finest. Crunchy, roasted peanuts mixed with GoMacro's very own melt-in-your-mouth peanut butter chips, celebrate the beloved salty and sweet taste we all know and love. After all, it's truly the simplest things in life that are the sweetest.
See Nutrition & Ingredients List
Benefits
11 grams of protein
Organic
Vegan
Gluten-Free
Kosher
Non-GMO
Clean & Raw
Soy-Free
Dairy-Free
Low FODMAP
​
Organic Peanut Butter

Organic Puffed Brown Rice

Organic Peanuts

Organic Peanut Butter Chips
5
Patricia
August 1, 2020
Gomacro's Peanut Butter Protein Bar is the healthiest and best tasting Protein Bar I have ever eaten.
5
Maria
July 17, 2020
Amazing! My favorite flavor! And it's low Fodmap! Wish we had a mini bar option of this flavor.
5
Tannyce
July 4, 2020
I follow a low fodmap diet and really appreciate that Go Macro makes bars that are suitable for the low fodmap diet and that they have a special section on the website. This is one of my favourite flavours! The peanut flavour is strong and it tastes amazing. One of my go to bars!
5
Debbie Palladino
May 7, 2020
My vegan/gluten free daughter loves these so I order frequently. Thanks to the great mom/daughter team that creates these!❤. Spreading the word....
5
GT Hayes
March 23, 2020
I'm working 12 hour shifts in the hospital, During C-19 this my only reliable and safe food source for quick meals.
5
Jeanie Kimbel-Bly
March 9, 2020
My daughter is a busy teenager and she loves these bars. The peanut butter flavor is a favorite, but she also relies on the quick/convenient energy they provide her as a snack. As as parent, I am very pleased to know that she's eating so clean and healthy. Thank you! Jeanie
Response:

Hi Jeanie, thanks for taking the time to leave your review! We are so glad to hear that your daughter is loving our original Peanut Butter bar. She might enjoy our newest flavor Double Chocolate + Peanut Butter Chips, with our house made Peanut Butter Chips!
5
Cynthia
March 8, 2020
HIGHLY ADDICTIVE! Please make minis of these so I don't end up inhaling 270 calories as once :).
5
Miranda Stubbs
March 2, 2020
The peanut butter is my favorite flavor but , really , they are all great! My 3 year old even begs for them! (I'm going to have to hide them) This is such a great product and love how earth friendly the company is!
5
Amanda Filie
December 24, 2019
THESE ARE THE BEST BARS EVER. I have a love/hate with them because I eat too many! LOL Put them in the fridge and eat them cold. Thank me later.
5
Maria
October 4, 2019
Love, love the peanut butter flavor! My favorite! Wish you had mini bars of it too!!!