Peanut Butter
Protein Replenishment®
Good things tend to come in threes, so we combined creamy peanut butter, crunchy peanuts, and our very own homemade peanut butter chips to create our Protein Replenishment MacroBar. ​

Get Same Day Delivery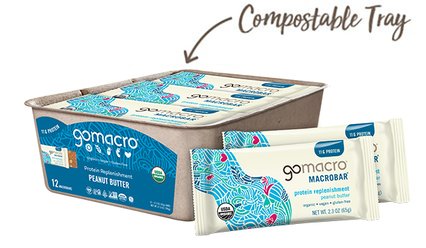 What's Inside
Our Protein Replenishment MacroBar is a peanut butter lover's dream! Crunchy peanuts complement our very own melt-in-your-mouth vegan peanut butter chips for a celebration of the salty and sweet combination we all know and love. As an added bonus, a portion of proceeds from May sales of this bar supports Farm Sanctuary's mission to promote a compassionate, vegan lifestyle. Learn more here.​
See Nutrition & Ingredients List
Benefits
11 grams of protein
Organic
Vegan
Gluten-Free
Kosher
Non-GMO
Clean
Soy-Free
Dairy-Free
Low FODMAP
​
Organic Peanut Butter

Organic Puffed Brown Rice

Organic Peanuts

Organic Peanut Butter Chips
5
Kylee Kennedy
January 26, 2023
I absolutely love the PB flavor! It may be my favorite (behind oatmeal). It saves me in between breakfast and lunch when I'm on my feet all morning!
5
Cat
January 7, 2023
This is by far my favorite flavor from GoMacro! Its creamy, crunchy and not too sweet! Its perfect with a hot cup of joe or a quick afternoon snack. I highly recommend !
5
Jenna
January 3, 2023
I can confidently say this is the THE best Go Macro bar. It's sweet but not too sweet, and it tastes like it reads- straight up peanut butter!
5
Kimi Wolf
December 23, 2022
I've been eating GoMacro peanut butter bars for breakfast for many many years. Every day. I love that they're healthy, high in protein, portable, and delicious.
5
Christine Tierney
December 20, 2022
I'm one of those weird people who likes peanut butter without chocolate so these make me so happy!
5
Mary Jo Leighton
December 19, 2022
This was my first experience with GOMACRO after a friend suggested I try them! Love the peanut butter...as well as salted caramel and peanut butter chocolate chip! Will order again sooon!
5
Howie
October 22, 2022
Just as advertised, delicious peanut butter without being overpowering. Chewy enough to enjoy without being gooey.
3
Patrick Walker
July 15, 2022
Love your products. But your online ordering was a huge pain, several weeks delayed, no tracking number. And no way for me to specify during order process that USPS is not an option for us (abysmally bad in our area). Customers need to be able to specify which shipper! (Or at least say NOT USPS). Sadly, will not order from you directly again - but will keep ordering your products thru quality online retailers. (And BTW - for the rating below, is one the highest or five the highest?)
5
Mark Wolfe
June 15, 2022
I bought the 'bigger and better' peanut butter bars during the Farm Sanctuary fund raiser. These PB bars are delicious and there are 11g of protein and I think 3g of fiber, 2 things I always want enough of in my diet. the other 2 things I watch out for and they are sugar and sodium and this bar does a god job of managing those for me. I eat one of these bars and a banana for breakfast at around 6 AM and I am good to go until lunch time around 12 noon. I highly recommend this bar.
5
Vicki Weisman
June 12, 2022
My hubby & I are really enjoying the peanut butter bars!!! Also, great to get a few sample bars in the package! Love the moist chewiness of the bars! It's great that your company supports the wonderful work of Farm Sanctuary!! That's where I 1st learned about your products.