Peanut Butter
Protein Replenishment
A percentage of the net proceeds from May sales of our Peanut Butter MacroBars will be donated to Farm Sanctuary in support of their work to rescue and care for farm animals and educate and advocate on their behalf.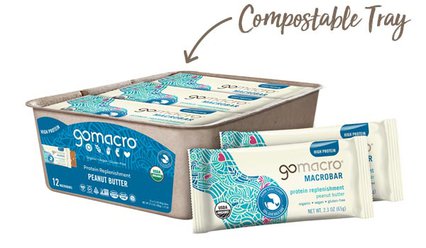 What's Inside
Our Protein Replenishment MacroBar is a peanut butter lover's dream! Crunchy peanuts complement our very own melt-in-your-mouth vegan peanut butter chips for a celebration of the salty and sweet combination we all know and love. As an added bonus, a portion of proceeds from May sales of this bar supports Farm Sanctuary's mission to promote a compassionate, vegan lifestyle. Learn more about Farm Sanctuary.
See Nutrition & Ingredients List
Benefits
11 grams of protein
Organic
Vegan
Gluten-Free
Kosher
Non-GMO
Clean & Raw
Soy-Free
Dairy-Free
Low FODMAP
​
Organic Peanut Butter

Organic Puffed Brown Rice

Organic Peanuts

Organic Peanut Butter Chips
5
Peggy
April 9, 2021
The peanut butter Protein Replenishment bar has consistently been my favorite. Peanut butter is a staple in my vegan diet and this bar is not only pleasing to the taste buds but very nutritious as well. And it's just the right size for a between meal pick me up.
4
Pete
April 8, 2021
I like the protein (11 grams) and low saturated fat. Tastes great; however, I would prefer lower sugar content. I'll bet it would taste delicious with less than 12 grams of sugar.
5
MJ A
April 6, 2021
My husband loves the Peanut Butter so much he won't purchase any other brand anymore... And we both love Maple Sea Salt, and Blueberry. We highly recommend all three! We keep a few in the car and take along with us!
5
Iverson Stephen
April 6, 2021
5 stars
5
Alysha Edelman
February 26, 2021
Hello Go Macro! I am a huge fan of peanut butter and these bars do NOT disappoint! They are so satiating and full of peanut butter flavor and it's so fun each time you bite into a peanut butter chip! Eating these bars is such a treat and I look forward to them everyday! And P.S. ANYTHING with peanut butter chips is a win/win! Thank you!!
5
Leanne McAfee
September 9, 2020
Incredible peanut buttery taste that's so satisfying, and it's a clean source of raw, vegan ingredients. Highly recommend if you like peanut butter!
5
Jan L.
September 2, 2020
I love SO MANY of the GoMacro bar flavors, I hardly know where to begin! I was introduced to these wonderful protein bars over 5 to 7 years ago and have never found another that could take their place, in my experience. The Peanut Butter is truly my favorite, although I also am loving the Blueberry, the Peanut Butter Chocolate Chip, the Maple Sea Salt, etc. Perhaps because I love any nuts ~ especially peanuts ~ the Peanut Butter in particular really stands out. I love the texture, the flavor, the peanuts and even the peanut butter chips that all come together so deliciously that it makes my mouth water just thinking about! My appreciation to the Mother/Daughter team who came up with these fabulous bars that make eating healthy so delectable!!
5
Alysha
August 13, 2020
If you're a lover of peanut butter....these bars are ESSENTIAL to your life!! FANTASTIC!!!
5
Patricia
August 1, 2020
Gomacro's Peanut Butter Protein Bar is the healthiest and best tasting Protein Bar I have ever eaten.
5
Maria
July 17, 2020
Amazing! My favorite flavor! And it's low Fodmap! Wish we had a mini bar option of this flavor.