Dark Chocolate + Almonds
Protein Decadence
Fair-trade chocolate chips and vegan dark chocolate blend with almonds for a high-protein treat for any and all chocolate-lovers!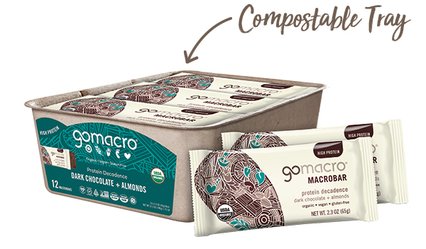 FREE SHIPPING ON ORDERS OVER $50
?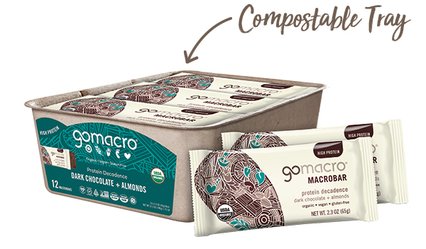 What's Inside
Get all the rich, chocolatey goodness of a brownie in a guilt-free snack with our Protein Decadence MacroBar. Our blend of organic cocoa and fair-trade chocolate chips is sure to satisfy any chocolate lover's craving. With an added bonus of 10 grams of protein per-bar, our Dark Chocolate + Almonds MacroBar will keep your sweet tooth and wellness goals in check!
See Nutrition & Ingredients List
Benefits
10 grams of protein
Organic
Vegan
Gluten-Free
Kosher
Non-GMO
Clean & Raw
Soy-Free
Dairy-Free
Low FODMAP
​
Organic Almonds

Organic Fair-Trade Chocolate Chips

Organic Puffed Brown Rice

Organic Cacao Powder
5
Gary Wilson
February 21, 2021
Dark chocolate and almonds! How can you go wrong with that combination? These are one of my favorites and I always keep them available!
5
Drhelena
February 19, 2021
These bars are the best bars on the Market. As a Naturopathic Practitioner, I have reviewed most products on the market in my practice. They are fresh and very clean in terms of ingredients. I highly recommend this product to everyone who enjoys chocolate and almonds made with Non-GMO and Organic products.
5
Donna
February 3, 2021
My favorite! Delicious and safe for me to eat. Love to take with me when out and about for a quick meal
5
Hannah
December 3, 2020
These are my all time favorite protein bars from GoMacro. I like them when I am traveling or out with my kids exploring nature. I was so happy to find a protein bar that was organic, gluten free and vegan that didn't taste like traditional protein powder. I'm so happy I found these! The chocolate almond is so delicious that I bought an entire box for myself. Thanks so much for making these!
5
Isabella
December 1, 2020
I think since discovering GoMacro bars in Australia, I have had one every day! This flavour does not disappoint. I love dark chocolate, and I love almonds. The highlight of my day is having one!
5
Chelsea maning
September 27, 2020
Love these gomacro bars . They are so delicious and with them being vegan and gluten free you can enjoy the chewy chocolatey goodness guilt free . Its The perfect snack.
5
Kim
September 16, 2020
I'm addicted to these, I can't go a day without a bar. It's a great way to start my morning with the rich, chocolate flavor of these bars.
5
Brad
September 11, 2020
Hands down the best bar available or at least that I've tried. I keep them everywhere and order them in bulk.
5
Alysha
August 13, 2020
These are INCREDIBLE!!! Taste and texture of freshly made brownies!!
5
Sharon
August 7, 2020
Thank you for being so dedicated to make such a healthy, natural, organic, good tasting protein bar. And thank you for sharing other pertinent information regarding a healthier lifestyle.