Dark Chocolate + Almonds
Protein Decadence®
Organic chocolate chips and vegan dark chocolate blend with almonds for a high-protein treat for any and all chocolate-lovers!

Get Same Day Delivery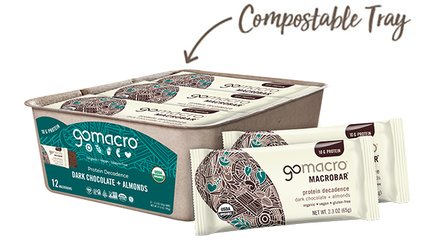 What's Inside
Get all the rich, chocolatey goodness of a brownie in a guilt-free snack with our Protein Decadence MacroBar. Our blend of organic cocoa and vegan chocolate chips is sure to satisfy any chocolate lover's craving. With an added bonus of 10 grams of protein per-bar, our Dark Chocolate + Almonds MacroBar will keep your sweet tooth and wellness goals in check!
See Nutrition & Ingredients List
Benefits
10 grams of protein
Organic
Vegan
Gluten-Free
Kosher
Non-GMO
Clean
Soy-Free
Dairy-Free
Low FODMAP
​
Organic Almonds

Organic Chocolate Chips

Organic Puffed Brown Rice

Organic Cacao Powder
5
Alysha Edelman
May 8, 2023
Sinful, like you're eating a chocolate brownie! I savor every bite. Absolutely delicious!
5
Gordon Tatro
May 7, 2023
I've been purchasing these for over three years...I even get them at the store as I run near out. They fill in for a meal in a pinch but they taste great too! Chocolate, isn't that one of the four basic food groups...next to lima beans! LOL.. When I'm out and about I always have a drink and one ot two of these. Don't stop making them!
5
Donna
May 7, 2023
Dark Chocolate Almond is my favorite.
5
Royboy
April 16, 2023
Same review everytime: best product out there in the world!!!!
5
terry
April 14, 2023
The first bar I tried and still my most favorite!
5
Tabitha
March 26, 2023
all time favorite!!! Unfortunately its so hard to find here in BC, Canada. ALWAYS sold out. whenever I do fine it I purchase an entire tray. I haven't like any of the other flavors, this one is the best!
5
Catherine
March 20, 2023
This is my go-to food. I love all the bars but this one is my favorite. It is extremely satisfying and gives me the energy that I need. I have one at least a day. So so glad you are making such a super high quality product.
5
Miranda
February 17, 2023
I love them. I eat one everyday for breakfast. They help keep me full AND regular. Sometimes I'll even have one as a treat because I love the chocolate chips. Big fan of these bars; so glad I found a protein bar that is delicious.
5
Blair Martin
February 9, 2023
This protein bar is exactly what I have been looking for! It has all healthy ingredients and good protein content. The bar is chewy and very flavorful. You can't beat the chocolate almond combo! I was recently was in the hospital and the one thing I depended on was my box of GoMacro protein bars that I had stashed in my suitcase knowing hospital food isn't always the most palatable food. This is hands down my go to daily snack!
5
Jennifer W
February 9, 2023
Dark Chocolate Almond is my go-to and my FAVORITE bar!! My only wish is that they would use some monk fruit and/or stevia in place of the sugar.