Dark Chocolate + Almonds
Protein Decadence®
Organic chocolate chips and vegan dark chocolate blend with almonds for a high-protein treat for any and all chocolate-lovers!

Get Same Day Delivery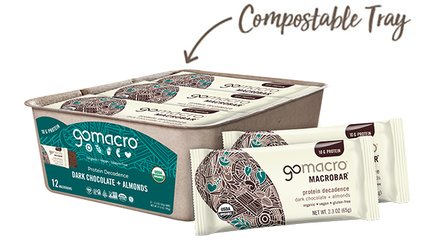 What's Inside
Get all the rich, chocolatey goodness of a brownie in a guilt-free snack with our Protein Decadence MacroBar. Our blend of organic cocoa and vegan chocolate chips is sure to satisfy any chocolate lover's craving. With an added bonus of 10 grams of protein per-bar, our Dark Chocolate + Almonds MacroBar will keep your sweet tooth and wellness goals in check!
See Nutrition & Ingredients List
Benefits
10 grams of protein
Organic
Vegan
Gluten-Free
Kosher
Non-GMO
Clean
Soy-Free
Dairy-Free
Low FODMAP
​
Organic Almonds

Organic Chocolate Chips

Organic Puffed Brown Rice

Organic Cacao Powder
5
Anna
January 26, 2023
Think chocolate almond brownie… but with protein. Delicious!
5
Rob
January 25, 2023
One of my favorites! Dark chocolate and almonds, how do you get better than that?
5
Ashley
December 19, 2022
This bar is so yummy it can double as dessert. I typically use GoMacro as breakfast-on-the-go, but have been known to eat one when I want a snack that's also a bit rich and sweet.
5
Kristina K
December 19, 2022
I have a serious addiction to these bars. I've eaten one every morning for the last two years... my pantry is always stocked!! This flavor is my favorite its like a yummy treat but actually fills me up decently until lunch time. I am big on clean ingredients which is why I continue to buy these :) my only complaint is I wish they weren't so pricey as I am buying a ton and eating them daily.
5
Daphne Stevens
December 19, 2022
This bar is the best but woe is me as I can't eat chocolate right now. We just bought cases of bars so I tried a bit of my husband's and could not believe how great it is. We are organic vegan, THANK YOU, am so grateful for the protein bars you produce, The combination of almonds and the rich dark chocolate is the best bar ever for someone who grew up on Hershey's milk chocolate. I was so skinny, my doctor had me eat a bar every day after meals. Too bad yours weren't around then.
5
Jess
December 16, 2022
Thank you GoMacro for making an allergy friendly protein bar. I am dairy, soy and egg free and eat these everyday. This is one of my favorite flavors. It has a bit of texture (I wouldn't mind more almonds in there though!) and a good flavor. They keep me full for quite some time.
5
Roy
December 16, 2022
Every time i say the same thing. Best product out there,period! Dark chocolate/almond is my favorite flavor, but there are lots of great flavors in your product line. I bike ride/tour all the time, and my daily bar makes everything just flow,when i think things can't get better, it does..... i try to turn as many people as i can onto uour amazing products, it expands the circle of life....
5
Jennifer Wolf
December 16, 2022
I love all these bars but this is by far my favorite. The kids and husband love it too!
5
Elizabeth
October 17, 2022
Thanks for these bars and all the care put into producing them -- for better or worse, I am hooked on them. The protein dose is just right. Just wish they could be a tiny bit less sweet. Special thanks for the wrapper recycle program!
5
Donna Klaassen
October 15, 2022
Go Macro bars are delicious and safe for me to eat with my multiple food allergies. Great for a quick breakfast (or lunch) on the go.