Dark Chocolate + Almonds
Protein Decadence
Peruvian dark chocolate combined with roasted almonds equal guilt-free indulgence and a good source of protein.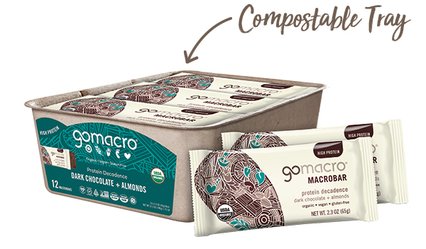 FREE SHIPPING ON ORDERS OVER $50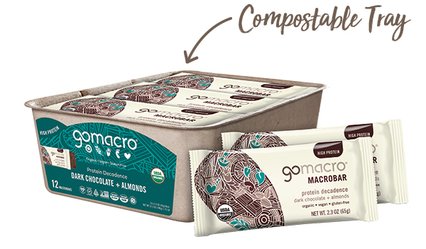 What's Inside
When the taste of Peruvian dark chocolate meets roasted almonds, you know you're snacking smart. Our Protein Decadence MacroBar is a guilt-free delight that is sure to please any chocolate lover's craving, with an added bonus of 10 grams of plant-based protein.
See Nutrition & Ingredients List
Benefits
10 grams of protein
Organic
Vegan
Gluten-Free
Kosher
Non-GMO
Clean & Raw
Soy-Free
Dairy-Free
Low FODMAP
​
Organic Almonds

Organic Fair-Trade Chocolate Chips

Organic Puffed Brown Rice

Organic Cacao Powder
5
Chelsea maning
September 27, 2020
Love these gomacro bars . They are so delicious and with them being vegan and gluten free you can enjoy the chewy chocolatey goodness guilt free . Its The perfect snack.
5
Kim
September 16, 2020
I'm addicted to these, I can't go a day without a bar. It's a great way to start my morning with the rich, chocolate flavor of these bars.
5
Brad
September 11, 2020
Hands down the best bar available or at least that I've tried. I keep them everywhere and order them in bulk.
5
Alysha
August 13, 2020
These are INCREDIBLE!!! Taste and texture of freshly made brownies!!
5
Sharon
August 7, 2020
Thank you for being so dedicated to make such a healthy, natural, organic, good tasting protein bar. And thank you for sharing other pertinent information regarding a healthier lifestyle.
5
Roy
August 6, 2020
Best product out there,period!
5
Cheryl
July 30, 2020
Have you watched their story on YouTube? My heart goes out to Amelia. She reminds me of my Aunt who I miss dearly. I believe that what you eat makes a difference in how you think, feel, and act. I'm so happy Amelia is doing well and that she decided to share her bars with the world. I absolutely love the GoMarco bars. They are delicious ! My favorite is the dark chocolate + almonds. I just recently found out about the new kids GoMarco bars. I'm definitely going to try the double chocolate brownie and the chocolate chip cookie dough. I'm sure they are delicious too.
4
Lindsay
July 10, 2020
I bought a box of these with my last order. It was good, but not my favorite flavor: it reminded me of the chocolate Power Bars I used to eat in high school. I'll definitely eat the rest of the box but probably won't re-order this one. Just my preference!
5
Tannyce
July 4, 2020
I follow a low fodmap diet and really appreciate that Go Macro makes bars that are suitable for the low fodmap diet and that they have a special section on the website. This is one of my absolute favourite flavours. It tastes like you are eating a chocolate brownie. Very delicious!
5
Mallory
May 28, 2020
I was a long time lover of Clif Bars all throughout undergrad, but had to ditch them due to GI issues and not wanting a winding list of ingredients I couldn't recognize! GoMacro has filled that void for me. These are so yummy and I feel better knowing that I'm putting less processed ingredients into my body when I eat these. This flavor is amazing, it's super rich without being over the top/too sweet. If I'm eating at home, I like to smear some cashew butter and cacao nibs on top for a little something extra.