Dark Chocolate + Almonds
Protein Decadence®
Organic chocolate chips and vegan dark chocolate blend with almonds for a high-protein treat for any and all chocolate-lovers!

Get Same Day Delivery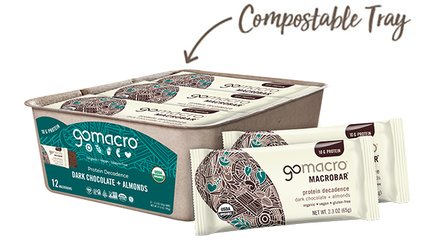 What's Inside
Get all the rich, chocolatey goodness of a brownie in a guilt-free snack with our Protein Decadence MacroBar®. Our blend of organic cocoa and vegan chocolate chips is sure to satisfy any chocolate lover's craving. With an added bonus of 10 grams of protein per bar, our Dark Chocolate + Almonds MacroBar will keep your sweet tooth and wellness goals in check!
See Nutrition & Ingredients List
Benefits
10 grams of protein
Organic
Vegan
Gluten-Free
Kosher
Non-GMO
Clean
Soy-Free
Dairy-Free
Low FODMAP
Organic Almonds

Organic Chocolate Chips

Organic Puffed Brown Rice

Organic Cacao Powder
5
Terry
November 17, 2023
The first Go Macro bar I ever tried, and still my favorite. Have never purchased another competitor since discovering Go Macro. Love this bar and this product!
5
Donna
November 6, 2023
Delicious safe quick snack or meal on the run
5
Jan
November 5, 2023
Dark Chocolate Almond is the BEST! I have one in my purse at all times. Absolutely the best bar around. Just wish they weren't so expensive. Please offer discounts more often.
5
Tiny Tiger
July 16, 2023
One of my top 3 favorites. Very good chocolate.
5
Donna
July 11, 2023
Go macro bars are DELICIOUS. I always carry one or two with me just in case I can't find allergy friendly food or eat one for a quick snack or meal
5
Marcia
July 11, 2023
These are AMAZING! If you want a seriously healthy chocolate fix, these are it. Tasty, chewy and delicious.
5
Gwynne Larsen
July 8, 2023
I recently bought two boxes of Chocolate Mint and one Dark Chocolate with Almonds. They are both very good--but then I like chocolate!
5
Alysha Edelman
July 8, 2023
This bar is INSANE! So healthy and SO DELICIOUS! Each time I open the wrapper, it's like someone just freshly baked me a moist, chewy decadent brownie! LOOOOVE IT!
5
Noelle
June 8, 2023
Love this flavor, would order again. Highly recommend
5
Alysha Edelman
May 8, 2023
Sinful, like you're eating a chocolate brownie! I savor every bite. Absolutely delicious!