Dark Chocolate + Almonds
Protein Decadence
Organic chocolate chips and vegan dark chocolate blend with almonds for a high-protein treat for any and all chocolate-lovers!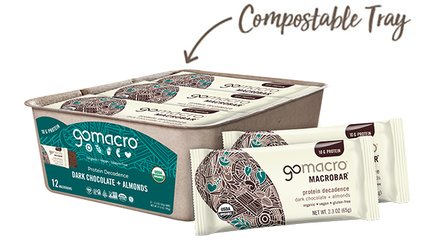 FREE SHIPPING ON ORDERS OVER $50
?

Get Same Day Delivery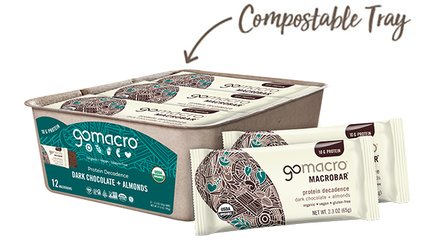 What's Inside
Get all the rich, chocolatey goodness of a brownie in a guilt-free snack with our Protein Decadence MacroBar. Our blend of organic cocoa and vegan chocolate chips is sure to satisfy any chocolate lover's craving. With an added bonus of 10 grams of protein per-bar, our Dark Chocolate + Almonds MacroBar will keep your sweet tooth and wellness goals in check!
See Nutrition & Ingredients List
Benefits
10 grams of protein
Organic
Vegan
Gluten-Free
Kosher
Non-GMO
Clean & Raw
Soy-Free
Dairy-Free
Low FODMAP
​
Organic Almonds

Organic Chocolate Chips

Organic Puffed Brown Rice

Organic Cacao Powder
5
Patty D.
June 13, 2022
Yummy bars - they are now a staple of my per-workout mornings when hunger strikes. The perfect hunger stopper so that I can get great workout in daily!
5
Yael
May 15, 2022
We are practically addicted to these bars. They are the best on the market. Vegan, filled with protein and so yummy. We couldn't ask for more.
5
Scott R
May 14, 2022
So glad I found these bars. Always fresh and very tasty. Great start to most of my work days.
5
Donna
April 21, 2022
Love my Go Macro bars. They are delicious. I carry one in case I can't get home at meal time and have one for breakfast almost daily
5
Terry
April 16, 2022
My most favorite. My reward after a morning of cycling the trails.
5
MarceLynn
April 14, 2022
I think these are my favorite...it's like eating dark chocolate cookie dough-soooo indulgent. Love that they're vegan-wouldn't buy them if they weren't.
5
Lauren
April 6, 2022
Rather than having dessert after lunch or dinner, I choose this bar. It is so delicious and makes me feel so much healthier. It is protein packed and so rich and creamy.
5
Shirley Smith
April 5, 2022
These are my favorite bars!!! I eat one for breakfast every day. The dark chocolate and almond ratio is perfect!!! I also bought the new lemon bars which are absolutely delicious!!! Love GoMacro bars. I've been buying these bars for years. Got my sister hooked on them as well as my daughter. We love love love them!!! ❤️❤️❤️
5
Janet
April 5, 2022
Love this flavor! Takes care of my chocolate cravings while still trying to stay healthy. Keeps me satisfied during long workouts. Always stock up when it is available.
5
tara garcia
April 5, 2022
absolutely loved this one! soft with just enough brownie chocolatey goodness!