Maple Sea Salt
Pure Promise
With a crave-worthy mix of sweet and salty ingredients, our Maple Sea Salt MacroBar will remind you of a warm stack of pancakes, fresh off the griddle!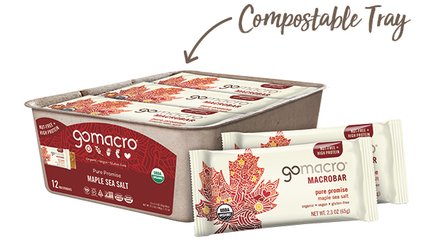 FREE SHIPPING ON ORDERS OVER $50
?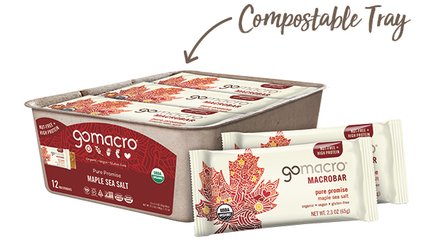 What's Inside
Enjoy a moment of Pure Promise with our Maple Sea Salt MacroBar. The warmth of organic maple syrup is perfectly balanced with a dash of real sea salt, while a handful of pumpkin seeds adds a delicious flavor to this nut-free bar.
See Nutrition & Ingredients List
Benefits
12 grams of protein
Nut-Free
Organic
Vegan
Gluten-Free
Kosher
Non-GMO
Clean & Raw
Soy-Free
Dairy-Free
Organic Pumpkin Seeds

Organic Maple Syrup

Sea Salt
5
Robyn
May 9, 2021
The oatmeal chocolate chip flavor is the absolute favorite for my husband and this one is a close second (and my favorite!). The texture is a little softer and stickier than some of the others, and the pumpkin seeds add a nice texture. If you aren't a fan of sweet and salty, I would recommend giving these a try anyway as they are very balanced between the two. The maple feels more breakfast-like for after my morning workouts.
5
Annie
May 7, 2021
We love all the flavors of GoMacro bars and, though the chocolate-based ones continue to top our fav list, they are not as ideal a dessert after dinner because of the caffeine in the chocolate. The Maple Sea Salt bar is one of our favs as an evening not-too-sweet treat!
5
tami derezotes
May 3, 2021
these are epic. very best bar of all bars on the planet. yum
5
Iris
April 13, 2021
This is my favorite food for a day - time meal. I'm a very light eater and the maple sea salt Macro Bar is absolutely delicious, satisfying and energizing for an at work snack. I love the flavor and texture and feel it's healthy for me.
4
Sarah
April 6, 2021
Less sweetener please, but my fave bar, otherwise!
5
Amy
March 5, 2021
YUM! I have food allergies which is really hard to find pre-made foods, especially corn and gluten. These bars give me a source of protein without the worry or prep. Just grab and go.
5
Megan
September 12, 2020
So yummy! Reminds me of pancakes and real maple syrup but better!!
5
Karen
August 10, 2020
I am a maple fanatic living in Western NY where we have tons of maple farms. So, I know my maple, and I can attest that this bar is total maple deliciousness! There is no guilt associated with this maple treat because it is loaded with protein and all sorts of plant-based goodness. If you like maple then you will not be disappointed when you bite into a Maple Sea Salt MacroBar. Try it!
5
Florence Brown
August 8, 2020
The best tasting bars yet, love them
5
Katie Brown
August 8, 2020
This bar reminds me of oatmeal with maple syrup in the fall. I was worried I wouldn't enjoy it as much as the bears with chocolate but I DO!