Maple Sea Salt
Pure Promise
With a crave-worthy mix of sweet and salty ingredients, our Maple Sea Salt MacroBar will remind you of a warm stack of pancakes, fresh off the griddle!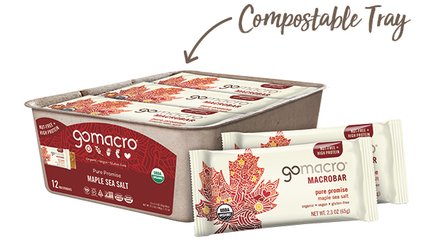 Due to increased demand, this product is currently unavailable.

You can also click the link below to receive a notification when this product is back in stock.

Notify When Available
FREE SHIPPING ON ORDERS OVER $50
?

Get Same Day Delivery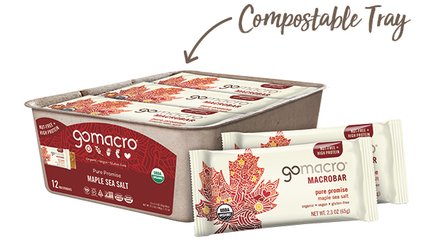 What's Inside
Enjoy a moment of Pure Promise with our Maple Sea Salt MacroBar. The warmth of organic maple syrup is perfectly balanced with a dash of real sea salt, while a handful of pumpkin seeds adds a delicious flavor to this nut-free bar.
See Nutrition & Ingredients List
Benefits
12 grams of protein
Nut-Free
Organic
Vegan
Gluten-Free
Kosher
Non-GMO
Clean & Raw
Soy-Free
Dairy-Free
Organic Pumpkin Seeds

Organic Maple Syrup

Sea Salt
5
Emily
April 5, 2022
Absolutely delicious and one of the few bars out there with ingredients I can actually eat (due to sensitivities).
5
LauraCM
April 5, 2022
I, also first tried these at Trader Joe's at the end of 2021. The combination of salty and maple syrup sweet is perfect. The balance of these two tastes is just right; really satisfying. So glad to have found these!
5
Alexandra
April 5, 2022
These are my favorite. Delicious, nutritious, simply excellent - the perfect combination of texture/flavor and maple wonderfulness!
5
Michaela White
April 5, 2022
My cousin and I describe these as our "survival bars!" We live super busy lives and would not be able to survive the day without our gomacro bars!! This is our favorite flavor because it is sweet but not too sweet!
5
Phyllis R
April 3, 2022
I can't even tell you how appreciative I am. I love Maple Sea Salt and I've been waiting and waiting and waiting for GoMacro to get it back in stock. They listened. They made more, got it in stock AND I received a personal phone call to help me order it immediately so I could get it before others, just because they knew I was waiting. I can't thank you enough. And yes Maple Sea Salt is worth it! Phyllis
5
priscilla
March 24, 2022
love these so much! they are my favorite flavor! love the pumpkin seeds for crunch super bummer they dont have these all year around!!! everything else always has chocolate which i dont want for breakfast
5
Kara
February 23, 2022
The BEST bar I have ever eaten. I was worried it may be too sweet but it was perfect. I am so bummed I can't find any of them any longer!!!
5
Ann
December 6, 2021
Finally a bar without nuts, coconut, or chocolate! It was great. I could eat it. Now not available. Bummer
5
Marcella
November 6, 2021
Beyond addictive. I tried these at Trader Joe's and fell in The chewy, sweet maple flavor is to die for and the addition of the pumpkin seeds gives it a nice textural contrast. I honestly could eat these every day if they weren't so expensive.
Response:

Hi Marcella! We are happy to hear that you are enjoying the Maple Sea Salt bars. Make sure to sign up to become a new member on our site and you will receive notifications on upcoming specials as well as a 20% discount on your first order with us.
5
Erin
October 29, 2021
Vermonter here, so I know my maple syrup! These Maple GoMacros are delicious. Pure maple flavor, and great source of complete veggie protein. I've been struggling all my life with very poor appetite and difficulty keeping weight on, but GoMacro bars are one of the few healthy and protein packed things I've found that I'm able to not just eat, but also ENJOY eating, even when I'm not hungry and really don't want to eat. Thank you, GoMacro!