Maple Sea Salt
Pure Promise
With a crave-worthy mix of sweet and salty ingredients, our Maple Sea Salt MacroBar will remind you of a warm stack of pancakes, fresh off the griddle!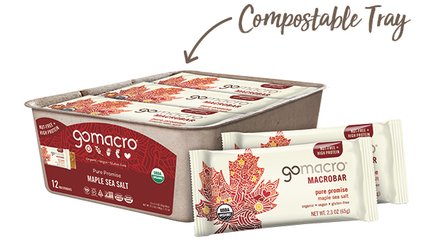 FREE SHIPPING ON ORDERS OVER $50
?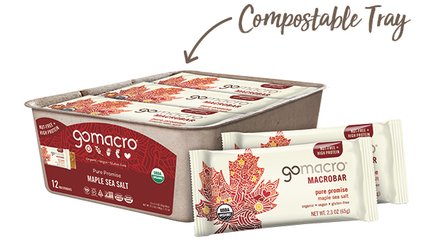 What's Inside
Enjoy a moment of Pure Promise with our Maple Sea Salt MacroBar. The warmth of organic maple syrup is perfectly balanced with a dash of real sea salt, while a handful of pumpkin seeds adds a delicious flavor to this nut-free bar.
See Nutrition & Ingredients List
Benefits
12 grams of protein
Nut-Free
Organic
Vegan
Gluten-Free
Kosher
Non-GMO
Clean & Raw
Soy-Free
Dairy-Free
Organic Pumpkin Seeds

Organic Maple Syrup

Sea Salt
5
Ann
December 6, 2021
Finally a bar without nuts, coconut, or chocolate! It was great. I could eat it. Now not available. Bummer
5
Marcella
November 6, 2021
Beyond addictive. I tried these at Trader Joe's and fell in The chewy, sweet maple flavor is to die for and the addition of the pumpkin seeds gives it a nice textural contrast. I honestly could eat these every day if they weren't so expensive.
Response:

Hi Marcella! We are happy to hear that you are enjoying the Maple Sea Salt bars. Make sure to sign up to become a new member on our site and you will receive notifications on upcoming specials as well as a 20% discount on your first order with us.
5
Erin
October 29, 2021
Vermonter here, so I know my maple syrup! These Maple GoMacros are delicious. Pure maple flavor, and great source of complete veggie protein. I've been struggling all my life with very poor appetite and difficulty keeping weight on, but GoMacro bars are one of the few healthy and protein packed things I've found that I'm able to not just eat, but also ENJOY eating, even when I'm not hungry and really don't want to eat. Thank you, GoMacro!
5
Cat
July 14, 2021
I tried this bar on a whim because I was in the mood for something that wasn't chocolate or peanut butter. I am so glad I did! This bar has amazing maple flavor, that almost tastes like caramel, but not too sweet. Plus the sunflower seeds are a nice touch. I love it! Please keep making this bar! Its so goooooood!
5
K Smith
May 16, 2021
The most delicious snack bar out there! Perfectly sweet, slightly savory, and great texture. GoMacro's customer service is also top notch.
5
Kimba
May 11, 2021
The Maple Sea Salt is the first GoMacro bar I have tried. It is a real satisfying snack bar being both sweet, crunchy and chewy. Think salted caramel.
5
Robyn
May 9, 2021
The oatmeal chocolate chip flavor is the absolute favorite for my husband and this one is a close second (and my favorite!). The texture is a little softer and stickier than some of the others, and the pumpkin seeds add a nice texture. If you aren't a fan of sweet and salty, I would recommend giving these a try anyway as they are very balanced between the two. The maple feels more breakfast-like for after my morning workouts.
5
Annie
May 7, 2021
We love all the flavors of GoMacro bars and, though the chocolate-based ones continue to top our fav list, they are not as ideal a dessert after dinner because of the caffeine in the chocolate. The Maple Sea Salt bar is one of our favs as an evening not-too-sweet treat!
5
tami derezotes
May 3, 2021
these are epic. very best bar of all bars on the planet. yum
5
Iris
April 13, 2021
This is my favorite food for a day - time meal. I'm a very light eater and the maple sea salt Macro Bar is absolutely delicious, satisfying and energizing for an at work snack. I love the flavor and texture and feel it's healthy for me.