Maple Sea Salt
Pure Promise
With a crave-worthy mix of sweet and salty ingredients, our Maple Sea Salt MacroBar will remind you of a warm stack of pancakes, fresh off the griddle!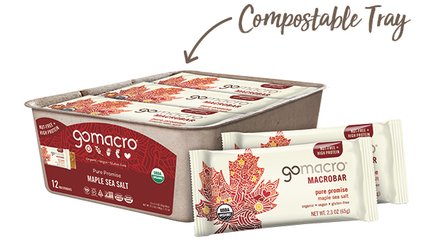 FREE SHIPPING ON ORDERS OVER $50
?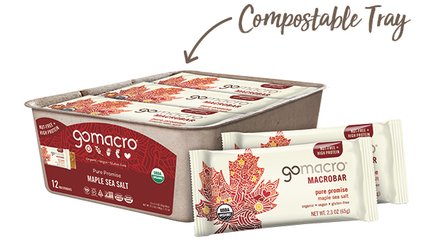 What's Inside
Enjoy a moment of pure promise with our Maple Sea Salt MacroBar. The warmth of organic maple syrup is perfectly balanced with a dash of real sea salt, while a handful of pumpkin seeds adds a delicious flavor to this nut-free bar.
See Nutrition & Ingredients List
Benefits
12 grams of protein
Nut-Free
Organic
Vegan
Gluten-Free
Kosher
Non-GMO
Clean & Raw
Soy-Free
Dairy-Free
Organic Pumpkin Seeds

Organic Maple Syrup

Sea Salt
5
Megan
September 12, 2020
So yummy! Reminds me of pancakes and real maple syrup but better!!
5
Karen
August 10, 2020
I am a maple fanatic living in Western NY where we have tons of maple farms. So, I know my maple, and I can attest that this bar is total maple deliciousness! There is no guilt associated with this maple treat because it is loaded with protein and all sorts of plant-based goodness. If you like maple then you will not be disappointed when you bite into a Maple Sea Salt MacroBar. Try it!
5
Florence Brown
August 8, 2020
The best tasting bars yet, love them
5
Katie Brown
August 8, 2020
This bar reminds me of oatmeal with maple syrup in the fall. I was worried I wouldn't enjoy it as much as the bears with chocolate but I DO!
5
Charisty
July 29, 2020
There are no words to describe how delicious this bar is! It's the perfect snack bar and goes amazing with a cup of coffee. Finding prepackaged food is crazy hard when you have multiple allergies and this one bar is a total saving grace! I've eaten at least one a day for the last 4 months and still think they are the best ever!
5
Jessica
July 28, 2020
These are my favorite snack! They taste like dessert... but I feel zero guilt eating them! I love The texture and that they contain 12 grams of protein. Looking forward to trying other flavors.
5
Sarah Steele
July 25, 2020
These are a must in my world and have been a staple ever since first bite. It's a bar of bliss and now the only one I buy. I've tried many bars and gomacro are one of the best ever in taste and nutrient value for me. Excellent ingredients for sensitive digestive systems. These bars provide wholesome deliciousness. And, I will forever buy this amazing bar in particular as my favorite!!! Thank you for creating such edible happiness ♥️
5
Amy Frantz
July 19, 2020
These are definitely one of my favorites! Delicious in every way.
5
Dana
May 27, 2020
I love this bar the most! All of the bars are delicious but this one has the perfect amount of maple while not being too sweet. Thank you for making these amazing bars!
5
Analicia
April 12, 2020
The Maple Sea Salt flavor bars made me fall for MacroBar - the best bar brand out there! So amazing to know this brand is privately owned, only uses clean ingredients, is so well certified, has fantastic texture of chewy with amazing crunch of puffed brown rice. As for the flavor, if you like a tang of salt with your bar and you like all things maple flavor this is the flavor for you. De-lish!