Maple Sea Salt
Pure Promise™
With a crave-worthy mix of sweet and salty ingredients, our Maple Sea Salt MacroBar will remind you of a warm stack of pancakes, fresh off the griddle!

Get Same Day Delivery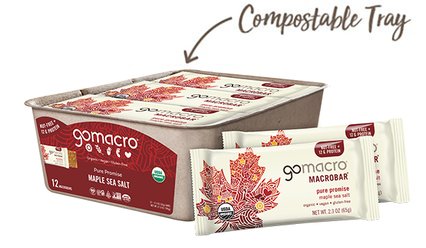 What's Inside
Enjoy a moment of Pure Promise™ with our Maple Sea Salt MacroBar®. The warmth of organic maple syrup is perfectly balanced with a dash of real sea salt, while a handful of pumpkin seeds adds a delicious flavor to this nut-free bar.
See Nutrition & Ingredients List
Benefits
12 grams of protein
Nut-Free
Organic
Vegan
Gluten-Free
Kosher
Non-GMO
Clean
Soy-Free
Dairy-Free
Organic Pumpkin Seeds

Organic Maple Syrup

Sea Salt
5
Susannah
November 11, 2023
This is one of my new favorite flavors! Rich with Maple
5
Paul
October 23, 2023
One of the very best flavors, Love every bite!
5
Brenda
September 30, 2023
No time for pancakes in the morning? Problem solved! These bars are absolutely delicious! Warm and comforting to morning hunger! My fav by far!!! Love these!
5
Marcia
September 14, 2023
I love the flavor and texture of the maple sea salt bars. They are an enjoyable part of my day.
5
Allison
September 13, 2023
I'm not typically a maple fan, but this bar does it differently. Great flavor and not overly sweet.
5
Bridget Kessinger
September 12, 2023
I absolutely LOVE the maple syrup bar with sea salt, however with all of my health issues I should NOT eat any seeds. I noticed there are pumpkin seeds in there. Is it possible to eliminate these for future new bars? All seeds causes inflammation in my body and my doctor recommended me to NOT eat any vegetables that contain seed's within them. Yes this is very hard to do, but I can tell you until you have any type of inflammatory disease, I promise you I can tell a world of difference. Thank you, sincerely!!! Bridget Kessinger
5
Kim
September 12, 2023
Maple Sea Salt Protein Bars is the only bar I have found that meets all food sensitivity needs while providing a protein snack when hunger strikes while away from home. They are also a nice sweet treat.
5
ProfLouise
August 30, 2023
These protein bars are delicious! Just the right amount of sweetness and a perfect chewy texture. They are also the ONLY protein bars I have found that I can eat, since I have to avoid gluten, dairy, chocolate, peanuts, nuts, citrus and a bunch of other foods. They are a lifesaver when I need a protein snack on the go. Please don't ever discontinue them!
5
Pamela
August 19, 2023
Love these... taste a little bit like a bit o' honey
5
Chauncey
August 10, 2023
These were worth the search. I wanted to try this one out before buying a pack of 12 but couldn't find them in stores. So I placed the order and was not disappointed. I'll be purchasing again!