Maple Sea Salt
Pure Promise™
With a crave-worthy mix of sweet and salty ingredients, our Maple Sea Salt MacroBar will remind you of a warm stack of pancakes, fresh off the griddle!

Get Same Day Delivery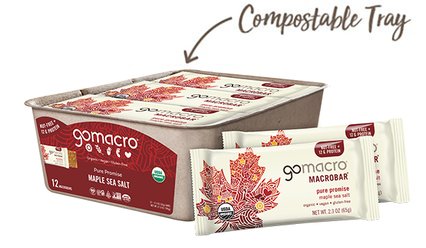 What's Inside
Enjoy a moment of Pure Promise with our Maple Sea Salt MacroBar. The warmth of organic maple syrup is perfectly balanced with a dash of real sea salt, while a handful of pumpkin seeds adds a delicious flavor to this nut-free bar.
See Nutrition & Ingredients List
Benefits
12 grams of protein
Nut-Free
Organic
Vegan
Gluten-Free
Kosher
Non-GMO
Clean
Soy-Free
Dairy-Free
Organic Pumpkin Seeds

Organic Maple Syrup

Sea Salt
5
Sally Casey
December 23, 2022
Love the ingredients and flavor. Makes a great midday snack. Also a tasty nutritious snack while traveling.
5
Joanna
December 16, 2022
This bar is by far my favorite! I have a severe peanut and almond allergy so I'm limited to which ones I can order. I absolutely love this one!
2
Olga
November 28, 2022
GoMacro bars would be ideal if they didn't have so much sugar. 11-14gm. This is crazy. Why add all that maple syrup?? They don't have to be so sweet. PLEASE come up with a low sugar option (below 10g).
5
Howie
October 22, 2022
Absolutely to die for. This is the GoMacro *improvement* on CB's White Chocolate Macadamia Nut. Perfect blend of sweetness, chewiness, and cruncy (pumpkin seed). My absolute favourite of the GoMacro quiver.
5
Lal626
October 19, 2022
The Maple Sea Salt is my favorite. For the most part I'm not a chocolate person, so I enjoy the flavors that don't have any [or not much] chocolate. Since the Maple Sea Salt is hard to find in the stores I usually order it online.
5
Mart
October 16, 2022
I ODER 8-10 BOXES AT A TIME! THAT SAYS IT ALL!
5
Alexandra
October 14, 2022
I LOVE the Maple/Sea Salt bars - They are delicious, filling and nutritious, gluten free and organic - an unbeatable combination. I eat them regularly along with a couple of other Gomacro varieties. Unfortunately, I can't have chocolate or I would be eating many more. A wonderful product! Thank you for this labor of love and "intelligent design."
5
Kathy Nagel
September 22, 2022
The Maple Sea salt & the banana & almond butter are filling & delicious. This is my daily breakfast , lunch & snack choice. I can't go a day without them. I definitely feel more energized!
5
melissa anglemyer
September 9, 2022
Maple Sea Salt is our family favorite! We enjoy all the bars, however these are the first to go!
5
Cynthia
August 13, 2022
Maple sea salt is my favorite! That sweet-salty thing does it for me! Nice and soft, satisfying, and clean ingredients. They get me through long shifts at work and are perfect for hiking.