Peanut Butter Chocolate Chip
Peanut Butter Chocolate Chip
Protein Pleasure®
Creamy, organic peanut butter plus vegan chocolate chips equals your new favorite go-to snack!

Get Same Day Delivery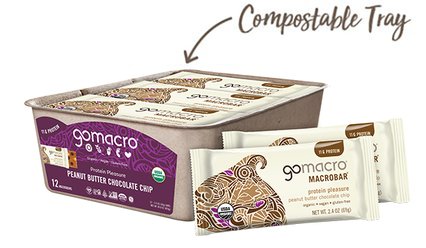 What's Inside
Meet the bar that started it all! Our original Peanut Butter Chocolate Chip MacroBar combines 11 grams of plant-based protein with organic and oh-so-creamy peanut butter, roasted peanuts, and let's not forget the best part...our vegan chocolate chips!
See Nutrition & Ingredients List
Benefits
11 grams of protein
Organic
Vegan
Gluten-Free
Kosher
Non-GMO
Clean
Soy-Free
Dairy-Free
Low FODMAP
​
Organic Peanut Butter

Organic Chocolate Chips

Organic Peanuts

Organic Puffed Brown Rice
3
Christian
November 7, 2022
Pretty good but wish the texture was a little better, not as great of consistency or strong of flavor as others
5
Diane Malin
November 3, 2022
My daughter introduced me to Macrobars & I was hooked immediately! I've introduced to several friends as well. It's a great bar after a run m, lifting weights or mid afternoon treat. I can relate to the product story since I am a 2x breast cancer survivor. And I am glad to see more stores in my area are now stocking my favorite bar, peanut butter chocolate chip!
5
Rocky
October 27, 2022
My family and I have been devouring these bars for about a year now. And it is still the only one we eat, even though we have tried hundreds in the past and a few since. Our eighteen month old grandson is also excited to eat them!
5
Bonnie Spalding
October 23, 2022
I rely on Macro Bars for meal replacements when I'm short on time. I love them. But with the price increase, I can't justify buying them, even with a discount they cost too much. So sad.
5
Debbie Livingston
October 23, 2022
This is our family's favorite bar. We use it for busy work and school days, on hikes, on bike rides and our ultra-endurance events. It tastes great, is easy on the gut, and filling!
5
Kurt
October 23, 2022
Great bar! I have it for lunch and it keeps me going until dinner!
5
Steve Iverson
October 22, 2022
❤️
5
Jennifer L
October 19, 2022
I absolutely love these bars! This is my favorite flavor of bar. Just the right amount of chewiness. Love the natural ingredients. Good source of protein as well!
5
Suzie Pires
October 18, 2022
Love these absolutely delicious and healthy!
4
Tracey
October 14, 2022
I love the taste of the peanut butter chocolate chip bars. I do wish they had fewer carbs and more fiber.