Peanut Butter Chocolate Chip
Peanut Butter Chocolate Chip
Protein Pleasure®
Creamy, organic peanut butter plus vegan chocolate chips equals your new favorite go-to snack!

Get Same Day Delivery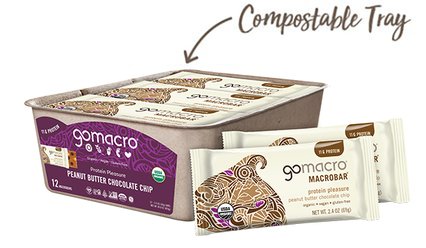 What's Inside
Meet the bar that started it all! Our original Peanut Butter Chocolate Chip MacroBar® combines 11 grams of plant-based protein with organic and oh-so-creamy peanut butter, roasted peanuts, and let's not forget the best part...our vegan chocolate chips!
See Nutrition & Ingredients List
Benefits
11 grams of protein
Organic
Vegan
Gluten-Free
Kosher
Non-GMO
Clean
Soy-Free
Dairy-Free
Low FODMAP
Organic Peanut Butter

Organic Chocolate Chips

Organic Peanuts

Organic Puffed Brown Rice
5
Kevin
July 17, 2023
I love these bars. Peanut Butter Chocolate Chip is the one flavor that everyone in my family agrees on, so we buy cases at a time. They're ideal as meal replacements or as fuel for activities like cycling, skiing or hiking. I even eat them during bike races because they go down easily and provide sustained energy. My one request however is for a version with less sugar. They'd still be plenty sweet and filling but contain fewer calories.
5
Sheridan Thomas
July 16, 2023
These bars are my all time favorite. the nutrition is exemplary!!. I eat one half as soon as I wake up, save the other half for a midday snack. the Mini's are a great snatch and go energizing boost when I am in a rush, just a couple of bites to stave the hunger in between meals. thank you!
5
Sarah Conroy
July 9, 2023
Love the flavor, great meal replacement. A bit high in sugar would love to see with a few less grams.
5
Jennifer
July 7, 2023
Love these bars. Peanut butter chocolate chip is definitely my favorite! Super fast shipping great deals when having sales.
5
Diane Stallings
June 8, 2023
We have really enjoyed these protein bars. They have a wonderful flavor and it a perfect fill in for lunch on the go with a piece of fruit. It was helpful to have a gluten free bar when my grands came to visit who have celiac disease.
5
Marion
May 7, 2023
I love the Peanut Butter Chocolate Chip Macro Bars!!! I eat one every morning after my workout and when I hike on the weekend I have one before I head out. They are perfect!
4
Pam
May 5, 2023
I love it, my only concern is consuming the amount of sugar in each bar. I believe 12 grams so sometimes I try to eat only half the bar.
5
Sam
April 18, 2023
the best breakfast, snack, and on-the-go option that keeps me full, tastes good, and is low-FODMAP!
5
terry
April 14, 2023
Still one of my top 3 favorites.
5
Gretchen
April 14, 2023
LOVE! I love everything about these yummy bars! They're organic and gluten, dairy and soy free and clean!! They are delicious and filling and low sugar… perfection in a wrapper! Oh and you can recycle the wrappers with Terracycle! What's better than that?