Peanut Butter Chocolate Chip
Peanut Butter Chocolate Chip
Protein Pleasure®
Creamy, organic peanut butter plus vegan chocolate chips equals your new favorite go-to snack!

Get Same Day Delivery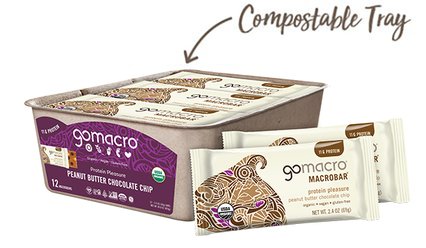 What's Inside
Meet the bar that started it all! Our original Peanut Butter Chocolate Chip MacroBar® combines 11 grams of plant-based protein with organic and oh-so-creamy peanut butter, roasted peanuts, and let's not forget the best part...our vegan chocolate chips!
See Nutrition & Ingredients List
Benefits
11 grams of protein
Organic
Vegan
Gluten-Free
Kosher
Non-GMO
Clean
Soy-Free
Dairy-Free
Low FODMAP
​
Organic Peanut Butter

Organic Chocolate Chips

Organic Peanuts

Organic Puffed Brown Rice
5
SWB
February 9, 2023
A family favorite!! Perfect balance of flavor and love the amount of chocolate chips.
5
Brenda M Siemandel
February 9, 2023
I like the peanut butter bars but my new favorite is the salted caramel & chocolate chips Love them!
5
@gluten_free_mom
February 6, 2023
These are mine and my families favorite bars. Finding a clean ingredient gluten free protein bar isn't easy to do so thank you go macro! The Peanut Butter Chocolate Chip is hands down our favorite. It is just a classic I can always rely on. Love these bars!
5
Rob
January 25, 2023
Very good, but I prefer the dark chocolate almond and the oatmeal chocolate chip bars. Just a personal preference.
5
Christi
January 20, 2023
These are my new favorite snack, and are also filling enough to be a meal at times as well! I like how they are easy to eat on-the-go! I love the taste of the chocolate with the peanut butter, I will definitely be ordering more!
5
Ruby
January 1, 2023
The best bars ever, please dont change anything!!!!
5
Sean
December 25, 2022
I have found every flavor to be quite enjoyable. Currently hooked on the peanut butter chocolate chip bars. Lemon lemon is legit too! Very filling and happy to keep them in my lunch box.
5
Josh
December 22, 2022
I love these. I used to buy these more often but I just can't justify the prices anymore in the grocery store or online. I'll wait for a sale to buy again. That being said I love these bars. They are perfect snacks to fuel my workouts or when I'm on the move
5
Chloe
December 21, 2022
GoMacro bars quite literally changed my life! I have terrible IBS + SIBO and it's been amazing to find an on-the-go snack that doesn't give me a stomachache. Granola bars can be so hard to digest, but GoMacro bars (esp chocolate peanut butter) are super easy on my system. They're also delicious— and not just delicious for a bar. Straight up DELICIOUS.
5
Karla
December 20, 2022
GoMacro comes through on this bar with quality ingredients and flavor!