Peanut Butter Chocolate Chip
Peanut Butter Chocolate Chip
Protein Pleasure
Creamy, organic peanut butter plus vegan chocolate chips equals your new favorite go-to snack!

Get Same Day Delivery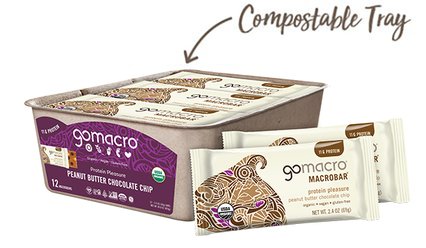 What's Inside
Meet the bar that started it all! Our original Peanut Butter Chocolate Chip MacroBar combines 11 grams of plant-based protein with organic and oh-so-creamy peanut butter, roasted peanuts, and let's not forget the best part...our vegan chocolate chips!
See Nutrition & Ingredients List
Benefits
11 grams of protein
Organic
Vegan
Gluten-Free
Kosher
Non-GMO
Clean & Raw
Soy-Free
Dairy-Free
Low FODMAP
​
Organic Peanut Butter

Organic Chocolate Chips

Organic Peanuts

Organic Puffed Brown Rice
5
SUSAN M. MULRY
July 9, 2022
Just right blend of peanut butter, chocolate chip, and "chewiness". Delicious flavor and so satisfying! I always keep a bar on hand at home, work, and on-the-go!
5
Wendy Gehring
July 8, 2022
Go Macro are the only bars that have no ingredients I can't eat! I have five favorite flavors, all in the high protein recipe. I eat one every day. My absolute favorite!
3
Alissa
July 6, 2022
GoMacro bars are my favorite, but I've noticed recently the bars are drier and harder. If it's possible to return to the way you used to make them — soft and moist, please do!! The texture makes a big difference in how fresh and flavorful the bars taste. Thank you!
5
Cal
July 5, 2022
I LOVE all the GoMacro bars I have ordered over the past 6 months. The taste and mouth feel are just great. Knowing the nutritional value of these bars only makes them that much better. These are the best!!!
5
Jill Chamberlain
June 16, 2022
Since trying gomacro I gotta tell you...I love the bars!! The pb chocolate chip are my 2ndcfavorite and I'm never without them in the pantry
5
Wendy Beckers
May 15, 2022
I love these bars! I really do! I've been buying them by the case for over 12 years now (the protein pleasure, peanut butter chocolate chip is my all-time favorite). I used to run half marathons, and these bars were the only thing I could eat the morning of a race. They filled me up, but not too full - just perfect! I have to say that I have noticed many changes in the bars of the past few years. The bars are always delicious, but they are most definitely not consistent. Sometimes they are very moist and peanut buttery and thin, and sometimes they are thicker and firmer/drier than they were the last month. Sometimes they are literally packed with chocolate chips and sometimes there's just a few in there. It's very strange. I just wanted to mention this so that someone from your quality control department can take a bar from different batches and compare them visually and taste-wise to see what I'm talking about. But, please don't ever stop making these bars - not a day goes by where I don't have at least 2 bars (one for breakfast and one for my afternoon snack). Thanks!
5
Joanne
May 14, 2022
I've tried many of Gomacro bars and these are definitely my favorite. I always have to order double because they sell out ❤️
5
Lisa
March 22, 2022
Way better than I expected. Yum. You know what would make these even better? A dash of cinnamon in the batter.
5
Eric
March 9, 2022
Would I choose this over a candy bar? Yes. All day, every day. Soft and tasty. Every time I share a bite it's always met with "What kind of bar is that again?"
5
Alysha Edelman
March 9, 2022
Chocolate and pb - PERFECT!!!! Love this bar!!! Thank you - GO MACRO!!!!!