Banana + Almond Butter
Prolonged Power®
Real, naturally sweet banana mixes with the goodness of smooth almond butter and crunchy walnuts for a moment of serenity any time of day.

Get Same Day Delivery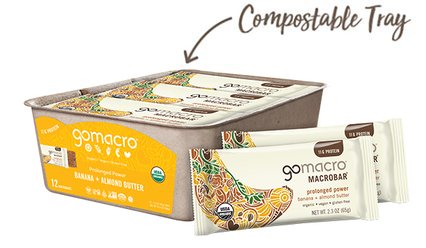 What's Inside
As delicious and comforting as a slice of homemade banana bread, our Prolonged Power MacroBar combines the taste of real bananas, chopped walnuts, creamy organic almond butter, and a hint of cinnamon for a warming and nourishing snack. The real treat is 11g of plant-based protein plus healthy fats, iron, and potassium for a long-lasting energy boost your body craves!
See Nutrition & Ingredients List
Benefits
11 grams of protein
Organic
Vegan
Gluten-Free
Kosher
Non-GMO
Clean
Soy-Free
Dairy-Free
Low FODMAP
​
Organic Almonds

Organic Bananas

Organic Sunflower Seeds

Organic Walnuts
5
Sheila
November 7, 2022
I love this healthy plant-based bar and I like the softer texture. It is awesome that the wrapper and cartons are recyclable! I am so happy and grateful I found this bar. Thank you GoMacro!
5
Vickie Pruitt
August 10, 2022
I love these bars, as they are soft, not hard. They are easy to digest., and have a great taste , not too sweet. I can't do peanut butter, so glad these are available. I need to get extra protein and these are perfect.
5
Barbara
April 13, 2022
This flavor is in my top five of favorite GoMacro Bars. They taste just like a banana muffin, but not too sweet. I would imagine they'd go great with coffee, but I enjoy mine with water while on a hike or just finishing up on the trail
5
Lauren
April 5, 2022
These remind me of an even more delicious and healthy version of a banana flavored Power Bar that I used to eat before swim meets most of my life. I love the nuts in these and I feel energized and full after having one for a snack. Thank you for this delicious bar! It is one of my MANY favorites of your MacroBars!
4
kylie
December 14, 2021
Raw vegan protein bar for those who like soft, chewy bars that are not too strong or overwhelming in flavor. It has a moderate level of protein and is also gluten-free for those who have celiac disease or simply avoid gluten. Not my favorite flavor, but it's still good. Out of all the GoMacro bars I've tried (all the protein bars, most of the flavors) it ranks 7th place out of the 8 I have tried. I really just prefer more decadent flavors. I know a ton of people still love these. I am absolutely not saying it's bad, but just not one of my top favorites. For those who like nuts, try one of the protein bars with peanut butter and/or chocolate. For those who don't, try Sunflower Butter + Chocolate.
5
Kaysah
October 27, 2021
I love these so much. And their vegan!!! I have a sensitive stomach so finding yummy snacks that don't irritate me is hard. But these treats are delicious. Just what I need in the morning to pair with my coffee and get me going for the day. Its a snack I don't have to feel bad about eating :)
5
DJS
October 13, 2021
I literally eat these every day with coffee.
5
Sebastian
October 2, 2021
Love macro bars but this one is my absolute favorite. When will it be in stock again? Feels like it has been months since I've been able to purchase some.
Response:

We hope to have our flavors in-stock soon. We are adding inventory daily, so be sure to sign up to receive an in-stock notification on your favorite flavor!
5
Susan
October 1, 2021
I could give 5* reviews everyday for these. (I know I've left a great review already but not sure what site) Anyway, I absolutely LOVE THESE! Please don't change a thing with these. They are Perfect!
3
Jack
July 13, 2021
These were my favorite bar of all time for a long time. Lately they're pretty hit or miss - sometimes I get a batch that's all dry instead of deliciously moist. I'm not sure if the recipe changed or something but it's been a bit of a bummer. Maybe I'm just growing out of them or something. I've actually been having more luck with the blueberry ones lately. I'm currently looking for a replacement as something about these bars just isn't the same anymore.
Response:

Hello Jack - We are sorry to hear that you have been experiencing inconsistencies with this flavor. We will have a member of our Customer Care Team reach out to you soon!