Banana + Almond Butter
Prolonged Power®
Real, naturally sweet banana mixes with the goodness of smooth almond butter and crunchy walnuts for a moment of serenity any time of day.

Get Same Day Delivery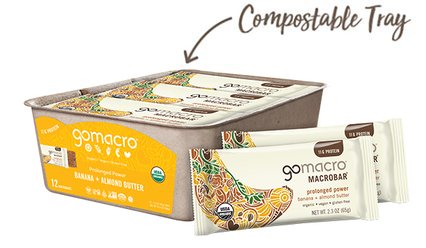 What's Inside
As delicious and comforting as a slice of homemade banana bread, our Prolonged Power MacroBar combines the taste of real bananas, chopped walnuts, creamy organic almond butter, and a hint of cinnamon for a warming and nourishing snack. The real treat is 11g of plant-based protein plus healthy fats, iron, and potassium for a long-lasting energy boost your body craves!
See Nutrition & Ingredients List
Benefits
11 grams of protein
Organic
Vegan
Gluten-Free
Kosher
Non-GMO
Clean
Soy-Free
Dairy-Free
Low FODMAP
​
Organic Almonds

Organic Bananas

Organic Sunflower Seeds

Organic Walnuts
5
California Mom1916
March 11, 2023
I love these bars with bits of banana. I grab one every morning and break off pieces during the day. This is the only bar I eat as I cannot eat chocolate, but I do not feel I am missing a thing as I enjoy the banana nut so much!
5
Kathleen
February 14, 2023
I Love love these bars! Feel safe eating them, now a days thats HUGE! And they taste great!!!!
5
Karen
February 12, 2023
Delicious, filling, and healthy protein bar! Thank you Go Macro!
5
Taylor Lape
January 26, 2023
Absolutely LOVE this bar! If you love bananas, you can already count yourself a lover of this flavor. DID NOT disappoint!
5
John Davie
January 23, 2023
One of my favorites! Love this flavor!
5
ashley
January 14, 2023
This is my favorite gomacro flavor so far, the subtle banana is so tasty! Love that I finally found a vegan bar that has tons of flavor, and the chewy texture makes it feel like a real treat.
5
Alejandra
December 18, 2022
This has to be the most delicious bar I've ever had. It's perfect for a post-gym snack or a snack during a busy shift. It's definitely a to-go snack for myself. This flavor has been my favorite so far. It's the perfect amount of sweet.
5
Sheila
November 7, 2022
I love this healthy plant-based bar and I like the softer texture. It is awesome that the wrapper and cartons are recyclable! I am so happy and grateful I found this bar. Thank you GoMacro!
5
Vickie Pruitt
August 10, 2022
I love these bars, as they are soft, not hard. They are easy to digest., and have a great taste , not too sweet. I can't do peanut butter, so glad these are available. I need to get extra protein and these are perfect.
5
Barbara
April 13, 2022
This flavor is in my top five of favorite GoMacro Bars. They taste just like a banana muffin, but not too sweet. I would imagine they'd go great with coffee, but I enjoy mine with water while on a hike or just finishing up on the trail