Banana + Almond Butter
Prolonged Power
Naturally sweet bananas and organic almond butter makes this bar a good source of protein and a delicious way to start the day.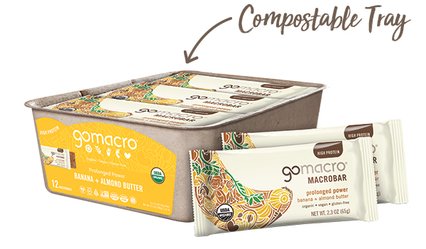 FREE SHIPPING ON ORDERS OVER $50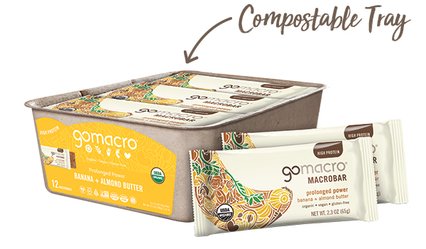 What's Inside
As delicious and comforting as a slice of homemade banana bread, our Prolonged Power MacroBar combines the taste of cinnamon, chopped walnuts, real bananas and creamy almond butter for the long-lasting energy boost your body craves!
See Nutrition & Ingredients List
Benefits
11 grams of protein
Organic
Vegan
Gluten-Free
Kosher
Non-GMO
Clean & Raw
Soy-Free
Dairy-Free
Low FODMAP
​
Organic Almonds

Organic Bananas

Organic Sunflower Seeds

Organic Walnuts
5
Tannyce
July 4, 2020
I follow a low fodmap diet and really appreciate that Go Macro makes bars that are suitable for the low fodmap diet and that they have a special section on the website. I really enjoyed this flavour. It reminds me of banana bread and I thought the flavour was really good! Will definitely buy again!
3
Sharon Rice
June 3, 2020
I thought I would really like this one, since I like banana flavors. This one wasn't a hit for me. It has a very strong cinnamon taste, and I am not a fan of cinnamon. It didn't taste much like banana to me. If you like cinnamon, you will probably like this one.
5
Chris
April 15, 2020
The Banana + Almond Butter are my favorite. I have one every morning before I head into the office and it usually holds me over till lunch time. Great source of morning energy and starts the day off on the right foot!
5
Karen
April 11, 2020
I absolutely love these wholesome, filling, banana bars. Although cinnamon is not one of my favorite spices, the other flavors mix so well that this is my go-to breakfast!
5
Gerald Wright
March 29, 2020
Hey everyone at Gomacro, thanks for a great bar and awesome ingredients. The Banana Almond is a tasty bar, but the Coconut flavored bar is a knockout.
Response:

Thanks very much for your kind words and support of GoMacro!
5
Tiffany Torres
March 24, 2020
Delicious, soft, chewy, mouthwatering and nutritious. I use them mainly as a dessert, but also as an on the go meal. Thank you Go Macro, I hope others will try the variety of amazing products offered. Stay healthy.
5
Meredith
March 7, 2020
My husband and I were looking for some protein bars low in sodium and natural. This one is amazing. It's so good I don't want to try another, but I know we will!
5
Sarah
September 19, 2019
This is my favorite flavor along with the PB Chocolate Chip. A lot of times 'banana' can taste like that fake banana flavoring, but not these. It tastes like a real banana and is the perfect breakfast bar that feels like a treat.
5
Cathy McIvor
August 29, 2019
I love these bars!!! I eat one after a heavy workout for recovery. I am gluten free (intolerant) and these are so easy to digest. Thanks so much for the only protein bar I eat.
5
Audrey McGee
July 11, 2019
Like guilt-free banana bread <3