Banana + Almond Butter
Prolonged Power®
Real, naturally sweet banana mixes with the goodness of smooth almond butter and crunchy walnuts for a moment of serenity any time of day.

Get Same Day Delivery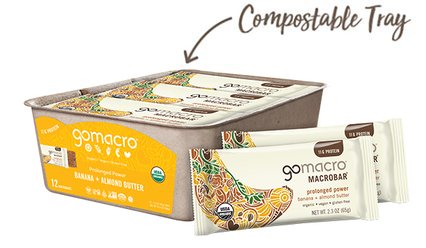 What's Inside
As delicious and comforting as a slice of homemade banana bread, our Prolonged Power MacroBar® combines the taste of real bananas, chopped walnuts, creamy organic almond butter, and a hint of cinnamon for a warming and nourishing snack. The real treat is 11 grams of plant-based protein plus healthy fats, iron, and potassium for a long-lasting energy boost your body craves!
See Nutrition & Ingredients List
Benefits
11 grams of protein
Organic
Vegan
Gluten-Free
Kosher
Non-GMO
Clean
Soy-Free
Dairy-Free
Low FODMAP
Organic Almonds

Organic Bananas

Organic Sunflower Seeds

Organic Walnuts
5
Catherine
July 12, 2023
Great tasting bar as are all of them!
5
Kimberly
June 3, 2023
The Banana + Almond Butter is definitely my go-to when I'm on the run or needing something to tie me over for the next couple hours before a workout or teaching a class. I love how they digest easily, taste so delicious, and are filled with good things!
5
Anita Gehrke
April 15, 2023
Go Macro Bars are great for when you are on the run. They're delicious and many come without salt added. People I've spoken with at Go Macro are very kind and down to earth. It's a super company with many excellent tasting bars!
5
Betty C
April 14, 2023
The banana almond butter is my FAVORITE. I've been purchasing this flavor for so many years, you can't beat it! So good
5
California Mom1916
March 11, 2023
I love these bars with bits of banana. I grab one every morning and break off pieces during the day. This is the only bar I eat as I cannot eat chocolate, but I do not feel I am missing a thing as I enjoy the banana nut so much!
5
Kathleen
February 14, 2023
I Love love these bars! Feel safe eating them, now a days thats HUGE! And they taste great!!!!
5
Karen
February 12, 2023
Delicious, filling, and healthy protein bar! Thank you Go Macro!
5
Taylor Lape
January 26, 2023
Absolutely LOVE this bar! If you love bananas, you can already count yourself a lover of this flavor. DID NOT disappoint!
5
John Davie
January 23, 2023
One of my favorites! Love this flavor!
5
ashley
January 14, 2023
This is my favorite gomacro flavor so far, the subtle banana is so tasty! Love that I finally found a vegan bar that has tons of flavor, and the chewy texture makes it feel like a real treat.