Banana + Almond Butter
Prolonged Power
Real, naturally sweet banana mixes with the goodness of smooth almond butter and crunchy walnuts for a moment of serenity any time of day.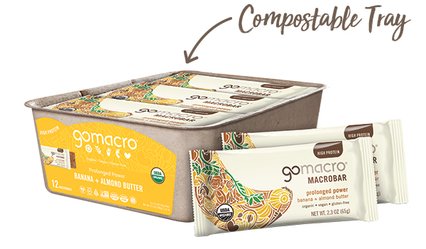 FREE SHIPPING ON ORDERS OVER $50
?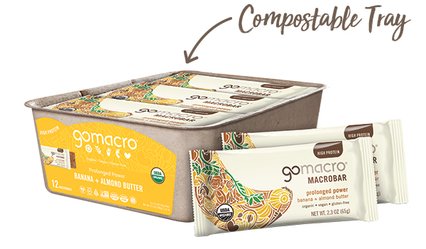 What's Inside
As delicious and comforting as a slice of homemade banana bread, our Prolonged Power MacroBar combines the taste of real bananas, chopped walnuts, creamy organic almond butter, and a hint of cinnamon for a warming and nourishing snack. The real treat is 11g of plant-based protein plus healthy fats, iron, and potassium for a long-lasting energy boost your body craves!
See Nutrition & Ingredients List
Benefits
11 grams of protein
Organic
Vegan
Gluten-Free
Kosher
Non-GMO
Clean & Raw
Soy-Free
Dairy-Free
Low FODMAP
​
Organic Almonds

Organic Bananas

Organic Sunflower Seeds

Organic Walnuts
5
Emily V
September 8, 2020
So tasty! Am loving this new flavor. I also dig the low-FODMAP certification, too. Thanks for making great snacks for IBS-sufferers!!
5
Marie
September 5, 2020
The bars are very scrumptious. They definitely serve as a good substitute to satisfy my sweet tooth cravings.
5
Carolyn N Moore
August 14, 2020
The first time I had one of these I fell in love. I tried to find out where to buy more. Finally it dawned on me to check Amazon. I'm already almost finished eating my second order. I keep asking myself if I'm addicted. I absolutely love this flavor and eating these have caused me to lose my craving for sweets. I now receive a monthly order.
5
Nicholas
August 14, 2020
Great flavor if you enjoyed fresh, warm, home-baked banana bread growing up during your early years! I really enjoy the banana and walnut combination; the addition of almond butter to this marriage of flavors makes adding this flavor to my orders a no-brainer. Love these!
5
Tannyce
July 4, 2020
I follow a low fodmap diet and really appreciate that Go Macro makes bars that are suitable for the low fodmap diet and that they have a special section on the website. I really enjoyed this flavour. It reminds me of banana bread and I thought the flavour was really good! Will definitely buy again!
3
Sharon Rice
June 3, 2020
I thought I would really like this one, since I like banana flavors. This one wasn't a hit for me. It has a very strong cinnamon taste, and I am not a fan of cinnamon. It didn't taste much like banana to me. If you like cinnamon, you will probably like this one.
5
Chris
April 15, 2020
The Banana + Almond Butter are my favorite. I have one every morning before I head into the office and it usually holds me over till lunch time. Great source of morning energy and starts the day off on the right foot!
5
Karen
April 11, 2020
I absolutely love these wholesome, filling, banana bars. Although cinnamon is not one of my favorite spices, the other flavors mix so well that this is my go-to breakfast!
5
Gerald Wright
March 29, 2020
Hey everyone at Gomacro, thanks for a great bar and awesome ingredients. The Banana Almond is a tasty bar, but the Coconut flavored bar is a knockout.
Response:

Thanks very much for your kind words and support of GoMacro!
5
Tiffany Torres
March 24, 2020
Delicious, soft, chewy, mouthwatering and nutritious. I use them mainly as a dessert, but also as an on the go meal. Thank you Go Macro, I hope others will try the variety of amazing products offered. Stay healthy.