Banana + Almond Butter
Prolonged Power
Real, naturally sweet banana mixes with the goodness of smooth almond butter and crunchy walnuts for a moment of serenity any time of day.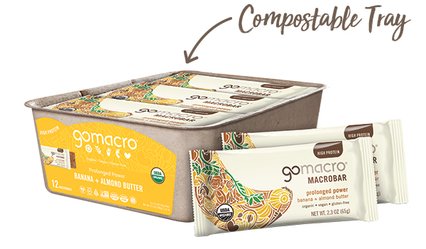 FREE SHIPPING ON ORDERS OVER $50
?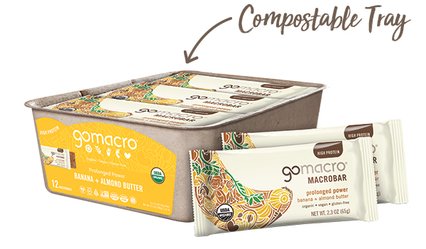 What's Inside
As delicious and comforting as a slice of homemade banana bread, our Prolonged Power MacroBar combines the taste of real bananas, chopped walnuts, creamy organic almond butter, and a hint of cinnamon for a warming and nourishing snack. The real treat is 11g of plant-based protein plus healthy fats, iron, and potassium for a long-lasting energy boost your body craves!
See Nutrition & Ingredients List
Benefits
11 grams of protein
Organic
Vegan
Gluten-Free
Kosher
Non-GMO
Clean & Raw
Soy-Free
Dairy-Free
Low FODMAP
​
Organic Almonds

Organic Bananas

Organic Sunflower Seeds

Organic Walnuts
4
Pete
April 8, 2021
I like the protein (11 grams) and low saturated fat. Tastes great; however, I would prefer lower sugar content. I'll bet it would taste delicious with less than 12 grams of sugar.
5
Angela
April 6, 2021
The banana almond bars are one of my all time favorites and I never tire of them. Just yummy! It's like having dessert for breakfast, but is far healthier and nicely crunchy.
5
Judy Shioshita
April 6, 2021
Love all the bars that I ordered. They are delicious and satisfying and I purchase enough to share with my favorite people.
4
Erin
March 16, 2021
So delicious! ADD CHOCOLATE CHIPS AND IT WILL BE PERFECT
5
Betty C
March 7, 2021
This is a tried and true favorite in our household. The Banana Almond Butter has been on the roster for years now, just the right amount of sweet/savory-ness. So good, highly recommend.
5
Gary Wilson
February 21, 2021
Being a big fan of bananas and almonds, these were a hit for me, although I would have preferred walnuts! Slightly reminiscent of banana nut bread.
Response:

Thanks for your positive review of Banana + Almond Butter. We agree with the comparison to banana nut bread! You may have missed walnuts listed in the ingredients on the back of the wrapper- Wishes do come true!
5
Ryan B
February 3, 2021
10/10 would recommend. I am a sales rep driving in my car all day long, sometime a healthy lunch is not something I have time for. Every morning I grab 2 GoMacro bars so I know that I at least have something healthy and filling to eat throughout the day.
5
Sadie M
January 30, 2021
My favorite snack bar of all time and probably favorite snack of all time too!! :) I love these
5
Isabella
December 1, 2020
Tastes like a freshly baked banana bread! The walnuts add a satisfying crunch. D E L I C I O U S!
5
Emily V
September 8, 2020
So tasty! Am loving this new flavor. I also dig the low-FODMAP certification, too. Thanks for making great snacks for IBS-sufferers!!