Double Chocolate + Peanut Butter Chips
Double Chocolate + Peanut Butter Chips
Smooth Sanctuary
Our newest flavor combines peanut butter, chocolate, and even more chocolate!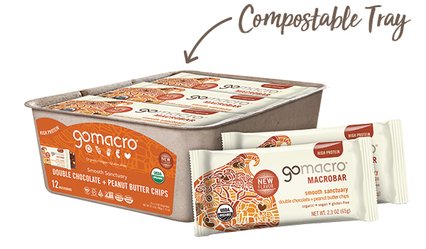 FREE SHIPPING ON ORDERS OVER $50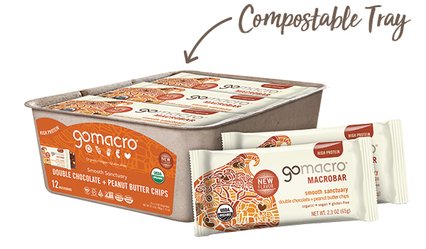 What's Inside
Our take on a classic peanut butter cup blends protein-rich peanuts, fair-trade vegan chocolate, creamy organic peanut butter and our very own house-made peanut butter chips. And just when you thought it couldn't get any better, we tossed in a handful of our delicious chocolate chips. Our newest Smooth Sanctuary MacroBar is an oasis of flavor that your taste buds will want to visit again and again.
See Nutrition & Ingredients List
Benefits
11 grams of protein
Organic
Vegan
Gluten-Free
Kosher
Non-GMO
Clean & Raw
Soy-Free
Dairy-Free
Organic Fair-Trade Chocolate Chips

Organic Peanut Butter Chips

Organic Fair-Trade Chocolate

Organic Peanut Butter
5
Sam
June 30, 2020
These bars were amazing!they filled me up and I always was satisfied. Sad that I finished it all but now purchasing some more!!!
5
DocJ
May 19, 2020
I received this bar as a free sample with my order and I think this might be my new favorite bar. For me it tastes as a brownie, so tasty you would never say it's a healthy treat. Can't wait for a sale to stock up on these.
5
Emily
May 19, 2020
Looove these! Perfect balance of flavors and macros for lasting energy.
5
Cecilia
May 17, 2020
Literally tastes like a candy bar- so good and so filling! Love having it for breakfast or as a snack. My favorite flavor yet!
5
Megan Mieles
May 7, 2020
I am in love with this bar! I just received my shipment and ate my first one. It tastes amazing !!! I am a peanut butter lover. But even if you just " like " peanut butter it's sooooo good. Will definitely be buying a bunch more !
5
Sarah
May 4, 2020
These are the best flavor !!! I am a nursing momma and have been enjoying these so much for an easy grab and go snack !!!
5
Theresa D
April 30, 2020
These bars are my favorite protein bars - they are chewy and delicious. This new flavor - Double Chocolate + Peanut Butter Chips is now my new favorite. It is sweet and salty and soo good. I eat one everyday :)
5
Jen Cui
April 27, 2020
Literally my favorite go-to snack ever! I've tried every protein bar from GoMacro and this is hands down my favorite. Will need to restock soon!
5
Sydney Balsamo
April 22, 2020
Please trust me, these bars are everything and more you could ever want in a protein/energy/clean bar. They are so chocolaty and peanut buttery and have the best chewy texture that is so soft. The peanut butter chips are a total knock out. You cannot go wrong with this flavor or this company. The bars are filled with amazing nutrients so it's not like eating another granola bar that leaves you hungry in 30 minutes. I stay full off of these bars for at least 2 hours. Perfect size to throw in any gym bag, purse, or lunch box. Perfect for taking on a walk. No B.S. ingredients. You can pronounce what's on the label. Such a win. Try these and you will not be disappointed. I wish they came in bigger boxes.
4
Samantha B
April 21, 2020
I like this flavor, but it's very rich! I don't recommend trying to eat it without a drink nearby. I would buy it again, but the oatmeal chocolate chip is still my favorite by far!