Double Chocolate + Peanut Butter Chips
Double Chocolate + Peanut Butter Chips
Smooth Sanctuary®
A rich, chocolatey bar sprinkled with melt-in-your-mouth peanut butter chips and an extra handful of organic chocolate chips for a wholesome snack you're sure to savor.

Get Same Day Delivery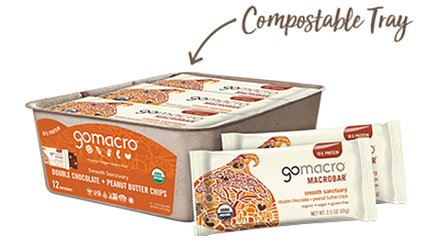 What's Inside
Our take on a classic peanut butter cup blends protein-rich peanuts, vegan chocolate, creamy organic peanut butter, and our very own house-made peanut butter chips to create a satisfyingly delicious treat. With a portion of net proceeds from August sales benefiting the Sheldrick Wildlife Trust, our Smooth Sanctuary MacroBar is an oasis of flavor your taste buds will want to visit again and again. Learn more here.
See Nutrition & Ingredients List
Benefits
11 grams of protein
Organic
Vegan
Gluten-Free
Kosher
Non-GMO
Clean & Raw
Soy-Free
Dairy-Free
Low FODMAP
​
Organic Chocolate Chips

Organic Peanut Butter Chips

Organic Chocolate

Organic Peanut Butter
5
Julie Doane-Allmon
November 4, 2022
The family loves the bars. I loved the swag! Thanks
5
Mallory Keisling
November 2, 2022
I absolutely love these bars. I can't go a day without one. The double chocolate peanut butter is my top favorite.
5
Ruth
October 24, 2022
My go to protein bars for a quick pickup or if I'm somewhere that gluten-free food not available. Keep one in my bag
5
Steve Iverson
October 22, 2022
❤️❤️❤️
5
Michael Banks
October 20, 2022
One of my favorite Go Macro bars..
5
Troy
October 17, 2022
My favorite flavor! I'm a serious cyclist and these are great for long rides, I often eat one mid way thru my ride. They provide energy that's long lasting and I look forward to eating them (vs. other bike "food" like gels, which work as fuel, but are not something I look forward to eating).
5
Alice G
October 17, 2022
This bar is called smooth sanctuary, every bite of this bar takes me a little further away to my happy place. I love peanut butter and chocolate but it has to have intense flavor. This bar has that flavor, it's like eating a cookie. It has a slight chewy texture which makes it easier to savor the flavors. Delicious!
5
Julio T
October 17, 2022
Very tasty and healthy!
5
Robin Russell OConnell
September 16, 2022
Great flavor
5
Howie
September 7, 2022
My # 1 go to bar.