Double Chocolate + Peanut Butter Chips
Double Chocolate + Peanut Butter Chips
Smooth Sanctuary
Our newest flavor combines peanut butter, chocolate, and even more chocolate!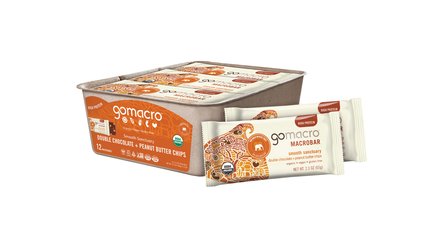 What's Inside
Our take on a classic peanut butter cup blends protein-rich peanuts, fair-trade vegan chocolate, creamy organic peanut butter and our very own house-made peanut butter chips. And just when you thought it couldn't get any better, we tossed in a handful of our delicious chocolate chips. Our newest Smooth Sanctuary MacroBar is an oasis of flavor that your taste buds will want to visit again and again.
See Nutrition & Ingredients List
Benefits
11 grams of protein
Organic
Vegan
Gluten-Free
Kosher
Non-GMO
Clean & Raw
Soy-Free
Dairy-Free
Organic Fair-Trade Chocolate Chips

Organic Peanut Butter Chips

Organic Fair-Trade Chocolate

Organic Peanut Butter
5
Neak
August 6, 2020
So delicious! Pairs excellently with black cold brew.
5
Sydney
August 6, 2020
These bars are so delicious - the perfect texture and flavor combination. Tastes like dessert and then you read the ingredients and are stoked at how clean and ethical they are. I like this double chocolate peanut butter better than the regular peanut butter chocolate chip. Trust me, these are a must-try!
5
Catherine
August 5, 2020
These bars are so satisfying and so energizing! I love this flavor!
5
Maddie
August 4, 2020
This might just be one of the best granola bars I've ever had! I love GoMacro bars and this is definitely my favorite flavor by them. It is the perfect combination of peanut butter and chocolate and not too sweet! Love it
5
Meghan
July 30, 2020
This new flavor is seriously delicious. I almost feel guilty since it feels like I'm having a decadent dessert. This is now my favorite flavor!!
5
Sarah
July 27, 2020
GoMacro bars are my go to for a pre-workout snack. They give me the right amount of energy without filling me up or leaving me hungry. The flavor of these are the BEST! Who doesn't love peanut butter and chocolate? In my opinion, these are better than peanut butter cups.
5
Nancy
July 27, 2020
Amazing & indulgent! PB & choc are a match made in heaven; homemade pb chips really make this flavor something special!
5
Gal Andres
July 22, 2020
New flavor and I am hooked! These bars are delicious!! I love that they have both chocolate and peanut butter chips - what else could anyone ask for? They are satisfying and came in handy during my last hiking trip.
5
Bryan
July 22, 2020
These bars are incredible tasting. New favorite flavor.
5
Patricia Pokorski
July 9, 2020
Love all the Macro bars and especially how they make me feel - energized and full in a healthy way. Not my favorite flavor. A little heavy on the chocolate for me but still stupendous.