Double Chocolate + Peanut Butter Chips
Double Chocolate + Peanut Butter Chips
Smooth Sanctuary
A percentage of the net proceeds from August sales of our Double Chocolate + Peanut Butter Chips MacroBars will be donated to Sheldrick Wildlife Trust.

Get Same Day Delivery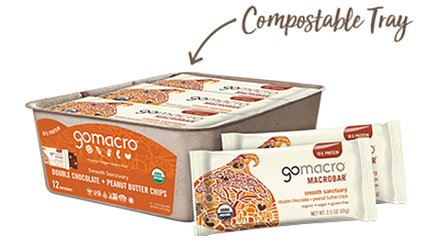 What's Inside
Our take on a classic peanut butter cup blends protein-rich peanuts, vegan chocolate, creamy organic peanut butter, and our very own house-made peanut butter chips to create a satisfyingly delicious treat. With a portion of net proceeds from August sales benefiting the Sheldrick Wildlife Trust, our Smooth Sanctuary MacroBar is an oasis of flavor your taste buds will want to visit again and again. Learn more here.
See Nutrition & Ingredients List
Benefits
11 grams of protein
Organic
Vegan
Gluten-Free
Kosher
Non-GMO
Clean & Raw
Soy-Free
Dairy-Free
Low FODMAP
​
Organic Chocolate Chips

Organic Peanut Butter Chips

Organic Chocolate

Organic Peanut Butter
5
MARIANN SCHINDLER
July 31, 2022
First, we love your product and purchase on a regular basis. They are addicting (sugar is the first ingredient listed). This leads me to a question. Is there a way to reduce the sugar without using artificial sweeteners? Thanks for considering my request.
5
Maggie
July 28, 2022
These are hands down the best health bar I have ever had. I crave them regularly and they satisfy sugar cravings or hunger in general 100%. Highly recommend these, especially this flavor.
5
DEBRA A. FULTZ
July 10, 2022
LOVE this one! Hits the spot when you want yummy chocolate but don't want a candy bar. It is satisfying and no guilt afterwards.
4
Alissa
July 9, 2022
The flavor is great. Wish the recent bars were softer and moister like the original batches.
5
Ren
July 8, 2022
This is my favorite flavor!
2
Katie
July 8, 2022
Normally one of my favorite flavors, however the last order I received is firm and kind of dry. I'm thinking I must've got an old box, not the typical Macro texture that I love.
5
JC!
July 8, 2022
I love these. I pretty much have one a day. And buy them by the case.
5
Zoe
July 5, 2022
This is my favorite flavor; I have a recurring order! I feel like I'm eating a peanut butter brownie for breakfast. I love supporting this small business <3 Keep it up, GoMacro!
5
Jill
June 16, 2022
These are my MOST favorite of the bars I've tried....I absolutely love them
5
Holly Kuester
May 31, 2022
These are the absolute best tasting bars! They are large and chewy and so delicious I want to eat them for breakfast and lunch but I will just eat them for snacks for now maybe breakfast too!!