Banana + Almond Butter
Prolonged Power
Naturally sweet bananas and organic almond butter makes this bar a delicious, high-protein way to start the day.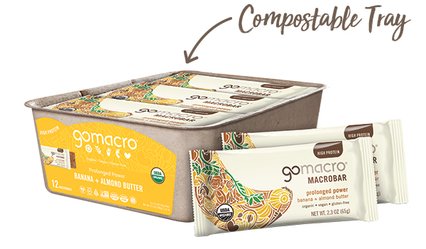 FREE SHIPPING ON ORDERS OVER $60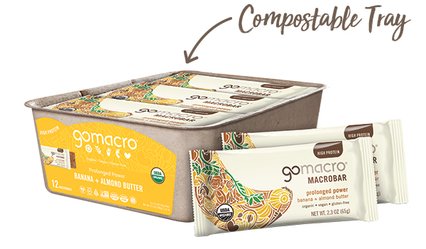 What's Inside
As delicious and comforting as a slice of homemade banana bread, our Prolonged Power MacroBar combines the taste of cinnamon, chopped walnuts, real bananas and creamy almond butter for the long-lasting energy boost your body craves!
See Nutrition & Ingredients List
Benefits
11 grams of protein
Organic
Vegan
Gluten-Free
Kosher
Non-GMO
Clean & Raw
Soy-Free
Dairy-Free
Low FODMAP
Organic Almonds

Organic Bananas

Organic Sunflower Seeds

Organic Walnuts
5
Meredith
March 7, 2020
My husband and I were looking for some protein bars low in sodium and natural. This one is amazing. It's so good I don't want to try another, but I know we will!
5
Sarah
September 19, 2019
This is my favorite flavor along with the PB Chocolate Chip. A lot of times 'banana' can taste like that fake banana flavoring, but not these. It tastes like a real banana and is the perfect breakfast bar that feels like a treat.
5
Cathy McIvor
August 29, 2019
I love these bars!!! I eat one after a heavy workout for recovery. I am gluten free (intolerant) and these are so easy to digest. Thanks so much for the only protein bar I eat.
5
Audrey McGee
July 11, 2019
Like guilt-free banana bread <3
5
John Davie
May 16, 2019
Smooth and delicious, never get's old. My favorite for high protein, great tasting and easy to digest. GoMacro is the leader!!
5
Debbie
May 15, 2019
This was the first flavor I tired. I do love this one, but not my favorite. In general, I love the texture and consistency of these bars. For me being dairy, wheat, and soy free are super important. It is hard to find a protein bar without all 3 of those ingredients.
5
Sarah
April 19, 2019
Awesome flavor. Local. High protein. Vegan
5
Soumya
April 10, 2019
I cannot even begin to tell you how many protein bars I have tried before falling hard for this one. They were too crunchy, too sweet, not enough natural ingredients, disgusting stevia after taste, not enough protein, no eggs, not organic, too processed. Of all the protein bars I have tried (cliff, quest, nature valley, think thin, kind, Luna) go macro wins hands down. Their banana almond butter is by far my favorite and I stick up when they have their sales. My husband and I love the bars and cannot recommend them enough!
5
Eve B.
April 10, 2019
I've tried most flavors and these are my favorite! They are perfect alone, with a cup of coffee or tea, or crumbled into a bowl of yogurt with fruit. I am a graduate student and I would eat these every morning before working 5-hour blocks in labs/data collection rooms and these would keep me full the whole time.
5
Hayley
March 21, 2019
the best high-protein bar i have very tasted, i can not stop eating them! they are also a healthy choice for a snack or a pre-workout food
5
Jerod Millard
February 21, 2019
You cannot find a better tasting bar. These are so bee's knees!
5
Adrianna
February 18, 2019
Great for on the go breakfast or snack. The texture is just right and the flavors are good. We have tried other breakfast replacement bar and this bar is by far the best flavor. I also like that it is all natural ingredients that is good for your body.
5
Dave
February 7, 2019
Perfect for the late afternoon! Need a something to eat about then and it doesn't get better than these.
5
Bethany
February 3, 2019
Freaking delicious - this bar tastes similar to banana bread, nice and spicy. It's filling enough for me to have one for lunch.
5
Kate
January 3, 2019
Love this flavor as a way to mix it up. It's softer than other flavors and the banana stands out just enough. I almost always go for one of the chocolate flavors so this is a nice break from that every so often. Very satisfying. I'm not a sweet lover but this is perfectly naturally sweet.
4
Nancy
December 30, 2018
This bar has a true banana flavor, but is slightly too sweet for my taste (I would like to taste the almond butter more). The texture reminded me of a Larabar, except a bit chewier. I have this as a snack before dance or during my serving shift, and it is definitely satisfying!
5
Anna
December 9, 2018
Tastes decadent and not at all like a protein bar. Very filling too. Great new flavor and currently my favorite!
5
Meghan
December 8, 2018
These are fantastic bars! My go to before every workout. They keep me going and have a great flavor!
5
Susan
September 17, 2018
Excellent product. Not only is healthy but tastes good. By far the best vegan protein bar in the market in my opinion.
5
Lisa
August 24, 2018
Love this bar! A favorite that I will continue to buy.
4
Ellen
June 21, 2018
I love these bars! I've eat them absolutely every morning for the past few months and LOVE them. Very filling. I have noticed in my most recent order though, that the bars have become smaller, which makes me sad. Hoping this isn't a permanent change.
3
Maggie
June 19, 2018
These bars are really delicious. I eat a macrobiotic diet and I was thrilled to find them. I also avoid peanut butter and love the alternative of the almond butter. I will caution you that I have recently found a piece of the walnut hulls in the bar. This hurt one of my teeth so I have decided to avoid the bars for now. Chew with caution.
5
Julie Sheehan
May 20, 2018
I love this new flavor! Macrobars are my favorite and these new flavors are awesome!
5
Mary White
April 4, 2018
I found these bars at a local organic grocery store. I was in the middle of a detox so I could only eat certain things. I found these, had my first bar, and have been hooked ever since. I've tried so hard over the years to like protein and meal bars and none of them ever stuck until I found go macro. Seriously, I always have a stock of these bars in my house. My all time favorite is the Prolonged Power! Yum!
5
Shane Frandsen
March 8, 2018
These bars are very filling and great tasting. It almost feels like a guilty pleasure. I travel a lot and its a pain to take fresh produce through customs and it never fails at snack time.
5
Jessica Braddock
March 7, 2018
I absolutely love this go macro bar!!!! I recently found out I had food allergies to several foods and these bars are healthy, yummy and are perfect for my situation. They don't have dairy, gluten, soy! I can still have a nice treat to-go without the worry of violating my doctor's order!!
5
Sarah Bowman
February 23, 2018
I had my first macrobar after grabbing it as a breakfast replacement at sprout, and I'M SOLD! It's pleasantly chewy and had the most delicious balance of banana and almond butter. It's nutritionally balanced, and offers a great amount of protein for a meal replacement. It was great for breakfast on the go! I can't wait to get back to the store to buy new flavors. You might find them to be a little pricey, but quality ingredients and processing costs money! Still worth it!