Dark Chocolate + Almonds
Protein Decadence
Organic chocolate chips and vegan dark chocolate blend with almonds for a high-protein treat for any and all chocolate-lovers!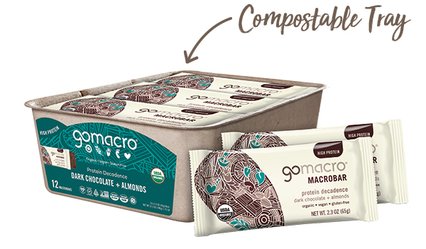 FREE SHIPPING ON ORDERS OVER $50
?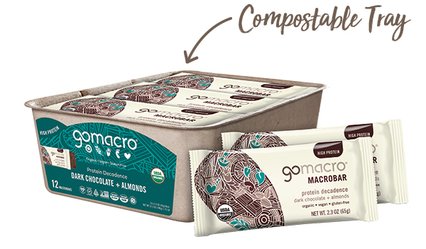 What's Inside
Get all the rich, chocolatey goodness of a brownie in a guilt-free snack with our Protein Decadence MacroBar. Our blend of organic cocoa and vegan chocolate chips is sure to satisfy any chocolate lover's craving. With an added bonus of 10 grams of protein per-bar, our Dark Chocolate + Almonds MacroBar will keep your sweet tooth and wellness goals in check!
See Nutrition & Ingredients List
Benefits
10 grams of protein
Organic
Vegan
Gluten-Free
Kosher
Non-GMO
Clean & Raw
Soy-Free
Dairy-Free
Low FODMAP
​
Organic Almonds

Organic Chocolate Chips

Organic Puffed Brown Rice

Organic Cacao Powder
5
Carol W.
April 21, 2021
These are really heavenly. They satisfy my sweet tooth and need for a treat with some chewy texture.
5
Gordon E Tatro
April 6, 2021
If I forget to put one (or two) of these Dark Chocolate and Almonds in my pocket before I blast out the door (doing and heading for whatever I plan but life plops in my way) then I'd die!!! These are really good...I've been wondering if there is cocaine in them for they are addictive...Ha ha ha. Just kidding! Anyway, I have passed some out to the Amazon and FedEx and UPS drivers this past winter as COVID went about trying to adjust and trash my existence (but failed) and they were very appreciative...I reminded them that if they like them than keep the wrapper as the web code is there and they can also order them online...if they can't find them in the stores.... Pat Pat Pat...on the back of the person who thought this GoMacro Bar recipe up...
5
Lisa M Northrup
March 24, 2021
Really tasty! Not overly sweet. Pleasantly moist. Good, clean snacks are difficult to find. Love this one!!!
5
Gary Wilson
February 21, 2021
Dark chocolate and almonds! How can you go wrong with that combination? These are one of my favorites and I always keep them available!
5
Drhelena
February 19, 2021
These bars are the best bars on the Market. As a Naturopathic Practitioner, I have reviewed most products on the market in my practice. They are fresh and very clean in terms of ingredients. I highly recommend this product to everyone who enjoys chocolate and almonds made with Non-GMO and Organic products.
5
Donna
February 3, 2021
My favorite! Delicious and safe for me to eat. Love to take with me when out and about for a quick meal
5
Hannah
December 3, 2020
These are my all time favorite protein bars from GoMacro. I like them when I am traveling or out with my kids exploring nature. I was so happy to find a protein bar that was organic, gluten free and vegan that didn't taste like traditional protein powder. I'm so happy I found these! The chocolate almond is so delicious that I bought an entire box for myself. Thanks so much for making these!
5
Isabella
December 1, 2020
I think since discovering GoMacro bars in Australia, I have had one every day! This flavour does not disappoint. I love dark chocolate, and I love almonds. The highlight of my day is having one!
5
Chelsea maning
September 27, 2020
Love these gomacro bars . They are so delicious and with them being vegan and gluten free you can enjoy the chewy chocolatey goodness guilt free . Its The perfect snack.
5
Kim
September 16, 2020
I'm addicted to these, I can't go a day without a bar. It's a great way to start my morning with the rich, chocolate flavor of these bars.