Pure Promise
Maple Sea Salt
This combo will have you craving those homemade pancakes from your childhood.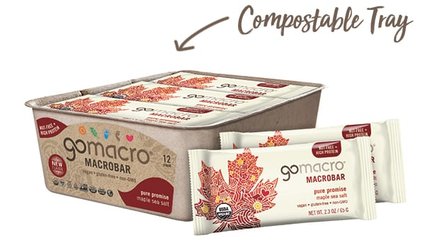 FREE SHIPPING ON ORDERS OVER $60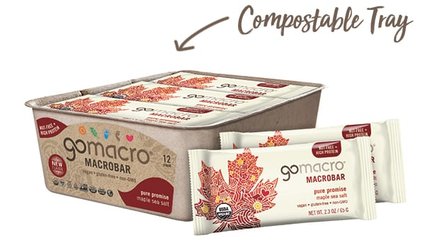 What's Inside
A moment of pure promise. Pumpkin seeds, maple syrup and a dash of sea salt combined with 11 grams of plant-based protein make for a delicious treat.
See Nutrition & Ingredients List
Benefits
11 grams of protein
Nut-Free
Organic
Vegan
Gluten-Free
Kosher
Non-GMO
Clean & Raw
Soy-Free
Dairy-Free
Organic Pumpkin Seeds

Organic Maple Syrup

Sea Salt
5
Diana
October 15, 2019
LOVE the new Maple Sea Salt flavor!!! It's a perfect blend of sea salt and sweetness and the texture is great. This high protein bar is my new favorite. Awesome job on this one, GoMacro!
5
Melissa Thompson
September 19, 2019
I love this new flavor! It has surpassed other flavors and is in my top 2 favorite bars.
5
Erika
September 16, 2019
This is my FAVORITE EVER GoMacro flavor. It's the perfect balance of sweet and salty without a ton of added sugar. I love the addition of the pumpkin seeds for a little crunch. This bar screams fall, but I'm looking forward to having them on hand year-round.
5
Suzanna
September 13, 2019
This flavor is just sinfully delicious. I ate 4 bars in one sitting and just could not stop myself. The combination of sweet and slightly salty is just awesome.
5
Bill Mann
September 11, 2019
A fantastic tasty bar. This one my favorite. Texture, taste, and nutrition. The price is very good from gomacro.com. I buy 2-3 dozen at a time. You can't go wrong.
5
Kimmy Leslie
September 11, 2019
I am addicted to GoMacro. I was on a blueberry bliss kick, but now I can't get enough of this pure promise with its mapley fall goodness. GoMacro never disappoints. I can't go anywhere without one in my bag. Thank you for making the Bar of all Bars!!!
5
Anne
August 19, 2019
The other reviews say for me too! I'm hooked!!! I'm hoping that Maple Salt will join the rest of the flavors in my local WF store so I don't have to wait for a delivery! :-)
5
susan a. varrone
August 18, 2019
I saw this ad on Vegannews magazine to give this a try. I did with cashew caramel, I became addicted to it. Then found out I was allergic to cashew, I switch it to Peanut Butter Chocolate chip. This is the best. I want to try others that are vegan. I am gonna give maple sea salt a try if I can find one at a store. I can not thank you enough.
5
Kelley Blosser
August 18, 2019
I absolutely love the Maple Sea Salt Pure Promise bar. I have tried every one of the Go Macro bars and love them all BUT this bar tastes like breakfast. Mildly sweet and perfectly chewy. I also love the new Chocolate Chip Oatmeal. Hard to decide which is my favorite but so thankful for this brand.
5
Gina Carmona
August 11, 2019
This is my new favorite flavor! Great maple taste without being overpowering. Love the added crunch of the pumpkin seeds. Makes a perfect filling, quick breakfast.
5
Julie
August 7, 2019
Great tasting protein bar. This is one of my favorites along with the oatmeal chocolate.
5
Jean-Paul
August 6, 2019
My new favorite flavor! Love this one.
5
Morgan Linkhorst
August 1, 2019
my FAV go macro bar flavor!! I love their others ones but this one is sooo delicious. Just the right amount of sweetness and crunch from the pumpkin seeds. 10/10 would recommend!!!
5
Linda
July 27, 2019
This new maple flavor is seriously delicious -- my new fave. The soft, chewy texture with the slight crunch of pumpkin seeds is a delicious blend. Well done. Still a Cashew Butter fan.
4
Jamie K
July 26, 2019
LOVE this new flavor! I've been eating GoMacro bars daily for a long time - Peanut Butter Choc Chip has been my go-to snack. Now adding Maple Sea Salt and Oatmeal Choc Chip to the mix. The only Issue is the very slooooooooooooooow shipping. Definitely recommend ordering via Amazon. I ordered direct through the company because the new flavors weren't available yet on Amazon but I won't do that again. It was nearly 2weeks from order to door, which in this day and age is FOREVER. Amazon is same day delivery - can't beat that!
Response:

Hi Jamie-thanks so much for the positive feedback on our new flavors! We appreciate your support of GoMacro whether ordering off our website, or through Amazon. We are grateful for your patience while waiting for your order. A two week delivery to your area is not typical and our team will be reaching out via email to address.
5
Maria Fuentes
July 24, 2019
Love this flavor! cant get enough! I asked the cashier at our small town organic produce shop to order more.
5
Amanda
July 11, 2019
LOVE the flavor of this bar! Just the right amount of maple sweetness balanced with the salt. Great flavor addition to the lineup!
5
M. Phillips
July 5, 2019
I have looked all over for a protein bar that didn't contain nuts and I thought I was looking for a unicorn. Then I found these and not only are they nut free but delicious as well! Kudos for not only addressing a definite need but for doing it well.