Maple Sea Salt
Pure Promise
This combo will have you craving those homemade pancakes from your childhood.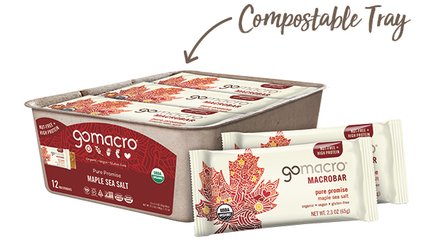 FREE SHIPPING ON ORDERS OVER $60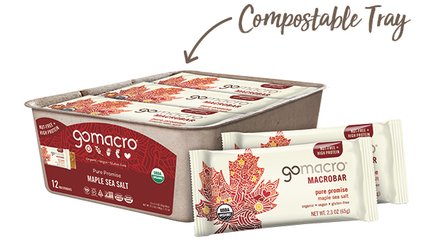 What's Inside
A moment of pure promise. Pumpkin seeds, maple syrup and a dash of sea salt combined with 12 grams of plant-based protein make for a delicious treat.
See Nutrition & Ingredients List
Benefits
12 grams of protein
Nut-Free
Organic
Vegan
Gluten-Free
Kosher
Non-GMO
Clean & Raw
Soy-Free
Dairy-Free
Organic Pumpkin Seeds

Organic Maple Syrup

Sea Salt
5
Renee
March 8, 2020
I am not a fan of maple anything so this was not going to be the first bar I would try in my sample box, however, when I braved myself to try it... it was AMAZING!! I can now say I love 1 maple flavored item!! Great job Ladies!!
Response:

Hi Renee, thanks for being brave and for the great review of Maple Sea Salt!
5
Anne-Marie
February 4, 2020
This is my absolute favorite flavor. I'm a sucker for anything maple and the salty is a nice contrast. This tastes like a treat. I've only had this in the snack sized version which is the perfect size for the mid-afternoon slump. Or a little something sweet for dessert. I wish I could buy a box of just this flavor in the snack size.
Response:

Hi Anne--Marie, thanks very much for taking the time to leave a review! We are glad you are enjoying our Maple Sea Salt flavor. Good news! It is available in cartons of 24 in the mini size.
5
IJF
February 3, 2020
Having numerous food allergies has certainly been a challenge...As soon as I discovered this flavor, I couldn't read the ingredients fast enough! I was almost in disbelief that I FINALLY found a protein bar that would work for me...it is absolutely delicious and hard to stop at eating just one daily! Thank you for offering a dairy, gluten,chocolate, nut and peanut free option... You have a customer for life!!!
5
Rusty
January 26, 2020
On a restricted diet, so these bars have been a great addition to the list of things I can eat. Taste is pretty good and they are big enough to make a dent when hungry. Wish they were a little more affordable, and this is a new flavor so they are only available at limited locations in my area.
5
Michaela White
January 25, 2020
I seriously love gomacro, I pretty much eat a bar everyday!! This flavor is so good, its not too sweet and has great texture. Love Love Love gomacro!!!
5
Samantha
January 7, 2020
I absolutely love this flavor, and everything about it. I have been searching for a dairy and nut/peanut free protein bar for a while and none of them have tasted very good. I loved these right away. I tried all the nut free options, and by far this was my favorite, I always enjoy a little sweeter flavor, and I also love the texture/chewy-ness of this.
5
Jim
December 28, 2019
LOVE the Maple Sea Salt for my long distance running!!! Not too much fiber and its sweet, HIGH GLYCEMIC nature is perfect for fueling aerobic activity!!! Can't eat them alone however, or I'll get an excesive insulin response (because of its high carbohydrate content) which causes weight gain and ultimately the "low blood sugar blues". Thank you GoMacro for making such a good endurance activity food!
5
Val
December 19, 2019
Delicious balance of sweet & salty with a slight satisfying crunch from the seeds!
5
Wendy Gehring
December 18, 2019
I have always liked maple and this is a wonderful sweet & salt balance. It is also a nice change from the nut-based GoMacro bars - just for variety. I like it a lot and will keep it in my rotation of everlasting joy, protein pleasure, and pure promise. This is the only bar I have found that balances sugar and protein and has no ingredients I can't eat. I am a dedicated customer!
5
Dean
December 17, 2019
Delicious new flavor! I didn't think it was too sweet...a good balance of maple and salt.
5
Susan
December 17, 2019
Great new flavor from Go Macro. I love the texture and flavor of these bars. Great balance of sweet and salty.
5
Jessica
November 23, 2019
I'm pretty sure this is now my favorite flavor--a perfect combination of sweet and salty. These sustained me during an recent international trip where the vegan food options were limited. Bonus is that they, like all GoMacros, pack and travel well. Thank you for continuing to come up with new (non-chocolate and non-coconut) flavors!
5
Candance
November 14, 2019
I adore these bars. I just ordered two packs of them and seriously, I am salivating just thinking about when they'll get here. Chewy, with the right amount of sweetness but not overpowering, and a touch of salt to balance. They're my favorite go-to for breakfast on the run!
5
Diana
October 15, 2019
LOVE the new Maple Sea Salt flavor!!! It's a perfect blend of sea salt and sweetness and the texture is great. This high protein bar is my new favorite. Awesome job on this one, GoMacro!
5
Melissa Thompson
September 19, 2019
I love this new flavor! It has surpassed other flavors and is in my top 2 favorite bars.
5
Erika
September 16, 2019
This is my FAVORITE EVER GoMacro flavor. It's the perfect balance of sweet and salty without a ton of added sugar. I love the addition of the pumpkin seeds for a little crunch. This bar screams fall, but I'm looking forward to having them on hand year-round.
5
Suzanna
September 13, 2019
This flavor is just sinfully delicious. I ate 4 bars in one sitting and just could not stop myself. The combination of sweet and slightly salty is just awesome.
5
Bill Mann
September 11, 2019
A fantastic tasty bar. This one my favorite. Texture, taste, and nutrition. The price is very good from gomacro.com. I buy 2-3 dozen at a time. You can't go wrong.
5
Kimmy Leslie
September 11, 2019
I am addicted to GoMacro. I was on a blueberry bliss kick, but now I can't get enough of this pure promise with its mapley fall goodness. GoMacro never disappoints. I can't go anywhere without one in my bag. Thank you for making the Bar of all Bars!!!
5
Anne
August 19, 2019
The other reviews say for me too! I'm hooked!!! I'm hoping that Maple Salt will join the rest of the flavors in my local WF store so I don't have to wait for a delivery! :-)
5
susan a. varrone
August 18, 2019
I saw this ad on Vegannews magazine to give this a try. I did with cashew caramel, I became addicted to it. Then found out I was allergic to cashew, I switch it to Peanut Butter Chocolate chip. This is the best. I want to try others that are vegan. I am gonna give maple sea salt a try if I can find one at a store. I can not thank you enough.
5
Kelley Blosser
August 18, 2019
I absolutely love the Maple Sea Salt Pure Promise bar. I have tried every one of the Go Macro bars and love them all BUT this bar tastes like breakfast. Mildly sweet and perfectly chewy. I also love the new Chocolate Chip Oatmeal. Hard to decide which is my favorite but so thankful for this brand.
5
Gina Carmona
August 11, 2019
This is my new favorite flavor! Great maple taste without being overpowering. Love the added crunch of the pumpkin seeds. Makes a perfect filling, quick breakfast.
5
Julie
August 7, 2019
Great tasting protein bar. This is one of my favorites along with the oatmeal chocolate.
5
Jean-Paul
August 6, 2019
My new favorite flavor! Love this one.
5
Morgan Linkhorst
August 1, 2019
my FAV go macro bar flavor!! I love their others ones but this one is sooo delicious. Just the right amount of sweetness and crunch from the pumpkin seeds. 10/10 would recommend!!!
5
Linda
July 27, 2019
This new maple flavor is seriously delicious -- my new fave. The soft, chewy texture with the slight crunch of pumpkin seeds is a delicious blend. Well done. Still a Cashew Butter fan.
4
Jamie K
July 26, 2019
LOVE this new flavor! I've been eating GoMacro bars daily for a long time - Peanut Butter Choc Chip has been my go-to snack. Now adding Maple Sea Salt and Oatmeal Choc Chip to the mix. The only Issue is the very slooooooooooooooow shipping. Definitely recommend ordering via Amazon. I ordered direct through the company because the new flavors weren't available yet on Amazon but I won't do that again. It was nearly 2weeks from order to door, which in this day and age is FOREVER. Amazon is same day delivery - can't beat that!
Response:

Hi Jamie-thanks so much for the positive feedback on our new flavors! We appreciate your support of GoMacro whether ordering off our website, or through Amazon. We are grateful for your patience while waiting for your order. A two week delivery to your area is not typical and our team will be reaching out via email to address.
5
Maria Fuentes
July 24, 2019
Love this flavor! cant get enough! I asked the cashier at our small town organic produce shop to order more.
5
Amanda
July 11, 2019
LOVE the flavor of this bar! Just the right amount of maple sweetness balanced with the salt. Great flavor addition to the lineup!
5
M. Phillips
July 5, 2019
I have looked all over for a protein bar that didn't contain nuts and I thought I was looking for a unicorn. Then I found these and not only are they nut free but delicious as well! Kudos for not only addressing a definite need but for doing it well.