Heartwarming Retreat
Oatmeal Chocolate Chip
A healthy twist on our family's fresh baked oatmeal cookie recipe.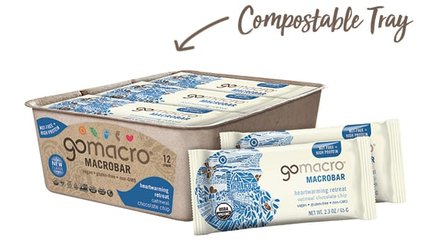 FREE SHIPPING ON ORDERS OVER $60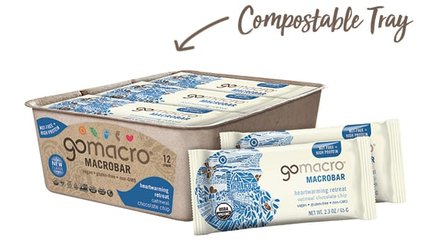 What's Inside
Take your taste buds on a stroll down memory lane with our nut-free, Oatmeal Chocolate Chip MacroBar. Nostalgic of our family's fresh-baked oatmeal chocolate chip cookie recipe, we've combined gluten-free oats, a dash of vanilla, and a handful of fair-trade, vegan chocolate chips for a taste that will leave you longing for more!
See Nutrition & Ingredients List
Benefits
12 grams of protein
Nut-Free
Organic
Vegan
Gluten-Free
Kosher
Non-GMO
Clean & Raw
Soy-Free
Dairy-Free
Organic Gluten-Free Rolled Oats

Organic Fair-Trade Chocolate Chips
5
Catherine
October 19, 2019
Honestly life changing!!! Hands down the best bar my tastebuds have ever experienced. Perfect texture, so flavorful and satisfying. The bar I was having every day prior to this discovery seemed delicious at the time until I tried this, WOW honestly. Raises the bar so high for the bar industry ;)
5
Alyssa
October 16, 2019
These bars are the only thing getting me through pregnancy morning sickness. They are the first thing I eat every morning, and I've gotten my entire extended family hooked on them! They're my favorite macro flavor by far.
5
Samme
September 19, 2019
Tastes exactly like an oatmeal chocolate chip cookie!! Love the combination of oats and chocolate, plus texture is exactly as described. Can't wait to see what other flavors GoMacro comes up with as each gets better and better!
5
Becca
September 18, 2019
The best flavor yet!!! Tastes like chocolate chip cookie dough especially when refrigerated! So so good!!! :)
5
Kristin
September 17, 2019
Great balance and flavor! I love the combination of oats + chocolate as well as the energy this bar gives me after consuming it. As a new mom, it's a quick and healthy snack that I gobble down and don't feel bad about having... every day! Thank you guys for creating delicious bars!!!
5
Elania Layman
September 17, 2019
I think this bar is great! Someone mentioned it's too salty, but I think it's balanced perfectly! Awesome flavor and texture all around! Thank you!
5
Debbie
September 16, 2019
These are great, very flavorful, not gooey. I like that they have an alternative nut butter rather than peanut or almond. Right now I cannot have almond and I have never liked peanut butter These are very good and my favorite. between the two flavors I have purchased. I do wish these were available in my local store. Some people may not like the texture, but it doesn't bother me, I don't find anything cardboard or awful about it..
5
Alisha
September 16, 2019
This is my favorite cookie flavor so I had to try the bar and it's fantastic! I bought a 12-pack and I savor every bite.
5
Carole
September 15, 2019
The oatmeal chocolate chip is so yummy...it reminds me of raw cookie dough. I just ordered a box of the regular and the minis.
1
Halley
September 12, 2019
The taste i could handle, the texture though was like like eating grainy cardboard. Not worth the 30$ but depends on your food preferences.
Response:

Hi Halley, thank you for taking the time to share your feedback, we are sorry to hear that you had a less than satisfactory experience. A team member will be in touch shortly!
5
Patti
September 11, 2019
THE GREATEST flavor I have had yet!! Does not leave that usual 'protein bar taste' in your mouth afterwards and even a half of one fills you up.
5
Amber Nixon
September 10, 2019
LOVE this new flavor! It take JUST like an oatmeal cookie. And I absolutely love that GoMarco made this bar without any nuts. Thank you so much!! It really helps keep me going when I need just a little something extra to keep my energy up until my next meal. The texture is right in between chewy and crunch. It's not sticky, super super or super hard. It's just the right texture! And there are just enough chocolate chips to keep my taste buds happy. So good!!
3
Ashley
September 5, 2019
I was very excited to try this new flavor but I unfortunately found it to be overly salty tasting for my preference. I can't get enough of the peanut butter bar, the peanut butter chocolate chip and the coconut, almond and chocolate chip bars so I'll just stick with those.
5
Michelle
September 4, 2019
Best flavor yet! Love the texture, taste, and big chocolate chunks. So happy with all of the new flavors coming out lately.
5
Victoria Knoepfel
August 30, 2019
This bar is identical to the flavor you get from Amelia's homemade chocolate chip cookie recipe. Spot on! It's a great pick-me-up and a sweet treat all at once. Awesome texture, soft like a cookie but not "fall-apart". A new favorite for sure!
Response:

Hi Victoria, We are so glad that you are enjoying our new Oatmeal Chocolate Chip flavor, and happy to hear you have also tried making Amelia's famous cookie recipe for yourself. They are delicious!
5
Jillian
August 19, 2019
Love this new flavor! These are so awesome to stash at my desk and in the car for my busy life. It keeps my snacking healthy on the go!
5
Gina Carmona
August 11, 2019
So happy we tried the new flavors! The oatmeal and chocolate chip combo is fantastic. It's my daughter's new favorite.
3
amie
August 7, 2019
I happen not to really enjoy the texture of the new oatmeal bars. It is similar to ground raw oats. I love the texture of the other protein bars, and I'm glad there is an option with no nuts for people who can't have nuts. But this one is not one of my favorites It is a thicker bar than the others, and tastes of healthy/ heavy raw oatmeal cookie batter. So I know it will appeal to people who enjoy that kind of thing.
Response:

Hi Amie, thanks very much for your feedback. We appreciate that you gave one of our new nut-free flavors a try!
5
Katlin
August 5, 2019
This bar is definitely one of my new favorites! Oatmeal chocolate chip cookies have always been a staple dessert in my house. This bar makes me feel that enjoyment without feeling the guilt! Love eating it warmed up a bit!!!
5
Carolyn
August 2, 2019
I love the new flavors. The bars really stay with you and no after taste.
5
Morgan Linkhorst
August 1, 2019
okay this bar LEGIT TASTES LIKE A HOME MADE DELICIOUS SQUISHY YUMMY OATMEAL CHOCOLATE CHIP COOKIE!!! i love it sooo much. Go Macro killed it with these new flavors. The little crisps in the bar give it texture and its just all around amazing.
5
Harlee
July 31, 2019
Love these!! One of the best bars I've had!
5
Lisa Ayre-Smith
July 30, 2019
This is a delicious bar that tastes just like an oatmeal chocolate chip cookie. Heartwarming and mild. Total comfort food in a bar! I have an oat allergy but, for some reason, I can tolerate the oats in these bars just fine. (maybe because they are organic?)
5
Kelsey
July 27, 2019
Hands down, my favorite gomacro bar. I love the simplicity of the flavor combination. It is also nice to have an option without nuts as well!
5
Cait
July 23, 2019
I love gomacro bars! And this one is amazing! So good!
5
Ellen
July 23, 2019
LOVE LOVE LOVE this new Oatmeal Chocolate Chip bar!!! So delicious! Thank you for offering more high protein nut free bars!!!
5
Michelle
July 23, 2019
Love the protein packed oatmeal chocolate chip bars. Great new flavor, which just edged out the blueberry cashew butter bar as my favorite. Thanks!
5
Amanda
July 11, 2019
Love the new flavors!!! Amazing to have but free options! The oatmeal chocolate chip is fantastic - flavors meld together perfectly and make for an overall wonderful flavor!