Protein Bar Variety Pack
Love plant-based protein? This variety pack includes an assortment of our top-selling, vegan protein bars.

Get Same Day Delivery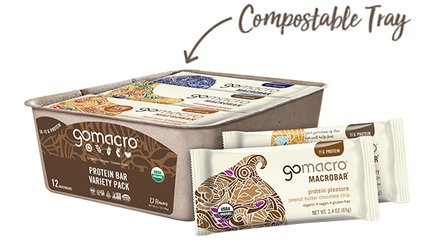 What's Inside
Each Protein Bar Variety Pack contains 12 of our top-selling, protein bars including 1 Peanut Butter Chocolate Chip, 1 Double Chocolate + Peanut Butter Chips, 1 Coconut + Almond Butter + Chocolate Chips, 1 Banana + Almond Butter, 1 Lemon + Lemon, 1 Sunflower Butter + Chocolate, 1 Peanut Butter, 1 Blueberry + Cashew Butter, 1 Dark Chocolate + Almonds, 1 Oatmeal Chocolate Chip, 1 Maple Sea Salt, and 1 Salted Caramel + Chocolate Chips. Please note that the exact assortment is based on current flavor availability and may periodically change.
See Nutrition & Ingredients List
Benefits
10 - 12 grams of protein
Organic
Vegan
Gluten-Free
Kosher
Non-GMO
Clean
Soy-Free
Dairy-Free
5
Paul Konrad
December 18, 2022
I love variety packs. And i love the variety in the ingredients. Our daughter is not doing almonds or peanuts so we can trade off flavors and find what we need! I am a regular customer now! Very good bars!
5
Rowan Frohrib
November 10, 2022
I love this pack. I have nothing bad to say about these bars other than I wish there were more of them! I love the texture. My favorite flavor is timeless treasure (salted caramel) I'm excited to see what you guys come out with next!
4
Stu
November 3, 2022
Delicious! rating 5 of 5 except too expensive therefore I gave it a 4
5
Virgil Moore
October 7, 2022
The go macro bars are some of the best bars I have ever found!
5
Carrie
September 29, 2022
The best protein bar with clean ingredients.
5
Thomas Farmar
September 18, 2022
Loved them! Ordered and received my second box yesterday! Best plant based bar I've had.
5
Elba
September 17, 2022
The best compliment I can give is that I will be ordering again! To my surprise my favorite is the lemon flavor. A great snack when I need a pick me up.
5
Susan Chesson
September 15, 2022
Yum! How fun to try so many different bars- and definitely several you can't find in the grocery! I love the variety pack!
5
Brian G.
July 17, 2022
What a GREAT protein bar! Could be the healthiest protein bar on this planet! Add an organic fruit and we might have to try to survive off them if this world gets any more contaminated!
5
Emily
July 17, 2022
I LOVE go macro bars. So happy I could order a variety pack and try some new flavors. These are the only bars that keep me full and don't make me feel sick, I like every flavor so far! I wish there was a way to create your own variety pack though, so you could pick and choose which flavors you got.