Protein Bar Variety Pack
Love plant-based protein? This variety pack includes an assortment of our top-selling, vegan protein bars.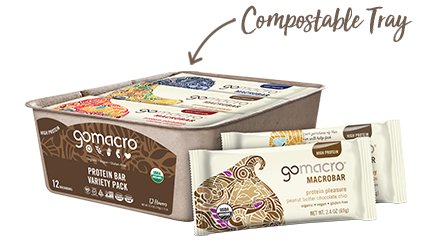 FREE SHIPPING ON ORDERS OVER $50
?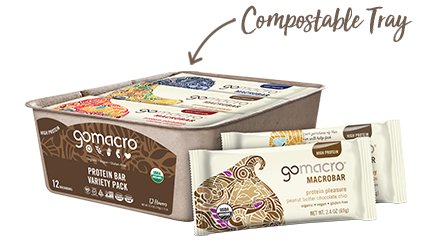 What's Inside
Each Protein Bar Variety Pack contains 12 of our top-selling, protein bars including 1 Peanut Butter Chocolate Chip, 1 Double Chocolate + Peanut Butter Chips, 1 Coconut + Almond Butter + Chocolate Chips, 1 Cashew Caramel, 1 Banana + Almond Butter, 1 Sunflower Butter + Chocolate, 1 Peanut Butter, 1 Blueberry + Cashew Butter, 1 Dark Chocolate + Almonds, 1 Mocha Chocolate Chip, 1 Oatmeal Chocolate Chip, and 1 Maple Sea Salt.
See Nutrition & Ingredients List
Benefits
10 - 12 grams of protein
Organic
Vegan
Gluten-Free
Kosher
Non-GMO
Clean & Raw
Soy-Free
Dairy-Free
5
Maria evan
November 29, 2020
So good amazing bars
5
Wendy
October 4, 2020
I love this variety pack! I have not found a GoMacro bar that I do not like yet, so the varsity packs are great for me! The texture is perfectly chewy, not too sweet and they have the perfect amount of flavor.
5
Nicole
September 3, 2020
I really love the gomacro macro bars. I've order the protein variety pack a couple of times now. Tastes great, made with clean ingredients, and they are dairy free! I only wish they cost less, but still love them!
Response:

Thanks for sharing your feedback, we hope you will join us during our quarterly sales! Sign up at www.gomacro.com to receive advance notifications.
5
Sherry
August 17, 2020
This is a wonderful collection of delicious bars which add protein to a great breakfast for me!
5
AVA F
August 13, 2020
I love all the flavors! If I had to choose, peanut butter would be my favorite...but I love them all! I most definitely recommend these bars - I can't get enough of them :)
5
Alexis
August 5, 2020
Delicious! Love the variety.
5
Ellyn
April 12, 2020
Love these bars. They are clean and taste delicious.
5
A. Hopkins
April 11, 2020
These are my go to post workout meal! Protein packed and satisfying!
5
Michelle Astrin
April 4, 2020
I love the protein bars. I eat one everyday for lunch. High protein & delicious. Highly recommend this product.
5
Peter Catalano
March 19, 2020
GoMacro - - the Goldilocks of protein bars! Not too chewy but not fluffy either. Delightful taste without being overpowering or leaving an unpleasant aftertaste. And a rich variety of flavors without the list being long and confusing.