Protein Bar Variety Pack
Love plant-based protein? This variety pack includes an assortment of our top-selling, vegan protein bars.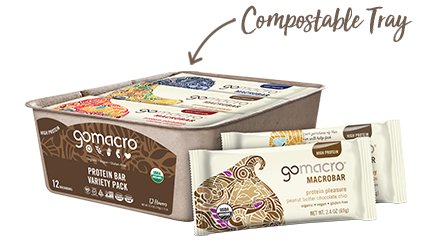 Due to increased demand, this product is currently unavailable.

You can also click the link below to receive a notification when this product is back in stock.

Notify When Available
FREE SHIPPING ON ORDERS OVER $50
?

Get Same Day Delivery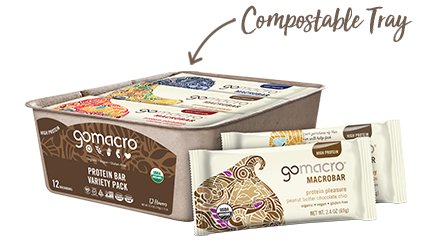 What's Inside
Each Protein Bar Variety Pack contains 12 of our top-selling, protein bars including 1 Peanut Butter Chocolate Chip, 1 Double Chocolate + Peanut Butter Chips, 1 Coconut + Almond Butter + Chocolate Chips, 1 Cashew Caramel, 1 Banana + Almond Butter, 1 Lemon + Lemon, 1 Sunflower Butter + Chocolate, 1 Peanut Butter, 1 Blueberry + Cashew Butter, 1 Dark Chocolate + Almonds, 1 Oatmeal Chocolate Chip, and 1 Maple Sea Salt.
See Nutrition & Ingredients List
Benefits
10 - 12 grams of protein
Organic
Vegan
Gluten-Free
Kosher
Non-GMO
Clean & Raw
Soy-Free
Dairy-Free
5
Joanne
June 3, 2021
Always great taste and this box has great variety....love these bars
5
Haley H.
May 6, 2021
Honestly great - great way to try out what you like best and love the compostable packaging!
5
Hank Friedman
April 21, 2021
Every bar is great! What an incredible range of flavors, beautifully executed. I am very happy with these and they have become my new breakfast (with a piece of fruit). thank you.
5
nena
April 16, 2021
Love em! With my morning coffee or as an afternoon snack with hot tea on a cool spring day!
5
Jake
April 15, 2021
Love this variety pack from Macro, delicious and protein packed!
5
Taylor
April 12, 2021
I LOVE these bars!! They're so tasty and just the right amount of filling. They're easy to eat on the trail, after a workout, or as a dessert. I just can't get enough of each flavor!
5
Caitlin
April 7, 2021
Love!! I've tried 1 or 2 flavors already, but the variety pack was perfect to be able to try all the other flavors that I can't find in stores.
5
Jamile Shirley
April 7, 2021
I love GoMacro Bars! As a marathon runner and endurance junkie, I have eaten a fair share of bars—these are the best. The smooth (but not sticky) texture, the ingredients, the nutrients, and the flavors round out to being one great product. I eat them during and after workouts/events and for a fast snack. Thank you, GoMacro!
5
Laura
April 6, 2021
I absolutely love these bars. The variety packs are my favorite, because I can reach in and grab a surprise flavor. And they're all happy surprises, because they're all delicious! I use them as a post-workout snack, then eat an actual breakfast a few hours later.
5
Susan
April 3, 2021
My daughter and I love these vegan bars! It's nice to be able to have one on the go; they're delicious and filling. Although we love them, due to the price, we don't regularly buy them.