Protein Bar Variety Pack
Love plant-based protein? This variety pack includes an assortment of our top-selling, vegan protein bars.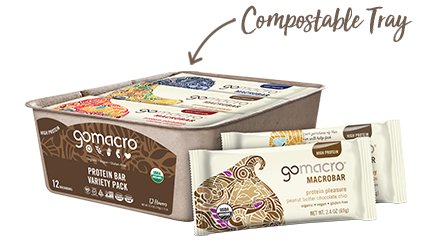 FREE SHIPPING ON ORDERS OVER $50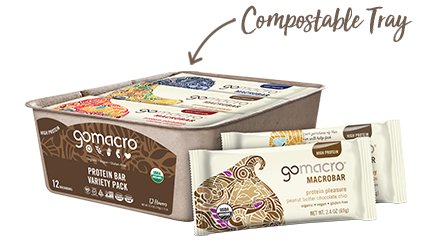 What's Inside
Each Protein Bar Variety Pack contains 12 of our top-selling, protein bars including 1 Peanut Butter Chocolate Chip, 1 Double Chocolate + Peanut Butter Chips, 1 Coconut + Almond Butter + Chocolate Chips, 1 Cashew Caramel, 1 Banana + Almond Butter, 1 Sunflower Butter + Chocolate, 1 Peanut Butter, 1 Blueberry + Cashew Butter, 1 Dark Chocolate + Almonds, 1 Mocha Chocolate Chip, 1 Oatmeal Chocolate Chip, and 1 Maple Sea Salt.
See Nutrition & Ingredients List
Benefits
10 - 12 grams of protein
Organic
Vegan
Gluten-Free
Kosher
Non-GMO
Clean & Raw
Soy-Free
Dairy-Free
5
Alexis
August 5, 2020
Delicious! Love the variety.
5
Ellyn
April 12, 2020
Love these bars. They are clean and taste delicious.
5
A. Hopkins
April 11, 2020
These are my go to post workout meal! Protein packed and satisfying!
5
Michelle Astrin
April 4, 2020
I love the protein bars. I eat one everyday for lunch. High protein & delicious. Highly recommend this product.
5
Peter Catalano
March 19, 2020
GoMacro - - the Goldilocks of protein bars! Not too chewy but not fluffy either. Delightful taste without being overpowering or leaving an unpleasant aftertaste. And a rich variety of flavors without the list being long and confusing.
5
Alexis Collins
February 24, 2020
the best snack bar ever! thank you for making a bar that doesnt upset my stomach and thats easy for me to take on the go with me!
5
Gary King
February 18, 2020
As a cancer survivor, I like that they taste so good yet are not too sweet. I too had to cut back from sugar [it feeds cancer] when going through treatments and SO O O many 'protein bars' are candy . . with toxins like soy and GMO. My wife and I are both educators and take a GO to work every day because they are not too sweet and TASTE so yummy. AND are nutritious too! We tried the variety packs, like them all, but are down to four favorites we will order if we can't find them at our stores. Oh, and I am No Detectable Trace on the cancer.
Response:

Hi Gary, thanks for the kind words. We wish you continued good health!
5
Kelsey
January 29, 2020
LOVE THESE! The everlasting joy is my favorite. So tasty and keeps me full for a few hours while at work. I've had a hard time finding a protein bar that I like and doesn't taste like a supplement. These taste awesome and I get my chocolate fix as well while eating protein!
5
Beaux
January 6, 2020
All of the flavors are good, even the ones that I thought I wouldnt like. Not a bad flavor in the lot.
5
Andrea
December 27, 2019
These are great when I don't have time to stop for a meal. I eat them between classes when I don't have time to prep a meal. I love the variety of flavors. I also love that they are nutritionally sound.