FODMAP Friendly Variety Pack
FODMAP Friendly Variety Pack
Enjoy all nine of our Low FODMAP flavors in one convenient, easy to love variety pack!

Get Same Day Delivery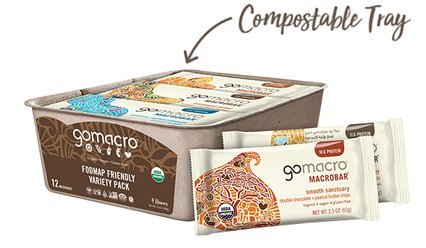 What's Inside
Each FODMAP Friendly Variety Pack includes a variety of our Certified FODMAP Friendly favorites including 2 Peanut Butter Chocolate Chip, 2 Coconut + Almond Butter + Chocolate Chips, 2 Double Chocolate + Peanut Butter Chips, 1 Sunflower Butter + Chocolate, 1 Dark Chocolate + Almonds, 1 Banana + Almond Butter, 1 Peanut Butter, 1 Mocha Chocolate Chip, and 1 Granola + Coconut. Please note that the exact assortment is based on current flavor availability and may periodically change.
See Nutrition & Ingredients List
Benefits
Low FODMAP
Organic
Vegan
Gluten-Free
Kosher
Non-GMO
Clean
Soy-Free
Dairy-Free
5
Michael
May 8, 2023
Love these bars
5
Deborah Wainerdi
September 17, 2022
This low FODMAP variety pack is perfect for me. I can eat the bars with no worries. They level out my blood sugar, and if I am in a situation where I can't get the right food, I always carry a couple of these in my purse. I take them when I travel for sure. I like the taste and texture too.
5
Ashley
August 23, 2022
I liked the variety and they did not upset just stomach. These are so much better than some other Fodmap safe bars. The variety pack helped me pick out my favorites for future purchases. I'm so glad I found Gomacro!
5
Nadine
July 14, 2022
I absolutely love these bars. I have tried most of the flavors and pretty much love all of them. I take when I travel and usually have one a day as either a snack or meal replacement.
5
Tiffany
May 28, 2021
I ABSOLUTELY LOVE these bars! They are so good and great for a quick healthy snack on the good! They will definitely be a staple snack in my pantry.
5
Michael p
April 15, 2021
Absolutely love these bars. Always have one on me for that moment the hunger strikes and you're out and about. So easy on digestion and all pure ingredients. Love love love
5
Alison
April 6, 2021
Love that they have a low FODMAP variety pack. The cocounut+almond butter+chocolate chips is my favorite flavor followed by dark chocolate + almonds. Will definitely buy again!
5
SLynch
September 8, 2020
Thank you so much for putting together a low fodmap box! I am gluten, dairy, soy free and low fodmap! It is a lot to handle sometimes and this box is perfect for me! Many thanks!
5
Christine Feldpausch
September 1, 2020
I absolutely love every single one of the flavors in this pack. Not only are they low FODMAP, but they give me a variety of flavor choices where each one is more delicious than the other one. I can't decide which one I like best.
5
MMontgomery
August 28, 2020
GoMacro bars are the best protein/ snack or meal replacement bars I've had. Comparing taste, with organic, wholesome ingredients, GoMacro has created a delicious & mostly nutritious product I always want in my pantry. The fodmap variety box is my fave! The suggests aren't too high, but I would love to see them get below 10g of sugar.. But, without altering the flavor & texture..