Breakfast Bar Variety Pack
Breakfast Bar Variety Pack
Rise and shine! On your way out the door, grab any of our morning favorites from our Breakfast Bar Variety Pack to keep you fueled throughout the day.

Get Same Day Delivery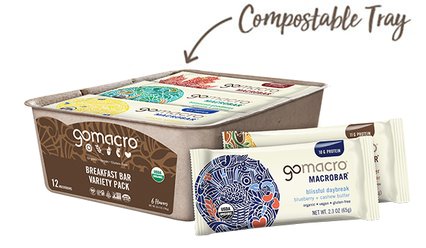 What's Inside
Each Breakfast Bar Variety Pack includes a mix of our morning MacroBar delights including 2 Banana + Almond Butter, 2 Blueberry + Cashew Butter, 2 Cherries + Berries, 2 Granola + Coconut, 2 Maple Sea Salt, and 2 Lemon + Lemon. Please note that the exact assortment is based on current flavor availability and may periodically change.
See Nutrition & Ingredients List
Benefits
Organic
Vegan
Gluten-Free
Kosher
Non-GMO
Clean
Soy-Free
Dairy-Free
5
Brooke
July 22, 2023
I love GoMacro bars and the Variety pack worked perfect for me to have a variety of flavors available. These are so delicious and such a great product. I haven't tasted a flavor that I don't like.
5
J. Stock
December 18, 2022
I absolutely LOVE these! I have not found a flavor I haven't liked. I have even gotten my Grandkids earring them… so much better than candy and I can still spoil them
3
Tonia
December 3, 2022
Some of the flavors were good and some was a miss.
5
Bonnie
September 13, 2020
These are a great option for a quick grab and go breakfast when you're in a rush. I also eat them in the afternoon for an energy boost to get through to dinner. The flavors in each bar combine to make a delicious bar. They are a staple at our house.
5
Elizabeth
April 14, 2020
As with all of their bars, these are amazing treats that I have to monitor myself with! I crave GoMacro BARS!
5
Renee
March 27, 2020
These bars have become a staple for when I need something to hold my over on the job or when I'm running around and need something healthy to keep me going. It's extremely appreciated that every bar is so inclusive to so many health and dietary restrictions. I absolutely love them and I'm always excited to see a new flavor when it hits the shelves. Thank you for keeping me healthy, thank you for existing, you're one of my favs.
Response:

Thank you very much for your kind words and support of GoMacro!
5
Linda Riebel
March 26, 2020
Delicious flavors. My faves are cherry/berry and granola/coconut. Even my husband, who is not a lover of protein bars, eagerly shares them with me. Daily ritual now.
5
Jim Awofadeju
March 14, 2020
The Breakfast Bar Variety pack was delicious. I love the chewy texture and range of flavors using clean, natural ingredients. Taking a bite out of nature is most certainly delicious.
5
Joanne Diorio
March 11, 2020
I love these bars. They have great taste, are satisfying and convenient. I grab one for breakfast or lunch when I'm on the run.
5
Linda Harp
December 19, 2019
I love there bars. In fact they are so good that it is easy to eat too many!