Chocolate Lover Bar Variety Pack
Chocolate Lover Bar Variety Pack
Big on chocolate? So are we! That's why we've pulled together all of our most indulgent flavors for this decadent Chocolate Lover Bar Variety Pack.

Get Same Day Delivery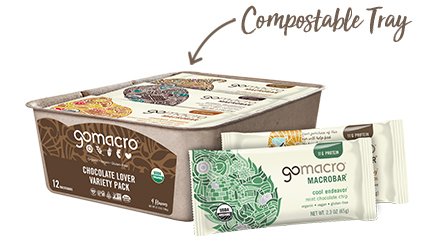 What's Inside
Each Chocolate Lover Variety Pack includes each of our chocolate favorites including 2 Peanut Butter Chocolate Chip, 1 Sunflower Butter + Chocolate, 1 Dark Chocolate + Almonds, 2 Double Chocolate + Peanut Butter Chips, 1 Coconut + Almond Butter + Chocolate Chips, 1 Mocha Chocolate Chip, 1 Oatmeal Chocolate Chip, 1 Salted Caramel + Chocolate Chips, and 2 Mint Chocolate Chip. Please note that the exact assortment is based on current flavor availability and may periodically change.
See Nutrition & Ingredients List
Benefits
Organic
Vegan
Gluten-Free
Kosher
Non-GMO
Clean
Soy-Free
Dairy-Free
5
Sheila Lile
August 8, 2023
Chocolate Lover Bar Variety Pack. This is the first thing I ever ordered from GO MACRO. It was nice to revisit and to test the new mint bar. While I liked it I would not order a whole box. But I did find a new favorite, Salted Caramel & Chocolate Chips. I would order again in the future.
5
Jennifer
April 15, 2023
I've been really enjoying the variety of bars in the chocolate lovers pack. I haven't had a bar I did not like. I like the soft but chewy texture. I'll purchase again.
5
Annie Chermak
April 15, 2023
The variety pack is a great way to sample GoMacro flavors! Love these bars cuz they don't have any weird "pretend" ingredients that mess with my gut. Yes, there is a bit more sugar than those "pretend" bars, but not as much as some protein bars that require more sweetness to cover up the taste of mega-protein/supplement dumps. Just real ingredients and lotsa organic, thank you!
5
Gretchen
April 14, 2023
LOVE! I love everything about these yummy bars! They're organic and gluten, dairy and soy free and clean!! They are delicious and filling and low sugar… perfection in a wrapper! Oh and you can recycle the wrappers with Terracycle! What's better than that?
4
Diane
March 9, 2023
Love everything about these, except for the sugar content. Would love a version for those of us watching our sugar levels. Maybe with monk fruit or stevia?
5
Tonia
December 3, 2022
I absolutely love this variety pack and will purchase again.
5
Dana Lehman
November 15, 2022
A Healthier way to get your "Chocolate Fix"! I liked that they were all together so I could try a few new flavors along with the chocolate bars I already LOVE.
5
Stephenie Briwn
September 24, 2022
We love them so much! Easily digestible & a perfect Pre or Post Workout snack. My boyfriend loves any of the chocolate & I love the banana or maple.
5
Gwynne Larsen
September 18, 2022
I always buy the Chocolate Lovers Pack, especially like the dark chocolate/ almond one. I buy your brand because it is high in protein and has no phony sugar.
5
Annie Chermak
September 12, 2022
Chocolate equals YUM, so a Chocolate Lover Variety Pack is a slam dunk! Love all these flavors (although I'd love if there were TWO of the Mocha flavor!) Thank you for these delicious and nutritious bars!