Sweet Awakening
Mocha Chocolate Chip
A high-protein, high pleasure breakfast bar with freshly roasted whole bean coffee and delicious, fair-trade chocolate.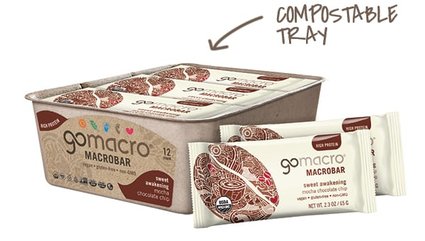 FREE SHIPPING ON ORDERS OVER $60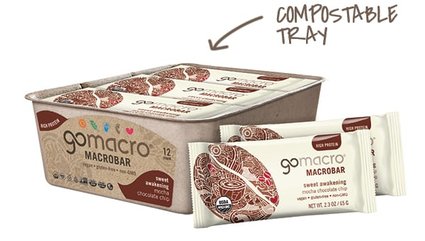 What's Inside
With notes of freshly roasted whole bean coffee paired with fair-trade chocolate, our Mocha Chocolate Chip MacroBar will surely become a staple in your morning routine. Go ahead and skip the second cup. Grab a bite that will bring the buzz for a truly sweet awakening! Please note each bar contains 36mg of caffeine, slightly less than the amount in a half cup of coffee.
See Nutrition & Ingredients List
Benefits
10 grams of protein
Gluten-Free
Dairy-Free
Vegan Ingredients
Non-GMO
Organic
Kosher
Soy-Free
Organic Coffee

Organic Fair-Trade Chocolate Chips

Organic Almonds
1
Ryan
January 15, 2019
I love GoMacro Bars. Eat them all the time. But why is it that I need to do some legal level research to determine the caffeine content in one of these? I ate this on a Monday evening with no desire for caffeine. I get it - the bar says "sweet awakening" on the wrapper. But i don't know how that translates to half a cup of coffee. The brand is great, the bars are perfect and even this one wouldn't be bad if you need a pick-me-up. I just didn't need a pick-me-up. Would have appreciated some better labeling.
Response:

Hi Ryan, we are sorry about the unexpected pick-me-up! We appreciate the label feedback and will share it with our innovations team!
5
Barb
December 9, 2018
Love this bar when I'm craving a 'mocha' treat!
4
Cheryl
September 1, 2018
I like the soft textured bars like this one. Just wish it had more of a coffee taste.
5
Barb
August 25, 2018
Love this new flavor and it is my 'go to' for breakfast on the run. Love that the Mocha is subtle and not over-powering.
5
Liz
August 22, 2018
Chocolate and coffee is the best combination and my favorite flavor of Macro Bar. I highly recommend it.
5
Annie
August 18, 2018
Gomacro is an amazing brand, and this flavor bar proves it! Perfect texture, taste delicious. It is a great pick-me-up snack, and really makes me feel alert. Added bonus...vegan!
5
Andrea
August 7, 2018
Love these! Taste delicious and give u energy. Definitely my favorite gomacro bar!
5
Erin
July 24, 2018
Ok, I can never find bars that are dairy free that actually taste really good AND LET ME TELL YOU. I seriously eat one... sometiems two of these a day. Im honestly addicted! I will forever buy these bars. It's such a good grab and go breakfast and the mocha flavor is amazing! Not too chocolatey, but just enough to satisfy your sweet tooth. I'm a very active person and these bars fir into my healthy lifestyle- and taste great! I've already posted on social media and had my friends ask about them. Soon they'll be hooked too! I'd give higher than 5 stars if I could.
5
Lynn Spates
June 20, 2018
I like coffee and I LOVE chocolate, so I decided to try a carton of these. My husband is a coffee lover but he thought the flavor was very subtle. I don't need the extra caffeine and prefer the new dark chocolate almond flavor over this one and all the other flavors containing chocolate. All that said, we do not dislike this flavor, and may still opt for it at times (not bedtime). The bars we bought were moist and chewy.
5
Tristan
June 5, 2018
My wife and I have been Macro customers for about a year now and have tried every single bar. The Mocha Chocolate Chip is hands down our favorite bar. For long time, the Peanut Butter Chocolate Chip was our favorite, but even it pales in comparison to this new bar. Not too sweet. Not too bitter. And its a higher protein! Highly recommend.
5
Aliza
May 15, 2018
I love this new flavor! It tastes delicious and satisfies hunger as well as a sweet tooth and has caffeine! Peanut butter chocolate chip is my usual favorite but this was a nice change of pace. These bars seem to have fewer bits of nut shell in them than some of the others like peanut butter.
3
Cate
May 12, 2018
I have trouble digesting pea protein and I didn't realize this bar has it until after I'd ordered a whole box. Some of their other bars have rice protein which I can digest easily. Also the mocha flavor is good but it wasn't clear that this bar contains caffeine.
5
Zhoey
March 27, 2018
How much caffeine is in one bar?
Response:

Hi Zhoey, Great question! there are 36.5 mgs of caffeine in our Sweet Awakening MacroBar or the equivalent of half a cup of coffee. Thanks!
5
Annie
March 20, 2018
I love this new flavor, tastes amazing and I'll definitely be adding it as a go-to. I typically go for Sunflower + Chocolate the majority of the time, but eat other flavors too.