Protein Bar Variety Pack
Love plant-based protein? This variety pack includes an assortment of our top-selling, vegan, high-protein bars.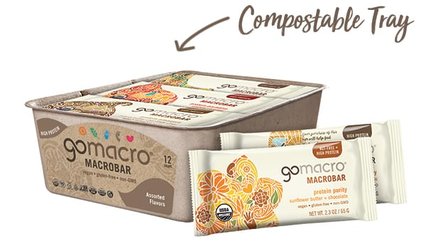 FREE SHIPPING ON ORDERS OVER $60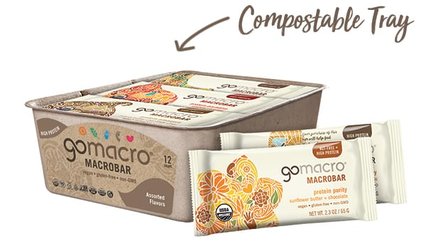 What's Inside
Each Protein Bar Variety Pack contains 12 of our top-selling, high-protein bars including 2 Peanut Butter Chocolate Chip, 1 Coconut + Almond Butter + Chocolate Chips, 1 Cashew Caramel, 1 Banana + Almond Butter, 1 Sunflower Butter + Chocolate, 1 Peanut Butter, 1 Blueberry + Cashew Butter, 1 Dark Chocolate + Almonds, 1 Mocha Chocolate Chip, 1 Oatmeal Chocolate Chip and 1 Maple Sea Salt.
See Nutrition & Ingredients List
Benefits
10 - 12 grams of protein
Organic
Vegan
Gluten-Free
Kosher
Non-GMO
Clean & Raw
Soy-Free
Dairy-Free
5
Alexis Collins
February 24, 2020
the best snack bar ever! thank you for making a bar that doesnt upset my stomach and thats easy for me to take on the go with me!
5
Gary King
February 18, 2020
As a cancer survivor, I like that they taste so good yet are not too sweet. I too had to cut back from sugar [it feeds cancer] when going through treatments and SO O O many 'protein bars' are candy . . with toxins like soy and GMO. My wife and I are both educators and take a GO to work every day because they are not too sweet and TASTE so yummy. AND are nutritious too! We tried the variety packs, like them all, but are down to four favorites we will order if we can't find them at our stores. Oh, and I am No Detectable Trace on the cancer.
Response:

Hi Gary, thanks for the kind words. We wish you continued good health!
5
Kelsey
January 29, 2020
LOVE THESE! The everlasting joy is my favorite. So tasty and keeps me full for a few hours while at work. I've had a hard time finding a protein bar that I like and doesn't taste like a supplement. These taste awesome and I get my chocolate fix as well while eating protein!
5
Beaux
January 6, 2020
All of the flavors are good, even the ones that I thought I wouldnt like. Not a bad flavor in the lot.
5
Andrea
December 27, 2019
These are great when I don't have time to stop for a meal. I eat them between classes when I don't have time to prep a meal. I love the variety of flavors. I also love that they are nutritionally sound.
5
Jayne
December 23, 2019
THE best protein bars I have ever had in my entire life. I loved every single flavor in the variety pack! My all time favorite would be the maple sea salt. GoMacro bars are tasty, well balanced and satisfy every craving I have. I won't even look at other protein bars... seriously. When I see the brown earth friendly boxes, I know I'm grabbing a few for the road!
5
Anna R.
December 18, 2019
I love having these bars on hand for a quick, easy, and healthy breakfast on my way to work! Protein pack is my favorite because I love each flavor and it keeps me filled until lunch. Slightly pricey, so I don't have one every day, but it's even more of a treat that way.
5
Michelle Frustere
November 15, 2019
Fantastic!
5
Natalie
October 24, 2019
It's rare to not only find tasty protein bars, but to find a variety pack that offers a great combination of flavors that you actually enjoy. I really enjoyed each flavor and already bought a second variety pack! Thank you Go Marco!!
5
Anna R.
October 18, 2019
I've been loving this pack, not only does it help me increase my protein intake but it makes an easy breakfast the days I'm rushing to work! Thanks for making an awesome product!
5
Alexandra
September 23, 2019
So delicious! Love all the flavors and gomacro as a company. This was a great way to sample some of the flavors that I do not normally purchase.
4
Whitney
September 10, 2019
So delicious. I highly recommend! Taste Rating: 5 Ingredient Rating: 3 I wish the first ingredient wasn't Brown Rice Syrup. I would prefer if the first ingredient were dates. Brown Rice Syrup has a glycemic index of 98, and dates are somewhere around 45-55. For that reason, I will probably not repurchase these unless that is changed. They're so delicious though!
Response:

Hi Whitney, thanks for providing your feedback. We would love to share more information with you on our use of organic InfantSafe Brown Rice Syrup, and why it is first on our ingredient list (please visit our FAQ's at www.gomacro.com)
5
S Kester
September 10, 2019
Got the Protein Assortment with the two new flavors. Have to say I'm not thrilled with the Maple Sea Salt. Oatmeal was pretty good. The rest I could eat for breakfast, lunch, dinner and everything in between. Just wish the price was a bit more manageable. I would love to make this a more regular thing but I just can't afford it.
5
Elizabeth Villarreal
September 3, 2019
Absolutely my favorite go-to bars! I haven't come across a flavor that I don't like. There's no weird after taste like other protein bars. The variety is great. And they travel well.
5
Anna
August 2, 2019
These are my absolute favorite bars! I am GF/DF and love these for any time of day when I need a quick bite to fuel me up. I love almost all flavors (never been a big fan of super fruity ones from any brand)- though none ever go to waste...
5
Maricarmen
July 17, 2019
I bought the assorted box to try them and then order them individually. The mocha chocolate chip is to die for, also the coconut almond butter chocolate chips are one of my favorite. The caramel cashew is another one of my favorite and the sunflower chocolate chips....I think I love them all! Thank you for such as great product. Love it is made in my beloved Wisconsin.
5
Joe Q
July 14, 2019
Always one of my favorite go-to snacks or meal replacements, GoMacro not only satisfies my nutritional requirements, but they are also very tasty! Also, love the flavor varieties and satisfying chewy texture.
5
Jessica
July 11, 2019
As someone who has lots of dietary restrictions these bars have always been my go to and my favorites! So good for snacks/treats! Love these flavors and can't wait to try the new ones!
5
Deborah Davis
June 10, 2019
ordered the Variety Pack to figure out which ones I like. Problem was they are ALL excellent. I'll be ordering more and more.
5
Rebecca
June 6, 2019
Absolutely love these bars! They have no added sugar but are naturally sweet from healthy ingredients so when you need an afternoon snack but also are craving something sweet, grab your gomacro instead of your m&ms! And they aren't too sweet. I'm a savory over sweet girl and love these. Fave flavors: coconut + almond + choc, cashew caramel, blueberry cashew, sunflower + choc
5
Rachelle
April 16, 2019
Love them!! They're so deliciously satisfying - So glad I discovered them, I only wish they had a subscription service for automatic reordering/delivery.
Response:

Rachelle-so glad that you are enjoying your Vegan Protein Variety pack. Good News! It is available for reorder with our Subscribe and Save option. You can choose the frequency it is shipped to you from every two weeks-up to every three months. Please check the website, or contact our customer care for assistance!
5
Vero
April 14, 2019
Substantial organic bars with great taste. I like that GoMacro limits to fewer ingredients so you can actually taste what is in there.
5
Jessica Weekes
April 12, 2019
My favorite bars! These keep me full for hours in between classes and work. My favorite snack!! I especially love the blueberry cashew and banana almond butter !
5
Maryl
April 10, 2019
By far the best protein bar I have discovered - and I have sampled a wide range! "Best" in terms of vegan protein options, best chewy texture, best ingredients, and best flavor. My fave is the Blistful Daybreak (blueberry cashew)! GoMacro also offers the best coupons!
5
Jill
April 10, 2019
Love these bars...all of them!! Love that they have protein and are packed with clean ingredients. Thank you!!
5
Joe
April 7, 2019
These bars are great! A really good post workout snack. I have tried all the flavors and like them all except for maybe the cashew one. It was ok just not as good as the other varieties. By far they are the best protein bar on the market!
5
Angie
March 25, 2019
Love GoMacro! The only protein bars I will ever eat! ❤️
5
Rachel Reichman
March 20, 2019
I was so excited to see new flavors! I got excited maybe one of the new flavors will be my all time favorite, chocolate mint! Maybe next time your adding a new flavor? Chocolate mint. Thanks
5
Shannon Cook
March 12, 2019
Love every flavor, but especially the Protein Pleasure. Always chewy, almost like a chocolate chip cookie. Always the perfect way to start my morning!
3
Erin
March 2, 2019
I received my order and several varieties were very stale and hurt my jaw to chew (protein pleasure and protein paradise). The other flavors were chewy and delicious. I'm not sure if this is an issue with the shipment or with those specific varieties...
Response:

Hi Erin, thanks for taking the time to let us know your Vegan Protein Bar Sampler was less than 100% satisfactory. A member of our customer care team will be reaching out to make this right!
5
Loretta
February 20, 2019
These bars are absolutely delicious! The bars are chewy and flavorful. They are a great snack for on the go. I'm currently switching my dieting up going from no diary and to finally try a protein bar that has the similar texture, a protein bar has with whey in it, but even BETTER! I'm more thrilled about taking on new diet for myself being I love my protein bars as a quick on the go snack!!! Thank you! If I could do a 10 rating I would !!!
5
Deb
February 18, 2019
Love my macro bars. They are flavorful, enjoyable and satisfying. They are one of the best bars around. I am hooked.
5
Sonia
January 24, 2019
Love these bars! Great flavors and they keep me full for awhile.
5
Tara
January 21, 2019
These bars are delicious, healthy, and satisfying. They are perfect for when you are on the go or don't have much time.
5
Grace
January 12, 2019
Love the taste of all of them. Great texture. Ingredients are perfect. It is a great go-to item on the run and at night when I am so hungry that I need something substantial. It holds me well.
5
Veronika
January 11, 2019
Some of the tastiest protein bars I have tried and good at keeping me full for a couple of hours.
5
Spencer
January 9, 2019
Love these bars. They are so good! A little pricey, but worth it. They pack a punch, they are dense, but delicious. Good, long lasting energy. Great flavor, and you feel great after eating. No regrets here.
5
Diana L Anderson
December 18, 2018
Delicious and love the fact that the bars are healthy!
5
Allie
December 9, 2018
I love these bars for quick snacks during the day. I heard about these from a friend, and they are so good!! I love the texture and taste of the protein pack.
5
Sean Jackson
December 7, 2018
Favorite protein bars ever. Amazing flavors, good texture, not too chewy, not too hard. Great snack.
5
Darline Matheny
November 25, 2018
Loved the vegan sampler. Banana was my least favorite. Loved the chewy texture. Very filling.
5
Shyanne Melton
November 6, 2018
Really enjoyed the blueberry, banana, and peanut butter flavors! The texture is chewy but not unbearable like some chewy foods. The packaging they come in is nice and reusable.
5
Susan
October 29, 2018
These bars are amazing! They have brought me back so many times when I waited to long to eat or was on the road and could not find good food! They are delicious, healthy and the ingredients are easy on the planet!
5
Peter
October 26, 2018
I really enjoy the Vegan variety bars, they taste great and keep me feeling full and full of energy. I always have one in the car or at my desk. Highly recommended.
5
Elyshia
October 24, 2018
I just got my sampler back and so far I have tried the peanut butter chocolate chip, dark chocolate almond and blueberry + cashew butter bars. I love the taste, the texture, and can't wait to try the other flavors! These are great for a snack at work!
5
Andrea M
October 16, 2018
I love the texture and flavor of these. They're really filling so it's perfect for a busy day when I don't have much time to eat! I love having one of these in my purse all the time. All the flavors are so good!
5
Katie
August 22, 2018
They are all sooooooo good. So good I could eat two in a row. I keep one in my purse and take them on our travels. So nice to have a quick healthy snack when you're hungry. I'll definitely keep buying
5
Blair Nicol
August 22, 2018
Nothing beats gomacro bars, the flavor, the texture, the clean/natural ingredients and everything this company stands for!!! So thankful I found a vegan protein bar that is sustainably sourced and all whole foods. Can't rave about them enough. I have yet to find a flavor I don't like!!
5
Fran Ransom
August 15, 2018
Love these bars I tried a sample box, they are not too sweet, very chewy and just what I need to supplement a meal a day with
5
Diana Anderson
June 21, 2018
I love these bars! The package arrived quickly and are delicious and healthy!
5
JTM
May 30, 2018
I love these bars. I love that they are bigger than most and work great after an intense bike ride or long run. Love that each has a slightly different texture but they are each good in their own way. Definitely higher in sugar than I would prefer, but these are one of the best options on the market! I will order again for sure.
5
Tory
May 25, 2018
Love this sampler pack! If I could make one recommendation, flavors like Peanut Butter and PB Chocolate Chip, and Sunflower Butter w/Chocolate Chips seem to be widely available (at least in grocers I've visited). I'd prefer if this protein sampler pack included more of the less easily found flavors also included in the pack. Awesome either way, however, because I love Peanut Butter! :)
4
Aleksey Gavrilin
May 24, 2018
i need more NUTRITION INFORMATION!
5
Rebecca
May 21, 2018
I love these bars!! They are soft & delicious! It also makes it that much better that these bars are everything you could want - certified gluten free, certified vegan, Non GMO, certified C.L.E.A.N. & certified R.A.W. - it doesn't get better than that! I buy the variety pack for work and it's great to keep in my desk drawer for that lull in the day! Something delicious that actually gives me energy is perfect for that 2pm slump! Can't rave about these bars any more that I already have - they are SO good!!
5
Tammy Garrison
May 16, 2018
I feel like this is the best choice for anyone looking to replace a meal or craving and actually feel satisfied afterwards. These bars are high in protein and taste amazing! I have purchased this variety pack several times and will continue to do so.
5
Sarah
May 11, 2018
I really enjoy this high protein sampler pack. This selection includes favorite flavors, all of which are high protein for long lasting energy. It is great to have a variety for grab and go options.
5
Archie
May 9, 2018
I just tried one it was so delish!
5
Joanne
April 30, 2018
Love love love the fact that gomacro offers a variety pack option!! I first bought the protein variety bars and have just purchased their newest flavors which also come in a variety pack. It's a great way get a taste of all they've come up with. Super chewy, and filling. Great for a on the go snack!
5
Patti Christie
March 30, 2018
Trying to find Date and Sunflower seed butter go macro bars. My favourite! Do you still carry them?