Mocha Chocolate Chip
Sweet Awakening
A high-protein, high pleasure breakfast bar with freshly roasted whole bean coffee and delicious, fair-trade chocolate.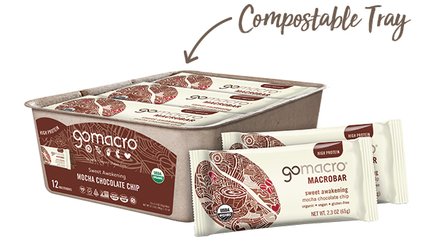 FREE SHIPPING ON ORDERS OVER $60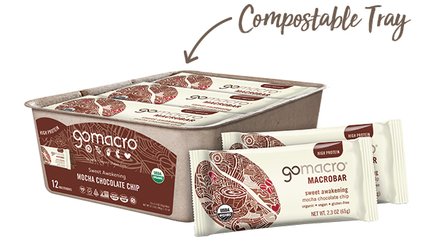 What's Inside
With notes of freshly roasted whole bean coffee paired with fair-trade chocolate, our Mocha Chocolate Chip MacroBar will surely become a staple in your morning routine. Go ahead and skip the second cup. Grab a bite that will bring the buzz for a truly sweet awakening! Please note each bar contains 36mg of caffeine, slightly less than the amount in a half cup of coffee.
See Nutrition & Ingredients List
Benefits
10 grams of protein
Organic
Vegan
Gluten-Free
Kosher
Non-GMO
Clean & Raw
Soy-Free
Dairy-Free
Low FODMAP
Organic Coffee

Organic Fair-Trade Chocolate Chips

Organic Almonds
5
lily
March 2, 2020
I'm not one to right reviews but I am one to read them, and I really felt these bars needed some more love because they are my FAVORITE!! I love that they aren't too sweet because mocha flavored things have a tendency to be over the top sugary but these have the perfect amount of bitterness and it goes so great with the chocolate pieces!! I love that they have a caffeine kick, they are my absolute go to for breakfast when I have an earlier shift. It's also a great option to throw in my jacket pocket for when my shift runs right through lunch or dinner because I can eat it quickly and mess free on my 10 minute break, while also getting that extra boost of energy! I was concerned originally when I saw the word "syrup" in the ingredients list, but after a little research I found that there's no need to fear because brown rice syrup has no fructose! That means that this bar won't cause your blood sugar to spike and you'll totally avoid that sugar crash! (this is true of all gomacro bars of course!) This bar is filling enough to stand on its own as a meal in a pinch but I'm also never opposed to wrapping up half for later if I'm craving a mid morning or afternoon snack! would highly recommend!!!
Response:

Hi Lily! Thanks for the great review of Mocha Chocolate Chip! There is additional information available on our Infant Safe Brown Rice Syrup in our FAQ's section at www.gomacro.com
5
Cyndi
January 27, 2020
This bar has a caffeine kick to it that's great for people who need that little extra something in the morning. I made the mistake of eating it at bedtime and it kept me up all night. The flavor is excellent. I'm a fan of mocha, and this one is delicious! Just keep in mind that it contains coffe which means caffeine!
5
Marian
December 29, 2019
This flavor is my absolute favorite!!
5
Mark Wolfe
December 29, 2019
Love these bars. Great taste, fiber and protein. I recommend them to everyone.
5
Maricarmen
December 26, 2019
Amazing!!! Love the taste. It is my favorite one. I love taking eat as my afternoon treat. It is amazingly delicious. Love the packaging as well. Thank you!
4
Jacklyn
December 24, 2019
This new flavor was pretty good - the coffee flavor was pretty muted, though I would love more of the coffee taste. I also wish that there were more chocolate chips in it. One bar had maybe 3 in it. And a smidge of salt would bring out some of the flavors! :) But a general concept is a good one. :)
5
Teresa Rutherford
September 19, 2019
I always have at least 2 mocha bars in my purse. I love the taste and I love to share them. I would love a similar bar with decaf coffee that I can eat when I need a sweet snack at night.
5
Christine
July 21, 2019
Update: Thank you GoMacro for sending me more Mocha Chocolate Chip bars! These definitely had more chocolate chips in them! Customer service is amazing! Bars taste amazing! Very, very satisfied customer who will always continue to buy these healthy bars!! Thank you!
5
Mady
July 9, 2019
The mocha choc chip is by far the best bar I have had so far. So delicious I am addicted to it!! (Plus all other macro bars I try!)
5
Christine
May 16, 2019
I have been ordering from GoMacro for over a year and a half now and absolutely love most of their bars (others I like but not necessarily love). They are full of healthy ingredients, always fill me up, and travel exceptionally well! My favorite bar is the Mocha Chocolate Chip, and I always make sure to never run out of this bar in my pantry at home! My only complaint is that with this last delivery of three boxes of MCchip, each bar so far only has 2 (and if I'm lucky 3) chocolate chips in it. This is soooo much less than the usual of almost a chocolate chip per bite! I miss those chips!! I will continue to order GoMacro bars as they are ahhhmazing … just please, more chocolate chips again! Thank you! =)
Response:

Hi Christine-thanks for your feedback! We agree the chocolate chips are delicious, and we are very sorry your bars came up short! Every batch we make contains the same amount of chips, and our mixing process has been designed to minimize this variance, but just like making cookies at home there may be some bars that have fewer chips than others. A team member will be reaching out shortly to make this right!
5
Debbie
May 15, 2019
I love this flavor, it is probably my favorite. Chocolatey goodness with a little kick of coffee is perfect! Almond butter or Almonds is my preferred protein base, so this bar is perfect for me.
3
Taejah
April 29, 2019
Really wish that this didn't have almonds in it! Love your protein purity bars, I wish you had at least one more nut-free option!
Response:

Hi Taejah-thanks for the feedback! Our team is always innovating, please keep your eye out for some new flavors launching this Summer!
5
Danielle
April 16, 2019
LOVE these!! Flavor is lovely and so tasty and this coming from someone who doesn't like or drink coffee.:) Will be ordering these again.:)
5
Shuey
April 9, 2019
These bars not only taste amazing, but they're made from quality ingredients. I'm very militant about what foods and ingredients I'll eat, so it's refreshing to find a company that not only makes a product that fits my lifestyle, but the taste and quality is top-notch as well. If you're looking for a great tasting, high quality, and considerably filling nutritional bar, you absolutely MUST try the GoMacro brand!
1
Ryan
January 15, 2019
I love GoMacro Bars. Eat them all the time. But why is it that I need to do some legal level research to determine the caffeine content in one of these? I ate this on a Monday evening with no desire for caffeine. I get it - the bar says "sweet awakening" on the wrapper. But i don't know how that translates to half a cup of coffee. The brand is great, the bars are perfect and even this one wouldn't be bad if you need a pick-me-up. I just didn't need a pick-me-up. Would have appreciated some better labeling.
Response:

Hi Ryan, we are sorry about the unexpected pick-me-up! We appreciate the label feedback and will share it with our innovations team!
5
Barb
December 9, 2018
Love this bar when I'm craving a 'mocha' treat!
4
Cheryl
September 1, 2018
I like the soft textured bars like this one. Just wish it had more of a coffee taste.
5
Barb
August 25, 2018
Love this new flavor and it is my 'go to' for breakfast on the run. Love that the Mocha is subtle and not over-powering.
5
Liz
August 22, 2018
Chocolate and coffee is the best combination and my favorite flavor of Macro Bar. I highly recommend it.
5
Annie
August 18, 2018
Gomacro is an amazing brand, and this flavor bar proves it! Perfect texture, taste delicious. It is a great pick-me-up snack, and really makes me feel alert. Added bonus...vegan!
5
Andrea
August 7, 2018
Love these! Taste delicious and give u energy. Definitely my favorite gomacro bar!
5
Erin
July 24, 2018
Ok, I can never find bars that are dairy free that actually taste really good AND LET ME TELL YOU. I seriously eat one... sometiems two of these a day. Im honestly addicted! I will forever buy these bars. It's such a good grab and go breakfast and the mocha flavor is amazing! Not too chocolatey, but just enough to satisfy your sweet tooth. I'm a very active person and these bars fir into my healthy lifestyle- and taste great! I've already posted on social media and had my friends ask about them. Soon they'll be hooked too! I'd give higher than 5 stars if I could.
5
Lynn Spates
June 20, 2018
I like coffee and I LOVE chocolate, so I decided to try a carton of these. My husband is a coffee lover but he thought the flavor was very subtle. I don't need the extra caffeine and prefer the new dark chocolate almond flavor over this one and all the other flavors containing chocolate. All that said, we do not dislike this flavor, and may still opt for it at times (not bedtime). The bars we bought were moist and chewy.
5
Tristan
June 5, 2018
My wife and I have been Macro customers for about a year now and have tried every single bar. The Mocha Chocolate Chip is hands down our favorite bar. For long time, the Peanut Butter Chocolate Chip was our favorite, but even it pales in comparison to this new bar. Not too sweet. Not too bitter. And its a higher protein! Highly recommend.
5
Aliza
May 15, 2018
I love this new flavor! It tastes delicious and satisfies hunger as well as a sweet tooth and has caffeine! Peanut butter chocolate chip is my usual favorite but this was a nice change of pace. These bars seem to have fewer bits of nut shell in them than some of the others like peanut butter.
3
Cate
May 12, 2018
I have trouble digesting pea protein and I didn't realize this bar has it until after I'd ordered a whole box. Some of their other bars have rice protein which I can digest easily. Also the mocha flavor is good but it wasn't clear that this bar contains caffeine.
5
Zhoey
March 27, 2018
How much caffeine is in one bar?
Response:

Hi Zhoey, Great question! there are 36.5 mgs of caffeine in our Sweet Awakening MacroBar or the equivalent of half a cup of coffee. Thanks!
5
Annie
March 20, 2018
I love this new flavor, tastes amazing and I'll definitely be adding it as a go-to. I typically go for Sunflower + Chocolate the majority of the time, but eat other flavors too.