Coconut + Almond Butter + Chocolate Chips
Everlasting Joy
Coconut + Almond Butter + Chocolate Chips
A joyful medley of unsweetened coconut, creamy almond butter and vegan dark chocolate.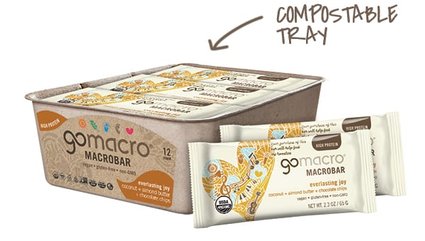 What's Inside
Reminiscent of your favorite candy bar as a kid, this combo of coconut, chocolate chips and almond butter is sure to bring you Everlasting Joy. To top it off, a portion of the proceeds of this bar will help feed the homeless.
See Nutrition & Ingredients List
Benefits
10 grams of protein
Gluten-Free
Dairy-Free
Vegan
Non-GMO
Organic
Kosher
Soy-Free
Organic Almonds

Organic Fair-Trade Chocolate Chips

Organic Puffed Brown Rice

Organic Unsweetened Coconut
5
Heidi
February 21, 2019
These bars are amazing!! Our teenage daughter has a busy schedule between school and work, so we make sure she carries these in her backpack every single day. One bar is so delicious and filling that it gets her through the afternoon before dinner. Plus I feel better knowing that she is grabbing this healthy snack instead of chips or other processed snacks. The taste and quality are fantastic and the price of the bars are completely worth it.
5
Fran Ransom
January 17, 2019
these bars are fabulous ! They taste great not artificial, and have a nice chewy texture They are my go to for breakfast most days, or when I have appointments and no time for lunch
5
Ashley
December 10, 2018
This might be my new favorite out of all of the high protein bar flavors!! So very delicious and satisfying! I will definitely be buying more. My other go-tos are the peanut butter and the peanut butter chocolate chip.
5
Jess
December 7, 2018
This is by far my favorite flavor. It feels decedent but without the guilt. I feel satisfied after eating a bar for a quick snack or meal in the go.
5
Kylie
December 7, 2018
Best flavor so far!
5
Sonja Longley
November 10, 2018
Great bar and this is my favorite flavor: good fiber and not too sweet. I'll recommend it to my no-gluten friends.
5
Katrina Goins
November 4, 2018
My husband loves this! He won't settle for any other bars! He loves the taste and it's perfect for his gluten/dairy free diet + he doesn't like having too much soy either. We also love that this company gives back. This is a great buy!
5
Anthony Rodriguez
October 18, 2018
I received a sample of the bar in my Racquetbox quarterly box. It is the very first time that I was completely blown away how good it was. My son (age 11) loved them too.
5
Joy
October 5, 2018
Chocolate aggravates my health problems, so I try to resist eating it. But every once in a while I say 'heck with it', and this bar is the special treat that I choose. At least it's not empty calories. It's yummy and contains fiber, healthy fats, minerals, etc.
5
Sarah
September 20, 2018
Love these bars! My favorite of the macro bars so far. The flavor mixture is perfect and it is light yet hardy enough to keep me going all morning! Right on Macro!
5
Erin
September 19, 2018
A delicious vegan bar the whole family can agree upon. Wholesome alternative to the sugar rich mainstream bars out there. Gets us through the busy days.
5
Andrea Strottmann
September 4, 2018
I always have this and the coconut granola bar in my pantry, I take them when I am traveling or when I am going to a place that I know there will not be a gluten free selection. The taste is great and NUTRITIOUS which is very important to me.
5
Mallory
September 2, 2018
Our whole house loves these bars. I eat one every single day as an afternoon snack. They're filling, not too sweet and all the flavors are SO good!! The texture is perfect and not old taffy like some protein bars. These are are a must at our house!!
5
Breezy
September 1, 2018
Delicious flavor and texture.
5
Karen
August 26, 2018
Of all the gomacro bars this one is my favorite. It's chewy, but the chocolate chips and coconut add some crunch. Flavor is perfect!
5
Michelle Smith
August 22, 2018
These are my favorite Go Macro Bars...I try to buy other flavors but I keep going back to these. They are soft and chewy so I really like the texture. It has a bit of coconut and mild chocolate taste but its not overpowering so its a nicely blended flavor. I have a lot of food sensitivities and try to avoid most gluten but these don't bother my stomach at all. The best bars ever!
5
Audrey Douglas
August 22, 2018
Love it
5
JULIA BORGES
August 9, 2018
Super yummy. Chewy with a hint of sweet. Highly recommend!
4
Sandy
August 8, 2018
These are my favorite, taste is suburb! I use them for added protein and calories to my vegan diet. They'd be perfect if they had less sugar.
5
Lindy
July 31, 2018
This bar is definitely my favorite. Perfect pairing ingredients and is a filling all natural snack. Thank you go macro!
3
Gina
July 28, 2018
I liked it ok - but my all time favorite and Go To bar is the dark chocolate with almonds.
5
Alissa
July 7, 2018
Amazing flavor! Love the high-quality ingredients and soft, chewy texture. Thank you for making such a great bar!
5
Alissa
July 7, 2018
Amazing flavor! Love the high-quality ingredients and soft, chewy texture. Thank you for making such a great bar!
5
Peace Fairy Mama
June 19, 2018
the most/moist yummy divine granola bar ever, good for the mind, body and soul and good for earth body as well as Gaia herself!...each bite is the divine essence in natures natural beauty....in gratitude!.....
5
NPet
June 6, 2018
This is one of my top three favs from Go Macro. I've tried two variety packs so far. The texture of this bar is great and I love how my teeth go straight through the choc chips. Very good combo here!
5
Laurie Drogowski
June 5, 2018
This is the first Gomacro bar I've ever had and I must admit, I love it! My daughter has bought these for awhile, but this is the first time I have tried one and it's delicious! I will certainly be ordering more!
5
Stephanie
May 29, 2018
Awesome flavor! Love this bar, the flavor combination is so good!
5
Anna
May 10, 2018
I love this bar. It's a quick, delicious meal that I don't feel guilty about. It blows competitors out of the water on taste.
5
Christina
March 28, 2018
I love this bar! it is by far my favorite, and a great snack for work. The texture is chewy and doesn't hurt my teeth/braces. The ingredients are pure. So glad to have options for snacks like these :)
3
Marya
March 26, 2018
Great ingredients and powers me through, but tastes like lightly sweetened cardboard with chocolate chips. My housemates feel the same way. I love the company's ethics and I usually love the flavor of vegan protein bars, but I'd recommend trying other flavors before this one.
5
Natalia
March 21, 2018
AMAZING! I love this flavor, it keeps me fueled all morning after a hard workout. I've never had such a delicious bar that's healthy.