Sunflower Butter + Chocolate
Sunflower Butter + Chocolate
Protein Purity
A delicious combination of creamy, allergen-friendly sunflower butter and organic cacao powder.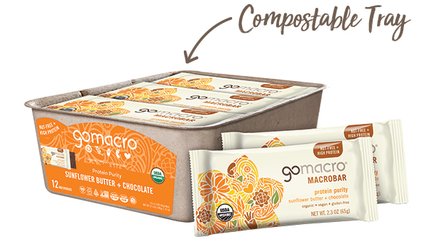 FREE SHIPPING ON ORDERS OVER $60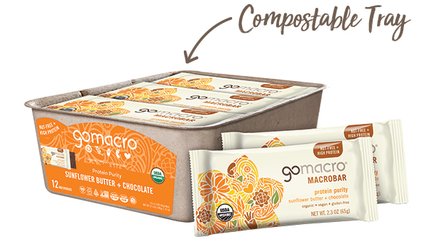 What's Inside
No nuts, no dairy, no gluten....no problem! With 10 grams of plant-based protein, our Sunflower Butter + Chocolate MacroBar is a safe snack that is sure to leave you satisfied!
See Nutrition & Ingredients List
Benefits
10 grams of protein
Nut-Free
Organic
Vegan
Gluten-Free
Kosher
Non-GMO
Clean & Raw
Soy-Free
Dairy-Free
Low FODMAP
Organic Sunflower Seed Butter

Organic Natural Vanilla

Organic Puffed Brown Rice

Organic Cacao Powder
5
Lara Walklet
April 8, 2020
These are fantastic and I'm not a sun butter person, usually. No allergies here but tried it anyway and my 3 year old is obsessed. Eats one daily. Calls it the "black chocolate sticky bar" and even has a song about it. We have started buying three boxes at a time since we go through them so quickly. I'm glad he's getting good protein and feels like he's getting a treat but really it contains great nutritional content.
Response:

Thanks for sharing your cute story, we'd love to hear that song!
5
Paige
April 3, 2020
I am allergic to peanut butter so I was thrilled to find that GoMacro offers a sun butter flavor. The protein in this bar is incredible and the texture is so smooth. If you like sunflower butter you are guaranteed to love this flavor!
5
Gracie H
December 28, 2019
I decided to take a chance on these because of the chocolate factor. I'm so glad I did! They're yummy! This now ranks among my favorites. I had never tried sunflower butter before and was delighted with the flavor with the cacao powder and puffed rice. Gomacro has an excellent line of protein bars with high quality ingredients and high protein. They keep me full and going each day. They are the only ones I eat. Thanks, Gomacro, for such a great product!
5
Michael Ziering
October 12, 2019
The Sunflower Butter bars are a lifesaver. I've been searching for a low FODMAP bar for months to help with my stomach issues while I travel. I'm intolerant of almost any type of food - nuts, dairy, wheat high fat, and these bars don't cause any stomach discomfort. Thank you GoMacro....please never discontinue these bars!
5
Sydney
September 22, 2019
oh my gosh i love this flavor!! i used to always get the coconut + almond butter + chocolate chips one but i decided to switch it up and try this one and i'm so glad i did!! it has such good ingredients and i love how it has cacao powder and is nut free! i have never tried sunflower butter before either and it's actually so good! this will definitely be my go to flavor now but i wish it was available at a wider variety of stores, normally i can only find this one at whole foods:)
5
Lisa
July 23, 2019
I love these bars!! I eat one or sometimes two everyday! They are soooooo delicious!:)♥️
5
Shuey
July 12, 2019
The first GoMacro bar I tried was the Mocha Chocolate Chip, and it was delicious. Then I discovered the Sunflower Butter and Chocolate and was blown away by how simply delicious it was! The company recently had a Summer sale and we took advantage of the major discount by buying four boxes of bars!
4
Paige
April 24, 2019
Love these bars but would love them even more if they were less sweet. Too much sugar :( I preferred the old recipe. Although I prefer the old recipe I still love these bars since they are an easy way to get protein and iron and nut free!!!
5
Gene
April 10, 2019
I have been eating bars for years, always searching for the cleanest ingredients. Finally GoMacro. I particularly love the sunflower butter+ chocolate. The perfect combo., not too sweet either. I highly recommend any of there bars. Thanks you GoMacro. Gene
5
Sylvie
April 2, 2019
The most delicious, chewy and filling plant-based bar! I love all the ingredients and how it literally is the perfect balance of everything I'm looking for! I love love love this one!