Sunflower Butter + Chocolate
Sunflower Butter + Chocolate
Protein Purity
A delicious combination of creamy, allergen-friendly sunflower butter and organic cacao powder.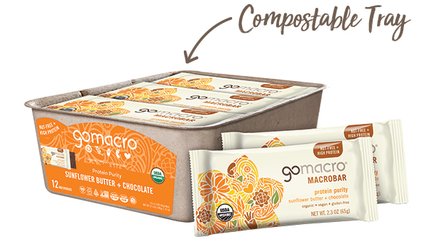 FREE SHIPPING ON ORDERS OVER $60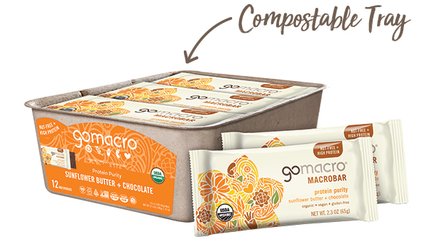 What's Inside
No nuts, no dairy, no gluten....no problem! With 10 grams of plant-based protein, our Sunflower Butter + Chocolate MacroBar is a safe snack that is sure to leave you satisfied!
See Nutrition & Ingredients List
Benefits
10 grams of protein
Nut-Free
Organic
Vegan
Gluten-Free
Kosher
Non-GMO
Clean & Raw
Soy-Free
Dairy-Free
Low FODMAP
Organic Sunflower Seed Butter

Organic Natural Vanilla

Organic Puffed Brown Rice

Organic Cacao Powder
5
Gracie H
December 28, 2019
I decided to take a chance on these because of the chocolate factor. I'm so glad I did! They're yummy! This now ranks among my favorites. I had never tried sunflower butter before and was delighted with the flavor with the cacao powder and puffed rice. Gomacro has an excellent line of protein bars with high quality ingredients and high protein. They keep me full and going each day. They are the only ones I eat. Thanks, Gomacro, for such a great product!
5
Michael Ziering
October 12, 2019
The Sunflower Butter bars are a lifesaver. I've been searching for a low FODMAP bar for months to help with my stomach issues while I travel. I'm intolerant of almost any type of food - nuts, dairy, wheat high fat, and these bars don't cause any stomach discomfort. Thank you GoMacro....please never discontinue these bars!
5
Sydney
September 22, 2019
oh my gosh i love this flavor!! i used to always get the coconut + almond butter + chocolate chips one but i decided to switch it up and try this one and i'm so glad i did!! it has such good ingredients and i love how it has cacao powder and is nut free! i have never tried sunflower butter before either and it's actually so good! this will definitely be my go to flavor now but i wish it was available at a wider variety of stores, normally i can only find this one at whole foods:)
5
Lisa
July 23, 2019
I love these bars!! I eat one or sometimes two everyday! They are soooooo delicious!:)♥️
5
Shuey
July 12, 2019
The first GoMacro bar I tried was the Mocha Chocolate Chip, and it was delicious. Then I discovered the Sunflower Butter and Chocolate and was blown away by how simply delicious it was! The company recently had a Summer sale and we took advantage of the major discount by buying four boxes of bars!
4
Paige
April 24, 2019
Love these bars but would love them even more if they were less sweet. Too much sugar :( I preferred the old recipe. Although I prefer the old recipe I still love these bars since they are an easy way to get protein and iron and nut free!!!
5
Gene
April 10, 2019
I have been eating bars for years, always searching for the cleanest ingredients. Finally GoMacro. I particularly love the sunflower butter+ chocolate. The perfect combo., not too sweet either. I highly recommend any of there bars. Thanks you GoMacro. Gene
5
Sylvie
April 2, 2019
The most delicious, chewy and filling plant-based bar! I love all the ingredients and how it literally is the perfect balance of everything I'm looking for! I love love love this one!
5
Dave
February 7, 2019
These are the perfect thing to have when I first get up in the morning. Just right to wake me up and face the day!
5
Bethany
January 30, 2019
I wish I could give 4 stars because they're pretty expensive and a hard habit to afford, BUT they're just too good. Definitely my favorite and best bar I've ever had. You feel good, the taste is awesome. This is my favorite flavor but I'd take anyone any day anytime
5
Gabriella
January 29, 2019
Obsessed and addicted!
2
Stacey LoSacco
January 12, 2019
The original flavor was much better and I'm not sure why they changed it. I have a lot of food allergies and this was a good bar for me but now it has more sugar so it makes me tired and it does not taste nearly as good as it used to. I had to get used to this flavor but I really am not a fan. Sorry they changed it.
5
Priscilla Sena
December 14, 2018
I have many food allergies (including to tree nuts, dairy, and soy), so this bar is perfect for me! I love that it's healthy, high in protein, and really tasty.
5
Gabrielle
December 1, 2018
Absolutely loved this bar. It's part of my morning routine. I'm moving to Australia and my first thought was .. how will I get the bar!!!
3
Anna Koleva
October 13, 2018
It used to be my favorite bar and my breakfast for years until they changed the recipe. Not my favorite anymore, however my son still eats it, therefore i keep on buying it for now.
5
Joy
October 5, 2018
Delicious flavor and texture. I don't really like sunflower seeds but the cocoa masks the flavor.
5
Demi
September 7, 2018
I love these! I am on low iodine diet getting ready for radioactive iodine treatment and these are perfect because they don't contain dairy, soy or iodized salt. They are soft and taste like brownies. They have really helped me get through this diet and I'll be enjoying them after I'm done with treatment as well.
5
Debby
September 5, 2018
Finally, a protein bar without nuts!! These bars are a lifesaver! I bring these with me to events knowing I always have something safe to eat! I am a person with numerous food allergies! Thks Macro! Love these bars!!
5
Breezy
September 1, 2018
Delicious flavor and texture.
5
Angela Garofalo
August 31, 2018
Best bars EVER! They fill me up at breakfast and I'm good until lunch! The protein in these bars truly makes me feel more energized and better about my overall health!
5
Lisa
August 24, 2018
By far one of my favorite bars.
5
Alyssa
August 23, 2018
This is mine and my 2 year old's favorite bar!
5
Colleen McGunnigle
August 23, 2018
A-mazing! These bars are soft and chewy, with the slightest hint of a crunch. The chocolatey flavor is delicious but not too too sweet, just right for a healthy little treat. I asked a friend I was with if she wanted some and I was so glad she didn't know enough to say "yes" so I got to have the whole thing! Lol She was just thinking "healthy." If she had any clue how good they actually are, she never would've said no!
5
Elania Layman
August 22, 2018
I love these bars. I have been buying them for awhile now, but this is the first time I've had the "New improved recipe". It's great! One of my favorite things about these bars as well, is that the sugar content is not that high compared to many other bars! Thank you!
5
Cindy
August 20, 2018
I enjoy these bars very much. They have a new softer consistency, and a richer chocolate taste than the previous formula. I always carry one with me when I leave the house. This bar is my go to snack when I get light headed, weak or shaky due to a blood sugar drop. For me it's also a mid-afternoon snack that can prevent the onset of symptoms. This bar can keep me going for a few hours when I'm out of the house and need to get some errands done. This variety of the Macro Bar is FODMAP friendly! This Sunflower Butter and Chocolate bar is something I don't want to be without.
4
Ellen
August 5, 2018
These bars are the best on the market, especially for someone like me who has many food allergies. I just wish that you hadn't messed with perfection! The "improved" flavor is not nearly as good as the previous recipe...
5
Juliette
August 4, 2018
Filling when you need a quick meal replacement, Delicious as a snack. Love the texture and grateful they are vegan bars.
5
Ziba Jawanda
July 27, 2018
Incredible! So grateful for this amazing company, providing an option for those on a restrictive diet due to allergies. You are amazing. Thank you ❤️
5
Rachel Persson
July 27, 2018
This bar is amazing as a meal replacement or snack. I absolutely love the sunflower butter/chocolate combo. I especially love heating the bar for 20 sec in the microwave. I'm so glad I found these!
5
Rachel
July 26, 2018
I don't understand the need for clean ingredients but I must say this bar is a life saver for someone with multiple dietary restrictions plus can be found in A LOT of stores. The best part is that it tastes good, doesn't hurt my stomach and therefore has helped me gain back much needed weight! Rock on go macro super stars.
5
Rachel
July 26, 2018
I don't understand the need for clean ingredients but I must say this bar is a life saver for someone with multiple dietary restrictions plus can be found in A LOT of stores. The best part is that it tastes good, doesn't hurt my stomach and therefore has helped me gain back much needed weight! Rock on go macro super stars.
5
Mary Wynn
July 12, 2018
Love these bars! This is my favorite flavor! Always keep a stash around so I have a go to snack if I'm having a busy day!
4
Jill
July 4, 2018
Love these bars and this flavor is my favorite, but not a fan of the new recipe and the added sugar. The bars were great as they were! Hope they go back to the previous recipe.
4
Devin
June 21, 2018
Don't love the new recipe. Looks like they switched out cocoa for cacao (which is probably slightly healthier), but they taste a little funny now. Will likely continue to buy though because I have a lot of allergies and the ingredients in this bar agree with me
4
Sevak Sangerdi
June 21, 2018
If you like your bars sweet this is not for you. But very good and consistent. Perfect with coffee/tea!
5
Teri
June 20, 2018
I had been eating another protein bar that was very healthy but they stopped making them & I came across these little gems!! Wow, not only do they have amazing health benefits, they are delicious! I am a for sure customer For life!
5
Noni Holroyd
June 19, 2018
My favorite bar in the world. SOOOOO perfect. Not too sweet and but still filled with flavor.
3
Susie
June 19, 2018
I do not like the new recipe nearly as much as the old.
5
LynneCinSD
June 19, 2018
As a nut-free, GF household, these bars are spectacular. They taste good and are perfect meal replacement when nothing else is available. Our go-to protein bar. Love them.
5
Jessica
June 2, 2018
Great bars.My favorite flavor so far.
5
Heather
May 18, 2018
Favorite bar! Great texture and taste!
4
Natasha
May 4, 2018
Really love these bars. They have a great consistency and flavour (not too sweet) - just the perfect amount. I normally eat one as a breakfast replacement or if I've been out all day and need a quick hit of energy. The only problem is that the other day I bit down on a hard shell of some sort that was in the bar and I thought it had take out a filling in my tooth. I was freaking out... So you really have to be careful of those little pieces that are sometimes in these bars. It does make me a bit nervous that it may happen again.
5
Libby
April 6, 2018
I eat a protein purity bar almost every morning for breakfast! This is my favorite macrobar flavor. Great source of organic, plant based protein. I always feel great when I eat these and have tons of energy for the gym!
5
Lee
March 29, 2018
So nice to find a protein bar with no almonds, peanuts generally all the nuts except sunflower my body started to reject :(. So happy I found this one!!!! I always have one on hand if I'm craving sugar or need a snack to tide me over. Also keeps me satisfied for a few hours!
5
Nellie
March 16, 2018
Definitely recommend these for on the go if your having a busy day so you don't cheat n choose something bad because it's convenient . I keep in my purse always...
5
Yara
March 4, 2018
Love it! Just don't love the prices
5
Stacy
February 26, 2018
It is almost impossible to find a protein bar when you can't have nuts and need to be GF. Luckily we found this bar that has a good amount of protein, is free of our allergies, and tastes REALLY good! Even our picky 3 year old likes it! Keeps us going in between meals or on-the-go!
5
Ellie
February 21, 2018
LOVE these bars! I eat one with a cup of coffee every morning and hour and a half before I workout. They provide me with so much fuel for my 5 miles runs! Love this flavor so much because it's sweet but not too sweet!!!