Blueberry + Cashew Butter
Blueberry + Cashew Butter
Blissful Daybreak
This fan-favorite is a high-protein blend of creamy cashew butter and organic blueberries.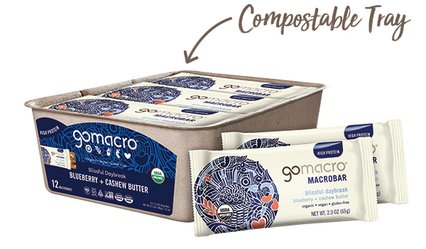 FREE SHIPPING ON ORDERS OVER $60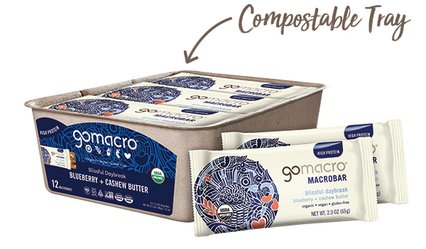 What's Inside
Like beams of golden light pouring over our family farm each morning, our Blissful Daybreak MacroBar will leave you feeling refreshed, rejuvenated and ready to take on the day. Our blend of organic blueberries, plant-based protein and creamy cashew butter create a splash of sunshine in every bite.
See Nutrition & Ingredients List
Benefits
10 grams of protein
Organic
Vegan
Gluten-Free
Kosher
Non-GMO
Clean & Raw
Soy-Free
Dairy-Free
Organic Cashew Butter

Organic Puffed Brown Rice

Organic Blueberries

Organic Cashews
5
Carisa
January 2, 2020
Great texture and flavor! It isn't too sweet, but hits the spot when that craving arrives. I'm very happy with this!
5
Kayla
December 22, 2019
Each of the GoMacro bars is a wonderful treat. Really! And they travel well - I always have one or two in my purse. When I'm on the run, I choose a GoMacro bar over unhealthy fast food every time and I never get tired of them. But I just had my first blueberry/cashew butter bar, and I'm pretty sure I now have a new favorite! It's soooo good! With just the right blend of flavors, this particular combination of taste-bud-pleasers will make everyone happy!
5
megahn
September 22, 2019
Delicious! I love the blueberries in this bar. It's one of my favorites!
5
Kimmy Leslie
August 1, 2019
Excellent. I can not buy another Bar. I love goMacros. This product is the perfect balance to keep me going and feeling strong. Clean ingredients that make me feel deliciously satisfied and feeling well. GoMacro has given me "bar anxiety" lol, if I don't have a bar stashed in my daily bag, then I get anxious. Additionally, blueberry bliss is outstanding- my opinion, best flavor! I was excited to try the new flavors- how fun... Loved salted maple, yum yum yum. Thanks goMacro! 5 Stars! We love you.
5
Darlene
July 11, 2019
The Blueberry + Cashew Butter is another of our favorite protein bars, it has the perfect amount of sweetness & just the right amount of blueberry flavor for us. Right now in house I think we have about 7 different flavors of GoMacro Protein bars & it's really nice to change it up for whatever we crave for the day :) Customer service is awesome, fast delivery & packed extremely well!
4
Christel Hennet
June 20, 2019
Love the gomacro High Protein bars. Agree with other reviewers, these bars are a fantastic snack post workout or simply as a feel good snack. The one downside is the high sugar content , 11g (about one tablespoon) of sugar added (blissful daybreak-blueberry cashew butter). The bar is fairly sweet. Why not cut the sugar content in half- and double its health benefits?
5
joy
May 16, 2019
OBSESSED!!!!! I eat one after my daily workout. It hits the spot!
5
Meg
April 19, 2019
This is currently my favorite Gomacro flavor. Love the consistency and sweetness. Perfect!
5
Adrianna
February 18, 2019
This bar is my favorite. I love blueberries and when it is not in season, this help fulfill my blueberry craving. The texture with the cashew butter is delicious.
5
Sheryl
February 2, 2019
I send these to my daughter when I want to surprise her she just loves These Bars. I want to say the staff at Gomacro is wonderful and they give such excellent customer care it's great to receive such awesome service.Thankyou keep it up!!!
5
Julie T
December 8, 2018
I don't know what else to say other than 'THESE ARE SIMPLY DELICIOUS"
5
Lisa
December 7, 2018
I love this bar! It's fruity and has the cashew crunch. Wonderful!
5
Michelle
December 7, 2018
Totally yummy. My favorite flavor and a great meal on the run!
5
Juliana
November 2, 2018
This one is probably my favorite right now! I love the blueberries mixed in there, it's sweet but not too sweet. Just has a great flavor! Highly recommend.
5
TTW
August 28, 2018
My new favorite flavor! Not too sweet, just sweet enough. SO SO GOOD!!
5
Hannah
August 24, 2018
My favorite flavor! Very good, sweet and satisfying!
5
Evw
August 24, 2018
Just tried for the first time....so good. I also am diving full force into all-vegan (been playing with mostly plant-based for a few years) and glad to make/keep Macro Bar in the regimen. Thanks!!
5
Janet
August 22, 2018
Delicious and healthy. Love this for breakfast with coffee.
5
LeAnn
July 19, 2018
This bar is delicious! It has a wonderful blueberry flavor without being too sweet. The cashew butter and the blueberries make the perfect combination. I usually eat these for breakfast, but they also make a great snack.
1
Christian
June 8, 2018
After trying Cherries & Berries, I was so excited to try this flavor! I was really disappointed though. No real blueberry punch for me, just an overpowering taste of the cashew butter. It is missing something in my opinion. Definitely won't be purchasing this flavor again.
5
Julie Sheehan
May 20, 2018
I love this one! Soft easy for me with my illness! Not too sweet but sweet enough!!!!! Love love
5
Marlene
May 19, 2018
Very delicious, just the right amount of blueberries in this bar. I eat them for breakfast, with blueberry yogurt.
5
Brian
May 18, 2018
I love blueberries and I love cashews so what could be better than an energy bar that perfectly melds to the two together! Definitely one of my favorites!
5
Haley
May 17, 2018
Absolutely love this one! The ratios are perfect and its definitely a new favorite
5
Irene
May 16, 2018
This new flavor is my new favorite of the Go Macros. It's mildly sweet, yet delicious. I love it!
5
Angela Frigo
May 13, 2018
I really like this new flavor. I think it may be my favorite gomacro flavor currently. I left one in the car while I was at work one day, and when I got back to the car it had gotten all heated up. You would think that maybe that would spoil the bar, but it tasted like a blueberry muffin just out of the oven. SO GOOD.
5
David Lerwin
May 13, 2018
Great addition to all of the other great flavors. This is a delicious bar.
5
Cam
March 24, 2018
Keep experimenting with the flavors! These new flavors are amazing.
5
Natalia
March 21, 2018
I don't normally like fruity bars, more of a chocolaty girl. However, my mind has changed after tasting the blueberry & cashew butter flavor. It's my new second flavor bar! Perfect amount of fruit flavor and texture. Could have one everyday!