Granola + Coconut
Balanced Goodness®
Take your taste buds on a tropical escape with this sunny combination of gluten-free oats, real coconut, chopped walnuts, and organic almond butter.

Get Same Day Delivery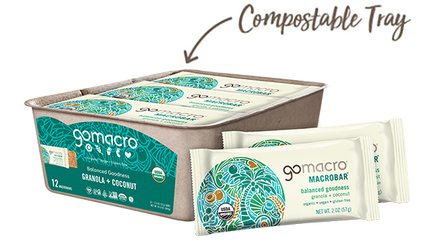 What's Inside
Upgrade your snack game with the soft and chewy texture of our Balanced Goodness MacroBar®. With a simply satisfying combination of certified gluten-free rolled oats, roasted walnuts, and freshly shredded coconut, it's the perfect snack for a nourishing boost any time of day.
See Nutrition & Ingredients List
Benefits
Organic
Vegan
Gluten-Free
Kosher
Non-GMO
Clean
Soy-Free
Dairy-Free
Low FODMAP
Organic Gluten-Free Rolled Oats

Organic Almonds

Organic Walnuts

Organic Unsweetened Coconut
5
Linda O
December 16, 2022
The granola + coconut is my absolute favorite bar! I usually end up eating two of them. The blueberry + cashew butter is my second favorite. Anything with cashew butter of yours is fantastic. Very well balanced blend. I would love to see more of your items with no chocolate chips. Don't crave chocolate chips in my breakfast bars. I would buy other bars if they didn't have chocolate chips in them.
3
Barbara A.
October 24, 2022
Small and could've tasted better. Ok
4
Teresa
July 17, 2022
Enjoyed the taste. Not too sweet. Disappointed that the bars are smaller. Shrinkflation?
5
Freddah
July 14, 2022
Found my favorite - granola & coconut!!!
5
Linda
July 14, 2022
The granola + coconut are my absolute favorite! They have the perfect balance of sweet with the coconut. If you like coconut you will love these bars.
5
Dana
June 13, 2022
As a coconut lover, these are at the top of my treats list!!!! These are now my new go to for a protein bar filler!
5
Deborah
April 10, 2022
Love it…. And it doesn't hurt my stomach!
5
Patricia Lister
April 9, 2022
Love the taste.
5
Ames Wilcox
August 9, 2021
first off i don't even like coconut very much. But these are DELICIOUS. I love the texture, just soft and chewy enough. The flavors are so good, sweet but not too sweet and the nuttiness' is just right.
4
Alix
May 10, 2021
Love all the GoMacro bars I've tried but the coconut oatmeal is definitely a new favorite. My daughter wants to take them in her lunch box EVERY day so I wish they were a little less expensive. But SO good! Alix