Cherries + Berries
Sunny Uplift
An uplifting, antioxidant-rich combination of sweet cherries and delicious berries.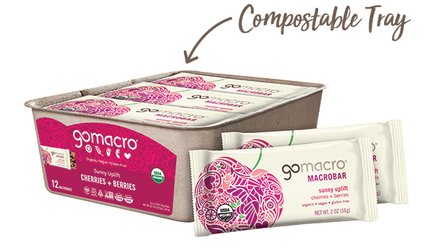 FREE SHIPPING ON ORDERS OVER $50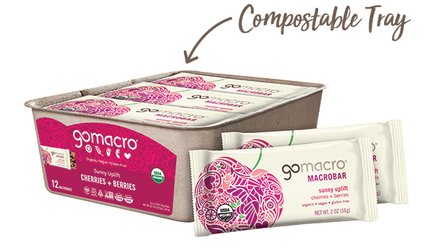 What's Inside
This sweet, summery bar is one of our fan favorites, with only 4 grams of total fat. Packed with antioxidants, iron and fiber, it's the perfect blast of sunshine for any day of the year. Bite down and get uplifted.
See Nutrition & Ingredients List
Benefits
Organic
Vegan
Gluten-Free
Kosher
Non-GMO
Clean & Raw
Soy-Free
Dairy-Free
Organic Gluten-Free Rolled Oats

Organic Cherries

Organic Dates

Organic Cranberries
5
Dave
August 6, 2020
The Cherries and Berries ( Sunny Uplift ) is by far my favorite. I can't seem to get enough of the tart Cherry and chewy flavor. Since I can't tolerate nuts,chocolate,peanuts I'm so happy to find this bar. I hope they never quit making them. I eat 2 a-day on the average.. A healthy , tasty ,organic treat. Thank you GOMACRO for producing such a perfectly wonderful delicious bar.
5
Anna
June 23, 2020
Was at the local grocery store and saw this bar forsale and it said it was from a local place, so I got one to try. These are awesome! Will be ordering more
5
Sharon Rice
June 3, 2020
Hands down my favorite! I love this bar. I found it quite by accident at an event and it was on the snack table. I then sought out the bars online and have purchased others. I could eat this one daily and often do eat for breakfast. I put this on subscription. I love this bar - texture and flavor are great!
5
Lisa
May 17, 2020
This is my favorite GoMacro bar! Please keep making it! The tangy and chewy tartness is sublime! Almost all of the other flavors contain chocolate, are higher in fat and/or have coconut sugar (I am sensitive to any refined sugars). This treat is the best and I may have to order a box since they are now very difficult to find in stores. Thank you for making them!!!!
5
Fran
May 3, 2020
first healthy food bar i ever finished Will buy more
5
Alison
April 29, 2020
My favorite flavor! Must try! It's sweet and tart and the oats balance it out.
5
Paige
April 3, 2020
There really aren't words for this flavor. It is incredible, hands down. The berries are mouth watering and the amount of oats is tasty delicious. I tried this flavor by accident in a variety pack and instantly fell in love. Now every time we place a GoMacro order we have to order a cherries and berries box! If you like berries this bar is for you!
5
Rhaquel
December 20, 2019
Caution: Highly Addictive :) I love these bars... I have been eating one for breakfast for the past 2 years! Absolutely love it!
5
Tobi
December 17, 2019
This is by far my favorite GoMacro bar flavor and probably my favorite bar in general. Unfortunately I can't find it at any local retails so have to order online. Totally worth it, though! This bar is sweet but has a nice tartness that balances it out. The texture is more on the soft and chewy side compared to the other GoMacro bars, which I prefer. This is not high protein/fat like most of their other bars but an easy-to-digest source of quick carbs. I usually eat one before a run or during a hike. I hope they never discontinue this flavor!!
2
Chelsea
November 12, 2019
Bought a box of the Cherries & Berries for Breast Cancer Awareness month, not having tried the flavor. Must say, I'm glad the proceeds went somewhere - but I'll likely be donating the remainder of the box to a friend. Having really liked other flavors, I was hoping this one would follow suit. The texture is a bit like chewing raw oats - although I do appreciate the real ingredients. Next time I'll opt for one with more protein, less dried berries and cherries.
Response:

Hi Chelsea, thanks for taking the time to leave a review and for your purchase of our October Give Back Bar! We are sorry to hear that our Cherries and Berries bar was not for you, but hope you will find a new favorite in one of our other 15 flavors!