Cherries + Berries
Sunny Uplift
An uplifting, antioxidant-rich combination of sweet cherries, delicious berries, and gluten-free oats.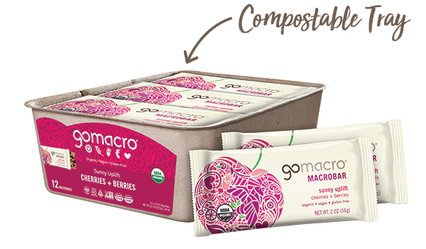 FREE SHIPPING ON ORDERS OVER $50
?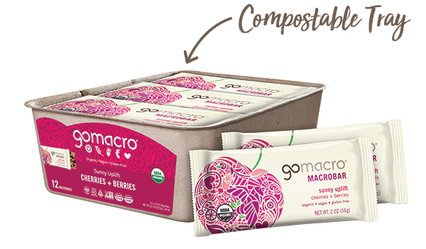 What's Inside
This soft and slightly tart MacroBar is bursting with the sweet, sunny flavor of cherries and cranberries for a delicious way to elevate your day. Our Sunny Uplift MacroBar is packed with antioxidants, iron, and healthy fats, but the goodness doesn't stop there! A portion of net proceeds from October sales of this MacroBar is given to the Keep A Breast Foundation. Learn more here.
See Nutrition & Ingredients List
Benefits
Organic
Vegan
Gluten-Free
Kosher
Non-GMO
Clean & Raw
Soy-Free
Dairy-Free
Organic Gluten-Free Rolled Oats

Organic Cherries

Organic Dates

Organic Cranberries
5
Carol
January 2, 2022
Sunny Uplift is my favorite. Bummed that it's out of stock right now.
5
Justin LaVance
December 17, 2021
10/10 reminded me of a cherry candy so good! Vegan and organic is a must for me and this checks both obviously!
5
Danielle
October 2, 2021
I love so many of your bars and none of the ones i love are in store anymore including the cherry one. Will you make them again.??
Response:

Hi Danielle - You can look forward to our bars returning in stores soon. Make sure to check with your retailer on when they will expect delivery on your favorite flavor!
5
WILLIAM KATZ
May 10, 2021
VERY VERY GOOD THE VERY BEST
5
Karin Siegers
March 23, 2021
These are addictive. So Good. I ate ten in two days
4
Gary Wilson
February 21, 2021
Soft, chewy and sweet. This is my wife's favorite. I like it too, but not my favorite.
5
Maddie
October 1, 2020
Super fruity flavor. Perfect for a breakfast or early morning snack! Soft texture. Definitely would recommend! I love gomacro because they created a company in a place that needed it in Wisconsin. Awesome company, please support them!
5
Emily
September 26, 2020
Hands down one of my top 3 favorite flavors!!! SO GOOD! TASTE LIKE CANDY!! I'm a fan of go macro bars and plan to try every flavor! I really enjoyed this flavor, its not to sweet and its soft. Always enjoys these bars whether its a snack or as a pick me up. Very nutritious and delicious! :)
5
Gary
August 9, 2020
Soft, chewy and sweet, yum. Decided to order a few dozen of these, for wife and me to treat and enough to give some to those more in our life now with the Isolation. Male Man, letter carrier says they are great!
5
Dave
August 6, 2020
The Cherries and Berries ( Sunny Uplift ) is by far my favorite. I can't seem to get enough of the tart Cherry and chewy flavor. Since I can't tolerate nuts,chocolate,peanuts I'm so happy to find this bar. I hope they never quit making them. I eat 2 a-day on the average.. A healthy , tasty ,organic treat. Thank you GOMACRO for producing such a perfectly wonderful delicious bar.