Cherries + Berries
Sunny Uplift
An uplifting, antioxidant-rich combination of sweet cherries, delicious berries, and gluten-free oats.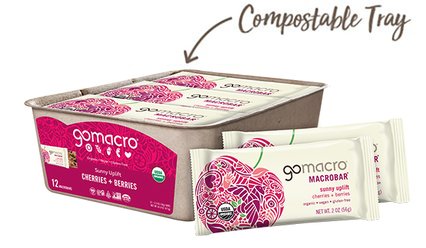 Due to increased demand, this product is currently unavailable.

You can also click the link below to receive a notification when this product is back in stock.

Notify When Available
FREE SHIPPING ON ORDERS OVER $50
?

Get Same Day Delivery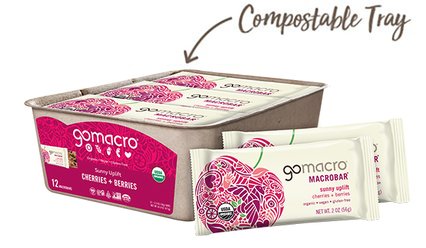 What's Inside
This soft and slightly tart MacroBar is bursting with the sweet, sunny flavor of cherries and cranberries for a delicious way to elevate your day. Our Sunny Uplift MacroBar is packed with antioxidants, iron, and healthy fats, but the goodness doesn't stop there! A portion of net proceeds from October sales of this MacroBar is given to the Keep A Breast Foundation. Learn more here.
See Nutrition & Ingredients List
Benefits
Organic
Vegan
Gluten-Free
Kosher
Non-GMO
Clean & Raw
Soy-Free
Dairy-Free
Organic Gluten-Free Rolled Oats

Organic Cherries

Organic Dates

Organic Cranberries
5
Donna Bruder
April 25, 2022
Have been enjoying your "cherries & berries for years. Sure and perfect ingredients . Am a true believer in your product, never had any incidents,( headaches) . Thank You, trust is respect is any business.
5
Julie C
April 10, 2022
Love the cherry bars. They are organic, nicely chewy and provide a healthy alternative to heavier, sweet laden snacks. Like little bites of sunshine!
5
Lauren
April 6, 2022
This is my absolute favorite bar to have in the mornings for breakfast. If I don't get to eat one, I crave it. This is the perfect amount of sweetness and chewyness. Thank you for this delicious treat!
5
Melodie
March 1, 2022
We love these! It's our morning breakfast every day! Very good for digestion, too!
5
Amanda R Campeau
January 31, 2022
I love eating these during the work day. Good nutrition and tastes like cherry crisp.
5
Carol
January 2, 2022
Sunny Uplift is my favorite. Bummed that it's out of stock right now.
5
Justin LaVance
December 17, 2021
10/10 reminded me of a cherry candy so good! Vegan and organic is a must for me and this checks both obviously!
5
Danielle
October 2, 2021
I love so many of your bars and none of the ones i love are in store anymore including the cherry one. Will you make them again.??
Response:

Hi Danielle - You can look forward to our bars returning in stores soon. Make sure to check with your retailer on when they will expect delivery on your favorite flavor!
5
WILLIAM KATZ
May 10, 2021
VERY VERY GOOD THE VERY BEST
5
Karin Siegers
March 23, 2021
These are addictive. So Good. I ate ten in two days