Nut-Free Bar Variety Pack
Nut-Free Bar Variety Pack
Yep, all 3 MacroBar flavors in this variety pack are nut-free, organic, vegan, gluten-free and delicious. Pretty nuts, huh?!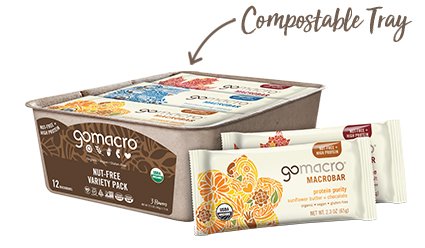 FREE SHIPPING ON ORDERS OVER $50
?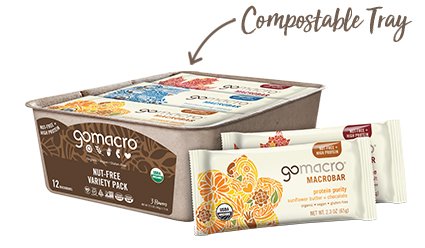 What's Inside
This nut-free mix contains 4 bars of each of our 3 nut-free favorites including Sunflower Butter + Chocolate, Maple Sea Salt and Oatmeal Chocolate Chip.
See Nutrition & Ingredients List
Benefits
10-12 grams of protein
Nut-Free
Organic
Vegan
Gluten-Free
Kosher
Non-GMO
Clean & Raw
Soy-Free
Dairy-Free
5
Celeste Tobler
August 25, 2020
I absolutely love the nut free variety pack! Each flavor tastes so good and will last me the entire morning, without getting hungry. It is so difficult to find a protein bar that doesn't contain some sort of nut in it! I will be buying these from now on!
5
Theresa
August 7, 2020
Love that they are soy free! They are all absolutely delicious!
5
Marlow
July 10, 2020
Yummy yummy! This is a great pack of bars from a company that I love to support. I'll admit I got a bit tired of the three same flavors (as someone who normally buys the bigger variety packs), but I still think they're all tasty. The flavors are different enough that I can choose one based on what I'm hankering for.
5
Melissa
April 8, 2020
I can't have nuts or gluten so I'm so thankful for sunbutter based. These are so good!
5
Sofi
December 17, 2019
I'm a long-time GoMacro fan and my boyfriend has a tree nut allergy so when I saw this nut-free pack, I knew I had to try! The oatmeal chocolate chip bars have officially became my favorite flavor of Macro bars. They're amazing! The maple sea salt tastes like pancakes and the chocolate sun butter totally satisfies those chocolatey cravings. Thanks GoMacro! You guys are the best! (PS: try heating them up in the microwave for like 7 seconds and thank me later!)
5
Theresa
September 11, 2019
These bars are very tasty and a good size! Can eat as a meal if needed! Love they are soy free and now they have a nut-free variety pack!
5
Anne
July 30, 2019
I am so pleased that GoMacro offers a nut-free bar that is protein rich. At long last we have choices that are organic as well! Our favorite is the maple sea salt. The sea salt is very mild and the maple and pumpkin seed combo goes together very well. Everything blends to a great taste! Ordering was a breeze! Many thanks!
5
Jenn
July 29, 2019
Love these bars! So delicious and make a great on the go snack.
5
Chloe Bradburn
July 26, 2019
I absolutely love the sunflower butter + chocolate flavor! But i wish the other but-free flavors weren't made with pea protein as I'm allergic. Maybe in the future a flavor like maple could be made with rice protein instead so i could enjoy more than one of these awesome bars!
5
Ella Bartel
July 18, 2019
I am so excited to try these! The protein purity and the only fruit no almond butter ons has been the one bar I have been able to have by you guys and with these new flavors I'm very excited for them! Thank you guys so much for these yummy and healthy bars! Definitely recommending to others.