MacroBar Mini Nut-Free Variety Pack
MacroBar Mini Nut-Free Variety Pack
Yep, all 3 MacroBar Mini flavors in this variety pack are nut-free, organic, vegan, gluten-free, delicious and only 100 calories. Pretty nuts, huh?!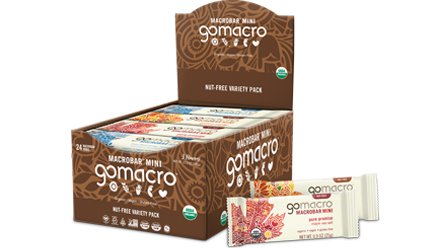 FREE SHIPPING ON ORDERS OVER $50
?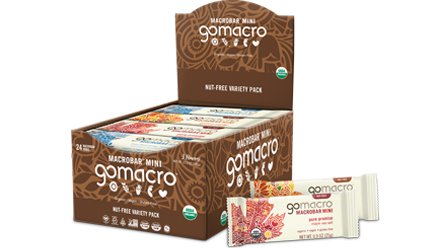 What's Inside
Each MacroBar Mini Nut-Free Variety pack contains 8 bars of each of our 3 nut-free MacroBar Mini flavors including Sunflower Butter + Chocolate, Maple Sea Salt and Oatmeal Chocolate Chip.
See Nutrition & Ingredients List
Benefits
100 Calories
Nut-Free
Organic
Vegan
Gluten-Free
Kosher
Non-GMO
Clean & Raw
Soy-Free
Dairy-Free
Low FODMAP
5
Judith
May 5, 2021
As per all the previous positive reviews, I say yes, yes, yes; these are terrific! And thanks for producing nut-free treats that are delicious!
5
Erica McCarthy
August 6, 2020
These are my favorite! I've been allergic to cashews and almonds for a while but last year I went low fodmap due to skin dermatitis and fell in love w The maple Sea salt flavor! When quarantine hot, i bought the variety pack—This is my second purchase! Great on-the-go snack and so tasty.
5
Robin Becker
August 5, 2020
These bars were recommended to me as a clean and healthy bar to eat that would be easy for me t eat. So far, I have enjoyed them. The mini's are small but satisfying.
5
Sheri
September 17, 2019
The oatmeal choc chip is the best flavor ever. You get the flavor of an oatmeal cookie without having to get all the bad things that come along with it. The new mini size is absolutely perfect for a quick snack.
5
Victoria Tamborino
September 10, 2019
I have finally tried both of the new nut free flavors - Maple Sea Salt and Oatmeal Choc Chip - I can't decide which I like best! they are both awesome. I have been eating the Choc Sunbutter ones for years and love those as well. so happy I now have three flavors I can eat! Awesome job! and thank you for considering those families who cannot have nuts. there are not many options out there for protein bars without nuts.
5
nfox
September 10, 2019
Perfect lunchbox snack! I think all three flavors are delicious and my picky vegan six year old agrees.
Response:

Hi Noelle, we are happy to hear that you and your six year old with "very discerning tastes" are enjoying the new nut free flavors!
5
Teresa Kantakis
August 16, 2019
These 3 flavors are my favorite. I have a sensitive stomach, so the fact that the sunbutter chocolate is FODMAP friendly is amazing especially since there are limited options in the market. These are also the perfect size for travel and a go to snack at work.
5
Lori
August 15, 2019
These mini bars are delicious