Double Chocolate + Peanut Butter Chips Mini
Double Chocolate + Peanut Butter Chips Mini
GoMacro® MacroBar® Mini
A rich, chocolatey bar sprinkled with melt-in-your-mouth peanut butter chips and an extra handful of organic chocolate chips for a wholesome snack you're sure to savor.

Get Same Day Delivery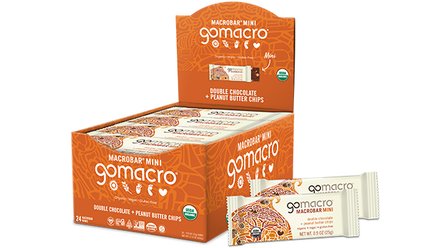 What's Inside
Our take on a classic peanut butter cup, the Double Chocolate + Peanut Butter Chips MacroBar® Mini blends protein-rich peanuts, vegan chocolate, creamy organic peanut butter, and our very own house-made peanut butter chips to create a satisfyingly delicious treat.
See Nutrition & Ingredients List
Benefits
110 Calories
Organic
Vegan
Gluten-Free
Kosher
Non-GMO
Clean
Soy-Free
Dairy-Free
Low FODMAP
Organic Chocolate Chips

Organic Peanut Butter Chips

Organic Chocolate

Organic Peanut Butter
5
Danielle Ferrigno
March 2, 2023
Hands down THE best protein bar I've ever tried—and I've tried A LOT! Thank GOD for this bar. I have ADHD and thus find it hard to remember to eat meals on time so sometimes I'm in desperate need of something healthy and satiating, but most things on the market are just NOT flavorful or tasty. This is most definitely the tastiest. Thanks for a great product!
5
Patricia Lister
April 9, 2022
This was a twist in the peanut butter cup. But still just as good.
4
Grace Trotter
September 30, 2020
This is by far my favorite bar will but again but some of the bars were damaged when received
5
Tannyce
July 4, 2020
I follow a low fodmap diet and really appreciate that Go Macro makes bars that are suitable for the low fodmap diet and that they have a special section on the website. I really enjoyed this flavour. I would definitely buy it again. Very yummy mix of chocolate and peanut butter!
5
Crystal Andrew
March 6, 2020
Just received my order today and tried these. These are amazing. Just the right amount of chocolate to peanut butter ratio. I love the peanut butter chips and that there were several in this bar. My new favorite.
Response:

Hi Crystal, thanks for the review of our new Double Chocolate + Peanut Butter Chips bar. We are so glad you like it!