Peanut Butter Chocolate Chip Mini
Peanut Butter Chocolate Chip Mini
GoMacro MacroBar Mini
Creamy, organic peanut butter plus vegan chocolate chips equals your new favorite go-to snack!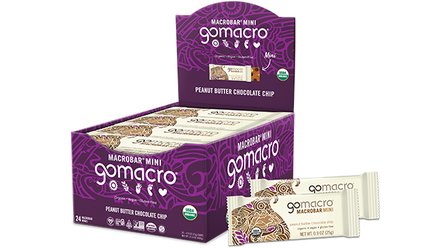 FREE SHIPPING ON ORDERS OVER $50
?

Get Same Day Delivery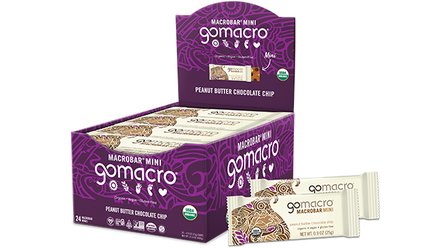 What's Inside
Meet the bar that started it all! Our original Peanut Butter Chocolate Chip MacroBar Mini combines 4 grams of plant-based protein with organic and oh-so-creamy peanut butter, roasted peanuts, and let's not forget the best part...our vegan chocolate chips!
See Nutrition & Ingredients List
Benefits
110 Calories
Organic
Vegan
Gluten-Free
Kosher
Non-GMO
Clean & Raw
Soy-Free
Dairy-Free
Low FODMAP
​
Organic Peanut Butter

Organic Chocolate Chips

Organic Peanuts

Organic Puffed Brown Rice
5
Michael Chase
February 2, 2022
Honest Customer Review: Very Satisfied This is one of the best protein bar you have ever had. I simply love almost everything about this bar. The texture, chewiness, right amount of oiliness, size, etc. Highly recommended to everyone out there, just give it a try
5
Stephanie Dagastino Hale
April 23, 2021
Mini Peanut Butter Chocolate Chip bars are delicious!
4
Pam
March 22, 2021
The mini's are a great go to snack on the run.I have to watch my sugar intake so these are perfect as I know I could eat regular size no problem.
5
Martha Burkan
March 7, 2021
Love this flavor so much!! When I'm home I put it in the microwave for 8 seconds and it melts the chips some and is such a treat!!
5
Tannyce
July 4, 2020
I follow a low fodmap diet and really appreciate that Go Macro makes bars that are suitable for the low fodmap diet and that they have a special section on the website. This is my absolute favourite flavour! It is the perfect mix of peanut butter and chocolate chips. Always have these stocked at home! So yummy!
4
Skip
April 9, 2020
I like the Peanut Butter Chocolate Chip bar very much -- I would give it five stars. However, unfortunately for me, I did not pay enough attention when I placed my order, and got a box of the Mini bars, From my perspective, they would be great if I was giving them to a 4 or 5 year old. For me they are just too small, at .9 ounces. A full-size bar is 2.4 oz, so these minis are slightly larger than 1/3 of a full sized bar, and having only one is not that satisfying. And on a dollar / ounce basis, the full size bars are a better deal. So 5 stars for the bar, 2 stars for the mini size, averaging to 3.5 stars. Since I like the flavor I will round up to 4 stars.
5
Kathy
April 9, 2020
Great bars with so many flavor choices. The minis are perfect for a quick snack. Hope more flavors will be added.
5
Rocky Frost
April 5, 2020
My wife and I cannot get enough of the Peanut Butter Chocolate Chip bars (literally now since they are not available - due to high demand). They remind us of our first energy/protein bar, Power Bar, from here in San Diego. We were very competitive amateur athletes and those bars helped us in our endeavors. The texture, flavor and consistency was what we liked; However, they contained sugars and chemicals that we didn't want. Thirty years later, we have found the bar we love with all of the ingredients that we approve of. We also appreciate your approach to business, life and hope that you continue the great work!
5
Cyndi
January 27, 2020
After reading the rave reviews on this flavor, I bought a box of the small size. They aren't bad tasting but I prefer some the other flavors over this one. I do love the small size! They are perfect to throw into a lunch or to take along as a good snack whenever you leave the house.
5
Danielle
May 17, 2019
I have been a huge fan of GoMacro for years and wanted to get my kiddos hooked on these as they are much healthier than other snack bars on the market. They would take a bite or two of the larger bars and not want anymore so I love the smaller version. They are so great to throw in their lunches or to take on long car rides. They aren't crazy about the texture, but love the taste. Some days they eat the whole bar in minutes and other days they just eat half (and I get to finish the rest), either way I feel good about what they are eating - no artificial ingredients, no dyes, no dairy - just healthy protein and chocolate chip magic. Hooray!