Sunflower Butter + Chocolate Mini
Sunflower Butter + Chocolate Mini
GoMacro MacroBar Mini
A delicious blend of creamy sunflower butter and organic cacao powder combine in our original nut-free MacroBar Mini.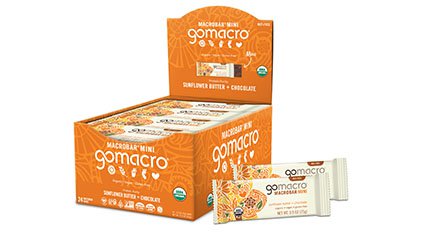 FREE SHIPPING ON ORDERS OVER $50
?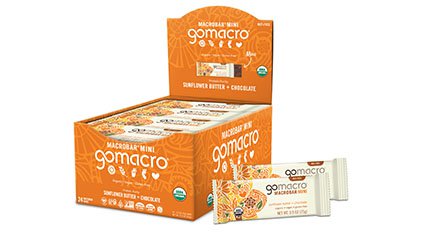 What's Inside
No nuts, no dairy, no gluten...but plenty of delicious flavor! Our Sunflower Butter + Chocolate MacroBar is made with creamy sunflower seed butter, rich cacao powder, and crispy puffed brown rice for a subtly sweet treat. With 4g of plant-based protein per-bar, our Protein Purity MacroBar Mini is a satisfying snack to take on-the-go.
See Nutrition & Ingredients List
Benefits
100 Calories
Nut-Free
Organic
Vegan
Gluten-Free
Kosher
Non-GMO
Clean & Raw
Soy-Free
Dairy-Free
Low FODMAP
​
Organic Sunflower Seed Butter

Organic Natural Vanilla

Organic Sprouted Flax

Organic Cacao Powder
5
Taylah
February 6, 2020
Hi guys was wondering I have been absolutely craving to try these mini macro bars!!! Is it possible to purchase just one ? Want to trial these delicious goodies.
Response:

Hi Taylah, thanks for your interest in our minis. The great news is our minis are the same delicious recipe as our full size bars, so if you like the bigger version of Sunflower Butter + Chocolate, you will probably love this little version too!
5
Maricarmen
December 26, 2019
My family favorite. Love the crunch and the taste. Like the small size for my little ones.
5
Terri Alba
December 8, 2019
These are the perfect size when I am not trying to replace a meal, but want a snack. The flavor is one of my favorites.
4
Lisa Bailey
September 5, 2019
I really like these bars and the sustainability efforts of the company. The mini size is a perfect snack, but I worry a lot about the wrapper waste. I am not sure I can keep getting them because of that. If the wrappers were compostable or recyclable, that would make the difference. As far as I am aware, they are not. Please correct me if I'm wrong. The other efforts they make towards sustainability somewhat offset that downside, but I am not sure enough. I really try to reduce my contributions to the waste we produce. Thanks for trying, though!
Response:

Hi Lisa, thank you so much for your support! Our customer care team has contacted you with more information on GoMacro's efforts in biodegradable/compostable packaging and guidelines on recycling through Terracycle.
5
VLT
July 9, 2019
Still Love these bars. I am super excited about the new flavors and cannot wait to try them! :)
5
Aussie Bob
April 15, 2019
Great flavor energy on the go when on the bike its the perfect fuel !
5
George
April 4, 2019
Hi there, I am very caffeine sensative, how much caffeine is in this bar? George
Response:

Great question George! Our Sunflower Butter + Chocolate MacroBars contain less than 4 mg. per mini bar.
5
Erin
September 30, 2018
As a person with many allergies, I'm super excited to have these sunflower butter bars as an option! I have to say, though, that I'm not a huge fan of the updated recipe. I much prefer the older version.
5
Zahra
September 4, 2018
I have tried nearly every bar in natural food stores, and this one far exceeds them all, particularly with my various food sensitivities. It is not too sweet, good texture, and great taste.
5
Vicki Tamborino
August 30, 2018
Love the bars. I get the minis. they are the perfect size for part of a meal or a snack. Wish they would come out with more options that don't have nuts.