Giving Back for Breast Cancer Awareness Month
Two favorite brands partner to support Keep A Breast Foundation in the fight against breast cancer.
In honor of our Co-Founder Amelia's successful recovery from breast cancer and our core principle to give back, two of your favorite healthy living brands have partnered for Breast Cancer Awareness Month to support Keep A Breast Foundation -- a fantastic organization inspiring and educating the next generation on prevention and early detection of breast cancer. Keep A Breast's mission is aligned to our core principles of wholesome living.
GoMacro is partnering with ToeSox to fund the good work Keep A Breast is doing for early detection and prevention of breast cancer. ToeSox is donating 5% of sales of all fuchsia grip socks and GoMacro is donating 5% of all online sales in October to Keep A Breast. Each order will come with a pink "check your self" bracelet from Keep A Breast.
The Keep A Breast Foundation™ is the leading youth-focused, global, nonprofit breast cancer organization. Their mission is to eradicate breast cancer for future generations. They provide support programs for young people impacted by cancer and educate people about prevention, early detection, and cancer-causing toxins in our everyday environment.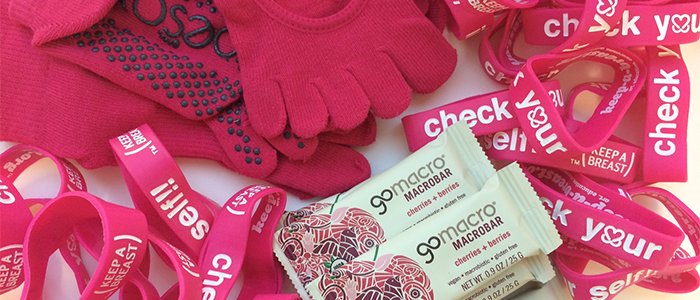 Read Amelia's story here: ToeSox blog: A Business of Love.
Be well.