Double Chocolate Brownie Kids Bar
Double Chocolate Brownie Kids Bar
GoMacro Kids MacroBar
A little bit of organic cocoa mixed with a handful of vegan chocolate chips come together for a mouthful of chocolatey goodness in every bite!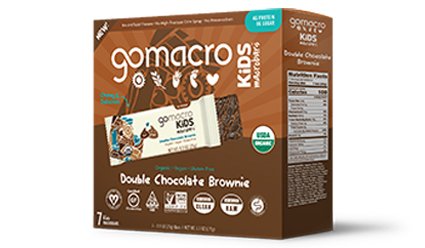 FREE SHIPPING ON ORDERS OVER $50
?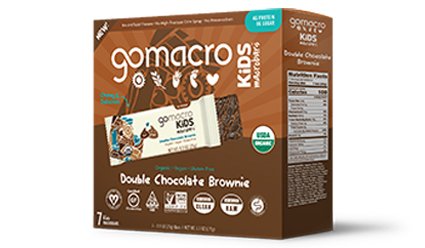 What's Inside
No fighting for the corner piece here! Twice the chocolate means twice the fun. Our ooey gooey and oh so delicious Double Chocolate Brownie Kids MacroBar is mixed up with organic almond butter, rich chocolate, and vegan chocolate chips for a fudgy treat they'll think came from the oven!
See Nutrition & Ingredients List
Benefits
Organic
Vegan
Gluten-Free
Kosher
Non-GMO
Clean & Raw
Soy-Free
Dairy-Free
Low FODMAP
​
5
Traci Merritt
August 14, 2020
My kids are so excited about having their own bars like mine. They beg for mine and I rarely will share. Now they have their own! We've tried all 4 flavors and they like them all. This one and cookie dough are probably their favorites but only by a slim margin. Yum!!!
5
Jocelyn
August 9, 2020
These are so delicious!! Not only does my toddler love them as dessert on treat nights but I LOVE them as well....maybe a little too much. I feel confident having Gomacro as a staple in my house. I'd give these 10 stars if I could.
5
Darlene
July 24, 2020
I bought these to try for my husband & I
5
Carol Wendel
July 22, 2020
Simply scrumptious---and just the right size, for kids and adults!