Double Chocolate Brownie Kids Bar
Double Chocolate Brownie Kids Bar
GoMacro® Kids MacroBar®
A little bit of organic cocoa mixed with a handful of vegan chocolate chips come together for a mouthful of chocolatey goodness in every bite!

Get Same Day Delivery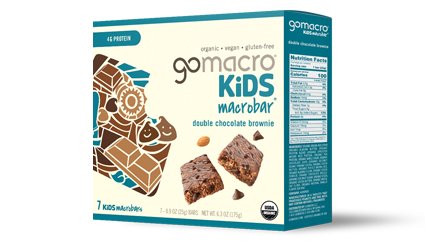 What's Inside
No fighting for the corner piece here! Twice the chocolate means twice the fun. Our ooey gooey and oh-so-delicious Double Chocolate Brownie Kids MacroBar® is mixed up with organic almond butter, rich chocolate, and vegan chocolate chips for a fudgy treat they'll think came from the oven!
See Nutrition & Ingredients List
Benefits
Organic
Vegan
Gluten-Free
Kosher
Non-GMO
Clean
Soy-Free
Dairy-Free
Low FODMAP

5
carol
September 2, 2023
I love these chocolate brownie bars. I have one every day. And the kid bars fall within my range for fat, sodium, sugar, yay!
5
Lisa Barrett
July 22, 2023
I love go macro bars. I love the clean ingredients. They also taste great!
5
TinyTiger
July 16, 2023
This one is ok. Taste good but not my favorite. But is good for a little snack at only 100 cal.
5
Melissa Boettcher
February 15, 2023
These are a bar I feel good about giving my kids and I like them too! Thank you for the careful attention you take to making sure these ingredients are clean.
5
Joanne Diorio
November 21, 2022
My granddaughter loves them
5
Priscilla
October 19, 2022
We frequently have this bar for desert. Love it that much!
5
Lila
October 19, 2022
Tasty! Thank You both for the nutritious and conscientious ingredients =)
2
JC!
July 8, 2022
I have enjoyed other GoMacro bars, but these are way too sweet. More like candy than any kind of nutrition. They went to the food bank.
5
Kira
April 15, 2021
This is not just a kids snack, it is the perfect size mid-morning or mid-afternoon pick me up to carry hard working grown ups through those moments of hunger. My brain appreciates and my mouth loves each bite.
5
Traci Merritt
August 14, 2020
My kids are so excited about having their own bars like mine. They beg for mine and I rarely will share. Now they have their own! We've tried all 4 flavors and they like them all. This one and cookie dough are probably their favorites but only by a slim margin. Yum!!!