Chocolate Chip Cookie Dough Kids Bar
Chocolate Chip Cookie Dough Kids Bar
GoMacro® Kids MacroBar®
Take cookie dough on the go with organic almond butter, vegan chocolate chips, and 4 grams of plant-based protein in every bar!

Get Same Day Delivery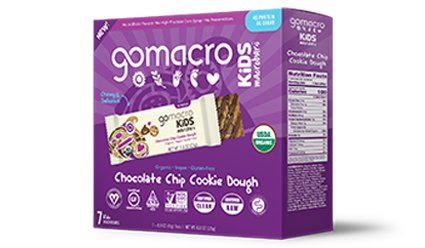 What's Inside
Forget the oven altogether! We snagged the dough before it hit the baking sheet for a sweet, smile-worthy take on your favorite Chocolate Chip Cookie Dough recipe. Unwrap the chewy goodness of organic oat flour, creamy almond butter, and vegan chocolate chips with this upgraded classic.
See Nutrition & Ingredients List
Benefits
Organic
Vegan
Gluten-Free
Kosher
Non-GMO
Clean
Soy-Free
Dairy-Free
Low FODMAP

5
Brooke
July 22, 2023
I love the kids sized GoMacro bars, the flavor, texture and taste are delicious.
5
Lisa Barrett
July 22, 2023
I like the kids bars the best. This one is my favorite.
5
Sarah Huber
July 16, 2023
My daughter is 3.5 yrs old And loves this bar! I feel confident giving it to her knowing the ingredients are good and she is getting a quality product. Thanks Go Macro!
5
Luciana
December 16, 2022
So yummy
5
Tanya Pedretti
December 12, 2022
Yum!! We love these bars. Easy, on the go snack or meal, depending on the size you eat.
5
Joanne Diorio'
November 21, 2022
My granddaughter loves them
5
Laurie
May 2, 2021
My kids love the taste of these bars !! I feel good knowing they are having a healthy snack.
5
Diana Lista
March 5, 2021
Bought these for my daughters and I end up eating them. Delicious!!
5
Olg Kruse
March 3, 2021
As an adult I bought the kids macro bars for myself. And the size us a wonderful snack size foe big folks too!
5
Vincent
February 8, 2021
Great! I can't help but to sneak one when the kids are not looking. They love them for a healthy snack.