Cinnamon Roll Kids Bar
GoMacro® Kids MacroBar®
A heartwarming swirl of organic cinnamon, creamy cashew butter, and puffed rice is topped with our vegan white drizzle for a soft and yummy treat that's always ready to roll.​

Get Same Day Delivery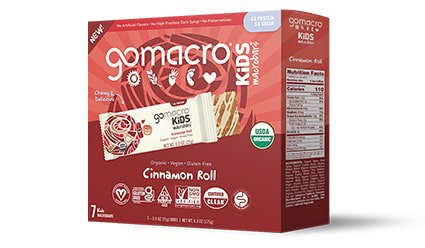 What's Inside
We transformed a favorite cozy weekend treat into an easy, mess-free snack that can be enjoyed any time! Our organic recipe combines creamy cashew butter, coconut milk, plant-based protein, and plenty of cinnamon-y goodness. Don't forget the dreamy white drizzle on top! These bars offer the soft yumminess of the freshly baked treat kids love and the certified ingredients parents trust – all rolled into one.​
See Nutrition & Ingredients List
Benefits
Organic
Vegan
Gluten-Free
Kosher
Non-GMO
Clean
Soy-Free
Dairy-Free
Low FODMAP

5
Donna K
August 7, 2023
These are super delicious and handy to carry! Thrilled with all the flavors so far. This "big kid" highly recommends especially if you have ibs.
5
Brooke
July 22, 2023
I love GoMacro bars and these kids sizes are delicious and the perfect size to pack and have on hand when you might need a snack. They are also perfect for a sweet fix. These are so delicious.
5
Eva
July 16, 2023
LOVE this flavor so much!! Perfect snack size but wish they came in full size too!!
5
Noelle
July 9, 2023
Love the taste, snack highly recommend
5
Missie
May 25, 2023
I ordered every flavor of the Kids Go Macro bars. I am so pleased that the bars are vegan as I have a grandson with severe food allergies. He and his sister and brother all love your product. The fact that come in kid size is a real plus! Thank you!
5
Judy
May 7, 2023
These are my favorite flavor! They are moist & chewy! They taste like a cinnamon roll. I wish you would make them in the full size bar!
5
Heather
April 23, 2023
So yummy. Thankful they don't have almonds due to allergies!
5
Diane
April 27, 2022
Our three year old grandson loves the bars, and he's a picky eater! Glad to have a good quality product for him.
5
Paula
March 31, 2022
Wow! The Cinnamon Roll Kids Bar are DELICIOUS! Would love to see them sold as MacroBar Minis.
5
Bernie Dumonceaux
March 7, 2022
Good tasting bars! I love the macro bars!