Oatmeal Chocolate Chip Cookie Kids Bar
Oatmeal Chocolate Chip Cookie Kids Bar
GoMacro® Kids MacroBar®
The warm taste of vanilla, organic chocolate chips, and real maple syrup team up for a little taste of home wherever they roam!

Get Same Day Delivery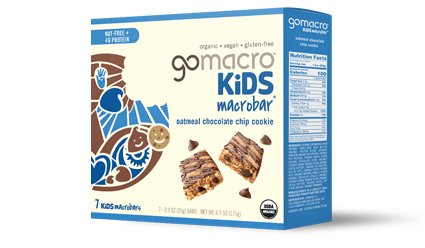 What's Inside
Give them the cozy comfort of homemade cookies in a bar they can take on the go! We toss in gluten-free oats, add a sprinkle of vanilla, and pile on the organic chocolate chips for the best Oatmeal Chocolate Chip Cookie batch you've ever tasted! To top it off, we add an extra dose of deliciousness with a creamy chocolate drizzle for a wholesome treat everyone will love.
See Nutrition & Ingredients List
Benefits
Organic
Nut-Free
Vegan
Gluten-Free
Kosher
Non-GMO
Clean
Soy-Free
Dairy-Free
Low FODMAP

5
Angela Mcphee
September 13, 2023
Thank You Lock Good Thanks
5
Brooke
July 22, 2023
These bars are the perfect size for a snack and taste like such a treat. I love Go Macro bars
5
Noelle
July 9, 2023
This is my favorite, Dark chocolate, and almonds, I order a lot when the 30% discounts come around just good stuff.
5
Luciana
December 16, 2022
Taste like Grandma's Oatmeal Cookies, but vegan.
5
Andrew
July 11, 2022
We love these but would also appreciate a kids bar that had no chocolate!
5
Meagan
April 12, 2022
I was looking for a healthier snack bar for my toddler and came across these. We've tried a few different flavors and we both enjoy them! They're tasty and the perfect size!
5
Jernell
August 24, 2021
These bars are really good, soft and nutritious, I'm really giving a review because they are out of stock of the bars we love the best, not sure why they are out of stock for such a long time. Please bring back the ones we love please. Thank you.
5
Vincent Stigler
February 8, 2021
Loved them! Got some for the kids.... I took one too. They were great. A perfect, healthy snack between meals.
5
Lindsey
August 6, 2020
I was very impressed with these bars. I was looking for a healthier granola bar option for my kids and they have loved these! Would definitely reorder them again.
5
Cameron
July 9, 2020
This bar is VERY good. Probably one of my favorite kid's bars. I love the hint of cinnamon this flavor has with chocolate. It is very soft. Much better and way softer than the regular oatmeal chocolate chip bar. It is very small. It is about the size of my pointer finger! But very good.