Peanut Butter Cup Kids Bar
Peanut Butter Cup Kids Bar
GoMacro® Kids MacroBar®
Wholesome organic peanut butter + vegan chocolate drizzle = the ultimate snack time victory.

Get Same Day Delivery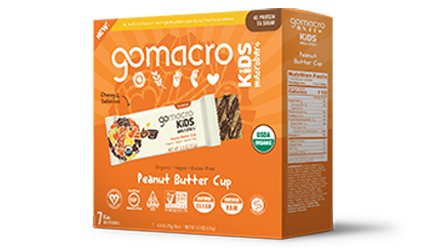 What's Inside
Chocolate meets peanut butter to create the ultimate flavor friendship. We combine creamy organic peanut butter, vegan chocolate, delicious peanut butter chips...and the rest is history. Some would call it a match made in heaven, we just call it a Peanut Butter Cup Kids MacroBar®!
See Nutrition & Ingredients List
Benefits
Organic
Vegan
Gluten-Free
Kosher
Non-GMO
Clean
Soy-Free
Dairy-Free
Low FODMAP

5
Brooke
July 22, 2023
These are so delicious and the perfect size for packing a "grab and go" snack
5
Eva
July 16, 2023
These are my husbands absolute favorite bars. He has them for breakfast, snacks and even dessert !! Wish they came in full size !!
5
Dana Lehman
March 9, 2023
Both my teenage son and I LOVE all of your MACRO Bars. When I saw that you had a Peanut Butter Cup Kids Bar, I had to give it a try. Both my son and I are REESES Peanut Butter Cup fans and this bar got a thumbs up from both of us. Thank You for making a healthy alternative. I only got to eat 3 bars while my growing teenage son enjoyed the rest. Definitely would buy again.
5
Leslie559
February 9, 2023
These are my absolute favorite with my morning coffee. Just enough to start the early morning, before breakfast and before my workout, with just the perfect amount of food to get me going.
5
Priscilla
October 19, 2022
This bar is part of my favorite Top 3. It literally tastes like candy. Our entire family eats these. You can frequently find us having these for desert.
5
Josie Linsao
October 9, 2021
I always buy them at Raley. Delicious & organic.
5
Ashley Forte
February 23, 2021
My son is absolutely in love with your kids gomacro bars! He wants them all the time. I always try and get him some when I can. He's not into many bars and this one he loves more than any he has ever tried.
5
Sara
September 6, 2020
The absolute best!!! My 6yr old son loves these and eats 2 every morning.
5
Gray Ginsberg
September 3, 2020
I'm two years old and this is my favorite snack. I used to demand some of Dad's peanut chocolate chip, but now I'm happy just to grab these from the pantry (and glad they are on the lower shelves). They make me dance a little when I eat them. The oatmeal choc chip is tasty also.
Response:

We are so glad you are enjoying your very own special kids bars! We'd love to see your MacroBar dance!
5
Sarah
July 27, 2020
I love the regular bars and don't share them with the kids. I decided to get these for the kids to try, and they love them! It's the perfect quick snack when on the go or before practice.