10 Wellness Activities to Practice While Social Distancing
Social distancing has become the new normal these days, allowing us the opportunity to focus on our physical and mental well-being. Here are 10 serotonin-boosting activities to try while practicing social distancing.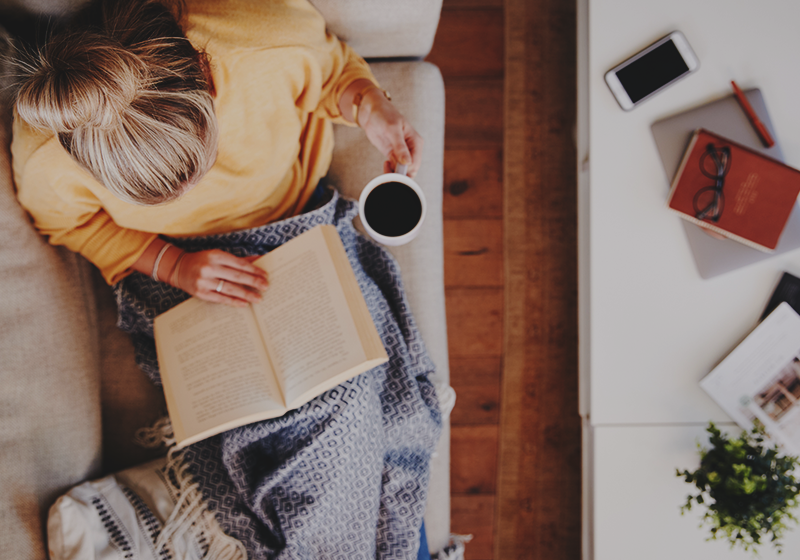 Meditation
It's no surprise that meditation brings short-term stress relief, as well as lasting stress management benefits. The beauty of meditation is that you can practice it anywhere. Try repeating a mantra while taking short breaths to relax your mind. You should also take a few minutes a day to practice mindfulness. Pay close attention to what you see, hear, taste, or smell, and you will feel yourself becoming more centered. Try out these meditation apps from Calm and Headspace to quiet the mind and relax the body.
Yoga
Yoga is a perfect way to sharpen your concentration and focus, create body awareness, and relieve stress. Yoga has been shown to increase levels of gamma-aminobutyric acid, or GABA, a chemical in the brain that helps regulate nerve activity. Visit the Boho Beautiful channel on YouTube for virtual yoga, and be sure to watch the "Blissful Yoga Flow For Unsettling Times" video. Also check out the free sessions offered by "Yoga With Adrienne."
Working Out At Home
Right now, it is crucial that we keep our bodies in motion while we practice social distancing. Circuit training is one of the most efficient ways to burn fat, build muscle, and keep our bodies and minds from becoming overwhelmed by stress. During the next few weeks, mindbodygreen is offering free online workout sessions, with well-being experts to support you while you exercise at home. Fitness influencer, Remi Ishizuka, is hosting live workouts everyday at 9 am PST to keep you moving, thriving, and feeling great. P.Volve, Beachbody On Demand, and obé fitness also offer amazing, body-moving online workouts.
Hiking
There's nothing like a brisk hike or climb to lift your spirits. Getting outside for even a short walk can help reduce stress, anxiety, blood pressure, and cortisol levels, producing a calming effect only nature can offer. Enjoying fresh air also decreases what psychologists call "rumination", which are negative thought patterns that play over in our heads. Never underestimate the power of a great hike. Visit Alltrails.com, or download their app to help you plan your next hike.
Bike Riding
Bike riding is an excellent way to curb the stress and anxiety that many of us face every day. Going for daily bike rides also improves memory, stimulates creative thinking and helps you sleep better, and reduces the risk of depression.
Gardening
Horticulture heals! Keeping our minds fresh, active, and occupied is pivotal for our well-being during times of stress and uncertainty. It's amazing how stepping outside and tending to a garden can instantly reduce anxiety and lift your mood. The caring, cultivation, and nurturing of plants gives us a sense of responsibility to nature and a connection to other living things.
Cooking
Since we are closely looking after our health and well-being, this might be a good time to try a new vegan recipe! Cooking with family can be fun and therapeutic. Check out these simple and satisfying meal ideas for tasty inspiration. Also, enjoy delicious vegan recipes from GoMacro, made with fresh, clean ingredients.
Organizing
More time spent at home might be the perfect opportunity to clean out closets, pantries, dressers, and other cluttered areas. Utilizing space and creating organization will help save time and money, reduce spoilage, and keep disorder to a minimum. An added bonus is that once you have organized these spaces in your house, you can donate extra clothing and other non-perishable items to charity.
Podcasts
Take time to discover a new podcast! There is no shortage of wellness podcasts out there relating to fitness, nutrition, and mental health. The Skinny Confidential, Almost 30, The Gabby Reece Show, and Goop are just a few great podcasts to keep you informed, entertained, and inspired.
Learning
Whether you've thought about taking an online course, learning a new language, or finishing a book that you've never had time to read, now may be the perfect opportunity. Rosetta Stone is offering a 3-day free trial along with three months of complimentary language learning classes for students, while Class Central is providing a multitude of Ivy League courses from universities such as Yale, Brown, and Princeton at no charge.
At this moment, social distancing is an essential part of our lives. Yet, we can still keep our bodies in shape, our minds sharp, and have fun exploring nature, all while protecting ourselves and others.