Coconut + Almond Butter + Chocolate Chips Mini
Coconut + Almond Butter + Chocolate Chips Mini
GoMacro MacroBar Mini
A delicious combination of organic shredded coconut, creamy almond butter, and vegan dark chocolate chips!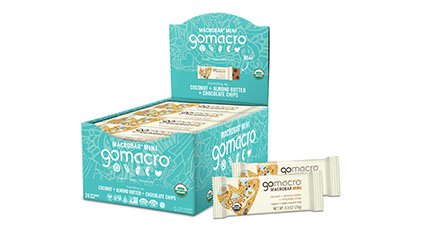 FREE SHIPPING ON ORDERS OVER $50
?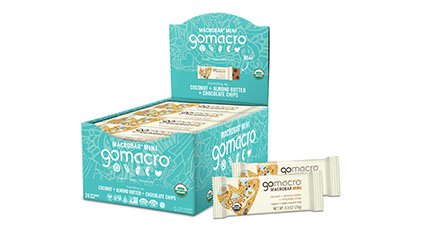 What's Inside
Reminiscent of your favorite candy bar as a kid, this perfect balance of organic coconut, vegan dark chocolate chips, creamy almond butter, and 4 grams of plant-based protein, our Everlasting Joy MacroBar Mini provides delicious, sustained energy to fuel your day.
See Nutrition & Ingredients List
Benefits
110 Calories
Organic
Vegan
Gluten-Free
Kosher
Non-GMO
Clean & Raw
Soy-Free
Dairy-Free
Low FODMAP
​
Organic Almonds

Organic Chocolate Chips

Organic Puffed Brown Rice

Organic Unsweetened Coconut
5
Lori Beth
April 3, 2021
These are the perfect size bar for when you need a little something to keep you going but don't want a full size bar. Great for on-the-go! Not to sweet and great texture. Love, love, love!
5
Alysha Edelman
June 13, 2019
These bars are extraordinary! They are organic and vegan they taste so good!! I always feel good when I eat them... their flavors and textures are so delicious and I can't wait to try them all!! Thank you Go Macro : )
5
Alyson
June 8, 2019
My son loves these macro mini bars and they make the perfect grab and go snack for him after kindergarten or when we're dashing out of the house. He likes several of the flavors but this bar is by far his favorite!
5
Jessica Broughton
February 12, 2019
I love each bar I have tried but the peanut butter and chocolate chips are my favorite and for my five year old son, these coconut chocolate chip are his favorite! I got him the mini bars which he was so excited about since they were the perfect amount he needed for a snack and as for me a bar as my 10am daily snack suits perfectly. I've pretty much had a bad every day for two years and am thrilled to be able to 'subscribe' and get a bi monthly shipment. Nice work gomacro!
5
Elizabeth
July 14, 2018
I like to eat a smaller breakfast and this little bar is perfect! Keeps me full to lunch and it's a great snack for my kiddos.
5
Cayce
June 11, 2018
I am gluten intolerant, lactose intolerant, and follow a special diet for IBS, so it is hard sometimes to find things I can eat when I'm out and about. These bars have saved me! They are my #1 favorite purse snack. I love almond butter so this flavor is my favorite. The texture is awesome too!
5
Amanda
May 13, 2018
These are great for a small snack. They leave you wanting more! I like the bigger bars for times when I need more than a little snack. Love these for my kid!