Reppin' GoMacro at IRONMAN 70.3 California
Triathlete Payton Douglas discusses his IRONMAN experience and how GoMacro nutrition bars helped get him across the finish line.
By Payton Douglas, Sports and Wellness Manager, GoMacro
I recently trained for and successfully completed the challenging IRONMAN 70.3 California event in Oceanside, CA. And what an experience it was! As a kickoff to the triathlon season, the event brought together more than 2,400 participants to race in the region that birthed the sport in the early 1970s. With sunny skies and 75-degree weather, spring was in the air, giving all us eager triathletes the opportunity to swim, bike and run freely amidst the beautiful northern San Diego coast and beaches.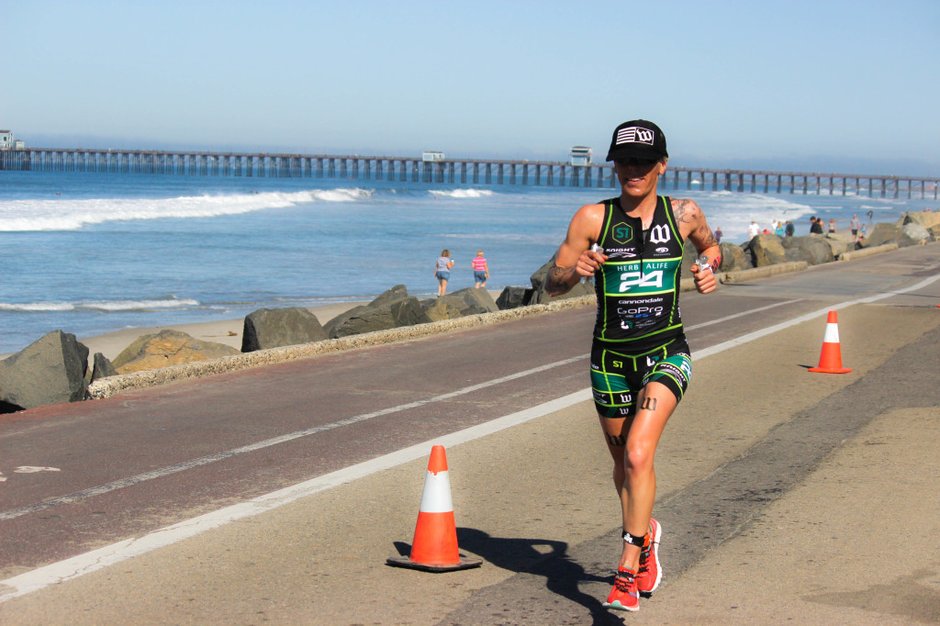 Heather Jackson (winner), Photo by Katie Morse (http://katiehartmorse.com/) 
After a 1.2-mile swim in the Oceanside Harbor, the course took us on a 56-mile bike ride along the coastline and into Marine Corps Base Camp Pendleton, then back to Oceanside Pier for the final 13.1- mile 2-loop run.
Simply completing the course under normal conditions was challenging enough, but we were also confronted with some unique obstacles, including: choppy waters that caused swimmers to lose sight of the turnaround; a pod of sea lions swimming alongside the athletes, a patch of fog during the first 15 miles of biking, and unusually warmer weather requiring a lot of extra hydration.
But much of that was forgotten, at least temporarily, as we powered through the final steps. The race culminated with a grand finish at the ocean's edge, where a chute of energetic spectators cheered on not only their favorite racers, but all of us who crossed the finishing line. It was quite a buzz—a feeling of excitement, accomplishment, relief and camaraderie, to say the least.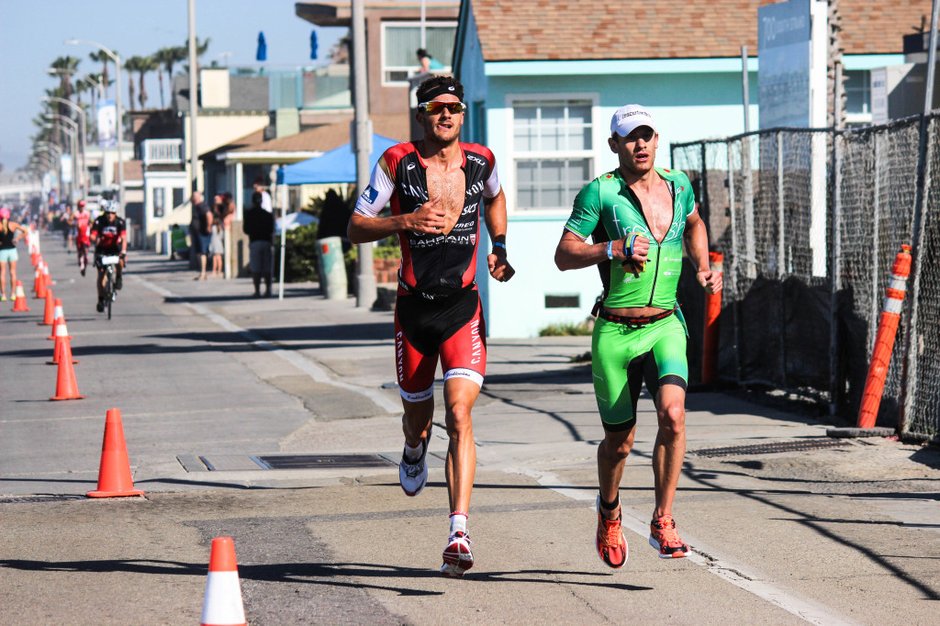 Jam Fredeno (winner) & Lionel Sanders (3rd place), Photo by Katie Morse (http://katiehartmorse.com/) 
Beyond the race, there were other activities for both participants and spectators, most notably the IRONMAN Village. Equal parts convention, shopping mall, and snack bar, this expo-like setting brought attendees together to mingle and discover new products. Complementing existing partners such as
Nytro Multisport
and
Zoot Sports
, among many others, there were several first-time vendors, including—drum roll, please—GoMacro!
In addition to having a GoMacro promotional tent in the Village, our GoMacro MacroBars were the official on-course nutrition bars, replacing the race's long-time bar provider. What a platform to share our nutritious, tasty, and energetic snacks! The triathletes seemed to enjoy our race-day fuel. With this initial success, we'll continue to partner with IRONMAN at future events to energize triathletes across the country and promote GoMacro.
Special Shout Outs
As a triathlete, I've participated in several events, and the IRONMAN 70.3 California stands out as one of the most organized, well-run, and fun races. Many thanks to the wonderful IRONMAN staff, the hundreds of volunteers, including more than half who come from units at Camp Pendleton, which also offered up its roads as part of the course. As the IRONMAN website states, "The presence of so many men and women serving in the U.S. Marine Corps is always a source of pride for race participants." I concur—100%.
And of course, I congratulate the first-place finishers, and all participants, for that matter. Germany's Jan Frodeno repeated as the men's champion with a finishing time of 3:47:08, while the United States' Heather Jackson won the women's race for the second time in three years at 4:14:47. As for yours truly, I was proud to finish second in my division (including first on the bike) and 319th overall. I'm sure the GoMacro MacroBars had something to do with my strong performance!
About the Author: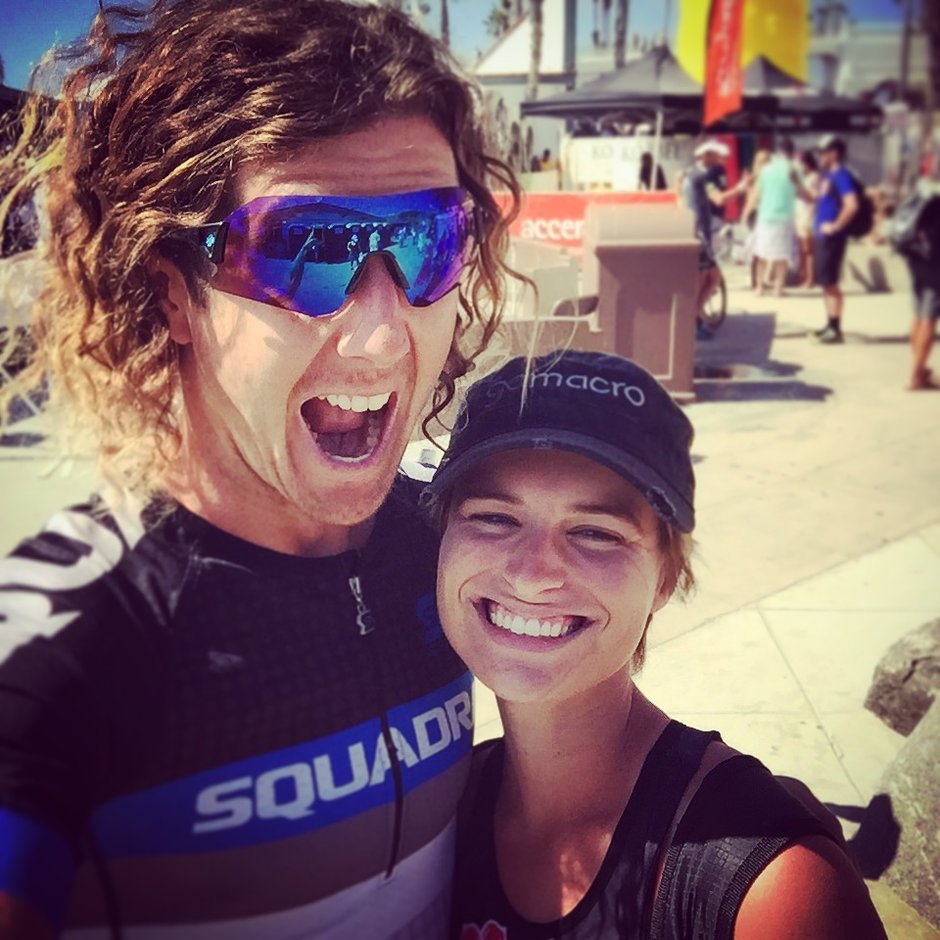 Keith Butsko (http://keithbutsko.blogspot.com/) & Payton Douglas
Payton Douglas, 22, grew up with a love for outdoors and anything that pushed her limits. Growing up with epilepsy, she decided that exercise and nutrition were important aspects of her life that she could control. With that in mind, she embarked on a journey after high school to become an IRONMAN. Although she has yet to complete a 140.6, she races in several 70.3s each year and has also been seizure-free since her first year of triathlons in 2013. Today, her life and occupation still revolves around her two passions of sports and nutrition. As GoMacro's Sports and Wellness Manager, she is able to educate others about fueling their body with the right ingredients in order to perform their best in any athletic endeavor. In terms of racing, she has five more IRONMAN 70.3 races this year and is hoping to break 5:00:00 by the end of the season.
Resources: