GoMacro is proud to be the Official Nutrition Bar Sponsor of the American Diabetes Association's Tour de Cure. GoMacro supplies more than 100,000 mini MacroBars a year to Tour de Cure riders across the United States, fueling their rides as they raise money to help stop diabetes.
The Tour de Cure is a series of long distance bicycling events held in 44 states nationwide and is the American Diabetes Association's biggest fundraiser. In 2013 alone, more than 65,000 cyclists participated in 89 events and raised more then 26 million dollars. Currently, riders are taking to the streets across America to ride for the cause with organized events almost every weekend throughout the spring, summer and fall.
But the event isn't only about fundraising. It's also intended to promote and educate the public about healthy lifestyle and eating habits. It's a reminder that exercise is one of the keys to preventing and curing diabetes. Healthy eating is also key so the American Diabetes Association chose GoMacro to be one of its corporate sponsors, saying: "The relationship is the perfect fit for the Tour de Cure because we care about people living a healthy lifestyle through eating healthy and exercising and so does GoMacro." Free MacroBars are given to cyclists at the rest stops to give them the necessary energy to finish the ride without excess sugar, which is one of the leading causes of diabetes.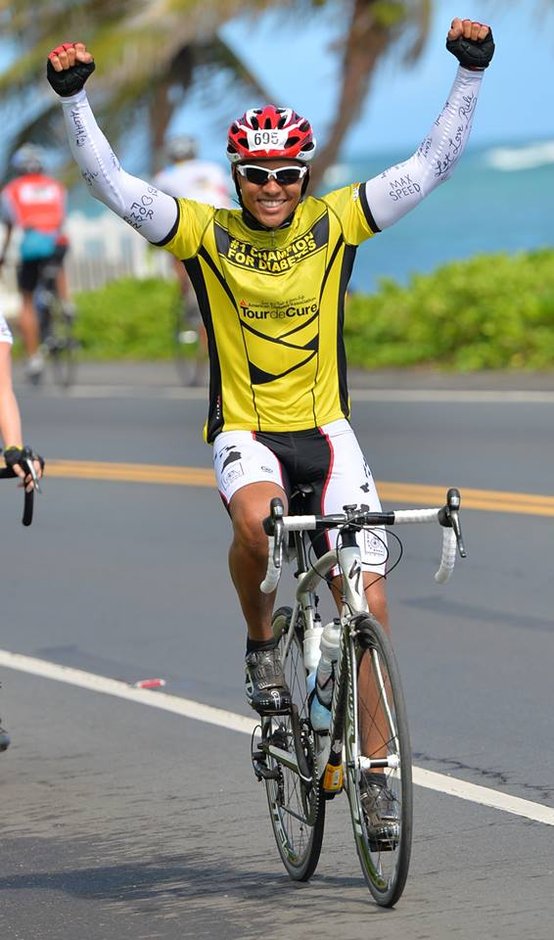 The ADA may appreciate that they're healthy, but ultimately people have to like the taste or it won't matter, and that's what the bikers focus on:
"I love these bars. Great flavor, easy to chew and the right size." — Marty Blount, Tour de Cure Rider
"Loved these bars on my TDC century! I had the balanced goodness: granola + coconut MacroBars and they were awesome!" — Grant Boschert, Tour de Cure Rider
Keep in mind that Tour de Cure isn't a "race," it's a "ride" filled with enthusiastic participants of all ages and experience levels. The rides are packed with Red Riders, cyclists who have some form of diabetes, and their families, friends and co-workers, alongside throngs of people inspired to do what they can to help stop diabetes. There are multiple routes, including some shorter routes for different fitness levels.
If you're thinking you might want to participate, here are some training tips: •    At the beginning, it's better to train with frequency, rather then starting out aiming for speed or long distance. •    If you have diabetes, it's best to bring supplies, so that you can check your blood sugar mid-ride. •    Stay hydrated. Always carry one or two full water bottles with you. •    Learn some basic stretches and use them before and/or after every training ride.
According to Bill Strickland, in his book, The Quotable Cyclist, "the bicycle is the most efficient machine ever created: Converting calories into gas, a bicycle gets the equivalent of 3,000 miles per gallon." Nevertheless, just like an engine can't run without gas, your body needs fuel; so remember to bring a snack with you with a good balance of proteins and carbohydrates like a GoMacro MacroBar, particularly if you're going to ride more than ten miles. Also, when you're done riding, top off your tank again. It will help your muscles recover faster and you'll feel less sore the next day, plus it will help to restore the calories that you just burned.
Seventy-five percent of the funds raised by the Tour de Cure are used to support much needed research, advocacy and services for people with diabetes. This includes extensive support to 125 of the leading research institutions throughout the country, the distribution of information via consumer and professional books and periodicals, 55 sessions of Diabetes Camp each summer for kids with diabetes, expos, and outreach to high-risk, low income populations through Port u Familia, Live Empowered!, and Native American Initiatives.
If you're wondering if you want to participate in the Tour de Cure, then just remember what Bob Weir from the Grateful Dead had to say about biking: "Bicycles are almost as good as guitars for meeting girls." At GoMacro we think bicycles are great for meeting all kinds of interesting people! Then gather together your team and check out the American Diabetes Association's Tour de Cure website or call the ADA for more information at 1-888-DIABETES (1-888-342-2383).
Banner photo © Mele Perla