Meet Outdoor Adventurer Ilana Jesse
The GoMacro Ambassador talks about her adventures, challenges, and inspiring accomplishments.
Meet GoMacro Ambassador, alpinist and adventurer, Ilana Jesse. Guaranteed to inspire and amaze with her athletic accomplishments, dedication and adventurous spirit, we're proud to know her.
Ilana is a native of Southern California and grew up surfing, climbing, snowboarding and often doing all three in one day. She is an accomplished rock and ice climber and loves earning her turns in the backcountry, splitboarding. She currently lives in Colorado where she is a full-time nursing student and spends every free moment outdoors exploring mountains and pursuing adventure!
2015 ADVENTURE UPDATE FROM ILANA JESSE
2015 has been a whirlwind. My most notable athletic accomplishments included a first female ascent of a South Platte test piece on the infamous Big Rock Candy Mountain. The route, 'Shock Treatment' went at 5.12+ and had only been climbed by three prior parties since its first ascent in 1991 by K. McLaughlin and G. Schuler.
Accompanied by my husband and local Colorado hard man, the three of us set off on an adventure dubbed the Mt Evans 'Triple Shot', all in an effort to juice one of the final days of summer down to the very last drop. Inspired by the various hard man endeavors occurring throughout the climbing community: Sufferfest, the Longs Peak Triathlon, and Ueli Steck's man powered European Alps summit smash to name a few; a new challenge was born, closer to home and one that would be fun and attainable for the "average" weekend warrior. The goal was to combine a series of events, which in and of themselves constitute a very full day for most people, and therein the 'Triple Shot' was born. Shot One consists of an unsupported 27.7-mile bike from Idaho Springs to the Summit of Mt Evans (7,000' vertical gain). Shot Two involved a descent from the summit of Mt. Evans to Summit Lake and hike/rappel to the base of the Black Wall. The Triple Shot was the bread and butter of the enduro-fest, climbing 'Cary Granite' (5.11+, III), a route not previously attempted by any member of the tri-team. The inaugural 'Triple Shot' made for a full day and a great adventure!
Without a doubt, the most demanding adventure to date has been my pursuit of a Bachelor of Science in Nursing degree and finding time to still get after it in the outdoors. I graduate in August 2016 and look forward to a fulfilling career in nursing alongside more free time to explore the outdoor playground and train for some substantial objectives in the high mountains.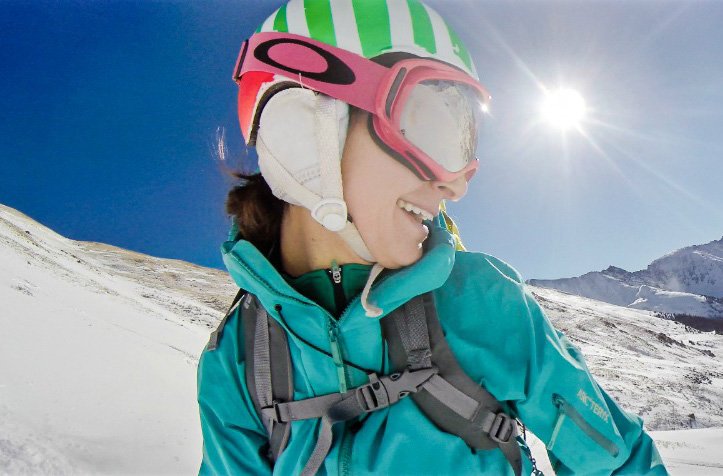 AN ADVENTUROUS SPIRIT
What gets you out of bed in the morning? 
Three shots of espresso. No less, maybe more.
What is your biggest stress or challenge and how do you handle it? My biggest challenge has been overcoming a substantial ankle injury. In May, I underwent surgical ligament and bone repair on my ankle. The recovery was, and continues to be, an emotional journey. My husband played a major role in helping me get outside as soon as I was medically cleared to do so; carrying all the gear to the base of climbs and leading every pitch so that I could safely top-rope and just enjoy being back outside.
What's your mantra? Dreams are accomplishments yet to be tried. So, just get out and try. It's incredible what you can achieve by actually setting foot in the right direction.
What's next for you? My bucket list rivals Russian novels in length! Among these list items are some first female ascents in Alaska and South America as well as completing my ongoing project in Europe, climbing the six classic alpine north faces.
About Ilana Jesse
GoMacro Ambassador Ilana Jesse is the founder and leading contributor to ThrillseekersAnonymous.com where she and her fellow Thrillseekerz blog about their adventures. Ilana has been featured in various media outlets including the December 2013 issue of 'Rock and Ice' magazine, December/January 2013 issue of 'Gripped Climbing' magazine, Canyoneering: A Guide to Techniques for Wet and Dry Canyons (How To Climb Series) by Dave Black, as well as a Climbing Expert on MTV's Parental Control (Season 7 - "Heather").
Cliff Notes: First Female Ascent of 'Shock Treatment' (5.12+, South Platte, CO), Eiger North Face via '1938 (Original) Route', Matterhorn North Face via 'Schmid Route', 'Rubezahl' (WI 6 - Kandersteg, Austria), 'Bird Brain Boulevard' (WI 5, M6, Ouray, CO), Vallee Blanche via Grand Envers du Plan descent.