Meet GoMacro Ambassador: Brittany Chambers
Nature enthusiast, autoimmune advocate, and philanthropic champion inspiring others to eat well and be active.
Anyone who has ever been left speechless in the presence of nature will know the humbling power of suddenly realizing we are all part of something much larger than ourselves. My love for nature was instinctive. I was brought into this world by parents who taught me to tread lightly from the minute I could walk.
I was slung into a baby backpack before my first birthday and carried throughout the many forests of upstate and central New York perched atop my dad's shoulders. Growing up in Rochester, the Finger Lakes represented somewhat of a time machine; a glimpse into life before industrialization and subdivisions. My family and I escaped to the wilderness to seek adventure every chance we had.
Introducing others to nature was something I found great fulfillment in from as young as I can remember. I went to college in the Finger Lakes at the State University of New York College at Cortland and studied history and communications. On weekends, I'd take my friends to explore waterfalls and hike through gorges. I was fascinated with the rich history of New York State and the resourceful, resilient people who were indigenous to such an unforgiving climate. The rolling hills and fertile valleys have nourished people for hundreds of years on the same land that we explore today. Many of the principles and practices of Native American people still hold true in modern society. I've always encouraged my family and friends to consider the logic of eating closer to the earth. Food was not meant to be created in a lab, and our bodies were not meant to digest processed science experiments.
Shortly after graduation, I realized that the inherent autoimmune issues I had dealt with all of my life would not get easier as I got older. Sacrificing my ability to hike freely, run, bike, and explore was not an option. I quickly amended my diet and focused more narrowly on a gluten-free lifestyle. Within six months, the adoption of an amended diet manifested itself in ways I never thought possible. Years of joint pain subsided, I could finally wear contacts again after having hives in my eyes for over a year, and I experienced a mental clarity that hadn't existed in over a decade. It was obvious that the correlation between well-being and diet was perhaps the most direct on the planet. Almost five years later, I am extraordinarily passionate about the importance of a vegan, gluten-free, macrobiotic diet, and fueling your life with real ingredients. I can't imagine a world in which my kids or grandkids may not have accessibility to the same uninhibited food. Sitting perched atop my dad's shoulders during the first few years of my life opened my eyes to the importance of sustainability. My DNA forced me to take a step back and reevaluate what I was consuming. We expect so much from our food—health, longevity, and lucidity, yet so often we are not willing to be mindful of what we eat. GoMacro gives all of us the opportunity to take care of our bodies, our communities, and our Earth.
Living in the Finger Lakes, I am surrounded by wilderness, culture, innovation, and small family farms, much like GoMacro's. In fact, my own backyard backs up to preserved National Wetlands. About a year ago, I launched an Instagram account, called "Finger Lakes Outdoors" (@FingerLakesOutdoors, #FLXoutdoors) dedicated to the awareness of outdoor adventure, exploration, travel, and sustainability in the Finger Lakes. When I am not researching plant-based recipes, spending time with my family, teaching my 8-month old Golden Retriever puppy (Finn) new tricks, and exploring the outdoors, I work as a professional fundraiser for a local college. As a fundraiser by trade and a naturalist by heart, I am passionate about ways to intersect the two. By fueling my life in and out of the office, the forest, or the gym, GoMacro gives me the nourishment I need to conquer the day. Every single time I open a GoMacro MacroBar, I am cognizant of the thoughtfully sourced ingredients that I am about to consume, the impact diet has on our well-being, and the community of health-conscious, big-picture people that champion the core principles of GoMacro.
GoMacro is symbolic of a mindful, socially responsible outlook on the world, and our role in it. To me, GoMacro embodies everything I have held dear to my heart since I was a little kid exploring the woods. One small bar is changing the world and the way people view food during a time in our history where the notion of wholesome food is lost in translation. As a GoMacro ambassador, an autoimmune warrior, an avid hiker, and a tenant of this planet, it's my mission to spread the love and nutrition that comes along with all things GoMacro.
About Brittany Brittany Chambers is the development director at Keuka College by day, and an avid hiker and explorer by night. She holds a bachelor's degree from SUNY Cortland, and is currently pursuing a master's degree in management. She is the founder and moderator of Finger Lakes Outdoors, an online community of outdoor enthusiasts, athletes, and adventurers. With 10 years of volunteer and professional fundraising experience, Brittany is driven to give back and help others carry out their own philanthropic visions. When she's not curating social media content or raising funds for charity, you can find her whipping up a gluten-free meal, backpacking, kayaking, mountain biking, and hiking every trail she can find. Currently, she is attempting to climb all 46 high peaks in the Adirondack Mountains. Brittany is passionate about sustainability, nutrition, education, philanthropy, and cancer research. It is her personal mission to inspire others to eat well, live well, and be active. Brittany lives in Canandaigua, New York with her boyfriend, Kyle, and their 9 month old Golden Retriever, Finn.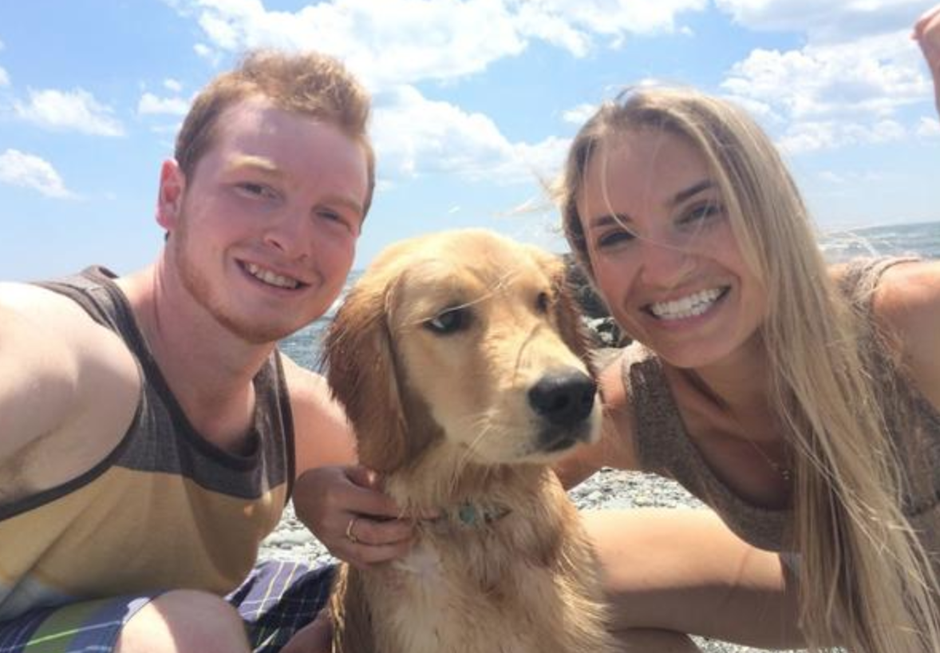 Brittany Chambers