Ellie Goulding: Love GoMacro Like I Do
The Grammy-nominated artist fuels her busy lifestyle with our Coconut + Almond Butter + Chocolate Chips MacroBar.
I'm excited to welcome Ellie Goulding, 2016 Grammy-Nominated international pop star and fitness icon, to our GoMacro family. Our relationship with Ellie began when Ellie posted about her love of our Peanut Butter Chocolate Chip MacroBar on Instagram. Soon after, she reached out to find out how she could get personally involved with the company that was playing a daily role in fueling her life as a fitness enthusiast and touring artist.
Throughout our humble beginnings at GoMacro, my mom and I have been committed to creating nutritional food that tastes great. We enjoy watching people get healthy, we enjoy it when our customers email us to share how they've been transformed, we enjoy it when they share that GoMacro had a substantial role in those transformations. Similarly, I have always looked for employees, partners and friends that share the same commitment to our community and the world. I live by a life code that was best illustrated by Leo Tolstoy, "The sole meaning of life is to serve humanity." When I am asked to explain why GoMacro exists, I keep coming back to his quote. That's what has led me to today.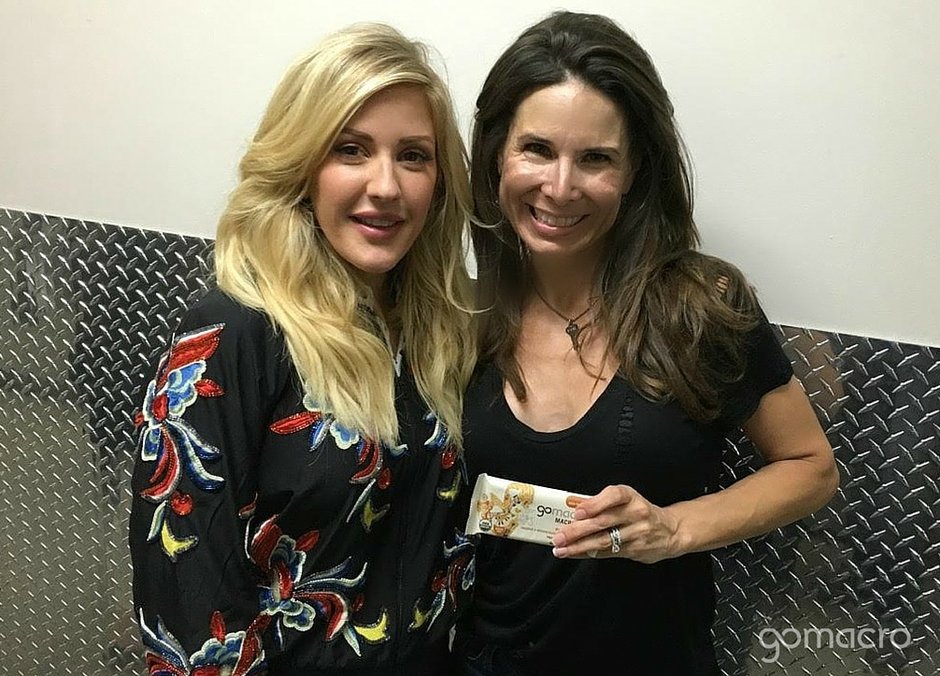 I want you to understand why we are so excited to partner with Ellie Goulding. I'll admit, it wasn't an easy decision, but when I met up with Ellie in LA our connection was instant. I immediately felt an alignment of passions, values, and lifestyles. The more I learned about Ellie, the less I saw her as an untouchable pop star but rather for who she really is: a talented and strong woman dedicated to her music, fitness, and clean eating. I bet a lot of you know Ellie for her hit music, but I am guessing few know that Ellie is an avid runner and half-marathoner with a fierce dedication to her fitness routine and workouts. She loves to mix it up in her workouts with her personal trainer Faisal Abdalla, Barry's Bootcamp classes, and yes, even boxing. Most people don't realize how down-to-earth Ellie is. She's passionate about nutrition, quality ingredients, and protecting our planet. Our own fans will recognize that identical commitment at GoMacro. Lastly, Ellie and I share a passion for giving back, for which is why we've decided to donate a percentage of our sales from Ellie's signature MacroBar to benefit the homeless. We were both surprised at how closely our values aligned. Our creativity started flowing and soon a partnership between Ellie and GoMacro was born.
We're humbled that our products have inspired athletes of all types to fuel up with healthy fats and plant-based protein. GoMacro is proud to have partnered with many amazing organizations past and present, such as the NHL Florida Panthers, Baby Boot Camp, Karna Fitness and The American Diabetes Association's Tour de Cure, to name a few. And now, we're excited for the opportunity to share the GoMacro lifestyle with Ellie's fans.
Ellie's Signature MacroBar: Everlasting Joy

Ellie joined us to formulate a new protein MacroBar tailored to her personal taste and nutrition needs—guaranteed to bring you everlasting joy. Ellie combined coconut, almond butter, and chocolate chips to deliver a nutritious and satisfying balance of carbs, healthy fats, and plant-based protein. We know this bar will help you rock your workouts, fuel your runs, and be there for you whenever you need a boost of energy and protein. Sharing a desire with Ellie to give back to the community, we will donate a portion of the proceeds from Everlasting Joy to feed the homeless through UK and US-based charities.
Please join me in welcoming Ellie to the GoMacro family.
Wishing you a long and great life,
Jola Sonkin, GoMacro Co-Founder and CEO